Table of Contents:
POLITY
1. Keep out non-serious parties: MPs' panel
ECONOMICS
1. Small factories raise concerns over draft social security code
2. PM launches BHIM-Aadhaar application
SCIENCE AND TECHNOLOGY
1. A Saturn moon may host life
************************************************************************************************************

.
************************************************************************************************************
Useful News Articles for UPSC Current Affairs

A. GS1 Related

Nothing here for today!!!
B. GS2 Related

Category: 

POLITY




1. Keep out non-serious parties: MPs' panel
What's in news?
Election Commission Of India has delisted around 255 political parties which have not contested any polls since 2005.
Election Commission wrote to the Income-Tax department asking it to look into the finances of 255 political parties it has 'delisted' for not contesting elections.
Why it has delisted?
Election commission is of the opinion that most of parties exist on paper to help people convert their back money into white by accepting donations.
Parliamentary Panel take on this issue
There is a need to keep non-serious parties out of the political system, and to ensure they do not misuse facilities like tax exemption.
Their registration should be regulated by law.
No power to de-register
While the poll watchdog has the mandate to register a political party, it lacks power under electoral laws to deregister one.Section 29A of the Representation of the Peoples Act, 1951, empowers EC to register associations and bodies as political parties. However, there is no constitutional or statutory provision that empowers the EC to de-register political parties.


C. GS3 Related

Category: ECONOMICS
1. Small factories raise concerns over draft social security code
What's in news?
Small entrepreneurs have raised some concerns over the government's proposal to provide social security coverage to its entire workforce
Apprehension
They may have to bear a little bit of financial burden due to contribution towards social security schemes
Background
The Union government had last month proposed a labour code on social security which will provide social security cover to the entire workforce in the country, including self-employed and agricultural workers
Factories employing even a single worker will have to contribute towards social security benefits, as per the proposed social security code
Small factories are largely kept out of social security schemes
For instance, the provident fund and pension contribution, administered by the Employees' Provident Fund Organisation (EPFO), is mandatory only for factories employing at least 20 workers
Need of the code
Social security should be treated as a right and every citizen should be entitled to some basic social security but unfortunately, in India we have been covering a small portion of the population, in the organised sectors and there also some portions are not covered by the ESIC and EPFO
No problem for small businesses
Although there will be some financial burden on small entrepreneurs, however, that should not come in the way of providing social security benefits to the poor workers.
The biggest challenge is how we get to the approval stage where we have the political will and some consensus from employers and employees
2. PM launches BHIM-Aadhaar application
What's in news?
On the occasion of the 126th birth anniversary of Dr. B.R. Ambedka, Prime Minister Narendra Modi launched the BHIM-Aadhaar in Nagpur
BHIM(Bharat Interface for Money)-Aadhar would be an "economic giant" like the Constitution, through which Dr. Ambedkar empowered the common man.
Prime Minister Narendra Modi launched two new offers to reward BHIM users. These two schemes are:

   a. BHIM Referral Bonus Scheme (For Individuals)
The Referral Bonus scheme will incentivize existing BHIM users for bringing new users on the BHIM platform and encouraging the new users to do transactions with others using BHIM or by referring new users on BHIM. Hence, the bonus will be paid to both the referrer and the new user of BHIM (referee).
The referral will be considered successful only after 3 unique successful financial transactions have been completed by the new user.
On completion of minimum 3 unique successful transactions totaling only Rs 50 to any 3 unique users (either to customers or to merchants), the referrer and the referee will be notified about the bonus amount via notification in BHIM app. The referrer will get Rs 10 per successful referral, while the new users will get Rs 25 for downloading and transacting from BHIM App.
        b. BHIM Merchant Cashback Scheme
The scheme incentivizes not just one-time adoption of BHIM by merchants, but will also encourage transactions via BHIM mode (either QR code or VPA or Mobile number or 'Pay to Aadhaar').
The cashback to the merchant can be up to Rs 300 per month, with each merchant eligible to win up to Rs 1800 in 6 months.
1.
A Saturn moon may host life
What's in news?
Data collected by NASA's Cassini spacecraft suggest the possibility of microbes in Could icy moons like Saturn's Enceladus in the outer solar system.
Facts suggesting the possibility of life
Plumes of gas erupting out of Enceladus — a small moon with an ocean of liquid water beneath its icy crust — contain hydrogen.
Scientists infer a lot from that: that there are hydrothermal chemical reactions similar to those that occur at hot fissures at the ocean bottoms on the earth.
Habitable conditions:On the earth at least, hydrothermal vents thrive with microbial life, offering up the potential that icy moons far away from Earth could be habitable.
Cassini's findings also show that levels of carbon dioxide, hydrogen and methane measured in the Enceladus plume were out of equilibrium, an imbalance that could provide an energy source that organisms could tap into for food
The tidal forces of Saturn pulling and squeezing Enceladus appear to generate enough heat to melt the ice. From additional Cassini observations, scientists concluded that not only is there a pool of water near the south pole of Enceladus to generate the plumes, but a global ocean that lies beneath the moon's ice.
Surprising find: One of the Cassini's instruments collected and identified particles in the plume spray. It was mostly water molecules, but scientists also found hydrogen molecules.
             Why only Hydrogen?
Each water molecule consists of two hydrogen atoms and one oxygen atom. Geophysical models indicated that as hot water flows past the rocks, minerals in the rocks were grabbing the oxygen atoms and releasing hydrogen
Life elsewhere
A team of researchers using the Hubble Space Telescope spotted what appears to be a similar plume rising from Europa, one of Jupiter's big moons that also possesses an ocean beneath an icy exterior.

D. GS4 Related

Nothing here for Today
PIB Articles    Editorials Roundup
E. Concepts-in-News: Related Concepts to Revise/Learn 
Prelims worthy Factual Information
1. Electroconvulsive therapy (ECT): formerly known as electroshock therapy, and often referred to as shock treatment, is a psychiatric treatment in which seizures are electrically induced in patients to provide relief from mental disorders.

2. Mother of all bombs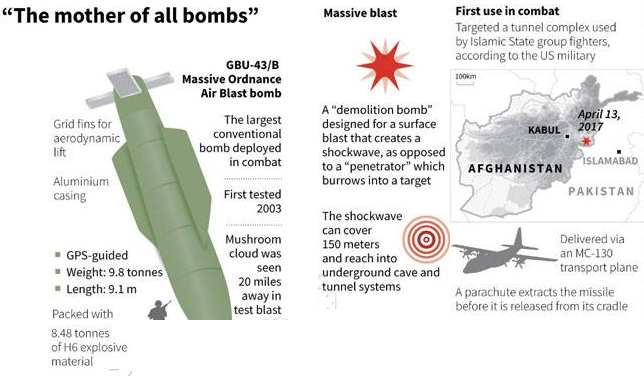 3.
Anchor Investor:
An Anchor Investor is the first investor in any round, that provides subsequent investors a degree of confidence. Until you have the first investor, nobody wants to be the first one to take a bite. Once you have the first investors, others feel assurance that others are willing to invest. So typically an anchor investor will know you and have a high degree of confidence in your project. The concept of anchor investors was introduced by Securities Exchange Board of India (SEBI) with the intention to improve the price discovery during Initial Public Offers (IPOs).
The process was aimed at improving the investment opportunity for retail investors with the company. Since, anchor investors belong to the Qualified Institutional Buyers (QIBs) category they would be in a better position to gauge the fundamentals and the future prospects of the company.
QIB category include mutual funds, venture capital funds, foreign institutional investors (FIIs), domestic as well as international provident and pension funds along with banks.
All IPOs are split into sections such retail, non-institutional, and so on. QIBs are one of the investor group. A company can only hold 30% of QIB allotment and provide it to anchor investors.
The minimum application size for each anchor investor should be Rs 10 crore. Anchor investors will put up with margin amount of 25% of their application and the balance within two days from the close of the issue. These investors (i.e. anchor investors) are supposed to apply for the shares like regular investors at the price they seem best fit for it.

F. BILLS/ACTS/SCHEMES/ORGS IN NEWS
BILLS/ACTS/SCHEMES/ORGANISATIONS IN NEWS
About the Article
Deen Dayal Antyodaya Yojana (DAY)

Mission

To reduce poverty and vulnerability of the urban poor households by enabling them to access gainful self employment and skilled wage employment opportunities, resulting in an appreciable improvement in their livelihoods on a sustainable basis, through building strong grassroots level.
The mission would also aim to providing the shelter equipped with essential services to the urban homeless in a phased manner
. The scheme also address the livelihood concern of the urban street vendors by facilitating with suitable space, institutional credit, and social security and skills to the urban street vendor for accessing emerging market opportunities.

Implementing Ministry

Deen Dayal Antyodaya Yojana was launched under the Ministry of Housing and Urban Poverty Alleviation (HUPA).
The scheme is integration of the National Urban Livelihoods Mission (NULM) and National Rural Livelihoods Mission (NRLM).
National Urban Livelihoods Mission (NULM) is renamed as Deen Dayal Antyodaya Yojana-(DAY-NULM) .Under the scheme urban areas extends the coverage to all the 4041 statutory cities and towns, there by covering almost the entire urban population.

COMPONENT OF DAY-NULM: The scheme has two component one for urban India and other for rural India.

The Urban component named as Deen Dayal Antyodaya Yojana will be implemented by the Ministry of Housing and Urban Poverty Alleviation.
The rural component named as Deen Dayal Upadhyaya Grameen Kaushalya Yojana will be implemented by the Ministry of Rural Development.

MAIN HIGHLIGHTS OF THE SCHEME

Employment through Skill Training and Placement – An expenditure of Rs.15, 000 per person is allowed on training of urban poor which is Rs.18, 000 in North-East and J&K. Moreover, Training urban poor to meet the enormous demand from urban citizens by imparting market-oriented skills through City Livelihood Centers.
Social Mobilization and Institution Development – It will be done through formation of Self-Help Groups (SHG) for training members and hand holding, an initial support of 10, 000 is given for each group. Assistance of Rs.50, 000 is provided to Registered Area Level Federations.
Subsidy to urban poor – An interest subsidy of 5% – 7% for setting up individual micro-enterprises with a loan of up to 2 lakh and for group enterprises with a loan limit of up to Rs.10 lakhs.
Shelters for urban homeless – Cost of construction of shelters for urban homeless is fully funded under the Scheme.
Other means – Development of vendor markets and also the promotion of skills for the vendors through setting up infrastructure and special projects for the rag picker and differently abled etc.

G. Practice Questions for UPSC Prelims Exam:)

Question 1: Subject- "Water", is in which part of the constitution _____.
Union List
State List
Concurrent List
None of the above
See
Question 2: Deen dayal Antyodaya Yojana is implemented by which ministry?
Ministry of Housing and Urban Poverty Alleviation.
Ministry of Rural Development
Ministry of Panchayath Raj Insitution
None of the above
See
Question 3: Deen Dayal Upadhyaya Grameen Kaushalya Yojana is implemented 
by ____________.
Ministry of Housing and Urban Poverty Alleviation.
Ministry of Rural Development
Ministry of Panchayath Raj Insitution
None of the above
See
Question 4: Who has the power to de-register a political party?
Election Commission of India
Parliament
State Legislative Assembly
None of the above
See
 "Proper Current Affairs preparation is the key to success in the UPSC- Civil Services Examination. We have now launched a comprehensive 'Online Current Affairs Crash Course'. Limited seats available. Click here to Know More."