With every IAS aspirants who took the civil service exam for the year 2015 and are eagerly waiting for the CSE cut-off marks for the same year, here's an overview of previous three years cut off marks of civil service exam that will help you in calculating the expected cut off of CSE 2015 for IAS exam Find below the cut-off marks of previous three years from 2012 to 2014:   Civil Services Examination, 2014 – Cut Off Marks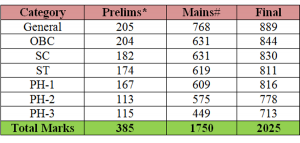 *Subject to minimum of 40 marks in Paper-I and 70 marks in Paper-II #Subject to 10% marks in each of the seven competitive papers i.e., Essay, GS Paper I to Paper IV, Optional Paper I and II   Civil Services Examination, 2013 – Cutoff Marks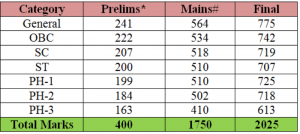 *Subject to minimum of 30 marks in Paper-I and 70 marks in Paper-II #Subject to 10% marks in each of the seven competitive papers i.e., Essay, GS Paper I to Paper IV, Optional Paper I and II UPSC revealed the minimum cut off marks for the civil services exam in 2013 in order to bring in greater transparency in the exam process. Below given is the cut-off marks for IAS Exam 2013. These marks are only for the year civil services exam 2013, which means the qualifying marks will not remain the same every year and the UPSC may change it.   Civil Services Exam Cutoff Marks for 2012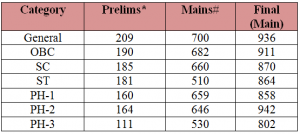 The minimum qualifying marks is applicable for both UPSC prelims and mains papers, while the minimum qualifying marks for the language papers i.e., English and Indian Language in the Mains exam already exist, but since for the first time the UPSC has disclosed that it has kept 10% qualifying marks for the other papers as well, now let's see the scoring pattern.   This is how the scoring pattern is intended, if a candidate fails to obtain the minimum marks in any paper of  IAS prelims or mains exam then the person will not be eligible for the next stage though the total marks may be more than the qualifying marks.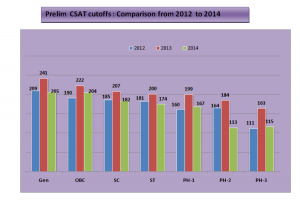 This is how the qualifying marks are calculated: For an example, a candidate who belongs to general category scores 180 marks out of 200 marks in IAS prelims paper I and scores only 65 marks out of 200 in paper II  that makes a total score of 245 out of 400.  So, even though the candidate's total score (245) which is more than the qualifying score (241), he/she do not qualify for the UPSC Mains Exam as the candidate failed to obtain the minimum qualifying marks of 70 in paper II. And, the same method holds for the civil service mains papers also.  
Is the qualifying marks set is fixed? No, they are not. UPSC has nowhere mentioned that these qualifying marks set for Civil Services IAS Prelims and Mains Exam will be the same every year. Relatively, they are dynamic depending upon the number of vacancies for the year, a difficult level of papers, and the scores achieved by candidates of different categories.  
Expected cutoff for Civil Services Prelim Exam 2015 By seeing the previous year's cut-off marks for civil service exam that was released by the UPSC, hope now the cloud on the expected cutoff marks for civil services exam 2015 would have been cleared and aspirants would have estimated the cutoff marks by now. Many say that the expected cut off marks of the civil services prelim exam 2015 may not differ much when compared with the last year, CSE 2014. Most of the experts view is that the cut off marks of prelims exam 2015 could be somewhere more or less than 5 from the cutoff marks of last year.
Also read-