Economy is an important part of the UPSC prelims and mains exams; this series titled 'Economy This Week' has been initiated to address the need to read and analyse economic articles in various business-related newspapers. The round-up of the Economy/Business section news for 25th June to 1st July 2022 is given below. Business news is essential for IAS exam preparation.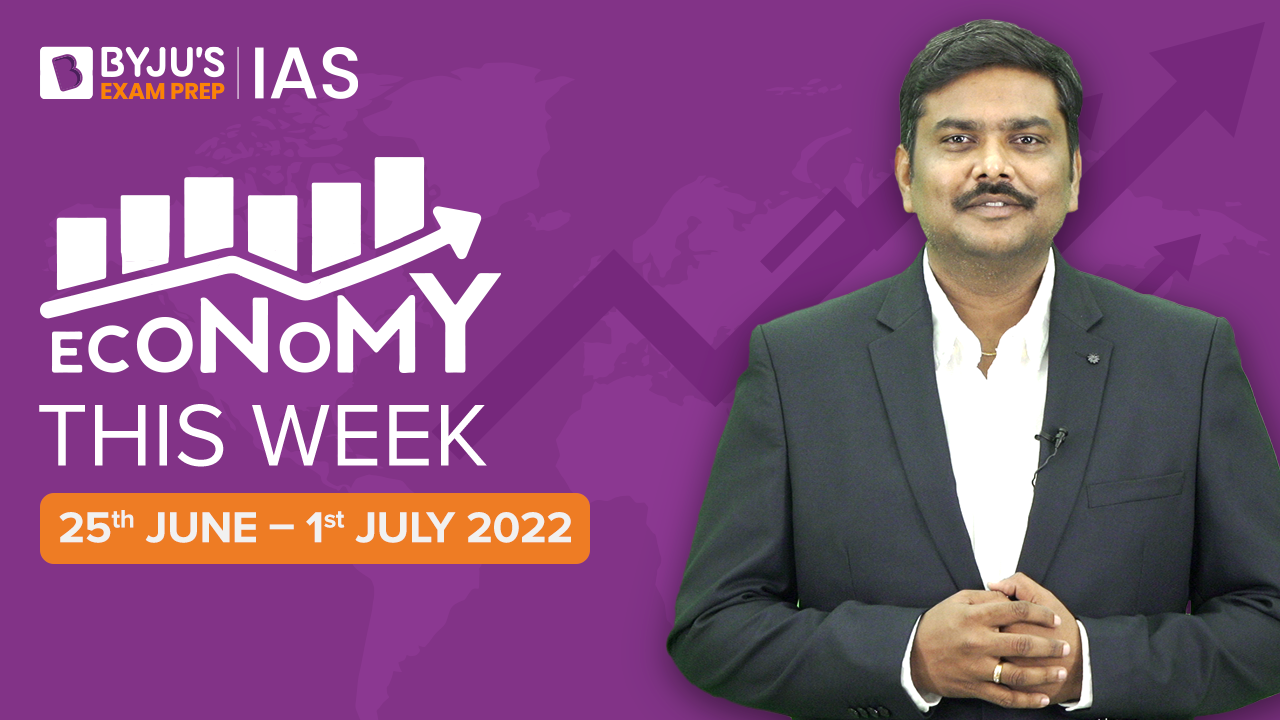 TABLE OF CONTENTS
1. 63000 farm co-ops to be digitized
2. NITI Aayog pitches for incentives to draw more women into gig economy
3. Cars to get 'star ratings' on performance in crash tests
4. GST compensation cess extended
5. Rupees declining against dollar
6. Exporters rebate scheme to get a revamp
7. MCA reworks rules for winding up businesses
8. NAA may need an extension to decide on pending cases
9. Why Yes Bank rolled out a floating rate FD
1. 63000 farm co-ops to be digitized (TH 30/6/22)
Cabinet Committee on Economic Affairs (CCEA) on Wednesday has approved proposal to digitize around 63000 primary agricultural credit societies (PACS) 

Govt will be incurring a cost of ₹ 2516 Cr (each PACS will get ₹ 4 lakh to upgrade) and this will be benefiting 13 Cr small and marginal farmers 

This will increase their efficiency, transparency, reliability and facilitate accounting of multipurpose PACS 

Apart from this the PACS will also become a point for providing direct benefit transfer, interest subvention scheme, crop insurance scheme (PMFBY), inputs such as fertilizers etc
2. NITI Aayog pitches for incentives to draw more women into gig economy (IE 28/6/22)
Gig workers are classified into platform and non-platform workers 

Platform workers are those whose work is based on online software apps or digital platforms 

Non-platform workers are generally casual wage workers which work part time or full time   

In order to promote more participation of women in the gig economy, NITI Aayog has proposed fiscal incentives such as tax breaks or start-up grants for companies with one third of their workforce as women and people with disabilities (PwDs) 

NITI Aayog has published the report – India's booming Gig and Platform Economy 

It says that female workforce is more likely to take up platform jobs after their education and marriage

The report also has cited that female labour force participation has been low in India for the last few years oscillating between 16 to 23%. Similarly PwDs who make up from 2.1% to 10% of population account for LFPR of 36% 

The structural barriers such as lack of access to education and skilling has hindered the participation of two demographic groups 

As per the report there are over 7.5 mn workers in the gig economy in 2020-21 and could grow up to 23.5 mn in next eight years making for 4.1% of total livelihood in India 

To encourage increased and equal participation in the gig economy, the report has recommended extending social security benefits to workers as envisaged in the code on Social Security 2020  

The firms should adopt policies that offer old age retirement plans and benefits and other insurance cover for contingencies such as injury arising from work that may result in loss of work 

Access to institutional credit may be enhanced through financial products specifically designed for platform workers and those interested in setting up their own platforms 
3. Cars to get 'star ratings' on performance in crash tests (FE 25/6/22)
Govt has proposed new car assessment programme – Bharat NCAP – wherein the automobiles in India will be accorded with star ratings based upon their performance standards 

This is expected to 

Act as a consumer centric platform allowing the customers to choose for safer cars based on their star rating 

Promote healthy competition among the original equipment manufacturers to reduce safer vehicles 

The Bharat NCAP 

Will be applicable to vehicles of M1 category with gross vehicle weight (GVW) less than or equal to 3500 kg

M1 category includes motor vehicles used for carriage of passengers (eight passenger in addition to the driver seat)  

Will evaluate the vehicle for adult occupant protection, child occupant protection and safety assist technologies and will award separate ratings 

Ratings will be in the form of single star to a maximum of five stars
4. GST compensation cess extended (TH 26/6/22)
Centre has extended the compensation cess by almost 4 years – till 31st March 2026 

The centre in order to pay the shortfall to states, had borrowed ₹ 1.2 lakh Cr in FY21 and ₹ 1.59 lakh Cr in FY22 . from 2023-24 the repayment of principal amount would begin and continue till march 2026 
5. Rupees declining against dollar (TH 1/7/22)
Rupee has declined/depreciated by more than 6% against the US dollar since 2022 and India's forex reserves have dropped by $50 bn since 3rd September 

Causes 

Since march this year the central baker of USA / Federal Reserve has been hiking interest rates which has led to led foreign investors taking their investments out of emerging markets such as India and investing in USA. 

In 2013, Indian rupee depreciated by 15% against the dollar in three months after Federal Reserve decided to reduce the bond purchases 

The CAD is expected to hit a 10 year high of 3.3% for this fiscal 

This will lead to depreciation of rupee 

This can be stopped if the foreign investors bring in dollars into India which will not happen when the yield rates on the 10 year g-sec in the USA are rising (was 0.5% in mid 2020 to over 3% now) 
6. Exporters rebate scheme to get a revamp (LM 25/6/22)
The govt has introduced RoSCTL (Remission of State and Central Taxes and Levies) under which the taxes already paid on inputs are rebated

The rebates are not issued in the form of cash but in tradable scrips 

The scrips can be traded by exporters to importers who can use it to pay customs duty on the imports 

The exporters have complained that the scrips are trading at 20% discount 

These scrips are tradable even before the export realisation (this adds to risk component) and the govt's feels that this is the reason for scrips are being traded at discount. Govt wants to make them tradable after full export payments are received 

It is also likely to increase the eligibility of the scrips to 24 months
7. MCA reworks rules for winding up businesses (LM 25/6/22)
Ministry of Corporate Affairs (MCA) has revised rules for the voluntary winding up of companies 

Voluntary winding up offers an opportunity for companies wind up outside the IBC process 

Through this the exit process under the companies act, which are out of the purview of IBC, will be made smoother 

This would be improving the business climate as the investors will now commit to more investment as there is an easier exit  

Ministry has notified The Companies (Removal of names of companies from the register) Amendment rules 2022

Companies have options such as voluntary winding up under companies act, corporate restructuring under 2019 RBI scheme and IBC
8. NAA may need an extension to decide on pending cases (LM 29/6/22)
National Anti-Profiteering Authority (NAA) may take another 18 months to decide on the pending cases as the GST council is yet to decide on bringing it under the competition commission of India 

The term of the NAA is set to end on 30

th

November 2022 

The authority was not able to conduct the business because of the lack of quorum and with govt appointing 2 members has started working 

The NAA comprises 4 technical members and a chairman 

It has now 3 technical members, with one of them holding additional charge of chairman 

There are around 216 cases pending before the NAA
9. Why Yes Bank rolled out a floating rate FD (LM 27/6/22)
Yes Bank has launched a fixed deposit wherein the interest rate on these will be moving in the same direction as repo rate 

1 year to less than 18 months – These deposits have a mark-up of 1.1% over and above the repo rate (current repo rate is 4.9% and the rate of interest is 6%) 

In case they maturity is above 18 months, the markup will be 1.6% 

During the rates of inflation the investors keep shopping for FDs with higher interest rates and if the FDs are already linked to repo rate then the possibility comes down 

The bank has been using other sources of funding to lend and these sources are comparatively expensive.  
Economy This Week (25th June to 1st July 2022):- Download PDF Here
Download the PPT of the video lecture from the link below:
Economy This Week (25th June to 1st July 2022):- Download PPT Here
For more business news videos and PDFs, keep visiting the 'Economy This Week' segment regularly.