With the change in UPSC Exam pattern and syllabus from 2013, current affairs play a major role in the preparation and the exam requires the awareness of current happenings both nationally and internationally. Read on to know more about how to study current affairs for UPSC prelims & mains.
The UPSC Exam is conducted in three stages i.e., Prelims, Mains and Personality Test and current affairs play a significant part in all these three stages.
Current Affairs Syllabus for UPSC
Before moving towards the preparation part and getting the answer to the question, 'How to prepare for current affairs for UPSC?', first, refer to the syllabus for this part. Though there is no fixed syllabus for this section, and the range of questions is varied. Candidates must keep themselves updated with all recent events in news, and also be prepared with their background study.  
The GS Paper in UPSC Syllabus comprises current affairs as a key part, and candidates can refer to the syllabus for the same given below:
UPSC Prelims GS Syllabus – (200 marks) – Duration: 2 hours
Current events of national and international importance.
History of India and Indian National Movement.
Indian and World Geography – Physical, Social, Economic Geography of India and the World.
Indian Polity and Governance – Constitution, Political System, Panchayati Raj, Public Policy, Rights Issues, etc.
Economic and Social Development – Sustainable Development, Poverty, Inclusion, Demographics, Social Sector initiatives, etc.
General issues on Environmental Ecology, Biodiversity and Climate Change – that do not require subject specialisation General Science.
Aspirants can get the IAS Current Affairs Questions and Answers based on the latest developments across the world by visiting the linked article. These questions have been curated by experts keeping in mind the UPSC prelims syllabus.

How to Prepare Current Affairs for UPSC?
The UPSC syllabus for prelims quite clearly mentions "Current events of national and international importance" and this part of the syllabus is called as current affairs. The commission has included current affairs in the exam but the syllabus of current affairs is not defined for both prelims and mains exam, hence all that an aspirant has to do is to read major newspapers every day and make notes out of it or can also refer our Comprehensive News Analysis, which covers all the major news that is relevant with regards to UPSC Current Affairs.
For comprehensive coverage of UPSC current affairs, candidates can check our Daily Current Affairs updates in the linked article.
It is advised to candidates while preparing for current affairs section to keep the previous year question papers along with them and understand what type of questions has been asked as it will give an idea to candidates on how to prepare for current affairs.
Current Affairs Preparation for UPSC:
Reading the newspaper alone is not sufficient for UPSC Current Affairs preparation, below listed are some useful books that candidates can refer for current affairs:
India Year Book

Newspaper- The Hindu, Indian Express

Manorama Yearbook

Economic Survey

Mathrubhumi Yearbook

Current Affairs – Arihant

Yojana Magazine

Kurukshetra Magazine

Pratiyogita Darpan Magazine
One of the most important topics included in the current affairs syllabus for UPSC is the schemes and policies released by the government of India. Candidates preparing for the civil services exam must refer to the video given below and questions based on these government schemes may be asked in the prelims general studies paper:
Current Affairs Question Analysis of previous question papers
As said earlier, the current affairs part was included in the UPSC Exam from 2011 onwards. Let us look at the previous year question papers to analyse and check the weightage of current affairs question in the prelims exam.
The following graph and table will give you a clear picture of the importance that current affairs plays in the UPSC exam.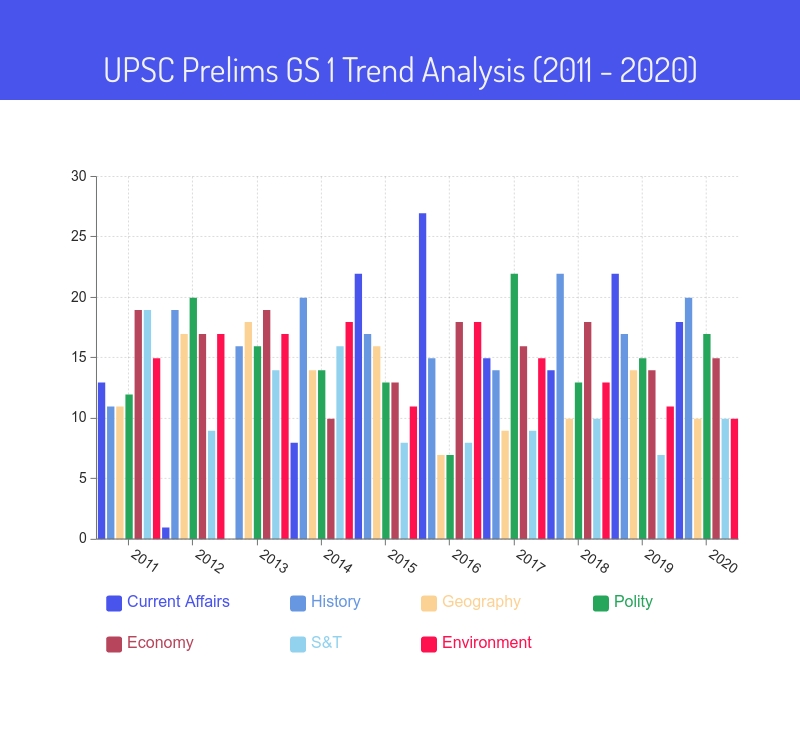 This analysis of past years' question papers shows that the weightage for current affairs question is increasing every year and hence, aspirants should give more importance to current affairs and related aspects while preparing for UPSC.
 While speaking about current affairs question in UPSC Mains Exam, particularly in General Studies Paper 1 to 4, most of the subject related questions asked are correlated with the current affairs. Hence, it could be said that the percentage of current affairs in UPSC mains is also huge.
For example: If we analyze the UPSC Civil Services Mains 2013 Question Paper,
The above question was asked in UPSC 2013 Mains Exam, which is linked to World War and Current Affairs.
For e.g. US and Cuba have recently decided to restart their diplomatic relation, this is how we can correlate this news with the world history syllabus, by giving importance to "Cuban Missile Crisis".
This year President Obama visited Cuba, which made waves in the newspaper, hence it is advised to give importance to this current affair as questions may be expected related to this.

This question was asked in the year 2013 in UPSC Mains Exam when the Telangana issue was at its peak.
At BYJU'S, we gather all of the important information required for IAS preparation from most of the above-mentioned sources and compile it in a monthly current affairs magazine. Check the linked page to download the magazine PDF.
Also, Read | How to Read Newspapers for UPSC Civil Services Exam?
Now latest general knowledge (GK) and current affairs are also available on BYJU's app, which candidates can utilize to prepare for the IAS Exam, while on the go without wasting their valuable time.
Frequently Asked Questions on How to Prepare for Current Affairs for UPSC
Q 1. Where can beginners get the study material to prepare current affairs for IAS Exam?
Ans. One of the best sources to get the latest current affairs for beginners looking forward to appearing for the civil services examination is by reading the newspaper. Apart from this, different current affairs magazines, static general awareness, etc. can also be referred to for exam preparation.
Q 2. How to cover current affairs for UPSC exam?
Ans. Since there is no fixed syllabus for the current affairs section, candidates must have a detailed knowledge of the latest events globally held atleast 6 months prior to the date of examination. Apart from that, candidates must also have an in-depth knowledge of the background and history of the event taking place. Ensure making proper and systematic notes to make revision easier.
Q 3. How can I get current affairs for UPSC?
Ans. Refer to the following sources to read current affairs for UPSC:
Read the newspaper Daily
PIB Review
Gist of Yojana, Kurukshetra and other Magazines
FMonthly editions of current affairs journals
Q 4. How many months of current affairs will be covered by UPSC?
Ans. There is no fixed duration for the current affairs to be covered by UPSC for the civil services exam. Still, a year or atleast 6 months of current affairs must be prepared.