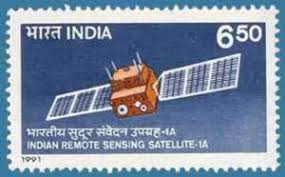 On 17 March 1988, the first indigenous remote sensing satellite developed by the Indian Space Research Organization (ISRO), the IRS-1A was launched by a Soviet launch vehicle Vostok.
Get the list of Indian Satellites from the linked article.
Related links:
IRS-IA
The Indian Remote Sensing Satellite-1A or the IRS-1A was launched on March 17th, 1988 from a Soviet cosmodrome, the Baikonur Cosmodrome currently in Kazakhstan. It was launched at about 12:00 AM Indian Standard Time.
The satellite was the first Indian-made remote sensing satellite developed by the Indian Space Research Organisation (ISRO).
The launch vehicle was a Russian Vostok. It was launched into a sun-synchronous polar orbit.
The satellite's mission was operational remote sensing and was to be used for land-based applications in areas like agriculture, geology, forestry and hydrology.
It had a swath width of 140 km while passing over the country.
The total weight of the satellite was 975 kg. Its payload consisted of three solid-state push-broom cameras, LISS-1 with a resolution of 72.5 m; LISS-2A; and LISS-2B with a resolution of 36.25 m. LISS stands for Linear Imaging Self-Scanning System. The onboard power was 600 Watts.
The push-broom sensors operated over the spectral bands: 0.45-0.52, 0.52-0.59, 0.62-0.68, and 0.77-0.86 micrometre.
Its orbit was 904 km above the earth. The orbit inclination was 99.01 degrees with a repeat cycle of 22 days.
It had a perigee of 863 km and an apogee of 917 km.
IRS-1A was an earth observation satellite developed and owned by ISRO.
The satellite's communication parameters were S-band, X-band and VHF.
It had four reaction wheels.
It used monopropellant Hydrazine with sixteen 1 Newton thrusters for propellants.
Local passing time over the equator was fixed at about 10:00 AM.
The mission was completed in July 1996 after eight years and four months.
See previous 'This Day in History' in the linked article.
Aspirants can cover the topics mentioned in the
UPSC Syllabus
by following the below-mentioned links:
Also on this day
---
1959: The Dalai Lama escaped to India from Tibet.
UPSC Preparation: