18 September 1615
Sir Thomas Roe arrived in Surat as the first English Ambassador to the Mughal Court in India.
---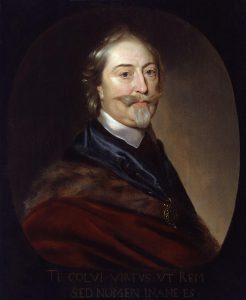 What happened?
On 18 September 1615, English diplomat Sir Thomas Roe arrived at the Surat port as the ambassador of the English King, James I to Mughal Emperor Jahangir's court. This was a significant event in modern Indian history as it was the first step towards establishing the British East India Company as a paramount power in the Indian subcontinent. Read more about this event in Indian history for the IAS exam.
Sir Thomas Roe Arrives in India – Background
The East India Company received the royal charter to trade with India from the British monarch Elizabeth I in 1600.
Their envoy William Hawkins had visited Jahangir in 1608. However, this visit did not bear fruits as he could not secure a permit to establish a factory at Surat.
The Portuguese were having successful trade relations with India at that time and they influenced the Mughal court against the British.
So, the English decided to send Sir Thomas Roe to Jahangir's court to achieve what Hawkins could not.
Sir Thomas was an able and courageous statesman who took special care not to repeat Hawkins's mistakes. He brought many rare gifts from Europe to present to the Mughal ruler. He also took great care to present himself with utmost dignity and authority befitting an ambassador of the 'mighty English King'.
He had a 44-day stay at Surat as the governor of the Mughal King wanted to search him first. Roe refused as he was the 'ambassador'. After much dilly-dallying and presentations of gifts and pleasantries, Roe embarked on his journey to Agra to meet Jahangir. He also met Prince Khurram (who later became Emperor Shah Jahan) on the way.
Jahangir was much impressed with the English ambassador and he welcomed him. Roe, with his clever skills was successful in keeping out the Portuguese and also in obtaining a 'firman' from the Mughal King to establish factories at Surat. He also gained exclusive trading rights for the English.
Roe's account of his stay in India 'Journal of the mission to the Mogul Empire' is a valuable document shedding light on the history of the early 17th century in India.
Thomas Roe's contribution to the establishment of the British Raj cannot be undermined. Even though he obtained only trading rights for the British, this was the first step in the beginning of the British control of the Indian subcontinent.
He stayed in the Mughal court for three years from 1615 to 1618.
Also on this day 


---


1803: Puri captured by the British from the Marathas.
1958: Death of theosophist and Bharat Ratna awardee Bhagwan Das aged 89.
1967: English adopted as the official language of Nagaland.
1992: Death of former Vice President and Chief Justice Mohammad Hidayatullah aged 86.
See previous 'This Day in History' here.
Also read: