TABLE OF CONTENTS
A.

 GS1 Related




B.

 GS2 Related


GOVERNANCE
1. Nutrition panel drops Maneka proposal
INTERNATIONAL RELATIONS
1. India, Pak. to take part in war games


C.

 GS3 Related


SCIENCE AND TECHNOLOGY
1. Securing uncharted Cyber frontiers
ECONOMY
1. Aviation Market in India
ECOLOGY AND ENVIRONMENT
1. Arctic sea ice under threat


D.

 GS4 Related




E. 

Editorials


INTERNATIONAL RELATIONS
1. Wisdom at Wuhan
SOCIAL SCHEMES
1. Food first


F. 

Prelims Fact


G. UPSC Prelims Practice Questions
H. UPSC Mains Practice Questions 

A. GS1 Related
Nothing here for today!!!
1. Nutrition panel drops Maneka proposal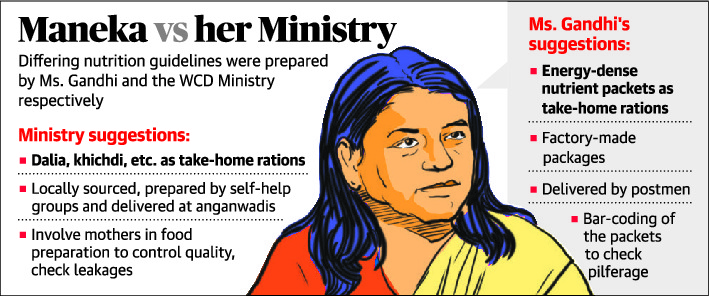 The National Council on Nutrition (NCN) has unanimously rejected Union Minister for Women and Child Development (WCD) Maneka Gandhi's proposal to replace ready-to-eat food as take-home dry rations with energy-dense nutrient packets which could be mixed with food for anganwadi beneficiaries.
The council has also directed that pilot projects be conducted in 10 select districts on cash transfers instead of take-home rations — Ms. Gandhi has opposed the idea on the grounds that there is no guarantee that beneficiaries would use the money for food.
The National Council on India's Nutrition Challenges, headed by Vice-Chairman of the NITI Aayog Rajiv Kumar, was constituted in January to provide policy directions to address nutritional challenges in the country and review programmes on a quarterly basis.
PMO decision
The Chairman [Nutrition Council] drew attention to the PMO's decision in this regard and the need for continuance of the existing practice of hot cooked meals for children (3-6 years) age group and take-home rations (THR) for children (6 months-3 years) and pregnant women and lactating mothers as decided by the State governments in conformity with the National Foods Security Act, 2013, and the Supplementary Nutrition Rules, 2017. The view was endorsed unanimously by the council.
Significantly, Minister of Consumer Affairs and Food and Public Distribution Ram Vilas Paswan, who was present at the meeting, also differed with Ms. Gandhi's proposal. According to the minutes, Mr. Paswan emphasised the importance of empowering Anganwadi workers to ensure proper delivery of services as well as engaging local self-help groups to ensure region-location based recipe and dietary diversification.
While the Minister is in favour of factory-made and energy-dense nutrient packets, which can be delivered by postmen, officials in her Ministry proposed food items such as dalia(broken wheat) and khichdi (rice and lentil stew) prepared with local ingredients and sourced from self-help groups.
As a result of the disagreement within the Ministry, two different nutrition guidelines were prepared — one by Ms. Gandhi and another by officials in the WCD Ministry — and sent to the NITI Aayog, ahead of a meeting of the Nutrition Advisory Technical Board on January 24.
Local participation
At the April meeting, the council also agreed to involve mothers of Anganwadi beneficiaries for preparation of meals to ensure quality and encourage jan bhagidari(public participation).
As part of the Integrated Child Development Scheme, Anganwadi beneficiaries between the age of six months and three years as well as pregnant women and lactating mothers are entitled to take-home rations, which includes wheat, soya and sugar.
Category: INTERNATIONAL RELATIONS
1. India, Pak. to take part in war games
In a first, arch-rivals India and Pakistan will be part of a multi-nation counter-terror exercise in Russia in September. It will also be joined by China and several other countries. The exercise will take place under the Shanghai Cooperation Organisation (SCO), a China-dominated security grouping which is increasingly seen as a counterweight to NATO.
Officials said the drill would be held in the Ural mountains of Russia, and almost all SCO member countries would be part of it. They said the main aim of the exercise, Peace Mission, would be to enhance counter-terror cooperation among the eight members.
The officials said India's participation was confirmed by Nirmala Sitharaman during an SCO Defence Ministers' meeting in Beijing last week.
It will be for the first time since Independence that India and Pakistan will be part of a military exercise, though the armies of the two nations have worked together in U.N. peacekeeping missions, they said.
The SCO was founded at a summit in Shanghai in 2001 by the Presidents of Russia, China, Kyrgyz Republic, Kazakhstan, Tajikistan and Uzbekistan.
Category: SCIENCE AND TECHNOLOGY
1. Securing uncharted Cyber frontiers
With the Internet of Things enabling cross-networking of personal data and devices, it adds frightening dimensions to the security landscape.
India's vulnerability
As the world's second-largest digital nation, India's biggest risk in 2017, according to the FICCI–Pinkerton India Risk Survey 2017, was in the area of 'information and cyber insecurity' for business operations.
The Ministry of Electronics and Information Technology reported that India witnessed more than 27,000 cybersecurity incidents in the first half of 2017 — through ransomware attacks, website intrusions or defacement, phishing attacks and data breaches.
India was the third-worst affected country during the WannaCry ransomware attacks in May 2017. In June 2017, operations at one of the three terminals in India's largest port, Jawaharlal Nehru Port Trust near Mumbai, was disrupted due to the Petyacyberattack. In October 2017, Seqrite Intelligence Labs discovered an advertisement announcing secret access to the servers and databases of over 6,000 Indian organisations.
So, how can we protect Indian business against cybercrimes?
First, India's existing cybersecurity policy of 2013 needs to be made more robust to push back digital intrusions at all levels.
A national cybersecurity agency needs to be set up to develop appropriate strategy and action plans.
Close partnership between government and private enterprises can ensure that best practices on security and intelligence on intrusions are comprehensively shared to build better incident response capabilities.
Creating a national gold standard for hardware and software adherence to highest safety protocols is also important.
Businesses must enhance technological and investigative capabilities through research, development and intelligence sharing.
Equally important are building competencies to develop advanced solutions in business continuity, risk analysis, operating systems, firmware and cyberforensics.
Business is closely woven with the fabric of society, right down to digitally aware children and young adults. An estimated 100 million children in India are expected to access the Internet by 2018.
Three themes of security awareness are critical: knowledge, responsibility and privacy: What can and should not be shared?
How do they choose who they interact with online? What can be the consequences of their actions? How can they safeguard themselves from the big, bad cyberwolves? We need to teach children cyberdefense from the school age.
It is an area of great corporate social responsibility, relevant for meaningful engagement of our young. It is also a great way of touching the lives of communities in which we operate.
The opportunity
Globally, about 4 billion people are projected to be online by 2020. Gartner estimates worldwide enterprise spending on information security (including advanced network and security analytics, machine learning technologies, training and user behaviour) will touch about $113 billion by 2020.
Cyber as a war zone is becoming increasingly real — and everything from social media to mobile phones now have a cyber impact that we cannot shrug off. A seismic shift to smarter cybersecurity is the need of the hour.
1. Aviation Market in India
India is poised to become the world's third-biggest aviation market in seven years with more than 20% growth, after China and the U.S.
To meet demand, Indian carriers have placed orders for 1,000 aircraft worth more than ₹10 lakh crore; and, more than 6,000 planes would be needed by 2050. In 2017, Indian carriers flew 117.18 million domestic passengers marking an 18% growth over 2016.
High growth
This market is to grow to 250 million by FY23, according to CAPA, an aviation advisory firm. Boeing has forecast that the Indian market would need 2,100 new planes valued at $290 billion by 2036. Airbus has said the Indian civil aviation market will grow by 8.1% for next 20 years which is above the world average of 4.4%.
Union Minister for Civil Aviation Suresh Prabhu had said last week a task force would soon be set up for the manufacture of commercial planes in India. The move is intended to encourage local manufacture, create jobs and prevent the outflow of foreign exchange.
 Is India, a country whose per capita GDP is $1,700 (lower than China's $8,123), capable of manufacturing high-end planes?
There has been no emphatic 'yes' from any quarter, but that it can produce a viable aircraft in the future is something analysts agree upon.
In India, only Hindustan Aeronautics Ltd., the public sector unit, has forayed into the manufacture of the 19-seater Dornier 228 which can be deployed in regional sectors. Similarly Taneja Aerospace has been assembling planes for years but with limited commercial success.
What is needed a serious and time-bound approach to encourage and develop a viable and futuristic aircraft manufacturing programme to at least reach the level achieved by Brazil which has developed and sustained the Embraer programme, breaking the glass ceiling.
The government needs to enforce a robust government-private collaboration to take Indian aerospace manufacturing to the next level.Even the biggest aerospace powers do not have any aircraft that is 100% built in their country.
The level of sophistication and specialisation that exists in aerospace requires sourcing of components and subsystems from all across the world.
So far, the world has had only two major manufacturers of commercial planes and less than a handful making small aircraft. This speaks volumes for the entry barrier to successfully make and sell planes.
China began in the 1980s
However, Sweden, Japan, Brazil and China have sustained their aerospace industries in the face of competition from the big two.
China started investing in its aerospace ecosystem in the '80s, when it started manufacturing the MD-82, the results of which we are seeing today in the form of COMAC C919, ARJ-21 and the AVIC AG600.
Component manufacturing in India is currently limited to a few players who have become reliable suppliers for global OEMs. The Tatas, UTAS, Dynamatic and Aecus are examples.
In the private sector, the Mahindra group manufactures aircraft, but abroad.The Tata Group has also invested in aerospace. Tata Advanced Systems is into aerostructures. With three programmes in operation, it aims to become a global supplier of choice for OEMs.
The company is assembling Sikorsky S92 helicopter cabins and has a joint venture with Lockheed Martin for assembly of C-130J Empennage and centre Wind-box. Another Tata Group company TAL Manufacturing Solutions makes floor beams for Boeing's 787 Dreamliner aircraft.
The government is now providing the right impetus to address this growth. The broad roadmap comprises three elements: to expand airport infrastructure; the Make in India incentive for manufacturing in India; and, to revitalise the MRO industry in India through fiscal incentives.
Category: ECOLOGY AND ENVIRONMENT
1. Arctic sea ice under threat
Researchers have warned of a troubling accumulation of microplastics in sea ice floating in the Arctic ocean, a major potential source of water pollution as global warming melts the sheets of frozen water.
A team from the Alfred Wegener Institute for Polar and Marine Research (AWI) found 17 different plastic types in ice samples gathered during three Arctic expeditions on board the research icebreaker Polarstern in 2014 and 2015.
They included plastic from shopping bags and food packaging, from ship paint, fishing nets, nylon and polyester found in synthetic fabrics.
One sample contained the highest concentration of microplastics ever found in sea ice – up to 12,000 particles per litre of frozen water.
This was two- to three times higher than any past measurement, the research team wrote in the journal Nature Communications.
The discovery suggests microplastics are now ubiquitous within the surface waters of the world's ocean. Sea ice grows from the freezing of seawater directly underneath the existing ice, thus incorporating floating microplastics as it grows downward.
This means the plastics were present as the ice was growing, and drifting, in the Arctic Ocean. Of particular concern was the particles' small size. Some were only 11 micrometres across — about a sixth the diameter of a human hair, the team said. A micrometre is a millionth of a metre.
This means they could easily be ingested by Arctic micro-organisms such as small crustaceans on which fish feed.No-one can say for certain how harmful these tiny plastic particles are for marine life, or ultimately also for human beings. On current trends, warns the UN, there will be more plastic than fish in the sea by 2050.
Other studies have recently warned that humans are ingesting microplastics in shellfish, tap water and bottled water. The health risks remain unclear.
Nothing here for today!!!
Category: INTERNATIONAL RELATIONS
1. Wisdom at Wuhan
For an "informal summit", the Wuhan meeting between Prime Minister Narendra Modi and Chinese President Xi Jinping appeared to cover much ground over the two days — in terms of public appearances and in the two statements issued.
Most of their conversations were unstructured, at informal events where they were accompanied only by translators. There was just one delegation-level meeting.
The statements denoted the wide range of subjects discussed, from bilateral to regional and global challenges. On the bilateral front, they decided to "issue strategic guidance to their militaries to strengthen communication", essentially to avoid another Doklam-like confrontation.
Both sides addressed measures to better balance the ballooning trade deficit of about $52 billion (of about $84 billion bilateral trade), mostly by encouraging agricultural and pharmaceutical exports to China. Mr. Modi and Mr. Xi discussed a joint project in Afghanistan.
Finally, they attempted to reduce the heat over unresolved issues and so-called "irritants" in the relationship, such as China's block on India's NSG membership bid or the UN's terror designation for Pakistan-based groups, and India's opposition to the Belt and Road Initiative or its use of the Tibet issue. For this, existing mechanisms of dialogue will be strengthened, not allowing broader bilateral movement to be hit.
Such a conciliatory approach from Delhi and Beijing has been evident over the last few months of preparation for the Wuhan meeting, with both sides turning down the post-Doklam rhetoric.
While their previous meetings, in 2015, 2016 and 2017, were preceded or overshadowed by a military standoff or Chinese army intrusion, this time the air has been relatively calm.
The message from Wuhan is an overarching one: that despite bilateral and geopolitical differences, India and China can resolve differences peacefully and through prolonged dialogue.
Despite hundreds of years of engaging each other, the two neighbours have been to war only once; since the Agreement on the Maintenance of Peace and Tranquility was signed in 1993, neither side has fired a weapon along the 3,500-km boundary, which is largely undemarcated.
And despite both countries' atomic weapons arsenals, parleys have never carried even a hint of the nuclear overhang.
The Wuhan summit has recommitted India and China to managing bilateral relations in a manner that creates the conditions for the "Asian Century", and Mr. Modi and Mr. Xi are well-placed to proceed along that path. Much will depend on whether the Wuhan understanding can prevent skirmishes and misunderstandings becoming standoffs, as in the past.
1. Food first
The central principle that should guide the Centre in improving maternal and child nutrition is that early childhood is the foundation for the health and well-being of an individual.
Tinkering with the existing national programme of providing hot-cooked meals to children three to six years old, and take-home rations for younger children and pregnant and lactating mothers is fraught with danger.
Attempts to substitute meals or rations with factory-made nutrients will inject commercialisation into a key mission, and upset the nutritional basis of the scheme.
Good sense has prevailed, and the newly-formed inter-ministerial National Council on India's Nutrition Challenges has chosen to continue the current practice, overruling the Minister for Women and Child Development, Maneka Gandhi, who proposed distribution of packaged nutrients to beneficiaries.
Raising nutritional standards for young children has become a policy imperative only in recent years, with the National Food Security Act, 2013, incorporating the mandate in Schedule II, and the Supplementary Nutrition (Integrated Child Development Services Scheme) Rules, 2017, laying down entitlements.
Food and Public Distribution Minister Ram Vilas Paswan's emphasis on strengthening these legal guarantees by providing more nutritious hot-cooked meals and rations with the help of local self-help groups is to be welcomed.
If the ICDS scheme, now called the Anganwadi Services Scheme, is to achieve better outcomes, it must focus on the provision of physical infrastructure and funding, besides closer monitoring of the nutrition mission. Theoretically, the mission covers every child, but in practice it is not accessible to all.
When the Centre recently launched POSHAN Abhiyaan, an integrator that will build capacity among nutrition workers, it acknowledged that while official data show a reduction in some of the depressing aspects of women and child health, the ground reality is far from comforting: the National Family Health Survey-4 shows a drop in underweight and stunted children under five years of age compared to the previous survey, but the absolute numbers are still high.
An estimated 35.7% children are underweight and 38.4% are stunted in that age group. The body mass index of 22.9% women aged 15-49 indicates chronic energy deficiency. These figures should cause alarm that even after a long period of robust economic growth, India has not achieved a transformation.
To accelerate the pace of progress, POSHAN Abhiyaan should rigorously measure levels of access and quality of nutrition, and publish the data periodically. It should be pointed out that NFHS data show several States performing worse than the national average. In a recent report, Nourishing India , the NITI Aayog refers to acute malnutrition levels of about 25% in some States. There is no quick fix, and the answer to better nutrition lies in fresh, wholesome and varied intake.
Nothing here for today!!!
G. Practice Questions for UPSC Prelims Exam
Question 1. Consider the following statements about Nifty equity savings index:
The index is total return index capturing price return and dividend or coupon income.
It will help to fill gap that was there due to absence of relevant benchmark for performance comparison of popular equity savings funds category offered by mutual funds in India.
Which of the above statements are correct?
1 only
2 only
Both 1 and 2
Neither 1 nor 2
See
Question 2. Consider the following statements:
A sovereign credit rating is credit rating of country or sovereign entity.
It gives investors insight into level of risk associated with investing in particular country, including its political risk.
Which of the above statements are incorrect?
1 only
2 only
Both 1 and 2
Neither 1 nor 2
See
Question 3. Consider the following statements about Index Services & Products Ltd (IISL):
It is subsidiary of National Stock Exchange of India (NSE).
It provides variety of indices and index related services and products for Indian capital markets.
Which of the above statements are correct?
1 only
2 only
Both 1 and 2
Neither 1 nor 2
See
Question 4. Consider the following statements about Carry Trade:
A carry trade is a strategy in which an investor borrows money at a low interest rate in order to invest in an asset that is likely to provide a higher return.
This strategy relies on relative stability in asset prices.
Which of the above statements are correct?
1 only
2 only
Both 1 and 2
Neither 1 nor 2
See
H. UPSC Mains Practice Questions
 General Studies II
There is no substitute for hot-cooked meals to address poor child nutrition. Critically Examine.

Social audits ensure a citizen-centric mode of accountability. Social audits can potentially become a powerful democratic method. Discuss.
Also, check previous Daily News Analysis
"Proper Current Affairs preparation is the key to success in the UPSC- Civil Services Examination. We have now launched a comprehensive 'Current Affairs Webinar'. Limited seats available. Click here to Know More."
Enroll for India's Largest All-India Test Series