TABLE OF CONTENTS
A.

 GS1 Related




B.

 GS2 Related


POLITY AND GOVERNANCE
1. Gehlot government takes a slew of decisions
2. Freedom of Literature Bill, courtesy of Tharoor
3. 3 held for spreading 'fake news' on Khattar


C.

 GS3 Related


SCIENCE AND TECHNOLOGY
1. ISRO readies for a busy 2019
2. Bioplastic


D.

 GS4 Related


1. Madhya Pradesh to get 'spiritual department'


E. 

Editorials


ECONOMY
1. The lowdown on the state of the economy
2. Farmers need more than loan waivers


F. 

Tidbits


1. Centre plans cycle parts, rubber industries in Tripura


G. 

Prelims Fact


1. Complaint boxes in Bengal schools to combat trafficking
2. Himalayan griffon vultures visit habitat in Telangana
H. UPSC Prelims Practice Questions
I. UPSC Mains Practice Questions

Nothing here today!!!
Category: POLITY AND GOVERNANCE
1. Gehlot government takes a slew of decisions
Context
The Rajasthan government abolished the minimum educational qualification needed for contesting civic polls and this was decided considering the constitutional right of every individual to take part in the democratic process, he said.
The Raje government had introduced this condition in 2015. The candidates were required to have passed Class X for contesting municipal elections, Class VIII for contesting panchayat polls for the post of a sarpanch, and Class X for contesting zila parishad or panchayat samiti elections.
Merits of minimum education criteria
It ensures that candidate with basic education enables to more effectively discharge various duties which befall the elected representatives.
To promote and spread the literacy level in the society  specially women education giving greater importance due to the new rule, furthermore men's  are changing their tendency to marry with the educated girls without even taking dowry so that women can stand for the elections even for the general seats.  Ultimately this situation leads to creation of better consensus among people.
This new norms have help to reinforce the gender imbalance in the Grass root level of the society.
It meant to elect model representatives for local self government for better administrative efficiency. By setting example to others one who aspires to get elected in civic bodies and administration can get the education and learning benefits to rule the smooth and effective functioning of the offices with much of responsibility and their own power of intelligent.
Rural India is reeling under agrarian debts and farmers are committing suicide to escape the debt trap. Somehow this qualification may be stand as resolving the debt burden and debt trap.
Upholding the constitutional validity of a law enacted by Haryana government to bar the illiterate from contesting panchayat polls in the state, the Supreme Court ruled that "it is only education which gives a human being the power to discriminate between right and wrong, good and bad".
Criticism against minimum education criteria
Experience has shown that wisdom plays a greater role than education at local governance level, especially villages.
Although more educated people should be part of the political system, more ground reforms are needed before such a law is implemented.
The intent is right but other factors also need to be looked into. It is always good that more educated people become a part of panchayats, but the rest of the systems including something as basic as education and sanitation should be put in place first. Nothing can be so alienated from reality.
Despite being illiterate many leaders played the major role in bringing the developmental procedure with the effective implementation based on the local resources and local common and cultural knowledge and experience and are closely connected with their constituents.
2. Freedom of Literature Bill, courtesy of Tharoor
Context
In a private member Bill introduced by him in the Lok Sabha on Friday, Congress MP Shashi Tharoor has suggested far-reaching amendments to various statutes to make it difficult for governments to ban books and to provide safeguards for authors and scholars from arbitrary and exhausting legal battles.
Highlights of the Bill
The Freedom of Literature Bill, 2018, puts on the government the onus of explaining why a book needs to be banned and removes the government's right to ban books indefinitely.
The Bill envisages reading down Section 295A of the Indian Penal Code that provides for imprisonment of up to three years for "deliberate and malicious acts intended to outrage religious feelings or any class by insulting its religion or religious beliefs," as well as Section 298, which is similar to 295A as it criminalises speech critical of religious organisations or religious figures, and therefore a major deterrent to free expression. Mr. Tharoor cites the example of Wendy Doniger's The Hindus: An Alternative History, which was banned in India because of legal travails under 295A.
The most important part of the Bill, however, are the amendment to the Customs Act that allows governments to suspend the shipping in of books over an indefinite period (as had happened with the ban on Salman Rushdie's Satanic Verses).
Private member's Bill
Private Member – Any MP who is not a Minister is referred to as a private member.
Government Bills – Bills introduced by Ministers are referred to as government bills. They are backed by the government, and reflect its legislative agenda. Private member's bills purpose is to draw the government's attention to what individual MPs see as issues and gaps in the existing legal framework, which require legislative intervention.
The admissibility of a private member's Bill is decided by the Rajya Sabha Chairman in the case if it is introduced in Rajya Sabha. In the case of Lok Sabha, it is the Speaker; the procedure is roughly the same for both Houses.
The Member must give at least a month's notice before the Bill can be listed for introduction; the House secretariat examines it for compliance with constitutional provisions and rules on legislation before listing.
Up to 1997, private members could introduce up to three Bills in a week. This led to a piling up of Bills that were introduced but never discussed; Chairman K R Narayanan, therefore, capped the number of private member's Bills to three per session.
While government Bills can be introduced and discussed on any day, private member's Bills can be introduced and discussed only on Fridays.
Fourteen private member's Bills — five of which were introduced in Rajya Sabha — have become law so far.
3. 3 held for spreading 'fake news' on Khattar
Context
Two workers of the Aam Aadmi Party and one of the Indian National Students' Organisation were on Saturday arrested by the police in Haryana for allegedly spreading 'fake news' about Haryana Chief Minister Manohar Lal Khattar.
The accused had allegedly shared a fake newspaper clipping in which Mr. Khattar was quoted as saying he was the Chief Minister of Punjabis alone and had nothing to do with other castes.
Steps to curb the spread of Fake news
The government must take the initiative to make all sections of the population aware of the realities of this information war and evolve a consensus to fight this war. It must also take strict action
News being spread using chat bots and other automated pieces of software should automatically be selected for special screening. Ordinary consumers of news can play a big role by, first, waking up to the reality that all they read on WhatsApp and Twitter is not the gospel truth, and then, by refusing to pass on what they cannot independently verify with other sources.
Websites that mimic well-known, credible media outlets in their name should be exposed with the vigour with which jokes are shared on social media.
An ombudsman deals with the credibility of news sources, it gains the privilege to ensure facts are reported
Government should have independent agency to verify the data being circulated in social and other media. The agency should be tasked with presenting real facts and figures.
Government should have mechanism for immediately issuing of notice against sites/people/agencies involved in spreading fake news.
There should be a provision of effective balances and check of filtering fake posts before it getting viral.
Social media websites should be made accountable of such activities so that it becomes their responsibility to have better controlling restricting the spread of fake news.
Government should take active measures for promoting awareness among people about fake news and their consequences.
Government should enlist penal provisions to perpetrators of fake news if it causes violence or deaths.
Government should make mandatory for Print and Electronic media to have internal mechanism for verifying incidents, facts and figures.
Public should verify the accuracy and of reliability of any news or data either from government or any independent agency specifically involved in such task.
Public should not blindly trust any sensitive news and should not forward it to others.
Public should inform concerned department about any fake post as soon as they come across. They should act as active vigilant for maintaining peace and harmony in the society.
NGO's and other civil society groups can play important role in spreading awareness about the ill effects of fake news.
Category: SCIENCE AND TECHNOLOGY
1. ISRO readies for a busy 2019
ISRO's 2019 calendar is dotted with 32 new missions, an ambitious record-making goal for the most number of Indian missions in a year. In contrast, 2018 saw about 14 missions against a goal of 18, including the failed GSAT-6A satellite of April.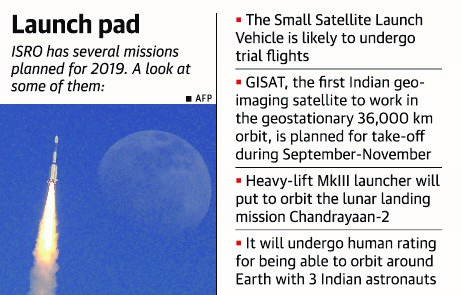 An analysis of ISRO's achievement
ISRO has consistently been in the headlines over the last few years for its rapid developments in space technology, including the cheapest Mars mission ever designed and its indigenously built cryogenic engine that will be the first step towards putting heavier loads including humans and large satellites into space.
The Cold War era of intense rivalry between the US and the Union of Soviet Socialist Republics led to a "space race" after the USSR launched Sputnik I, the world's first satellite, in 1957. The two countries pushed each other to the limits to send ever-larger satellites and finally humans into space and to the moon.
The European Union, Japan, Canada, Russia and the US jointly operate the International Space Station, a habitable artificial satellite. These countries also have the world's premier space organisations that conduct both research and launches. While the US and Russia have scaled back on human spaceflight, China is still pursuing this technology. It sent its first astronaut into space in 2008. Neither the European Space Agency nor the Japan Aerospace Exploration Agency have independently sent humans into space.
Along with these five, India's is only the sixth space agency in the world to have complete launch facilities, to operate cryogenic engines and to send probes to extraterrestrial bodies.
However, India still has a long way to go. Although it successfully sent an orbiter to Mars in 2013, and was the first country to achieve this on its first attempt, India is only just beginning to harness the potential of its cryogenic engine to launch Geosynchronous Satellite Launch Vehicles into space. These vehicles travel into higher orbit than PSLVs and can carry satellites weighing more than 2,000 kilogrammes.
ISRO is fortunate that it reports to the Prime Minister and his office rather than a line ministry. This has been critical to its success. ISRO, therefore, has a real autonomy that most other government agencies do not.
The geographical location of the organisation also matters in terms of creating an appropriate ecosystem to nurture excellence. Being located in Delhi will leave government agencies particularly vulnerable to the diktats of the parent ministry and the slow-moving, cautious culture of an omnipresent bureaucracy. ISRO, headquartered in Bengaluru, is distant from Delhi and immune from the capital's drawbacks. More importantly, it is located in the appropriate geography in what is India's science and technology hub. It has the right ecosystem to attract talent and build its knowledge capabilities more than most government agencies do.
Human capital is critical to the success of an organisation. Unlike many government agencies which are staffed by generalists, ISRO is staffed by specialists right from its technocratic top management. ISRO is also more agnostic than most government agencies about cooperating with and working with the best in the private sector. The building blocks of many of ISRO's successes come from outside the government system.
Learning the right lessons from ISRO's example is crucial for India. The conventional view is that the government is poor in project execution and if one looks at the state of infrastructure or of the quality of public services that is not an unreasonable conclusion to reach. What ISRO shows is that it is possible, indeed feasible, for the government to build high-performing organisations/agencies.
The creation of high performing government bodies requires starting from scratch and focussing on a few basics: real autonomy from ministries, right geographical location/appropriate ecosystem, a team of specialists, partnership with the private sector and operating only in spheres where there is no alternative to government. The creation of a handful of such agencies could have a transformative effect.
2. Bioplastic
Context
A group from Tel Aviv University has succeeded in making bioplastic polymer from microorganisms that feed on seaweed. They improve on earlier methods which used microorganisms needing agricultural land and fresh water, both scarce items. This could help clean oceans without using fresh water.
Bioplstics – Present options are not eco-friendly
Bioplastics — often promoted as a climate-friendly alternative to petroleum-based plastics — may lead to an increase in greenhouse gas emissions.
Bioplastics are in principle climate-neutral since they are based on renewable raw materials such as maize, wheat or sugar cane. These plants get the CO2 that they need from the air through their leaves. Producing bioplastics therefore consumes CO2, which compensates for the amount that is later released at end-of-life. Overall, their net greenhouse gas balance is assumed to be zero. Bioplastics are thus often consumed as an environmentally friendly alternative.
However, at least with the current level of technology, this issue is probably not as clear as often assumed. This is because the production of bioplastics in large amounts would change land use globally. This could potentially lead to an increase in the conversion of forest areas to arable land. However, forests absorb considerably more CO2 than maize or sugar cane annually, if only because of their larger biomass.
Plastics are usually made from petroleum, with the associated impacts in terms of fossil fuel depletion but also climate change. The carbon embodied in fossil resources is suddenly released to the atmosphere by degradation or burning, hence contributing to global warming.
This corresponds to about 400 million metric tonnes of CO2 per year worldwide, almost half of the total greenhouse gases that Germany emitted to the atmosphere in 2017. It is estimated that by 2050, plastics could already be responsible for 15% of the global CO2 emissions.
1. Madhya Pradesh to get 'spiritual department'
Context
The Congress-led Madhya Pradesh government said on Saturday that it is going to create an 'Adhyatmik Vibhag' (spiritual department) by merging several existing departments.
The 'Anand Vibhag' (Department of Happiness) set up by the previous BJP government, a first in the country, would be incorporated into the new department.
The proposed Adhyatmik Vibhag (Spiritual Department) going to be formed by merging Dharmik Nyas Evam Dharmasv Department (Religious Trust and Endowment Department), Anand Vibhag (Happiness Department) in addition to the Directorate of Religious Trust and Endowment, Madhya Pradesh Teerth Evam Mela Pradhikaran and Rajya Anand Sansthan.
Related Concept – Happiness and Public Policy
Mahatma Gandhi once said, "Happiness is when what you think, what you say, and what you do are in harmony."
Happiness has come to be accepted as a goal of public policy. And this discourse has given a fillip to a new narrative where the interconnections between law, governance and happiness are being searched.
Experiences from several nations confirm that the countries with higher GDP and higher per capita income are not necessarily the happiest countries and there exists a link between the state of happiness and rule of law.
The World Happiness Report by UN Sustainable Development Solutions Network calculated each country's ranking on the basis of six variables: GDP per capita, social support, healthy life expectancy, freedom to make life choices, generosity, and freedom from corruption.
Jeremy Bentham (founder of modern Utilitarianism) said the objective of the law should be the maximum happiness of the maximum number.
Laws and legal regimes are the distributors of unhappiness in many ways. We have about 3.3 crore cases pending in various courts in the country. Each case is not a mere number. It involves tension, anxiety and deprivation to all those associated with it.
The connection between crime and happiness is understandable from the experience of Bhutan, which introduced Gross National Happiness (GNH) as a measure of good governance.
The data show that a great majority of the Bhutanese population are happy (of whom 41 per cent are extremely happy), and only 4 per cent reported being victimised by crime over the last 12 months. Further, the crime rate in Bhutan is extremely low. A negative correlation between crime/victimisation and happiness is observed.
Category: POLITY AND GOVERNANCE
1. The lowdown on the state of the economy
Context:
The article evaluates the current state of the Indian economy in comparison to its performance a year ago.
The Indian economy has been through multiple internal and external challenges. The demonetisation exercise, introduction of GST, rising NPA's, etc. have disrupted the economy on the domestic front.
Whereas, on the external front India had to deal with trade wars, rising interest rates in US, flight of capital from developing countries and volatility in the oil markets etc.
These adverse conditions have disrupted the Indian economy over the past year and contributed to the historic low seen with regard to rupee depreciation.
What is the lowdown? 
If we look at some of the key economic indicators we might be fooled into believing that little has changed in the India economy over the past one year.
For instance, bond yields on 10 year government securities are virtually the same in December 2018 as they were in December 2017.
The GDP grew at 7% for the September-December quarter of 2017, and the latest growth print suggests a rise of 7.1% in the July to September quarter of 2018.
Yet, 2018 has been far from benign — in fact, it has been one of the most topsy-turvy rollercoaster rides for the economy in recent years (if one ignores the 2016 demonetisation).
What is the current situation?
Currently it appears that the Indian economy is in a sweet spot.
Organisation for Economic Cooperation and Development (OECD) expects India to be the fastest growing major economy in 2018-19, despite a downward revision of 20 basis points in global growth estimates for 2019.
OECD has pegged India's growth at 7.5% compared to the global average of 3.5%.
Even the Reserve Bank of India, which is generally conservative with regard to growth numbers, expects the growth to be around 7.4%.
This optimism stems from the fact that some of the biggest dark clouds that hovered over the economy through the year have now receded or blown away.
Firstly, after witnessing a freefall for nine months, the rupee finally strengthened against the U.S. dollar in November.
It had dropped from around 64 Rs to the dollar at the beginning of the year to a historic low of 73.7 Rs by October.
Consumer Price Inflation, which had been above the 4% comfort zone since late 2017, finally started to cool off after June, slipping to 2.3% by November – the lowest in 17 months.
This positive change was largely driven by a drop in global crude oil prices that had been volatile through most of the year, which had raised concerns about India's current account deficit and other fiscal indicators as it is largely an oil-import dependent economy.
How did it come about?
While the fluctuation in global oil prices was dictated by geopolitical shocks, the Indian government tried to introduce key policy initiatives in a bid to boost domestic growth engines.
From rationalising & reviewing the GST reforms, to plugging gaps in the Insolvency and Bankruptcy Code (IBC) with the aim of cleaning up the mess in public sector banks and as well as corporate India's balance sheets, the government shouldered through a slew of reform measures over the year.
Some of this has apparently yielded results. From a growth rate of just 5.6% in the first quarter of 2017-18, GDP growth has improved steadily for four successive quarters, even crossing the 8% mark to register 8.2% in the April to June quarter.
Bank credit growth that had been dragging in recent times hit a 5 year high of 14.6% in October as there was a revival in investment demand.
Yet, there was a dark cloud in this silver lining — GDP growth again slipped to 7.1% in the July to September quarter, driven mainly by changes in India's external trade basket owing to the rise in crude oil prices.
What lies ahead?
Despite the latest slide, growth in the first half of 2018-19 fares better than the first half of 2017-18, and if external factors like crude oil prices don't play spoil sport, there is room for more for the revival of the Indian economy.
The Finance Ministry has said that India would comfortably meet the fiscal deficit target for this year and that should keep other macro indicators under check.
But with the national elections being just a few months away accompanied with a rising anti-incumbency factor, the government might be tempted to go for populist measures in the short-run which might include farm loan waivers, oil subsidies etc.
Any such populist move would severely affect the economy and the macro-economic indicators in the long-run.
2. Farmers need more than loan waivers
Context:
During the recent assembly elections, farm loan waivers became a populist way of appeasing the voters and the new governments in Rajasthan, Madhya Pradesh and Chhattisgarh have announced massive farm loan waivers.
Last year, Uttar Pradesh, Maharashtra, Karnataka and Tamil Nadu announced waivers as a stop-gap measure to address agrarian distress. Andhra Pradesh, Odisha and Haryana are likely to announce similar sops ahead of elections.
Such populist measures alone cannot be a permanent solution to mounting agrarian distress which is an outcome of structural problems in the agriculture sector.
Post the economic reforms of 1991, Indian agriculture has been facing multiple crises. The rising pressure of population and fragmentation of land holdings, failure to shift the workforce away from agriculture, rising input costs, poor logistics etc. have adversely affected small and marginal farmers.
Why do farmers want more?
Rising input costs, fluctuation in prices, drop in income and increasing cases of indebtedness among small and marginal farmers has resulted in a spate of farmers committing suicides over the years.
The current market system imposes a doubly squeeze on a large number of small and marginal farmers as they are suffering from high input costs and low income.
Some experts believe it is the responsibility of the government to waive farm loans, but insist that it can only be a "stopgap" arrangement.
They argue that until the structural problems related to production, weather related disasters, price, credit and market are addressed, loan waivers are to be used as an instrument for offering temporary relief to distressed farmers.
What is the stand of the government? 
NITI Aayog has pointed out that writing off loans is not a lasting solution to the problem of agrarian distress as this step only helps a small number of farmers.
According to the NITI Aayog the number of farmers, especially the small and marginal who avail themselves of institutional loans, are very few and this is the reason that even after spending huge sums of money on loan waivers not even half the farmers are benefiting.
In some of the States, not even 25% of farmers get loans from institutional sources.
A NITI Aayog study has established that the farmers use the waiver to reduce household debt and it only helps in sustaining the distressed family with no measurable improvement in agricultural productivity. Thus the core problems plaguing agriculture are not addressed.
Way Forward 
As an interim measure, farmers need to be freed of their abuse by middlemen and money lenders by reforming the rent seeking, anti-farmer commission agent system.
The interlocking of the credit and the output markets is a major factor for the crises of indebtedness.
The system of making payments through the commission agent needs to be dismantled to break the credit-crop nexus.
As a permanent solution to agrarian distress, the government should provide agro-processing industry a policy push to pull rural people out of agriculture.
In the long run, there's an urgent need for integration of agriculture with thee industry, and that too with the involvement of the local manpower in such a manner that surpluses should be invested locally.
The subsidies and tax benefits given to the corporate sector should be given to rural entrepreneurs who are willing to setup food processing and agro-processing firms that will process local raw materials and employ rural manpower. The transformation is achievable if primary producers are integrated with both manufacturing and marketing activities for reaping the surpluses generated by them.
1. Centre plans cycle parts, rubber industries in Tripura
Union Minister of State for Micro, Small and Medium Enterprises Giriraj Singh on Saturday said the Centre has plans to set up a hub-and-spoke (cycle parts) factory and bamboo and rubber-based industries in Tripura.
The bamboo and rubber industries would be set up in the northeastern State as the raw material is found here in abundance.
There are 18 technology centres under the MSME Ministry and 15 new ones would be set up in different places soon, as per the Prime Minister's direction.
1. Complaint boxes in Bengal schools to combat trafficking
Context
More than a hundred schools in West Bengal's South 24 Parganas district have installed boxes on their premises under the Swayangsiddha scheme, which encourages girls to report stalking or harassment faced either by them or anyone known to them.
Swayangsiddha Scheme
Swayangsiddha, which means self-reliance, will be executed by the West Bengal Police.
The scheme aims to empower young boys and girls to make informed choices so that they are less vulnerable to trafficking and child marriage.
Swayangsiddha Groups have been formed in schools and colleges with interested students. These groups were formed with students between the age group of 12 to 21 years.
 Objectives of the mission
Raising awareness on human, gender and child rights and strengthening prevention of human trafficking and child marriage using a converging approach.
Engaging youth from different schools and colleges to combat human trafficking and child marriage.
Strengthening response mechanism in collaboration with Police and child protection committees to build safe community.
Strengthening access to schemes and entitlements on education, training, livelihood and food security for vulnerable groups.
2. Himalayan griffon vultures visit habitat in Telangana
Context
In a rare occurrence, two Himalayan griffons (Gyps Himalayensis), categorized as Old World Vulture, were sighted at the colony of long-billed vultures (Gyps Indicus) conservation project situated at Palarapu cliff in the forests of Nandigoan village in Penchikalpet mandal. The discovery brought cheer among ornithologists and biologists.
Forest officials opine that the arrival of the birds could be associated with winter migration to the south, as the birds are known to be long distance fliers.
The significance of the sighting, the experts opined that Pala Rapu can become a winter migration destination for the birds from the north.
The Himalayan vulture
The Himalayan vulture or Himalayan griffon vulture is an Old World vulture in the family Accipitridae.
It is one of the two largest Old World vultures and true raptors.
Himalayan griffons do not breed in the first three years, and hence juvenile birds of the species do not remain in breeding grounds to avoid competition.
The species has been listed as Near Threatened by the IUCN.
It is also found in Kazakhstan, China, Afghanistan, Bhutan, Thailand, Burma, Singapore and Cambodia.
H. Practice Questions for UPSC Prelims Exam
Question 1. Perhaps the best summary of the principles that the nationalist movement 
brought to the Constituent Assembly is the Objectives Resolution. In light of these 
objectives which of the followings statement(s) is/are correct?

All powers and authority of sovereign and independent India and its constitution shall flow from the people.
Cosmopolitan identity was one of the fundamental commitments.
It was the moral commitment to establish a government that will fulfill the promises made during nationalist movement.
Select the correct code:
Only 1
Only 1 and 2
Only 1 and 3
All of the above
See
Question 2. Match the correct pairs of constitutional provisions and nations from 
where it was borrowed:
Parliamentary form of government       A. Canada
Fundamental rights                                  B. Ireland
Residual power                                          C. USA
Directive principles                                   D. Britain
Correct answer code is:
1 A, 2 B, 3 D, 4 C
1 D, 2 C, 3 A, 4 B
1 D, 2 C, 3 B, 4 A
1 A, 2 B, 3 C, 4 D
See
Question 3. Who among the following functionaries take an 'oath of secrecy'?
President
Ministers
MPs
Supreme Court judge
Select the correct answer using the codes given below:
Only 1 and 2
Only 2
Only 2 and 3
Only 2 and 4
See
I. Practice Questions for UPSC Mains Exam
Online shopping has witnessed a very high growth rate in India and is bound to further increase in future. Indian government has recently issued some new rules for e-commerce. In this context, discuss how the recently released e-commerce rules will impact the marketplace and the consumers. (12. 5 Marks; 200 words)
The government has recently brought out a notification which authorizes several government agencies to intercept, monitor, and decrypt online communications and data. In this context analyze the surveillance framework in India in detail. (12. 5 Marks; 200 words)
See previous CNA