TABLE OF CONTENTS
A.

 GS1 Related




B.

 GS2 Related


POLITY
1. Govt. leaves decision on Section 377 to the court
2. Adultery must remain a punishable offence: Centre
GOVERNANCE
1. Centre upholds Net neutrality proposals


C.

 GS3 Related


ECOLOGY
1. Climate change threatens Nilgiri tahr


D.

 GS4 Related




E. 

Editorials


SOCIO ECONOMIC ISSUES
1. Sustainability and energy security: A clean cooking strategy
ECOLOGY AND ENVIRONMENT
1. Mercenary Conservation: wildlife private conservancy


F. 

Tidbits


1. Panel for automatic suspension in RS
2. Promotion quota case for 7-judge Bench?
3. Govt. seeks help to end manual scavenging
4. Banks question UIDAI diktat on audit
5. Internet benefiting rural China
6. SEBI to float paper on fundraising via bonds
7. India cuts Iranian oil imports in June ahead of U.S. sanctions
8. Human ancestors' presence in Asia redefined
9. Rome's green-fingered prison inmates plant seeds for future


G. 

Prelims Fact


1. 'Anayoottu' in Kerala temple
H. UPSC Prelims Practice Questions
I. UPSC Mains Practice Questions 

Nothing here for today!!!
1. Govt. leaves decision on Section 377 to the court
The government chose not to take sides on the question of the legality of Section 377 IPC, a provision which criminalises homosexuality, leaving the decision entirely to the Supreme Court.
Incest
The government's decision to not contest writ petitions against Section 377, however, came with a rider that the court should specify that the freedom to choose a partner does not extend to perversions like incest.
For example, the choice of partner should not be own sister as it is prohibited under the Hindu marriage law.
Remarks
Justice Chandrachud
Justice Chandrachud said that the prerogative of this hearing was to understand the nature of a relationship and bring it under the protection of Article 21 (fundamental right to life) of the Constitution.
We are on the nature of the relationship and not going to talk on marriage, etc.
It should not come to a situation where two homosexuals enjoying a walk on the Marine Drive are disturbed by the police.
We want to protect the relationship.
Justice Nariman
Justice Rohinton Nariman intervened to observe that the Bench was delving into the content of the fundamental right.
CJI
Chief Justice Misra said the court is considering the issue of protecting the relationship.
He said the court was not confining its ambit merely to LGBTQ or sexual orientation.
It is examining the aspect of two consenting adults who should not be liable for criminal action for their relationship.
We are examining whether the relationship between two consenting adults is itself a manifestation of Article 21.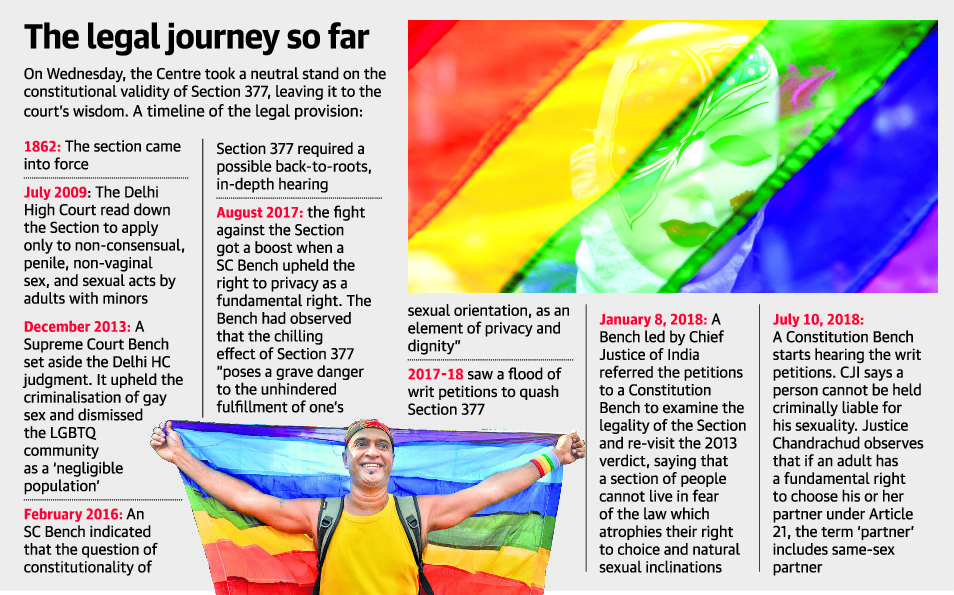 2. Adultery must remain a punishable offence: Centre
The government submitted that dropping of adultery as an offence from the Indian Penal Code (IPC) will erode the sanctity of marriage and be detrimental to the intrinsic Indian ethos.
Government's stand
In an 11-page affidavit which will be taken up before a Constitution Bench, the Centre said the provision punishing adultery — Section 497 of IPC — supports, safeguards and protects the institution of marriage considering the unique structure and culture of Indian society.
The government agreed to the thought that stability of a marriage is not an ideal to be scorned and striking down Section 497 would destroy the fabric of society itself.
Background
The Constitution Bench is scheduled to decide on whether the pre-Independence provision of adultery in the IPC treats a married woman as her husband's subordinate and violates the constitutional concepts of gender equality and sensitivity.
The petition filed by Joseph Shine seeks to drop Section 497 as a criminal offence from the statute book.
Bench's observations
A three-judge Bench led by Chief Justice Dipak Misra had observed that the provision raised a question mark on social progress, outlook, gender equality and gender sensitivity.
The provision really creates a dent in the individual independent identity of a woman when the emphasis is laid on the connivance or consent of the husband.
It was time to bring to the forefront a different view with focus on the rights of women, Chief Justice Misra observed.
The Constitution Bench to be headed by Chief Justice Misra is likely to consider whether Section 497 treats the man as the adulterer and the married woman as a victim.
The larger Bench may also examine why the offence of adultery ceases the moment it is established that the husband connived with or consented to the adulterous act.
So, is a married woman the property of her husband or a passive object without a mind of her own?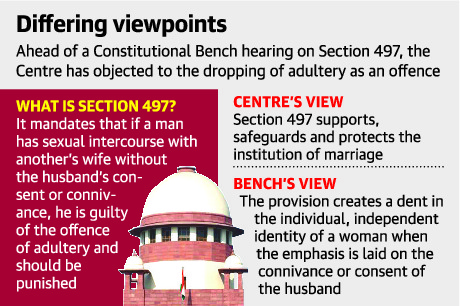 1. Centre upholds Net neutrality proposals
In a move that will ensure open and free Internet in India, the government has approved the principle of net neutrality.
Significance
This means that telecom and Internet service providers must treat all data on the Internet equally, and not discriminate or charge differently by user, content, site, platform, or application.
They cannot engage in practices such as blocking, slowing down or granting preferential speeds to any content.
India's decision to uphold Net neutrality assumes greater significance given that in the U.S., the rules on Net neutrality were repealed.
Critical services
But certain emerging and critical services will be kept out of the purview of these norms.
A separate committee has been set up under the DoT to examine what these critical services will be.
These may include autonomous vehicles, digital healthcare services or disaster management.
Background
The Telecom Commission (TC) — which is the highest decision-making body in the Department of Telecom (DoT) — approved the recommendation made by the Telecom Regulatory Authority of India (TRAI) eight months ago.
Recommendations
Internet access services should be governed by a principle that restricts any form of discrimination or interference in the treatment of content, including practices like blocking, degrading, slowing down or granting preferential speeds or treatment to any content.
This principle would apply to any discriminatory treatment based on the sender or receiver, the network protocols, or the user equipment, but not to specialised services or other exclusions.
These would not apply to reasonable traffic management practices by the service provider.
To implement Net neutrality, the regulator had recommended that the terms of licence agreements that govern the provision of Internet services in India be amended to incorporate the principles of non-discriminatory treatment of content along with the appropriate exclusions and exceptions.
The regulator has further recommended establishing a multi-stakeholder not-for-profit body for the monitoring and enforcement of these principles.
The Telecom Commission also gave its nod to install 12.5 lakh Wi-Fi hotspots in all gram panchayats.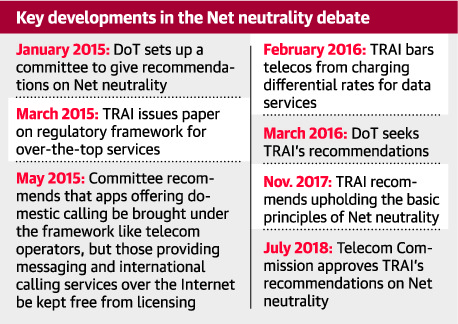 1. Climate change threatens Nilgiri tahr
The antics of the sure-footed Nilgiri tahr are a treat to watch, but these endangered wild mountain goats – found only in high altitudes in India's Western Ghats — could be losing their footing with increasing climate change.
The study
Even under moderate scenarios of future climate change, tahrs could lose approximately 60% of their habitats from the 2030s on, predict scientists in their study in Ecological Engineering, an international journal that emphasises the need for ecological restoration.
Scientists tried to predict how climate change can affect tahr habitat in the Ghats by mapping tahr distribution (using existing information and field surveys) and then using climatic factors of these locations to see where tahrs would be able to survive, given current and future climate change scenarios.
They found that tahr strongholds such as Chinnar, Eravikulam and Parambikulam in Kerala will still be stable habitats under different climate change scenarios.
However, other regions, including parts of Tamil Nadu's Kalakkad Mundanthurai Tiger Reserve and the wildlife sanctuaries of Peppara, Neyyar, Schenduruny and Srivilliputhur, could experience severe habitat loss in future; in total, approx. 60% of tahr habitat could be lost across the Ghats from 2030s onwards.
There are only around 2,500 tahrs left in the wild and their population — small and isolated, making them vulnerable to local extinction — shows a decreasing trend, as per the International Union for Conservation of Nature.
Way forward
The study has to be seen in the context of this identified vulnerability; the impacts of climate change may further increase the chances of local extinction.
The study's findings demand a comprehensive species management plan.
Scientists had drafted a tahr recovery plan in 2010.
According to the report, only the Eravikulam and Mukurthi National Parks stress on tahr-centered conservation activities in their management plans.
Though the recovery plan identified conservation units and made site-specific recommendations, how much of it has been implemented is unclear.
It is important that we focus our efforts on these conservation units and monitor isolated populations.
Nothing here for today!!!
Category: SOCIO ECONOMIC ISSUES
1. Sustainability and energy security: A clean cooking strategy
Context
In its drive towards sustainability and energy security, India must ensure an awareness of better cooking fuel choices.
Energy use, a key indicator of living standards across the world, is also instrumental in raising it. The choice of cooking fuel in households (especially rural) has a huge impact on living conditions, especially for women and children.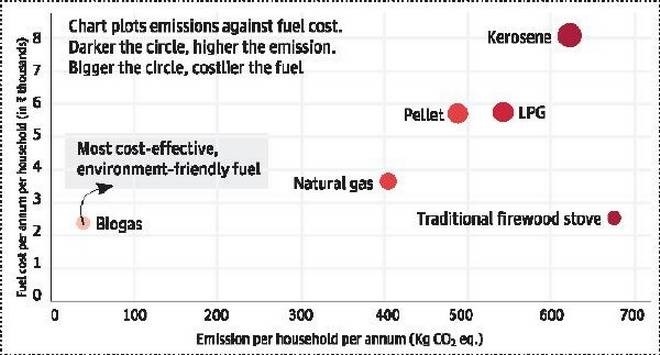 Need for Adaptation
Among the various options available for cooking fuel

Firewood and pellet are the most polluting.
LPG and kerosene are moderately cleaner.
Biogas and natural gas are cleaner fuels for combustion.
Importance for India
On an average in India, household spending on cooking fuel accounts for around 5-6% of its total expenditure. Factors such as socio-economic (availability and easy access, also determined by household income and price of fuel, education and awareness), culture or lifestyle, and, to a large extent, government policies also influence cooking fuel choice.
Affordable, reliable and clean energy for cooking is essential not only for reducing health and environmental impacts but also helping women to do more productive work and developing the rural economy.
Comparing the options for clean energy
Among the various fuel options available (firewood, pellet, biogas, kerosene, liquefied petroleum gas or LPG, piped natural gas or PNG) biogas accounts for the lowest effective greenhouse gas emission.
PNG and then LPG are next. An assessment of annual life cycle emissions of various fuels per household per annum is based on the estimation of life cycle emissions, feedstock processing, fuel processing, distribution and cook-stove use.
Further, a comparison of the levelised cost of various fuels (non-taxed and not subsidised), annual life cycle emission per household (kg/CO2 equivalent) and extent of in-house air pollution for various cooking fuels suggests that biogas and PNG are the best cooking energy options.
Cooking fuels emit substantial amounts of toxic pollutants (respirable particles, carbon monoxide, oxides of nitrogen and sulphur, benzene, formaldehyde and polyaromatic compounds) which contribute to indoor air pollution.
In households with limited ventilation — common in rural household and semi-urban areas — these pollutants could lead to severe health problems.
National level programmes
National level programmes to ensure that most switch to clean cooking fuels have been initiated since the 1980s, the National Project on Biogas Development (NPBD) being an example.
But the programme has been hampered by mala fide practices, poor construction material, a lack of maintenance, misrepresentation of achievements and a lack of accountability and follow-up services.
In order to ensure access to clean energy —A key focus area for poverty alleviation

The government launched a flagship programme, Pradhan Mantri Ujjwala Yojana in May 2016. with a cumulative target of providing LPG connections to more than eight crore families.
Further, the Petroleum and Natural Gas Regulatory Board (PNGRB) has been holding auctions across cities for distribution of gas for cooking through PNG.
However, since conventionally, governments have been subsidising LPG and as such a consumption-based subsidy is not available for biogas and PNG, it has led to a preference for LPG over other cleaner, safer, more cost effective and locally available options (biogas in rural areas).
Further, LPG import along with large subsidies are a drain on government resources which hamper the focus on other social development programmes.
What can Work?
To promote biogas in rural and semi-urban areas, adopting the service-based enterprise model with suitable resource availability offers a sustainable approach. It will also help self-drive the programme.
The model is being successfully implemented in Hoshiarpur, Punjab using a 100 cubic meter biogas plant. The plant supplies clean and piped cooking biogas to 44 households and a school every day.
Such models can also generation employment significantly at the grass-root level an important additional benefit of running a biogas programme.
However, there is a need to provide financial support and facilitate capacity building in order to promote enterprise-based models for community-level plants.
The cost-competitiveness of natural gas (including imported re-gasified LNG) calls for scaling its penetration in urban and semi-urban/rural areas.
PNG needs to be promoted in urban areas beginning with the densely populated Tier-I and Tier-II/III cities, making LPG just one of the options to choose from rather than it having an edge over others.
For this, the cost of LPG must be set as the upper-cost ceiling and the PNGRB could focus only on the setting up of safety regulations, with distribution rights being given to distributors.
The way forward
To further enable a consumer to freely make cooking fuel choices, consumption-based subsidies need to be replaced with a functional subsidy that is provided on the basis of household income levels and local variables.
Possibility of leakages must also be eliminated by ensuring that subsidies of any kind are provided only through direct benefit transfer. Such an approach will provide a neutral thrust and promotion to different types of cooking fuels on the basis of their original virtues.
As India takes a long-term view on sustainability and energy security, it is important to create an environment where its citizens are aware of the options and make their energy choices based on the nature of the fuel and not because of socio-economic constraints.
Category: ECOLOGY AND ENVIRONMENT
1. Mercenary Conservation: wildlife private conservancy
Why in news?
Karnataka recently drafted Private Conservancy Rules in a bid to increase forest area through private land.
Context
Under the rules, anyone who has a minimum of 100 acres of land bordering a national park can convert it to a "Wildlife Private Conservancy".
Of this land, 5% can be used to construct buildings for ecotourism; the rest has to be kept for flora and fauna.
Criticism
Allowing for private forests can lead to illegal activities and change the natural behaviour of wildlife.
With activists and retired forest officers concerned that this could lead to illegal activities in private spaces.
Following South Africa's Approach
Though policies are different in India and South Africa, there has been much talk about how we are going down the Africa way with this new approach.
In South Africa, agricultural land can be converted into wildlife reserves. The government specifies how much land is required for each animal, purchases are then made, and wildlife is introduced.
Some game reserves allow hunting, which is legal. Hunting rights for specific animals are auctioned regularly.
The highest bidder may gun down the animal and carry its head as a "trophy".
Each species has a minimum bid with the Big Five — namely, the cape buffalo, rhino, elephant, leopard and lion — being the most expensive.
The locals wholeheartedly support hunting as it brings in foreign exchange and thus motivates the management to run the game reserve better, in turn leading to more hunting bids.
Issues involved
Private reserve owners treat wildlife in any way they deem fit.
In one game reserve, an elephant recently went rogue and broke the fence.
It was shot down and the carcass was left rotting inside the reserve for months. In another instance, a red hartebeest with a tumour was shot down and thrown to lions.
On inspection, the "tumour" was found to be a deposit of grass that happened probably due to a redirection of food through a cavity or hole. A veterinarian could have easily solved this, but that was not to be.
Rules and responsibilities
Though these wildlife spaces are massive, they are private and hence fenced. This constantly challenges and changes the natural behaviour of wildlife. Some reserves have two sections: one with lions and one without.
However, predators ensure survival of the fittest, and as a corollary, their absence leads to overgrazing and excess population. There is also a territorial issue: in enclosed spaces, an alpha cannot be established easily as the non-alphas are unable to find new ground.
This leads to more infighting and behavioural disturbances. Also, the rules for poaching are still in the grey. Rhinos are regularly poached for their horns. Reserves urge people not to geo-tag their location, for example on social media, in fear of poachers noticing.
Even though South African game reserves claim to respect wildlife, it is a business for them as their animals are bred and gunned down for money. If money weren't a motivating factor, the spaces would have continued being agricultural lands.
1. Panel for automatic suspension in RS
The rules review committee set up by Rajya Sabha Chairman M. Venkaiah Naidu has, in its interim report, made two key recommendations: automatic suspension of wilful offenders and changing question-hour timing.
The report has to be approved by the Rules Committee of the Upper House, which is headed by Mr. Naidu and has members from across parties.
The automatic suspension of wilful offenders is a controversial clause that was debated by the Rajya Sabha secretariat when Hamid Ansari was the Chairman.
The Lok Sabha has a provision for automatic suspension, but in the Rajya Sabha, the House has to vote on the Chair's suggestion to suspend a member; the chair can't take the decision on its own.
The committee has recommended that a clause similar to one available in the Lok Sabha should be available to the Chair in the Rajya Sabha too.
The other recommendation is to restore the question hour to 11 a.m. from noon.
2. Promotion quota case for 7-judge Bench?
The Supreme Court has indicated that a seven-judge Bench may be constituted to examine whether a 2006 judgment by a five-judge Bench of the court interrupted the grant of quota in promotions.
Venugopal, while urging the court to set up the seven-judge Bench, however unsuccessfully pleaded for interim orders.
The Bench refused to pass interim directions contrary to the Nagaraj judgment.
As of now, the freeze in reservation for promotions would continue.
Background
A three-judge Bench led by Chief Justice of India Dipak Misra scheduled a batch of over 40 petitions on the question of referral to a seven-judge Bench.
The oral observation was in reaction to submissions made by Attorney General K.K. Venugopal that lakhs of promotions across government departments have been put on hold because of the Nagaraj judgment of 2006.
Nagaraj case
The five-judge Bench in the Nagaraj case had held that the creamy layer concept should be excluded from reservation for Scheduled Castes and Scheduled Tribes in government jobs.
It had directed the upper limit of quota at 50%.
The Bench had also held that the State would have to justify in each case the compelling reasons – namely backwardness and inadequacy of representation — for providing reservation keeping in mind the overall efficiency of State administration.
It is made clear that even if the State has compelling reasons, the State will have to see that its reservation provision does not lead to excessiveness so as to breach the ceiling limit of 50% or obliterate the creamy layer or extend reservation indefinitely.
3. Govt. seeks help to end manual scavenging
In a bid to eliminate the need for manual scavenging, the Centre has launched a challenge asking innovators, NGOs, research institutions, companies and cities to propose technology and business solutions to clean urban sewers and septic tanks without human entry.
International Sanitation Convention
The challenge will be part of the Mahatma Gandhi International Sanitation Convention to be held on October 18.
The objectives are to identify technological and business process innovations, endorse viable business models and pilot test shortlisted technologies and solutions in select project cities.
Concerns
Activists working with manual scavengers expressed scepticism about the proposal.
The machines to clean sewers and septic tanks are available globally, but they need to be adapted to Indian conditions, and the government needs to show the political will to actually use the technology on the ground.
By asking individuals, companies and NGOs to submit proposals for an award, the government is washing its hands of its responsibilities.
4. Banks question UIDAI diktat on audit
The decision of the Unique Identification Authority of India (UIDAI) to appoint Deloitte as the only agency authorised to do mandatory audits of Information Security (IS) in banks, financial institutions and telcos using the Aadhaar-based authentication regime, has attracted flak from bankers.
In a missive to banks and other Aadhaar agencies, the UIDAI had asked them to enter a contract with Deloitte since the firm has been empanelled by it.
Concerns
As per the UIDAI, Deloitte would perform the assessment once a year and a fixed fee of ₹1,94,700 per unit is to be paid by ecosystem partners to Deloitte for conducting the audit.
Banks will also need to pay for the travel, boarding and lodging of Deloitte officials.
According to bankers, not only are the specified costs too high, but the UIDAI's move has created a monopoly situation for the firm.
Way forward
The inclusion of more alternatives as empanelled auditors could allow individual user agencies of the Aadhaar ecosystem to negotiate better rates and services.
5. Internet benefiting rural China
China became the biggest gaming market in the world early last year, accounting for more than a quarter of the total gaming revenue globally.
But it is much more than games and fun in the vast country where Internet is playing a big role in rural transformation with over 55 million students in rural schools getting access to live streaming classes.
According to the China Internet Report 2018, released at the RISE international tech conference, local governments in China spend 8% of their annual budgets on digitisation of education.
Nearly 78 million rural users read news from three primary news apps at least once a month and 50% of China's poor villages will be equipped with e-commerce capabilities by 2020.
China's Internet penetration is just over 50%, much lower than the 89% penetration in the U.S., but the country's sheer size and scale of Internet use has meant that there are three times the number of smartphone users and 11 times the number of mobile payment gateway users in China than in the U.S.
With a user base of roughly 210 million, China is discovering the value of internet in the development of e-commerce, education and media in the rural expanses.
About 2,100 Taoboo villages would soon account for 4,90,000 active online shops, which would translate into $19 million annual sales, creating 1.3 million jobs.
Internet giants such as Baidu, Alibaba and Tencent are present in almost every tech sector, from streaming videos to self-driving cars.
The online shopping giants are going offline, allowing shoppers to scan product information with smartphones or use smart cards that guide them to their tastes.
Users thus can place orders from their apps and have groceries delivered to their doors.
6. SEBI to float paper on fundraising via bonds
The Securities and Exchange Board of India (SEBI) will soon come out with a consultation paper on making it mandatory for large corporates to meet one-fourth of their financing needs through the bond market as envisioned by the FY19 Union Budget.
Given the relatively nascent stage of development of bond market, such framework has to have a soft touch approach.
It will be finalised in consultation with stakeholders.
A lot is needed to be done for increasing liquidity in the secondary market and the SEBI would move towards that direction in consultation with the RBI and the government.
While private placement of corporate bonds have shown significant uptake, especially since FY16-17 onwards, there are genuine concerns about liquidity in the secondary market.
Secondary market products such as interest rate futures, credit default, swaps, repo and others had to be made more attractive to the participants for development of secondary market in corporate bonds.
Efforts made in development of private placement of bonds have to be necessarily complemented with increase in liquidity in secondary market.
7. India cuts Iranian oil imports in June ahead of U.S. sanctions
Indian refiners cut imports of Iranian oil as they started weaning their plants off crude from the country to avoid sanctions by the United States that are set to take effect in November.
India's monthly oil imports from Iran declined to 5,92,800 barrels per day (bpd) in June, down 16% from May.
The United States in May said it would reimpose the sanctions after withdrawing from a 2015 agreement with Iran, Russia, China, France, Germany, and Britain, where Tehran agreed to curb its nuclear activities in return for the lifting of earlier sanctions.
The Government of India, Iran's top oil client after China, asked refiners to prepare for drastic reductions or even zero Iranian oil imports.
US said that it would push countries to reduce their Iranian oil imports to zero.
The Indian refiners will want to comply with the limits to maintain their access to the U.S. financial system.
8. Human ancestors' presence in Asia redefined
The remains of crudely fashioned stone tools unearthed in China advances the presence of human ancestors in Asia by around 200 millennia to 2.1 million years ago.
Significance
If correctly dated, the find means that hominins — the group of humans and our extinct forefather species — left Africa earlier than archaeologists have been able to demonstrate thus far.
Hominins
Hominins are believed to have emerged in Africa more than six million years ago.
They left the continent in several migration waves starting about two million years ago.
Migration pattern
The first migrants were likely members of the species Homo erectus (upright man) or Homo ergaster (working man) — extinct predecessors of our own group, Homo sapiens (wise man), which first emerged about 3,00,000 years ago.
The oldest known African fossil attributed to a member of the Homo family is a 2.8 million-year-old jawbone from Ethiopia.
Background
Previously, the oldest evidence for hominins in Asia came from Georgia in the form of fossilised skeleton bits and artefacts dated to between 1.77 million and 1.85 million years ago.
There have been other, unproven, claims of even older fossil discoveries.
The latest find
The latest find of 96 stone tools, mainly flakes made with rudimentary hammers and likely used for cutting meat and other food, was extracted from 17 layers of sediment in the southern Chinese Loess Plateau.
The youngest layer was 1.26 million years old, and the oldest 2.12 million years.
There were no hominin bones.
They used a field of science known as "palaeomagnetism" to date the sediment layers.
These form when dust or mud settles before being capped by another new soil coat.
Any artefact found within a layer would be the same age as the soil around it.
Palaeomagnetism relies on shifts in the earth's magnetic field, the historic dates of which are well known to scientists.
They measured the magnetic properties of minerals in the soil layers to determine when they were deposited.
Findings
This dated the tools, of a type known to have been manufactured by Homo species in Africa since at least 3.3 million years ago.
The paper offers strong evidence for a hominin presence in Asia further back.
There may be older evidence in places like India and Pakistan but so far, the evidence is not strong enough to convince most of the research community.
Probably an early form of our genus Homo made the tools.
9. Rome's green-fingered prison inmates plant seeds for future
Some of the many green spaces in the Italian capital are now in the hands of prisoners under a new scheme that drafts them in to maintain or spruce up gardens and parks.
The initiative, a joint project of the city and Justice Ministry, aims to facilitate prisoners' reintegration into society once they have served their terms.
About 100 inmates at Rebibbia prison will take part in the project overall, getting down to work after receiving training at a gardening school in Rome.
The prisoners are allowed to roam the open spaces freely and handle all kinds of sharp implements, shears and trimmers under the supervision of the guards. It's a matter of trust.
They know that at the slightest deviation, the project will be aborted — and they will return to the tedium of life behind bars, where they cost the state an average of $211 a day regardless. It is not just the inmates who benefit from the work.
Not only does this project make the prisoners feel useful, but for them, every minute spent outside is one minute less spent in prison.
1. 'Anayoottu' in Kerala temple
The Aanayoottu (feeding of elephants) is a festival held in the precincts of the Vadakkunnathan temple in City of Thrissur, in Kerala.
The festival falls on the first day of the month of Karkkidakam (timed against the Malayalam calendar), which coincides with the month of July.
It involves a number of unadorned elephants being positioned amid a multitude of people for being worshipped and fed.
A large number of people throng the temple to feed the elephants.
The special feed of the elephants includes sugar-cane leaves, coconut, jaggery and the sweet mix of Ganapthi pooja prasadam.
It is believed that offering poojas and delicious feed to the elephants is a way to satisfy Lord Ganesha—the god of wealth and of the fulfillment of wishes.
The Vadakkunnathan temple, which is considered to be one of the oldest Shiva temples in southern India, has hosted the Aanayottoo event for the past few years.
The elephants are hailed as sacred animals (a fact which explains the presence of elephants in the South Indian temples).
Elephants are an integral part of Kerala culture, and elephants are integral to all festivals, including the Aanayoottu.
Many of the famous south Indian temples have a number of their own elephants; feeding these elephants is considered as auspicious.
Looking in to these devotes feeling the temple authorities started these rejuvenation therapy as a public event named as 'The Aanayoottoo Festival'.
H. Practice Questions for UPSC Prelims Exam
Question 1. Consider the following statements with respect to Nipah Virus outbreak.
Urbanisation and deforestation can be a reason for the outbreak.
Nipah Virus can be transmitted to the humans through pigs.ns
Which of the above statement/s is/are incorrect?
i) only
ii) only
Both i) and ii)
None of the above
See
Question 2. Which of the below statement/s is incorrect?
Gold ETF is an option to invest in gold online
Gold ETFs are open-ended mutual fund schemes
These can be traded on a stock exchange just like the shares of an individual company
None of the above
See
Question 3. The theory of Separation of Powers is well founded in
Federal form of government
Presidential form of government
Parliamentary form of government
All the above
See
Question 4. Which of the following acts enabled the Constituent Assembly of India to enact a 
constitution of its own free will?
Cabinet Mission Plan, 1935
Government of India Act of 1935
Indian Independence Act, 1947
None of the above
See
I. UPSC Mains Practice Questions
The choice of cooking fuel in households has a huge impact on living conditions especially for women and children. Discuss.
The draft HECI Bill is an unprecedented move towards excellence in the education sector. Critically analyse.
Also, check previous Daily News Analysis
"Proper Current Affairs preparation is the key to success in the UPSC- Civil Services Examination. We have now launched a comprehensive 'Current Affairs Webinar'. Limited seats available. Click here to Know More."
Enroll for India's Largest All-India Test Series