TABLE OF CONTENTS
A.

 GS1 Related




B.

 GS2 Related


POLITY
1. Supreme Court imposes six-month cap on stay orders
2. SBI to issue second tranche of electoral bonds from April 2-10
3. SC/ST Act: SC ruling to have bad effect on reporting crimes against Dalits
HEALTH
1. Shorter, affordable treatment for MDR-TB patients soon
INTERNATIONAL RELATIONS
1. Terror discussed at India-US meet
2. India shoots down US proposal for communications secrecy pact to maintain distinction with latter's NATO allies


C.

 GS3 Related


ECONOMY
1. Sebi announces norms to make algo trading more accessible
2. DoT asks telecom firms to vacate spectrum in 3,300-3,400 MHz band
3. Sebi board strengthens corporate governance norms
SCIENCE AND TECHNOLOGY
1. NASA now targets May 2020 for launch of James Webb Space Telescope
ENVIRONMENT AND ECOLOGY
1. Gujarat: No new protected habitat for increasing lion population, says CAG report


D.

 GS4 Related




E. 

Editorials


ECONOMY
1. Renewable energy as a champion sector


F. 

Prelims Fact


G. UPSC Prelims Practice Questions
H. UPSC Mains Practice Questions 

A. GS1 Related
Nothing here for today!!!
1. Supreme Court imposes six-month cap on stay orders
In a ruling set to have a far-reaching impact on thousands of cases pending in various courts, the Supreme Court on Wednesday ruled that a stay of proceedings in trial, civil or criminal cases would automatically lapse in six months, and for any extension, the party concerned would have to move the court again to get a speaking order.
The order was passed by a three-judge bench of justices Adarsh Kumar Goel, Navin Sinha and R F Nariman, which held that the legislative mandate of expeditious disposal of a trial should be respected.
The order came on a plea dealing with an issue relating to the Prevention of Corruption Act and posed a question of law as to whether a high court had the jurisdiction to entertain an appeal against an order framing charges by a trial court.
The bench, while dealing with the case, observed that the cancer of corruption had eaten into the vitals of the state and needed to be nipped in the bud.
While cautioning the higher appellate courts, the SC bench said the power to stay the trial proceedings has to be exercised with restraint, especially in corruption cases.
If stay is granted, it should not normally be unconditional or of indefinite duration. Appropriate conditions may be imposed so that the party in whose favour stay is granted is accountable if court finally finds no merit in the matter and the other side suffers loss and injustice.
Clarifying about the speaking order, the bench said that the speaking order must show that the case was of such exceptional nature that continuing the stay was more important than having the trial finalised.
2. SBI to issue second tranche of electoral bonds from April 2-10
The sale of second tranche of electoral bonds will take place from 2-10 April at SBI's 11 designated branches.
Electoral bonds are being pitched as an alternative to cash donations made to political parties and bring transparency in political funding.
The bonds worth Rs222 crore were issued by SBI during the first tranche which ended on 10 March.
SBI, in the second phase of sale, has been authorised to issue and encash electoral bonds through its 11 authorised branches with effect from April 2-10, 2018.
Electoral Bond Scheme
The government had notified the Electoral Bond Scheme on 2 January this year. As per its provisions, a person who is a citizen of India or an entity incorporated/ established in India can purchase electoral bonds.
Registered political parties which have secured not less than 1 per cent of the votes polled in the last election of Lok Sabha or legislative assembly will be eligible to receive electoral bonds.
SBI is the only authorised bank to issue such bonds. A person being an individual can buy electoral bonds, either singly or jointly, with other individuals.
An electoral bond will be valid for 15 days from the date of issue. No payment would be made to any payee political party if the bond is deposited after expiry of the validity period.
The bond deposited by any eligible political party into its account would be credited on the same day.
3. SC/ST Act: SC ruling to have bad effect on reporting crimes against Dalits
A crime is committed against a Dalit every 15 minutes. Six Dalit women are raped every day. Over the last ten years (2007-2017), there has been a 66% growth in crimes against
Further, data from the National Crime Records Bureau (NCRB) on which the Supreme Court's March 20 judgment is based itself shows that rapes of Dalit women have doubled in the last ten years.
NCRB data also says that chargesheets were filed in as many 78% cases, which means the argument that false cases are being filed out of 'vengeance' is flawed.
Though shocking, these figures are only the tip of the iceberg of the actual number of incidents since most Dalits generally do not muster enough courage to register cases for fear of retaliation by the higher castes.
Even on relatively rare occasions in which a case reaches court, the most likely outcome is acquittal due to caste biases at every stage of investigation and trial. Due to these biases, Dalits, the poor and the minorities are over-represented on the list of death rows.
Studies have shown a similar pattern in respect of black convicts in the US.Strangely, Justice Adarsh Goel and U. U. Lalit adopting 'purposive interpretation' and quoting B. R. Ambedkar's speech on the importance of the word 'fraternity' in the constitution's preamble have diluted the stringent provision of the SC/ST (Prevention of Atrocities) Act. Ambedkar wanted fraternity because of religious and caste conflicts.
In the Indira Sawhney case, the Supreme Court used the word 'fraternity' to justify the reservation policy. Giving a new dimension to 'fraternity', Justice Goel has observed that "interpretation of Atrocities Act should promote constitutional values of fraternity and integration of the society.
This may require check on false implication of innocent citizens on caste lines."What non-Dalits or upper castes should do to promote fraternity is not clear from the judgment.
Rather, it casts aspersions on Dalit victims saying that they file fake cases either out of vengeance or due to the greed of monetary compensation. This is contrary to Section 15 of the PoA which specifically mandates that a victim is to be treated with "fairness, respect and dignity".
In the Subhashchandra Mahajan judgment of March 20, 2018, the court looked a little uncomfortable with the provisions of the PoA when it said that the legislature never intended the Act's use as an instrument to blackmail or wreak vengeance. Law should not result in caste hatred.
The court without mincing words, said that "PoA should not result in perpetuating spread of casteism which adversely impacts societal integration and constitutional values."
The court did not appreciate that the PoA Act had to be enacted in response to caste hatred, which is the single-most important factor behind divisions in our society.We have low conviction rates in terror crimes as well.
False terror prosecutions, too, have destroyed hundreds of innocent lives but will we similarly dilute stringent provisions of those laws as well? The decline in the conviction rate for crimes against Dalits has created an impression that this may be driven by filing of false cases.
But data from NCRB does not seem to support this contention. In fact, the share of false cases under the PoA Act has declined over time (2009-2015). The conviction rate, too, has improved from 23.8% in 2013 to 28.8% in 2014.
In any case, comparing the conviction rate of hate crimes under PoA with that of ordinary crimes is neither rational nor reasonable.
The court made its intention of diluting the PoA clear when on the basis of selective analysis of crime in India data, as highlighted above, and a few judgments from Gujarat, Tamil Nadu and Maharashtra high courts, it said it in so many words that "we have seen working of PoA in last three decades and its abuse has been judicially acknowledged."
A few judgments cannot be substitutes of authentic empirical research.
1. Shorter, affordable treatment for MDR-TB patients soon
The shorter and more affordable regimen to treat the dreaded multi-drug resistant TB (MDR-TB) will finally be offered to patients at treatment centres in the city.
The therapy that got the WHO nod in 2016 will cut down treatment time from two years to nine-11 months, but there will be stringent criteria for patient selection, the BMC said on Wednesday.
A patient enrolled in Govandi's Shatabdi Hospital will become one of the first few in the country to be started on the shorter regimen, commonly known as the Bangladesh regime.
This drug combination that is currently being tried in 14 countries grappling with drug-resistant TB will slash the pill load-patients on conventional treatment take around 14,600 pills in 24 months-by nearly half.
Patients also have to take injectibles for shorter duration of about four to six weeks instead of the minimum six months in the conventional treatment course.
The shorter regimen will be offered to patients who are not in the pre-extensively or extensively drug-resistant TB (XDR) stage, or rather have not been exposed to the second line drugs.
In simpler terms, non-complicated MDR-TB cases, where the patients are resistant to first line drugs rifampicin and isoniazid, will be mainly considered.
At the state level, a patient in Chandrapur has been started on the short course. Nearly 5,000 MDR-TB cases were identified in Mumbai in 2017.
Category: INTERNATIONAL RELATIONS
1. Terror discussed at India-US meet
The 15th meeting of the India-US Counterterrorism Joint Working Group (JWG) in New Delhi on Tuesday saw the two sides review threats posed by terrorist groups worldwide and in their regions, including cross-border terrorism in South Asia.
The United States will host the next JWG meeting in 2019.
Apart from sharing information on terrorist outfits, the two sides discussed ways to counter terror-funding and foreign terrorist fighters. International and bilateral cooperation on justice, law enforcement, UN Security Council Resolution 2396 (which seeks the strengthening of measures to counter threats posed by returning foreign terrorist fighters) and capacity building efforts to counter terrorism were on the agenda.
The Indian team was led by Mahaveer Singhvi, joint secretary (counter-terrorism) in the MEA, while the American delegation was headed by Alina L. Romanowski, the US State Department's principal deputy coordinator for counterterrorism.
The joint working group not only exchanges intelligence on terrorist operations, it also involves joint training in border management and surveillance techniques.
Cooperation against cyberterrorism is another key feature, and the two sides launched a Strategic Cyber Policy Dialogue in 2013. "The Framework for the India-US Cyber Relationship, the first such document the US has signed with any foreign government, commits both countries to principles such as promoting international law, public-private partnerships, and appropriate norms of state cyber conduct," says Vinay Kaura, Assistant Professor at the Sardar Patel University of Police, Security, and Criminal Justice.
In September 2015, the two sides agreed to transform their relationship into "a defining counterterrorism partnership for the 21st century."  A former intelligence officer, however, warned that all these talks might sound good, but they remain somewhat pointless unless the US makes up its mind over how to deal with Pakistan.
2. India shoots down US proposal for communications secrecy pact to maintain distinction with latter's NATO allies
India has shot down a US proposal for an "umbrella" communications secrecy pact to maintain a distinction with the US' NATO allies but it has also requested Washington DC to examine an "ideal" cross-posting of army, navy and air force officers at its Central and Pacific Commands, the two theatres that largely determine military-to-military relations.
Famously, President George Bush (the second) had described Pakistan as a Major Non-Nato Ally (MNNA) in 2004.
Proposals for more mechanisms in the defence relationship have been renewed in weeks leading to the first joint meeting of the foreign and defence ministers of the two countries likely in April.
The Indian defence and foreign secretaries have recently concluded talks with their counterparts in the run-up to the inaugural '2+2' ministerial.
"We will seek equipment-specific pacts," the official said. He also went on to explain what that means after describing the importance of having liaison officers of all the services of the militaries in the US' Central Command (CENTCOM) and the Pacific Command (PACOM), headquartered in Hawaii, that covers the rest of Asia and what is increasingly called the Indo-Pacific.
The area of responsibility of CENTCOM, headquartered in Tampa, Florida, in the US, covers Pakistan, Afghanistan and the rest of West Asia including the Persian Gulf and the Gulf of Aden.
Though it has been of India's interest to interact with CENTCOM, India-US military-to-military relations are the responsibility of PACOM at the theatre-level. Centcom and Pacom are only two of the US's unified military combatant commands that span the globe. Pacom is the largest.
Explaining the significance of COMCASA, the official said "we might find it restrictive but a NATO ally of the US may not view it as such".
The Communications Compatibility and Security Agreement (COMCASA) is a re-naming of what was the Communications Interoperability and Security Memorandum of Agreement (CISMOA).
The US agreed the change of nomenclature as an exception to make it India-specific. A change in nomenclature was also agreed by the US to the Logistics Support Agreement (LSA) that was signed in 2016 after more than a decade of negotiations and was renamed the Logistics Exchange Memorandum of Agreement (LEMOA).
But the official in the security establishment says that New Delhi does not favour an agreement that will cover all military platforms, equipment and components that India could source from the US that may compromise information.
At the same time, India recognized that 'non-disclosure' clauses were part of many contracts. The US insists that signing such arrangements will enable the sale or transfer of advanced military technologies to India.
Instead, the official said, it may be more prudent for India and the US to go the path of an End-User Verification Arrangement that was agreed in the past.
US' military leaders describe the CISMOA, the EUMA, a Basic Cooperation Agreement on Geospatial Arrangements as "foundational documents" on which rest the US' military alliances.
In New Delhi, the view is that these arrangements are from a time and context that have changed since the Cold War when countries of the US-led NATO and the erstwhile Soviet Union-led Warsaw Pact were eyeball-to-eyeball. NATO still operates while the Warsaw Pact was disbanded.
Current relations need to reflect that changed context, the official explained to TNIE. Instead of an arrangement that will cover all military transfers, India could consider "freezing a standard text" and then making that equipment and country-specific. That was roughly the process followed for the EUMA over years that India could otherwise find intrusive.
Under US law, inspectors from the Pentagon are required from to verify that military equipment exported from the US were being used for the purposes they were meant.
1. Sebi announces norms to make algo trading more accessible
The Securities and Exchange Board of India (Sebi) announced norms to make algorithmic trading more accessible for investors. It asked stock exchanges to introduce shared co-location services to cut costs.
What is Algo-trading?
Algorithmic trading refers to orders generated using automated execution logic. Co-location allows members to place their servers in the exchange premises for faster access to trading.
What is the issue?
Sebi proposed a penalty framework for high order to rate ratio. A high order to trade ratio means that there are many orders that are not converted into trades.
The regulator also told bourses to provide tick-by-tick data feed (TBT Feed) to all trading members free of charge. This will allow every trading member to know the best prices of any given stock on a real-time basis so that everyone is able to take equal advantage of price movements in stocks.
Sebi's move will allow small and mid-size brokers get a share of the co-location racks at exchanges for a monthly rent of Rs40,000-50,000.
In the equity derivatives segment, the percentage of high frequency trade (a subset of algo trade) orders has gone up from 78% to 98% between fiscal 2012 and fiscal 2017. The share of turnover has risen from 22% to 56%.
In a separate move, Sebi introduced the so-called product suitability framework to ensure that individual investors have a safety net when invested in equity derivatives.
There is something called as product suitability. Just because markets are doing well, it does not mean that all should invest in these complicated products.
Investors invest in equity derivatives will need to disclose income as per their return filing and if investment is not commensurate with income then brokers would need to do due-diligence.
Sebi enhanced the criteria for scrips eligible for futures and options or derivatives segment. It said that scrips that do not meet the enhanced compliance criteria will move to physical settlement.
To facilitate greater alignment of the cash and derivatives market, physical settlement for all stock derivatives shall be carried out in a phased and calibrated manner.
The existing criteria like market wide position limit and median quarter-sigma order size shall be revised upward from current level of Rs300 crore and Rs10 lakh respectively to Rs500 crore and Rs25 lakh respectively.
The enhanced criteria are to be met continuously for six months. To begin with, stocks which are currently in derivatives segment but fail to meet any of the enhanced criteria will be physically settled.
Such stocks would exit the derivative segment if they fail to meet any of the enhanced criteria within a period of one year.
The physical settlement will remove inefficiencies from the system and will lead to more investor confidence. However the system needs to work across all companies not just the smaller ones.
As far as due diligence by brokers on derivatives exposure for retail investors, it is not his (broker's) job as he is not an investigator. Nowhere in the world such measures are present.
2. DoT asks telecom firms to vacate spectrum in 3,300-3,400 MHz band
The department of telecommunications (DoT) has written to internet service providers Bharti Airtel Ltd, Reliance Communications Ltd, Tata Communications Ltd and Dishnet Wireless, directing them to vacate spectrum in the 3,300-3,400MHz band by the end of September as the government gears up to conduct an auction of this bandwidth for the first time.
DoT plans to auction spectrum in the 700MHz, 800MHz, 900MHz, 1,800MHz, 2,100MHz, 2,300MHz, 2,500MHz, 3,300-3,400MHz and 3,400-3,600MHz bands in the next auction and had asked the regulator, in a letter dated 19 April 2017, to provide its suggestion on reserve price, quantum of spectrum to be auctioned and associated conditions for auction of spectrum in these bands for all service areas.
The regulator had in August last year issued a consultation paper seeking stakeholder comments on the price and timing of spectrum auction, which was followed by an open house in January this year.The recommendations of the regulator on reserve price of spectrum and timing of auction are awaited.
At present, in India, spectrum in the 3,300-3,400MHz band has been assigned to various internet service providers in various districts of a service area.
Their assignments are being renewed on an annual basis. Once existing operators shift to other bands, it is expected that the entire band will be made available for telecom services.
Moreover, the 3,300-3,400 MHz portion of spectrum has already been identified for international mobile telecommunication in 45 countries, including India. The 3,300 MHz band is expected to be the first 5G band deployed globally.
This letter shows the seriousness with which the DoT wants to auction spectrum for 5G despite the worries over the financial health of the industry and operators asking for more time before conducting an auction.
In 2016, the government had raised Rs65,789 crore in revenue through spectrum sale, a fraction of the total value of Rs5.63 trillion of spectrum at base price put up for sale.
While the total spectrum put up for sale was 2,354.44 MHz across seven bands, the total spectrum sold was 965 MHz. There were no buyers for spectrum in the 700 MHz band as operators thought it was priced too high.
3. Sebi board strengthens corporate governance norms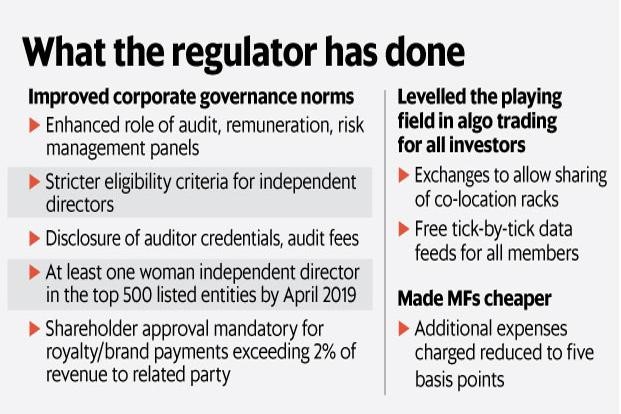 The markets regulator has set new rules aimed at improving corporate governance in publicly traded companies, made algorithmic trading accessible and cut mutual fund fees. The Securities and Exchange Board of India's (Sebi's) board approved the norms.
The board accepted about half of the 80-odd suggestions made by a panel led by banker Uday Kotak to improve corporate governance.
The sweeping changes in governance standards will span areas including composition of boards, the make-up of board committees, treatment of subsidiaries, disclosure for related-party transactions, audit evaluations and conduct of annual general meetings.
The board has approved an enhanced role for audit, nomination & remuneration and the risk management panels. It has also accepted a proposal to disclose auditor credentials, audit fees and reasons for auditors' resignations.
By and large, the regulator has accepted the recommendations of the Kotak panel. Though these steps will increase compliance costs, it will also increase value of the company.
The panel's recommendation on increasing the oversight on auditors will be decided keeping in mind the norms proposed by the corporate affairs ministry for auditors and changes that may occur due to the setting up of National Financial Reporting Authority, the proposed independent regulator for auditors, said Tyagi.
The board also accepted the suggestion that firms disclose how they are using funds raised through preferential issues and placement to institutions.
Moreover, the board said an individual can serve as a director on the boards of only seven companies by April 2020, down from 10 now. It also mandated that the top 500 listed entities have at least one women director by April 2019.
Similarly, the board said that minority shareholder approval was mandatory for royalty/brand payments to related parties exceeding 2% of revenue.
The regulator also cut the expenses charged to mutual funds in lieu of exit loads by 15 basis points to 5 basis points. A basis point is one-hundredth of a percentage point.
A Sebi internal study found that mutual fund schemes had levied unfair charges of around Rs 1,500 crore owing to these fees.
Category: SCIENCE AND TECHNOLOGY
1. NASA now targets May 2020 for launch of James Webb Space Telescope
NASA is now targeting May 2020 for the launch of its James Webb Space Telescope, the $8 billion dollar Hubble successor. The announcement made after an independent assessment of remaining tasks for the highly complex space observatory further pushes the launch target of the next-generation space telescope by about a year.
Webb is the highest priority project for the agency's Science Mission Directorate, and the largest international space science project in US history.
Testing the hardware on the observatory's telescope element and spacecraft element demonstrate that these systems individually meet their requirements.
Webb is an international project led by NASA with its partners, ESA (European Space Agency) and the Canadian Space Agency.
NASA will work with its partner, ESA, on a new launch readiness date for the Ariane 5 vehicle that will launch Webb into space. ESA is providing the Ariane 5 as part of its scientific collaboration.
Once a new launch readiness date is determined, NASA said it will provide a cost estimate that may exceed the projected $8 billion development cost to complete the final phase of testing and prepare for launch.
Additional steps to address project challenges include increasing NASA engineering oversight, personnel changes, and new management reporting structures.
 More on James Webb Space Telescope
NASA's James Webb Space Telescope, scheduled for launch in 2020, will probe the cosmos to uncover the history of the universe from the Big Bang to alien planet formation and beyond. It will focus on four main areas: first light in the universe, assembly of galaxies in the early universe, birth of stars and protoplanetary systems, and planets (including the origins of life.)
The James Webb Space Telescope (JWST) will launch on an Ariane 5 rocket from French Guiana, then take 30 days to fly a million miles to its permanent home: a Lagrange point, or a gravitationally stable location in space.
It will orbit around L2, a spot in space near Earth that lies opposite from the sun. This has been a popular spot for several other space telescopes, including the Herschel Space Telescope and the Planck Space Observatory.
Category: ENVIRONMENT AND ECOLOGY
1. Gujarat: No new protected habitat for increasing lion population, says CAG report
The 54.6 per cent jump in the population of lion outside Gir Sanctuary between 2011 and 2015 is "exerting pressure" on the existing protected areas as no new protected habitat for lions has been approved in Gujarat since 2008, according to the Comptroller and Auditor General (CAG).
In its report on 'economic sector' of 2018, the CAG said that wildlife conservation efforts in Gujarat have yielded positive results as indicated by the increase in number of Asiatic lions from 308 in 2011 to 356 in 2015, but added that despite high instances of lion deaths outside Gir sanctuary — 106 by natural causes and 21 by unnatural causes in — the government did not approve new protected habitat for lions in the last one decade.
In view of the rising population and high instances of deaths of lions outside the Gir Protected Area during 2012-13 to 2016-17, creation of new protected areas was one of the available options with the forest department. The last extension of habitat for lion was approved by the Ministry of Environment Forest and Climate Change of the Union government in 2008.
The proposal submitted (March 2016) for draft Eco Sensitive Zone notification for Gir Protected Area also reports that the latest census should be taken as a sign of warning as nearly one-third (32 per cent) of lions have their habitat outside the Gir Protected Area, risking human lives, livestock as well as the safety of the lions themselves.
Nothing here for today!!!
1. Renewable energy as a champion sector
India currently meets almost 90% of its annual requirement of solar panels through imports (mainly China), impeding the growth of a nascent domestic solar manufacturing sector.
Policy support for the solar sector is increasingly focused on domestic manufacturing, both in the form of capital subsidies and considerations of trade regulation.
Distortions
First, implementing trade remedies that have anti-competition implications has become commonplace, with clean energy becoming its newest victim.

Two large solar energy markets, India and the United States, have either imposed or are contemplating the imposition of safeguards duty on solar panels.
Trade remedies are attractive because they create tangible short-term benefits such as job creation, reduction in trade deficit, and higher local tax collection.
However, such a move would also result in higher tariffs and make solar power less attractive for the already financially strained and RE-sceptical utilities.

Second, it is vital that India remains compliant with the global trade regime.

Previous measures (for example, the Domestic Content Requirement or DCR scheme) to assuage the concerns of the domestic solar manufacturers were challenged and overturned at the World Trade Organisation (WTO).
The DCR scheme did not impose any restrictions on imported sources and only sought to secure an assured market for domestically manufactured panels.
Other countries opposed the scheme as it discriminated against foreign solar cell suppliers.
Council on Energy, Environment, and Water (CEEW) analysis suggests that backing this programme could generate only 31,200 jobs as against one million full-time job opportunities had India followed through in achieving its solar and wind energy targets of 160 GW.

Third, India's solar sector is currently caught in inter-ministerial cross-fire.

The severity of the issue is evident in the power given to both the Ministry of Finance (MoF) and the Ministry of Commerce and Industry (MoCI) to implement trade remedies (safeguard duties and anti-dumping duties or ADD, respectively).
Further, the Ministry of New and Renewable Energy (MNRE) has been grappling with issues posed by the MoF regarding the re-classification of solar panels as electrical motors (the current classification is photosensitive semiconductor devices), imposing additional duties and cesses on importers.
An inter-ministerial committee headed by the MNRE must be constituted to coordinate moves among the MoF, the MoCI, the Ministry of Power, and the Central and State Electricity Regulatory Commissions. his committee should consider deliberate policy and regulatory nudges and broader government fiscal concerns.

Fourth, developers and manufacturers in the sector need to voice their needs clearly and respond to policy implications in an unequivocal manne

Emergence of differences within these groups has led to problems. Multiple industry associations, each claiming to represent the interest of the majority.
To ensure a long innings for the sector, the industry needs one unified voice representing the key concerns of each stakeholder-category, without ignoring the broader interests of the sector.
Way forward
Effectively balancing India's goals of energy access, enhanced energy security, and climate ambition, is not impossible, but definitely difficult.
To get ahead in that race, India will need a comprehensive strategy on issues such as effective sourcing of critical minerals, investment in R&D, access to patient venture capital, and fiscal benefits for the industries of the future.
The sector urgently requires a clear strategy and a co-ordinated approach to reduce the variables that make for an uncertain market.
Nothing here for today!!!
G. Practice Questions for UPSC Prelims Exam
Question 1. Consider the following statements:
CSIR-National Physical Laboratory (CSIR-NPL) is the custodian of Indian Standard Time (IST).
It has the responsibility for realization, establishment, maintenance and dissemination of IST through an act of Parliament.
Which of the statements are correct?
1 only
2 only
Both 1 and 2
None of the above
See
Question 2. Consider the following statements about Algorithmic Trading:
Algorithmic Trading is also known as Black Box Trading.
It is a trading system that utilizes advanced and complex mathematical models and formulas to make high-speed decisions and transactions in the financial markets.
Which of the statements are correct?
1 only
2 only
Both 1 and 2
None of the above
See
Question 3. Consider the following statements about NASA's James Webb Space Telescope:
It will probe the cosmos to uncover the history of the universe from the Big Bang to alien planet formation and beyond.
It will orbit around a Lagrange point (L2), or a gravitationally stable location in space, a spot in space near Earth that lies opposite from the sun.
Which of the statements are correct?
1 only
2 only
Both 1 and 2
None of the above
See
Question 4. Consider the following statements:
National Financial Reporting Authority is a proposed independent regulator for auditors.
Recently a panel led by banker Uday Kotak suggested reforms to improve corporate governance.
Which of the statements are correct?
1 only
2 only
Both 1 and 2
None of the above
See
H. UPSC Mains Practice Questions
General Studies II
POLITY
Should water be privatized? Critically comment and suggest suitable measures.
General Studies III
ECONOMY
The disinvestment of Air India should be a gradual process rather than a Knee Jerk reaction as it involves multiple issues. Discuss its implications.
Also, check previous Daily News Analysis
"Proper Current Affairs preparation is the key to success in the UPSC- Civil Services Examination. We have now launched a comprehensive 'Current Affairs Webinar'. Limited seats available. Click here to Know More."
Enroll for India's Largest All-India Test Series