TABLE OF CONTENTS
A.

 GS1 Related




B.

 GS2 Related


GOVERNANCE
1. A crusade for women's rights


C.

 GS3 Related




D.

 GS4 Related




E. 

Editorials


POLITY
1. Judiciary and Electoral Reforms
ENVIRONMENT AND ECOLOGY
1. Policy making on Electric Vehicles


F. 

Tidbits


1. In a first, South African lion cubs conceived artificially
2. Headwinds build up for the economy
3. Sugar industry hopes for a sweeter season
4. Can India's share of the global economy bounce back to 25%?
5. Oil firms increase ATF prices by 7.25%
6. U.S. economic growth, rupee fall will boost Indian exports, says Assocham
7. Berhampur launches drive to 'cure' trees
8. Terracotta artefacts unearthed on the banks of Pampa river
9. Amul alternative economic model: PM
10. S-400, Kamov on the agenda of Modi, Putin
11. Social media giants to help EC clean up poll campaign
12. Back-channel talks between NSAs must continue


G. 

Prelims Fact


1. Pradhan Mantri Mudra Yojana
H. UPSC Prelims Practice Questions
I. UPSC Mains Practice Questions 

Nothing here for today!!!
1. A crusade for women's rights
The past two years have seen the Supreme Court progressively question patriarchy in religion to ensure emancipation for women, and set the course for the future.

But majority decisions in the court continue to rely on legal technicalities when it comes to politically-charged cases like the Ayodhya dispute and the arrest of five activists in the Bhima-Koregaon violence case.

The court has not shied away from confronting age-old personal law practices, usages and customs which were considered taboo.
Gender bias
Chief Justice Dipak Misra belled the proverbial cat when he wrote in his main opinion that historically, women have been treated unequally. No philosophy has so far convinced the large population of this country to open up and accept women as equal partners in the journey of spirituality, the Chief Justice wrote in the Sabarimala case.

In Sabarimala, the court held that the ban on women, based on their menstrual status, considering them as polluted and a distraction for worshippers vowed to celibacy, is a form of untouchability. In no uncertain terms, the court told the world that India still practices untouchability 63 years after the social evil was abolished under the Untouchability (Offences) Act in 1955.
Other judgements
The fact that the court, despite the changes in Chief Justices, has remained steadfast in its objective to realise the equal status of women in religion was witnessed in October 2016 when a Bench led by then Chief Justice of India T.S. Thakur drew a parallel between the restriction on women worshipping in Sabarimala temple and Mumbai's famed Haji Ali Dargah.

Chief Justice Thakur had observed that 'exclusion' is practised by both Hindus and Muslims and the problem needs to be addressed. Hardly a week later, the Dargah Trust conceded before the court that it had resolved to allow women to enter the sanctum sanctorum of the dargah at par with men.

The Khehar Court on August 22 last year declared the triple talaq unconstitutional and anti-Quran. Justice Kurian Joseph, on the Constitution Bench, held that Islam cannot be anti-Quran and Triple talaq is against the basic tenets of the Holy Quran, and consequently, it violates Shariat.

Over the past year, the Misra Court has intervened with the Parsi elders to allow Goolrokh Gupta, a Parsi woman, who married outside her faith, to pray at the Tower of Silence for her departed father. It has also referred to a Constitution Bench the question whether the practice of female circumcision or khafz, prevalent in the Dawoodi Bohra sect, amounts to female genital mutilation and is a violation of women's right to life and dignity.
Dissenting opinions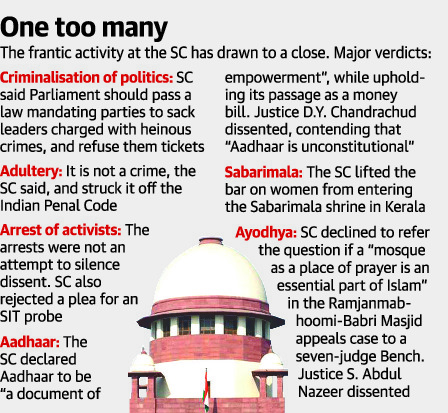 However, in the court's decisions in three cases — Aadhaar, Ayodhya and activists' arrests — the dissenting opinions of Justices D.Y. Chandrachud and S. Abdul Nazeer resonate while the opinions of the majority on the Bench led by Chief Justice Misra feel prosaic.

In the case regarding the arrested activists, the majority opinion shared between Chief Justice Misra and Justice Khanwilkar retains the probe with the Maharashtra police. The two judges do not address Justice Chandrachud's conclusion that investigation should go to a SIT as there is prejudice on the side of the police.

In the Ayodhya case, Justice Nazeer points out the question in the 1994 Ismail Faruqui verdict, whether 'offering prayers in a mosque is an essential part of Islam or not', greatly influenced the Allahabad High Court's judgment to divide the Ayodhya land in September 2010.

The majority opinion of Chief Justice Misra and Justice Bhushan rests comfortably on the conclusion that the observation was confined to the facts of the Faruqui case.

In the majority opinion in the Aadhaar case, the lead opinion by Justice A.K. Sikri holds that the right to provide dignity to the poor outweighs the right to privacy. The lead opinion strives for balance even as Justice Chandrachud, in his minority opinion, argues that it is not necessary to sacrifice privacy for dignity.
Nothing here for today!!!
Nothing here for today!!!
1. Judiciary and Electoral Reforms
In news
In a recent judgment, the Supreme Court has left it to Parliament to legislate on the issue of candidates facing criminal charges getting elected to Parliament and State legislative Assemblies.
The court mentioned that it was not within its powers to disqualify politicians facing criminal cases from contesting election, but recommended that Parliament enact a strong law.
However, the court made it mandatory for political parties and candidates themselves to make public disclosure through print and electronic media.
Some important changes in the electoral laws made by the judiciary:
Making it mandatory for candidates to submit an affidavit with full disclosure of criminal cases and details of their asset and income.
The most recent change, i.e. providing an option to voters to exercise None of the Above (NOTA) in case they do not want to vote for any of the candidate contesting an election, was also introduced by the judiciary in 2003 on the basis of the PIL filed by People's Union for Civil Liberties.
The chances of Parliament acting fast on this issue are dim. The reasons are simple and obvious:
No political party is free of this problem. The use of muscle power along with money power is a weapon used by all political parties to maximise electoral gains.
In such a scenario, any move to ban candidates with a criminal record from contesting elections would mean political parties inflicting self-harm.
While political parties raise concern about candidates with a tainted background contesting elections and getting elected, none of them come forward to set an example for others when it is time to act.
What is the ground reality? Some data on the criminal background of the politicians:
Data from the Association for Democratic Reforms (ADR) indicate that 179 out of the 543 elected Members of Parliament in the present Lok Sabha have some kind of criminal case pending against them.
Some of these may be of a frivolous nature,but many of these cases concern allegations of their involvement in serious crimes.
In the case of over 100 MPs, the cases were of a very serious nature such as crimes against women and kidnapping. There seems to be very little improvement in this regard in the last five years.
In the previous Lok Sabha (2009), 163 had criminal cases pending against them, many of which were of a serious nature.
The profile of members of the Upper House is no better; of 228 members of the Rajya Sabha for whom data could be analysed, 20 have cases of serious crimes pending against them.
Among the Bharatiya Janata Party's MPs (Lok Sabha and Rajya Sabha), 107 (32%) have criminal cases pending against them. Of them, 64 (19%) have cases of serious crimes pending against them.
The Congress is only a shade better than the BJP; 15 MPs (15%) have criminal cases pending against them, of whom eight (8%) have cases of serious criminal offences pending against them.
There is hardly any difference between the national and regional parties in this regard. In the Shiv Sena, 18 MPs (86%) have criminal cases pending against them, of whom 10 (48%) are alleged to be involved in serious criminal cases.
Of all MPs, six each of the Nationalist Congress Party (55%) and the Rashtriya Janata Dal (67%) have serious criminal cases pending against them. Going by the ADR's estimates, there are more than 1,500 MPs and MLAs in Parliament and State Assemblies with criminal cases pending against them.
Role of Election Commission
The issue is far more important and serious than the attention being paid to it by the policy makers.
While the Election Commission has limited powers to legislate on such laws, it is only Parliament which can legislate to bring about the desired change.
Public opinion
A survey conducted by the Centre for the Study of Developing Societies, found that opinion was divided when people were asked whether they would be willing to vote for an honest candidate who may not get their work done, or a tainted candidate who could get their work done.
Category: ENVIRONMENT AND ECOLOGY
1. Policy making on Electric Vehicles
In news
Jharkhand Chief Minister Raghubar Das recently announced that his government has introduced electric vehicles for official use.
While 20 vehicles have been acquired for the first phase, another 30 are expected to be added to the fleet in the coming weeks.
It has also been reported that 12 charging stations have been set up in Ranchi so far, and several more are slated to come up.
Electric Vehicles: Background
An electric vehicle, also called an EV, uses one or more electric motors or traction motors for propulsion.
An electric vehicle may be powered through a collector system by electricity from off-vehicle sources, or may be self-contained with a battery, solar panels or an electric generator to convert fuel to electricity.
EVs include, but are not limited to, road and rail vehicles, surface and underwater vessels, electric aircraft and electric spacecraft.
EVs first came into existence in the mid-19th century, when electricity was among the preferred methods for motor vehicle propulsion, providing a level of comfort and ease of operation that could not be achieved by the gasoline cars of the time.
Modern internal combustion engines have been the dominant propulsion method for motor vehicles for almost 100 years, but electric power has remained commonplace in other vehicle types, such as trains and smaller vehicles of all types.
 Why Electric vehicles now?
In the 21st century, EVs saw a resurgence due to technological developments, and an increased focus on renewable energy.
A great deal of demand for electric vehicles developed and a small core of do-it-yourself (DIY) engineers began sharing technical details for doing electric vehicle conversions.
Government incentives to increase adoptions were introduced, including in the United States and the European Union.
Electric vehicles will reduce fuel bills and are an integral component of the smart cities project.
In the current scenario of soaring fuel prices and the spectre of climate change looming large over the planet, it is a welcome development that a State government is taking the lead in switching to e-vehicles.
Not only does this reduce the burden of fuel bills on the exchequer, it is also in sync with Prime Minister Narendra Modi's strong pitch in favour of electric vehicles at the recently held Global Mobility Summit in New Delhi. "Clean mobility powered by clean energy is our most powerful weapon in our fight against climate change," Mr. Modi had said as he batted for investments in electric vehicles and charging stations.
Government officials and Fuel consumptions
In this context, it is well known that government officials are tremendous guzzlers of fossil fuel.
If ministers and politicians are taken as a single category of consumers, their per capita and per kilometre consumption of fossil fuel is likely to be many times higher than that of most ordinary users, given their penchant for moving around accompanied by lengthy convoys of gas-guzzling escort vehicles.
One might expect that in a real democracy, public servants, with some exceptions, would typically use public transport, which also happens to be another thrust area identified by the Prime Minister as integral to the future of mobility in India.
But if this is too unrealistic an expectation, the least they could do is to exchange their petroleum-based vehicles for electric ones.
If other States and the Centre were to follow the example set by Jharkhand, it would have two positive spin-offs:

first, it would encourage the spread of a transportation infrastructure specific to e-vehicles; and
second, it would spur the early adoption of e-vehicles by first-time buyers, generating consumer momentum for India's stated goal of ensuring that by 2030, all public transport and 30% of private vehicles are electric.

This is not far-fetched as quite a few countries, such as Norway and France, already have a substantial percentage of their vehicles running on either electricity or alternate fuels.
Smart Cities and Electric Vehicles
Electric vehicles are also an integral component of smart cities, as they are an automatic assumption in frameworks of smart transportation.
With the cities accounting for 70% population of the world, the environmental challenges could be daunting. Therefore, smart cities are incorporating the concept of electric vehicles in their development plans.
Meanwhile, the government needs to speed up the formulation of rules for e-vehicles as a category, and come up with an India-specific road map for a transition that needs to be smooth if only because it is inevitable.
1. In a first, South African lion cubs conceived artificially
The first ever lion cubs were born by means of artificial insemination — the first such pair anywhere in the world — in Pretoria.
Significance
Lions are extinct in 26 African countries and numbers in the wild have plummeted 43% over the last two decades, with roughly only 20,000 left, according to the International Union for Conservation of Nature (IUCN), which lists the African lion as vulnerable.

This technique can be used to save other endangered big cats.
Concerns
The captive lion breeding industry is exploitative and profit-driven.
2. Headwinds build up for the economy
Until recently, it seemed as if growth was finally returning and that the petulant rupee was the only problem to handle. Not any longer, though.
Concerns
The last few days have seen a crisis break out in the debt markets in the form of the IL&FS defaults that is threatening to spread to other parts of the economy and rudely snuff out the nascent growth impulse, if it is not handled with care.

Alongside, global oil prices have been staging an incessant upward march, causing fresh headaches for the Centre.
Oil prices
Petrol prices have breached the ₹90-a-litre level in many parts of the country in the last few days, with diesel prices not too far behind.

With the Organisation of Petroleum Exporting Countries (OPEC) ignoring calls to increase output, global oil prices, that are hovering around $82 a barrel now, could well touch the $100-a-barrel mark as the November 4 date for sanctions on Iran nears.

As domestic prices of petrol and diesel too race towards the three-figure mark, there is bound to be tremendous pressure on the Centre to cut taxes to reduce prices.
Should Centre cut duty?
A cut in excise duty will have adverse implications for revenues this fiscal and end up impacting the fiscal deficit.

Staying pat and allowing prices to rise would push up prices of a range of commodities and mass consumption items, leading to an adverse impact on inflation and spending power of the people.

At a time when the economy is being propped up by private consumption spending (and public investment), this might be a problematic choice.

Yet, that's probably the way the Centre should go. For one, a cut of a couple of rupees, which is what the Centre can afford now, will be cosmetic and hardly make a difference to the pump price of petrol when oil prices are surging ahead by almost a dollar per barrel every couple of days. The benefit of the cut will be overrun in no time.

Second, the higher fuel prices have had zero impact on consumption. Petrol and diesel consumption have continued to grow at a healthy pace. Petrol consumption has raced ahead at 8.2% in the April-August period; August alone saw a growth of 7.8%. Reducing prices by cutting duties, in this backdrop, may either maintain this growth or even push it up, which is not desirable.

The last thing that the Centre needs is a spiralling deficit in the current account caused by an uncontrolled rise in oil imports.

Though consumers have been absorbing the higher fuel prices till now, there will come a point when the laws of economics kick in; the higher prices will pinch and they would be forced to economise on consumption. That would be a desirable goal for the Centre to work towards. But such an option may not be politically feasible especially with elections round the corner.
Liquidity crisis
Distracting policymakers from their focus on oil prices is the drama unfolding in the debt markets in the aftermath of the series of defaults over the last few weeks by IL&FS.

The markets convulsed last week when the sale of Dewan Housing debt paper at a steep discount by DSP Mutual Fund to meet its own redemption pressures set off fears of a liquidity crunch.

It is a fact that liquidity has been tight for many months now despite RBI's periodic efforts to manage the situation.

The fear factor has ensured that the market for medium to long-term borrowing has dried up with lenders unwilling to lend beyond the short-term.

This is an unfortunate development just when investment activity was beginning to look up. For instance, the head of a large infrastructure company said that he had put off plans to invest ₹1,500 crore to expand capacity. Because of the climate of uncertainty following the IL&FS episode and the fear that the contagion could spread to the larger economy.
Other concerns
Offtake of passenger cars from showrooms has apparently slowed down in the last couple of weeks too, going by some reports.

This is but natural given that the two major costs that determine a new car purchase — fuel price and interest costs — are both on the upward march.
Way forward
These are initial signals for the Centre to react quickly.

The IL&FS situation has to be managed carefully and confidence restored in the markets.

The upcoming monetary policy statement from RBI is crucial in this context.

While a rate hike is taken as given, the central bank's moves to ease liquidity on a stable basis in the busy season ahead for the economy will be crucial.
3. Sugar industry hopes for a sweeter season
As the Indian sugar sector steps into a new season, it looks forward to more exports, price stability in the domestic market, and clearance of cane arrears to farmers.
Concerns
The problems the industry confronts today are many, and stem mainly from high production in 2017-2018 and 2018-2019 seasons, exceeding domestic demand.
High production
The Indian Sugar Mills' Association estimates sugar production during the 2018-2019 (October to September) season to be 35 million tonnes. In 2017-2018, it was about 32 million tonnes. The carryover stock is 10.3 million tonnes.

The domestic demand is about 26 million tonnes. Just about five lakh tonnes of sugar were exported in 2017-2018 and the estimated target is to export five million tonnes during 2018-2019.
Government package
The Union government recently announced a ₹5,500-crore package. This includes ₹1,375 crore towards internal transport, freight handling, and other charges for exports and ₹4,163 crore directly to farmers as part of fair and remunerative price (FRP) for 2018-19, which will reduce sugar mill's cane price liability, if they fulfil the stipulations of the Department of Food and Public Distribution.

Though the announcement bolsters hope for a better season ahead, it is inadequate.
Global price outlook
The international sugar prices are low compared with India's domestic raw sugar price by almost ₹12-₹13 a kg, and the global price outlook is depressing for the 2018-2019 season too.

The support for transport charges to the ports might reduce this loss by ₹2.5 to ₹3 a kg. In 2017-2018 too, the government came out with a package a few months before the season ended. It then announced ₹5.50/quintal as assistance for cane crushed. However, there were hardly any takers, as the difference between the domestic ex-mill price after fixing of MSP for sugar and the global market price increased.
Tamil Nadu
In Tamil Nadu, the situation is worse. With poor rainfall hitting sugarcane production for the last six years, capacity utilisation dropped to 27% and production in 2017-2018 was just 0.7 million tonnes. It is expected to be 0.85 million tons in 2018-2019 and capacity utilisation at about 32 %.

With lower capacity utilisation, the cost of production of sugar for T.N. mills will be higher by ₹10 a kg compared to mills in other States.
Way forward
Hence, this season, the industry wants the government to make exports compulsory for each sugar mill and, simultaneously, if prices in domestic market improve a bit, it may compensate the loss on exports.

Further, the government-fixed minimum price for sugar (factory gate price) should be increased to ₹34 a kg from ₹29 a kg.

The support announced by the government will move sugar for exports, thus reducing the stock with the mills.
4. Can India's share of the global economy bounce back to 25%?
5. Oil firms increase ATF prices by 7.25%
Aggravating the problem for loss-making airlines, oil marketing companies have increased the domestic Aviation Turbine Fuel (ATF) prices by 7.25% effective October 1.

This is on account of higher jet fuel prices in the international market coupled with the weakening of Indian rupee as against U.S. dollar (exchange fluctuation).

Freight charges have also contributed to the fuel prices.
6. U.S. economic growth, rupee fall will boost Indian exports, says Assocham
India's exports hold a promising outlook with the U.S. economy growing at its best in four years, coupled with the rupee depreciation leading to enhanced net revenue realisations, according to a report by Assocham.

The U.S. emerged as the top export destination for India, with $47.9 billion worth of shipments in the last fiscal ended March, followed by the UAE and Hong Kong, Commerce Ministry data showed.

The U.S. economic growth accelerated by 4.2% in the second quarter of this year, its fastest pace in about four years despite the ongoing tariff war with China.

The U.S. accounted for about 16% of India's total merchandise exports of $303 billion in the fiscal 2017-18 with the annual growth of 13.42%, the report said.

It is the largest market for Indian exports, both for merchandise and services. So, when the U.S. grows at its current pace, it augurs very well for the total Indian exports' basket, it added.

A sharp drop in rupee may have caused a burden on the country's import bill, but the net realisations for exporters have increased significantly.

According to the trade data for August 2018, while exports have shown a growth of about 19% in dollar terms, the rupee realisations for the export shipments went up close to 30%.

With further streamlining of exporters' GST refunds, their competitiveness should also improve, helping them in the global market, Assocham said.
7. Berhampur launches drive to 'cure' trees
Using the knowledge of senior botanists, nature lovers initiated an experimental effort in Odisha's Berhampur on Sunday to cure trees affected by human activities by using traditional ingredients.

The initiative was started by Sabuja Bahini, Anchalika Vikash Parishad and other organisations and later joined by other government authorities, environmentalists etc.
Problems
Metal nails, wires and publicity materials on the trunk of the trees are the reason behind the slow death of trees.

It was seen that toxic metallic oxides produced through corrosion had started to damage the internal parts of these trees.

Fungal infection caused by posters nailed on tree trunks was a major problem.
Traditional methods
As plants have great self-healing power, they have decided to provide natural remedies to them which would help them heal the wounds by themselves.

They experimented with a concoction comprising turmeric, neem leaves, gobar [cattle dung] and clay collected from ponds.

No chemical ingredients like modern pesticides or fungicides were used in the mixture.

In the concoction, turmeric and neem serve as disinfectants for the wounds and fungal infections while gobar and clay help the plant cells to regenerate.
Way forward
The process does not involve any costly materials, the general public should start saving the trees in their area through this process in future.

They will try to bring a private member Bill to save trees in urban areas from getting damaged by human interventions.
8. Terracotta artefacts unearthed on the banks of Pampa river
Hinting at the prevalence of a culturally rich Pampa Valley civilisation flourished along the heritage village of Aranmula, the villagers have unearthed parts of a few terracotta artefacts of archaeological value on the banks of the river Pampa.

The terracotta pieces were first sighted by a villager and a few fishermen in Edayaranmula.

The broken terracotta pieces were of Naga images, a male bust, female face, ornaments, etc.
Significance
The sighting of the terracotta works hints at ancient civilisation in the Pampa Valley at par with that of the Indus Valley.
9. Amul alternative economic model: PM
The Gujarat Cooperative Milk Marketing Federation is India's largest farmers' cooperative.

Inaugurating a new chocolate-making factory set up by dairy giant Amul in Gujarat, Prime Minister Narendra Modi said a cooperative like Amul is a viable economic alternative to capitalist and socialist models.

Mr. Modi credited Sardar Patel, who founded the Kheda Milk Union, for creating the model. Sardar saheb sowed the seed for a third economic model — controlled neither by government nor capitalists. Instead, it was created with the cooperation of farmers and people and everybody was a part of it.

He called upon Amul to set a target for making India the third largest milk processor in the world, from its current ranking of 10th, by the time the nation completed 75 years of its existence.
10. S-400, Kamov on the agenda of Modi, Putin
Ahead of the bilateral summit between Prime Minister Narendra Modi and Russian President Vladimir Putin later this week, discussions are still underway between the two sides to conclude a final deal for 200 Kamov-226T utility helicopters.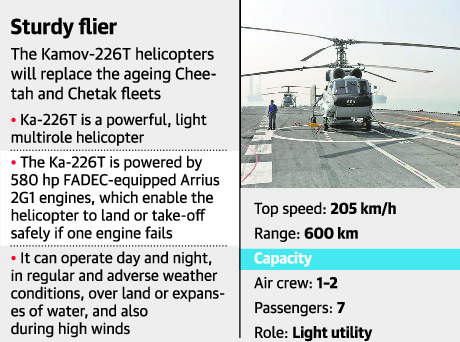 India and Russia have already concluded an Inter-Governmental Agreement (IGA) for 200 helicopters estimated to cost over $1 billion.

Under the deal, 60 helicopters will be imported from Russia and at least another 140 will be built in India by Hindustan Aeronautics Limited (HAL) with technology transfer.

As part of this, a joint venture was set up in India which will build the helicopters.
S-400 systems
However, the big focus during Mr. Putin's visit on October 4-5 is the proposed ₹39,000-crore deal for five S-400 air defence systems as the prospect of U.S. sanctions looms large with U.S. officials warning against it.

The state-of-the-art S-400 Triumf (NATO name SA-21 Growler) is considered one of the most advanced long-range defence systems in the world.

It has a range of 400 km and can hit targets at a height of up to 30 km.

Its powerful radars can track hundreds of targets simultaneously and destroy a range of targets.

Each system includes a command post, a 3D phased array acquisition radar, optional tracking radar and firing units.

There are various kinds of missiles to choose from based on the mission requirements.
Threat of sanctions
With the friction in relations between the U.S. and Russia, the S-400 has become a major point of friction.

Several countries, including some U.S. allies, have expressed interest or are acquiring the system and Washington has threatened them with sanctions.

Early this month, the Trump administration imposed sanctions on some entities and individuals in China as it recently acquired Su-35 fighter jets and S-400 systems.
Internet major Google and social media giants Twitter and Facebook have assured the Election Commission that they will not allow their platforms to be used for anything which affects the sanctity of polls during the campaign period.

It was done on a pilot basis in Karnataka.

Now they will have a bigger pilot before the Lok Sabha elections in the four States of Madhya Pradesh, Rajasthan, Chhattisgarh and Mizoram.
12. Back-channel talks between NSAs must continue
The back-channel talks between the National Security Advisers of India and Pakistan from 2015 to 2018 were a 'good instrument', says Syed Tariq Fatemi, special assistant on foreign affairs to former Pakistan Prime Minister Nawaz Sharif, amid reports that the new government of Prime Minister Imran Khan plans to shut down the office.

India-Pakistan talks appear to have gone back to square one, after the cancellation of Foreign Minister talks, and then the tough words ahead of the United Nations General Assembly.

For the Indian side, this was not the right timing for this, primarily since relations with Pakistan are being seen through the prism of domestic politics.

Both countries have missed so many opportunities in the past [for peace] and yet neither side appears to have learned the lesson that these missed opportunities do not return. In fact these missed opportunities create a playing field which is further restricted as a space for engagement.

A policy of enmity is not serving our region. Even our neighbours frown at our behaviour and believe that India and Pakistan are keeping the rest of South Asia from realising its potential.

Two major issues — the investigation into the Pathankot attack and the conviction of Kulbhushan Jadhav — still remain a challenge.
1. Pradhan Mantri Mudra Yojana

H. Practice Questions for UPSC Prelims Exam
Question 1. Which of the following is/are the benefits of compressed biogas?
Cleaner and cheaper auto-fuel

Productive use of agricultural residue, cattle dung etc

Enhances farmers' income

Boosts organic farming

Tackles the problem of polluted air and carbon emissions

Brings down dependency on crude oil imports
Choose the correct option:
i), ii) and iv) only

i), ii), iv) and vi) only

i), ii), iii), iv) and vi) only

All of the above
See
Question 2. Consider the following statements:
The Chief Economic Adviser (CEA) is the economic advisor to the Government of India.

The CEA is the ex-officio cadre controlling authority of the Indian Economic Service.

The CEA is under the direct charge of the Minister of Finance.
Which of the above statement/s is/are correct?
i) and ii) only

ii) and iii) only

i) and iii) only

All of the above
See
Question 3. Consider the following statements:
The MMR vaccine is very safe, and it is effective at preventing measles, mumps, and rubella.

Temporary pain and stiffness in the joints and fever can be the side effects because of MMR vaccination.
Which of the above statement/s is/are correct?
i) only

ii) only

Both i) and ii)

None of the above
See
Question 4. Consider the following statements with respect to Mansar lake:
It is situated in Jammu.
It is one of the largest freshwater lakes in the Shivalik range.
Surinsar Lake along with Mansar Lake has been designated as one under the Convention of Wetlands of International Importance.
Which of the above statement/s is/are incorrect?
i) only

ii) only

i) and iii) only

None of the above
See
I. Practice Questions for UPSC Mains Exam
Electric vehicles will reduce fuel bills and are an integral component of the smart cities project. Discuss the advantages of electric vehicles and the role that EVs can play in urban management. Suggest ways in which the government can intervene to promote the use of EVs.

Discuss the challenges in transforming India into a Digital Economy.
Also, check previous Daily News Analysis
"Proper Current Affairs preparation is the key to success in the UPSC- Civil Services Examination. We have now launched a comprehensive 'Current Affairs Webinar'. Limited seats available. Click here to Know More."
Enroll for India's Largest All-India Test Series