TABLE OF CONTENTS
A.

 GS1 Related




B.

 GS2 Related


GOVERNANCE
1. Bamboo centre remains 'rooted' to New Delhi
2. Curbs on WhatsApp media groups in U.P.
3. Indian Army and Armed Forces Special Powers Act (AFSPA)
4. FB and its definition of terror
5. Healthcare for Swedes comes at a cost — time
HEALTH ISSUES
1. Drug-resistant superbug spreading in hospitals: study
2. Charter of Patients' Rights- Draft
SOCIAL ISSUES
1. Replace 'Dalit' with SC: I&B Ministry tells media
INTERNATIONAL RELATIONS
1. Talks on for logistics deal with Russia
2. India and Cyprus signed MoUs on combating money laundering and environment
3. China has pledged a $60 billion aid to Africa
4. Myanmar court jails reporters for seven years
5. Rapid Trident Military Exercises: Ukraine and NATO


C.

 GS3 Related


DISASTER MANAGEMENT
1. Kuttanad: Climate change and Kerala floods
2. Over 1,400 killed in 10 States this monsoon
ENVIRONMENT
1. NITI Aayog: A dedicated mission to salvage and revive spring water systems in the country's Himalayan States
2. Temple turtles
3. SC order on Construction Activity
ECONOMY
1. India will allow public sector refiners to import Iranian oil
2. Reserve Bank tightens ombudsman scheme


D.

 GS4 Related




E. 

Editorials


POLITY AND GOVERNANCE
1. Beyond uniformity: on ruling out a uniform civil code
INTERNATIONAL RELATIONS
1. Green shoots of revival: on BIMSTEC summit


F. 

Tidbits




G. 

Prelims Fact


1. Khwaja Moinuddin Chishti Dargah in Ajmer
H. UPSC Prelims Practice Questions
I. UPSC Mains Practice Questions 

Nothing here for today!!!
1. Bamboo centre remains 'rooted' to New Delhi
About Bamboo
Bamboo is a versatile group of plants which is capable of providing ecological, economic and livelihood security to the people.
Till recently, it has remained confined to the forests (12.8% of forest cover); two third of the growing stock located in the North-Eastern States.
Importance of the crop as a source of raw material for industrial and domestic use with its growing demand all over the country necessitated its cultivation in farm lands as well.
With a view to harness the potential of bamboo crop, Department of Agriculture & Cooperation (DAC), Ministry of Agriculture & Farmers Welfare is implementing a 100% Centrally Sponsored Scheme called Mission for Integrated Development of Horticulture (MIDH) in which National Bamboo Mission (NBM) is being implemented as a sub scheme.
The Mission envisages promoting holistic growth of bamboo sector by adopting area-based, regionally differentiated strategy and to increase the area under bamboo cultivation and marketing.
Under the Mission, steps have been taken to increase the availability of quality planting material by supporting the setting up of new nurseries and strengthening of existing ones.
To address forward integration, the Mission is taking steps to strengthen marketing of bamboo products, especially those of handicraft items.
Objectives of NMB
To promote the growth of the bamboo sector through as an area based regionally differentiated strategy;
To increase the coverage of area under bamboo in potential areas, with improved varieties to enhance yields;
To promote marketing of bamboo and bamboo based handicrafts;
To establish convergence and synergy among stake-holders for the development of bamboo;
To promote, develop and disseminate technologies through a seamless blend of traditional wisdom and modern scientific knowledge.
To generate employment opportunities for skilled and unskilled persons, especially unemployed youths.
About NECTAR
The North East Centre for Technology Application and Research (NECTAR) set up in 2012 as an autonomous society under Department of Science and Technology to assist the North-Eastern region of the country is ensuring applications of appropriate technologies for development in the areas of biodiversity, watershed management, telemedicine, horticulture, infrastructure planning and development, planning and monitoring, tele-schooling using cutting edge MESHNET solutions, employment generation, etc. through utilization of local products/resources and resulting in associated skill development.
With financial assistance from the Government of India and also from the State Governments, the Centre has developed and showcased many appropriate technologies for the region and proved their efficacy in real life.
The Government of Meghalaya has also allotted 5 acres of land for setting up the office of NECTAR in the New Shillong area.
The Cabinet approved the merger of National Mission on Bamboo Applications (NMBA) and the Mission for Geo Spatial Applications (MGA) along with their assets and liabilities into the Centre. The talent pools available with these missions helped kick start the activities of NECTAR.
Context: In news
A centre for taking India's bamboo mission forward has failed to shift from New Delhi to its 'headquarters' in Meghalaya capital Shillong to cater to the largest bamboo-growing region in the country.
The Central government had in 2013 approved the creation of an autonomous society registered and headquartered in Shillong with a fund allocation of Rs.292 crore. The society was called North East Centre for Technology Application and Reach.
Though NECTAR acquired two spaces in Shillong – one a seven-room guesthouse and the other a small office near the landmark Bethany Hospital – it has continued to function from the office of the Department of Science and Technology.
In May, NECTAR's Director General Baldev Singh Rawat had said the Shillong unit of Central Public Works Department was expected to ready the society's office in the space provided by the Survey of India within three months.
The Bamboo Industries Association of India said this could be an excuse for NECTAR officials to remain rooted to New Delhi, having already completed six years there without serving the purpose – to facilitate bamboo growers and entrepreneurs.
The DST had in 2004 launched the NBMA with an outlay of Rs.200 crore.
In almost a decade since, the NMBA spent 100 crore on building demo bamboo houses that hardly impacted lives across India's bamboo belts, particularly the Northeast that grows 67% of India's bamboos.
Bamboo entrepreneurs said the NBMA, contrary to its name, neither developed any technology nor facilitated technology transfer for 385 units it assisted.
2. Curbs on WhatsApp media groups in U.P.
Whatsapp
WhatsApp is free to download messenger app for smartphones.
WhatsApp uses the internet to send messages, images, audio or video.
The service is very similar to text messaging services.
WhatsApp is a social media app. People use this to building the business, family or friends relations. 
Social media is a place where you connect with your family member, friends or other people who use social platforms & create the page, group, or you can conversations with them also.
Social media is a place where you can connect with other unknown society members
Article 19 (1) (a) of the Constitution of India, 1950 guarantees "Right to freedom of speech and expression".
Regulation of Social media
Social media law India is regulated by the Information Technology Act which was enacted in the year 2000 to regulate, control and deal with the issues arising out of the IT.
Social networking media is an "intermediary" within the meaning of Indian information technology act 2000 (IT Act 2000).
Thus social networking sites in India are liable for various acts or omissions that are punishable under the laws of India.
Section 66A of the IT Act has been enacted to regulate the social media law India and assumes importance as it controls and regulates all the legal issues related to social media law India.
This section clearly restricts the transmission, posting of messages, mails, comments which can be offensive or unwarranted.
The offending message can be in form of text, image, audio, video or any other electronic record which is capable of being transmitted.
The IT Act provides a tool in the hands of the Government to curb the misuse of the Social Media Law India in any form.
However, in 2015, in a landmark judgments upholding the right to free speech in recent times, the Supreme Court in Shreya Singhal and Ors. vs Union of India, struck down Section 66A of the Information & Technology Act, 2000.
The ruling found the Cyber law provision to be open-ended, vague and unconstitutional owing to the restriction it caused to the Indian citizens' right to free speech.
The repeal of S.66A does not however result in an unrestricted right to free speech since analogous provisions of the Indian Penal Code (IPC) will continue to apply to social media online viz.
Intentionally Insulting Religion Or Religious Beliefs (S. 295A), Promoting Enmity Between Groups On Grounds Of Religion, Race Etc. (S. 153A), Defamation (S. 499), Statements conducing to Public Mischief (S. 505), Insulting The Modesty Of A Woman (S 509), Criminal Intimidation (S 506), Sedition (S124-A), etc.
Sec 499 and 500
One of the important section that would be effective against posting offensive messages on social media would be invoking sec 499 and 500 of IPC.
Under the IPC, the defamatory statement could be oral or written or in sign language or by visible representation and should be made/ published with intention to harm or with knowledge about its defamatory character (IPC, section 499).
Thus, section 499, IPC is wide enough to encompass the publication and dissemination of defamatory content via electronic means. Defamation is punishable under section 500, IPC.
Further, the law against obscenity is a reasonable restriction on the "fundamental right to freedom of speech and expression".
Technology has expanded the ambit of the offence of obscenity. Today, obscene material (including pornography) is easily available.
The Internet facilitates the creation as well as rapid transmission of such material across the world. 
There is no universally acceptable definition of obscenity. What is considered obscene material in one country may not be considered so in another.
Technologically also, there is absence of effective filters to screen out objectionable material on the Internet.
The traditional law dealing with obscenity (including pornography) in India is contained in sections 292-294 of the IPC. Section 292, IPC prohibits sale, letting on hire, distribution, public exhibition and circulation etc., of obscene material.
Section 293 provides enhanced punishment for sale etc. of obscene material to any person under the age of twenty years. Even an offer or attempt to do so is punishable.
Publishing as well as circulating of obscene photographs of women is also punishable under sections 3 and 4 of the Indecent Representation of Women (Prohibition) Act, 1986. These provisions can also be used for punishing people who circulate obscene material in electronic form.
In view of the above, though sec 66A of the IT Act has been held unconstitutional by the apex court but still a victim of cyber offence would not be rendered remediless and could invoke the appropriate section and law to get desired relief.
In news
Officials of a district in the Bundelkhand region of Uttar Pradesh have been accused of trying to suppress media freedom by monitoring WhatsApp media groups and threatening criminal action against journalists not following its directives.
However, the administration on Sunday said it was a move to check circulation of fake news and the presence of "fake media portals".
In a joint directive issued by Lalitpur District Magistrate Manvendra Singh and Superintendent of Police O.P. Singh
The admins of all WhatsApp media groups operating in the district had been told to get their groups registered with the District Information Officer or face action.
No WhatsApp media group in the district will be allowed to operate without registration and if found doing so, a case will be registered against the admin of the group under relevant sections of the IT Act.
The administration said that it took the step in view of increasing complaints of incidents in which "fake journalists" were intimidating and extorting money from the local people and government staff.
News channels and YouTube portals have been circulating news and rumours that have caused a threat to the social harmony and unity of the district.
The district also has many news portals that are not registered anywhere, and do not have a regulatory authority laid down for them.
The administration has also specified that no news portal will be allowed to function in Lalitpur without its approval.
Clarifying on the directive, the District Magistrate said it was not to restrain the general media but to prevent the misuse of the platform by "fake" news channels and portals.
Extortion charges
It is for those who claim to be news channels but have no registration to show it. They go and extort money from people.
The trigger for the directive came after a recent incident at Kursi village in Mehroni tehsil, where a portal spread news that some people had been denied entry into a temple, creating tension.
3. Indian Army and Armed Forces Special Powers Act (AFSPA)
Background: AFSPA
Armed Forces (Special Powers) Acts (AFSPA), are Acts of the Parliament of India that grant special powers to the Indian Armed Forces in what each act terms "disturbed areas".
According to The Disturbed Areas (Special Courts) Act, 1976 once declared 'disturbed', the area has to maintain status quo for a minimum of 3 months. One such Act passed on September 11, 1958 was applicable to the Naga Hills, then part of Assam.
In the following decades it spread, one by one, to the other Seven Sister States in India's northeast(at present it is in force in Assam, Nagaland, manipur excluding Imphal municipal council area, Changlang, Longding and Tirap districts of Arunachal Pradesh).
Another one passed in 1983 and applicable to Punjab and Chandigarh was withdrawn in 1997, roughly 14 years after it came to force. An Act passed in 1990 was applied to Jammu and Kashmir and has been in force since.
The Acts have received criticism from several sections for alleged concerns about human rights violations in the regions of its enforcement alleged to have happened.
In news
The Chief of the Army Staff, General Bipin Rawat, has disapproved of the manner in which several hundred Army personnel approached the Supreme Court for protection against prosecution in counter-insurgency areas.
The serving personnel approached the court on the issue in an individual capacity. The Army has been following up the issue of the Armed Forces Special Powers Act (AFSPA.
Rawat made the comments last week while addressing Colonels posted in the Army headquarters.
Over 700 Army personnel had recently moved the court seeking protection in counter-insurgency areas under the AFSPA and its non-dilution.
This was after the recent moves by the Home Ministry to reduce the footprint of the AFSPA in the northeast which gives immunity to security forces operating in insurgency-hit areas.
Another official said Gen. Rawat was "annoyed" by the whole thing as it would complicate the Army's own efforts on the issue.
Serving personnel going out of the way sets a wrong precedent. There is a system for it, and the Army has always been with the soldiers on it.
Rawat discussed issues such as rations, non-functional upgrade, restructuring of the force, corruption and moral turpitude, several of which had come to light recently.
4. FB and its definition of terror
A UN human rights expert urged Facebook to narrow its "sweeping" definition of terrorism to stop governments arbitrarily blocking legitimate opposition groups and dissenting voices.
Fionnuala D. Ní Aoláin wrote to Facebook chief executive Mark Zuckerberg saying that Facebook wrongly treats all non-state groups that use violence in pursuit of any goals as terrorist entities.
The use of such a sweeping definition is particularly worrying in light of a number of governments seeking to stigmatize diverse forms of dissent and opposition (whether peaceful or violent) as terrorism.
Rebel armed groups
Facebook's policy did not take account of rebel armed groups that comply with international humanitarian law.
Governments facing armed opposition, such as in Syria, frequently label all their opponents as terrorists.
The important role Facebook plays in offsetting terrorist activity online", but said it must not unduly interfere in the human rights of its users, and should ensure there is a way to challenge wrong decisions.
Overly broad and imprecise definitions of terrorism may lead to "discriminatory implementation, over-censoring and arbitrary denial of access to and use of Facebook's services.
Facebook and other social media firms are increasingly involved in regulation that used to be done by states, and are under pressure from governments to police content disseminated by users.
5. Healthcare for Swedes comes at a cost — time
Sweden has the fifth-highest life expectancy in Europe and cancer survival rates are among the continent's highest, according to 2017 OECD figures.
But Swedes are frustrated over their universal healthcare, one of the main pillars of their cherished welfare state, with long waiting queues due to a shortage of nurses and available doctors in some areas.
Strain on welfare system
Swedes, who on average pay more than half of their income in tax, see access to healthcare as the most important issue in the September 9 general election, polls suggest.
Prime Minister Stefan Lofven's Social Democrats, the largest party, are on course for a record low score, after losing voters disgruntled over rising immigration putting a strain on the welfare system to the far-right Sweden Democrats.
Swedish law stipulates patients should wait no more than 90 days to undergo surgery or see a specialist. Yet every third patient waits longer, according to government figures.
Patients must also see a general practitioner within seven days, the second-longest deadline in Europe after Portugal (15 days).
Yet waiting times vary dramatically across Sweden's 21 counties responsible for financing hospitals.
One dental patient in central Dalarna county said six months passed before his check-up, while emergency room queues at Stockholm's largest hospitals average four hours.
The 2016 nationwide median wait for prostate cancer surgery was 120 days, but 271 days in the northern county of Vasterbotten.
Swedes also complain about not being able to see their regular general practitioner — and the ensuing lack of continuity — as a growing number of doctors and nurses are temporary hires by staffing firms.
1. Drug-resistant superbug spreading in hospitals: study
About Superbugs 
Antimicrobial resistance (AMR or AR) is the ability of a microbe to resist the effects of medication that once could successfully treat the microbe. 
The term antibiotic resistance (AR or ABR) is a subset of AMR, as it applies only to bacteria becoming resistant to antibiotics.
Resistant microbes are more difficult to treat, requiring alternative medications or higher doses of antimicrobials.
These approaches may be more expensive, more toxic or both. Microbes resistant to multiple antimicrobials are called multidrug resistant (MDR).
Those considered extensively drug-resistant (XDR) or totally drug resistant (TDR) are sometimes called "superbugs"
In news
A superbug resistant to all known antibiotics that can cause "severe" infections or even death is spreading undetected through hospital wards across the world, scientists in Australia warned.
Researchers at the University of Melbourne discovered three variants of the multidrug-resistant bug in samples from 10 countries, including strains in Europe that cannot be reliably tamed by any drug currently on the market.
The bacteria, known as Staphylococcus epidermidis, is related to the better-known and more deadly MRSA superbug.
It's found naturally on human skin and most commonly infects the elderly or patients who have had prosthetic materials implanted, such as catheters and joint replacements.
It can be deadly, but it's usually in patients who already are very sick in hospital. It can be quite hard to eradicate and the infections can be severe.
His team looked at hundreds of S. epidermidis specimens from 78 hospitals worldwide. They found that some strains of the bug made a small change in its DNA that led to resistance to two of the most common antibiotics.
Howden said his study showed the need for better understanding of how infections spread.
Another Australian study, published last month, suggested some hospital superbugs are growing increasingly tolerant to alcohol-based disinfectants found in handwashes and sanitisers used on hospital wards.
2. Charter of Patients' Rights- Draft
Context
Union Ministry of Health and Family Welfare released a draft copy of charter and it has been put up on the Health Ministry's website
Details
The draft was prepared by the National Human Rights Commission (NHRC)
If it comes into force, patients will not just have the right to emergency medical care and informed consent, but will also have the right to non-discrimination, seek a second opinion and choose alternative treatment options, if available.
The patients will have the freedom to choose medicines or diagnostic tests from sources other than those recommended by their doctors or hospitals.
The charter has also recommended that grievances should be addressed by internal grievance redress units in clinical establishments, then district-level authorities. Then state councils for clinical establishments.
The document outlines patients' rights to information about their illness, proposed diagnostic tests, possible complications as well as likely additional costs due to changes in the course of the illness. Patients also have the right to emergency medical care irrespective of their paying capacity.
The charter's rights are linked to existing legal provisions – such as the Consumer Protection Act, the Medical Council of India's code of ethics, the National Consumer Dispute Redressal Commission's rulings and a Supreme court judgment on emergency care
The Ministry plans to implement the Charter of Patients' Rights through State governments for provision of proper health care by clinical establishments.
Why was it done?
Currently, some States have adopted the national Clinical Establishments Act 2010 and certain others have enacted their own State-level legislations to regulate hospitals, there is no consolidated document on patients' rights that can be followed by all States uniformly
So, the draft charter includes 17 rights with description, draws upon all relevant provisions, inspired by international charters and guided by national level provisions, with the objective of consolidating these into a single document.
This charter is expected to act as a guidance document for the Union Government and State Governments to formulate concrete mechanisms so that Patients' Rights are given adequate protection and operational mechanisms are set up to make these rights functional and enforceable by law.
Concerns
The controversial Karnataka Private Medical Establishments Act that had initially included various rights for patients was watered down subsequently.
Right to non-discrimination is an important right. Every patient has the right to receive treatment without any discrimination based on his or her illnesses or conditions, including HIV status or other health condition, religion, caste, ethnicity or sexual orientation
Now, the hospital management has a duty to ensure that no form of discriminatory behaviour or treatment takes place with any person under the hospital's care
Significance
The NHRC expects the charter to serve as a "guidance document" for the Centre and states to formulate concrete mechanisms to protect the patients' rights and "operational mechanisms to make them enforceable by law".
It will help one generate widespread public awareness and educate citizens regarding what they should expect from their governments and healthcare providers.
The charter also emphasizes on the need to uphold human dignity and privacy.
1. Replace 'Dalit' with SC: I&B Ministry tells media
Background: Dalit
Dalit, meaning "broken/scattered" in Sanskrit and Hindi, is a term mostly used for the castes in India that have been subjected to untouchability.
Dalits were excluded from the four-fold varna system of Hinduism and were seen as forming a fifth varna, also known by the name of Panchama. Dalits now profess various religious beliefs, including Buddhism, Christianity and Sikhism.
The term dalits was in use as a translation for the British Raj census classification of Depressed Classes prior to 1935.
It was popularised by the economist and reformer B. R. Ambedkar (1891–1956), himself a Dalit, and in the 1970s its use was invigorated when it was adopted by the Dalit Panthers activist group.
India's National Commission for Scheduled Castes considers official use of dalit as a label to be "unconstitutional" because modern legislation prefers Scheduled Castes; however, some sources say that Dalit has encompassed more communities than the official term of Scheduled Castes and is sometimes used to refer to all of India's oppressed peoples.
Scheduled Caste communities exist across India, although they are mostly concentrated in four states; they do not share a single language or religion. They comprise 16.6 per cent of India's population, according to the 2011 Census of India.
In news
The Information and Broadcasting Ministry has issued an advisory to all media outlets not to use the word "Dalit" to refer to people belonging to the Scheduled Castes.
The advisory is based on an order of the Bombay High Court on June 6, based on a petition filed by Pankaj Meshram. "It is advised that the media may refrain from using the nomenclature 'Dalit'," the guideline said.
In a circular on March 15 this year, the Ministry of Social Justice had issued a similar advisory to all State governments that all official communications should use the constitutional term Scheduled Caste instead of the word "Dalit".
Category: INTERNATIONAL RELATIONS
1. Talks on for logistics deal with Russia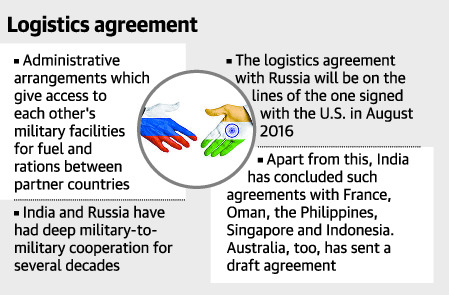 India and Russia are in the process of concluding a logistics agreement, with both sides targeting to conclude consultations before the annual summit in October between Prime Minister Narendra Modi and Russian President Vladimir Putin.
The proposed agreement follows a series of such agreements India has signed since the first logistics agreement with the U.S.
Draft from Moscow
A draft logistics agreement has come from Russia. At the end of July, the Ministry of Defence (MoD) had sent it to the Integrated Defence Staff and the three services for their comments.
The Army and Navy have since sent back their observations on the draft. Another official said the agreement with Russia will be on the lines of those signed with the U.S. and France. The idea is to increase our operational flexibility.
India signed the Logistics Exchange Memorandum of Understanding (LEMOA), with the U.S. in August 2016 after a decade of negotiations.
Since then it has concluded several such agreements with France, Oman, Philippines, Singapore and for access to the Sabang port in Indonesia.
Logistics agreements are administrative arrangements facilitating access to military facilities for exchange of fuel and provisions on mutual agreement simplifying logistical support and increasing operational turnaround of the military when operating away from India.
Officials underscored the fact that India and Russia have had deep rooted military cooperation for several decades.
2. India and Cyprus signed MoUs on combating money laundering and environment
About Money Laundering
Money laundering is the process of creating the appearance that large amounts of money obtained from criminal activity, such as drug trafficking or terrorist activity, originated from a legitimate source. The money from the illicit activity is considered dirty, and the process "launders" the money to make it look clean.
Money laundering is essential for criminal organizations who wish to use illegally earned money effectively.
Dealing in large amounts of illegal cash is inefficient and dangerous. The criminals need a way to deposit the money in financial institutions, yet they can only do so if the money appears to come from legitimate sources.
There are three steps involved in the process of laundering money: placement, layering and integration.
Placement refers to the act of introducing "dirty money" (money obtained through illegitimate, criminal means) into the financial system in some way.
Layering is the act of concealing the source of that money by way of a series of complex transactions and bookkeeping tricks. Integration refers to the act of acquiring that money in purportedly legitimate means.
 In news
India and Cyprus signed two agreements on combating money laundering and cooperation in the field of environment as President Ram Nath Kovind met his Cypriot counterpart Nicos Anastasiades and held wide-ranging talks here.
Kovind is in Cyprus on the first leg of his three-nation visit to Europe to continue India's high-level engagements with European countries.
Economic cooperation
Kovind and Mr. Anastasiades exchanged views on economic cooperation.
India was the fastest growing major economy in the world today with a growth rate of 8.2% last quarter, Mr. Kovind said.
In this context and Cyprus' has niche expertise in financial services and investment banking. There was much scope to deepen the investment partnership.
MoU has been signed between Financial Intelligence Unit, India, and Unit for Combating Money Laundering of Cyprus. This agreement would further strengthen the institutional framework to facilitate investment cross-flows.
The revision in the Double Taxation Avoidance Agreement made in 2016 provided greater opportunities for investment to grow.
India and Cyprus signed two MoUs on combating money laundering and cooperation in the field of environment in the presence of Presidents of both countries.
Issues of mutual interest, including promotion of business collaboration in the fields of IT, tourism, and renewable energy.
India reaffirmed its unwavering support to Cyprus for upholding its sovereignty and territorial integrity.
3. China has pledged a $60 billion aid to Africa
China has pledged a $60 billion fund to bolster industry, counter hunger, and enhance security in Africa, a continent that has been chronically plagued by piracy and terrorism.
In his inaugural address at the Forum on China-Africa Cooperation (FOCAC), President Xi Jinping was authoritative in messaging that Beijing had become the locomotive of Africa's all-round progress.
He listed eight focal areas of funding that would premise the emergence of the "China-Africa community with a shared future in the new era".
Ahead of the presidential address, Chinese officials had cited a 2017 study by McKinsey, a U.S. consulting firm, which had spotlighted that China has become Africa's most important and unrivalled economic partner.
Across trade, investment, infrastructure financing, and aid, no other country has such depth and breadth of engagement in Africa.
Among the eight verticals flagged, President Xi highlighted China's intent to set up additional economic and trade cooperation zones to promote industrialisation in Africa.
Local currency settlements, instead of hard currency usage such as the U.S. dollar, would be encouraged to settle transactions.
'Debt trap' diplomacy
For financing, China will nudge African countries to tap new multilateral lenders such as the Asian Infrastructure Investment Bank (AIIB), the New Development Bank (NDB) of the emerging economies, as well as the Silk Road Fund marshalled by China.
The Chinese have taken umbrage against allegations of involvement in "debt trap" diplomacy by saddling smaller countries with unplayable loans and using them as levers for political gain.
President Xi stressed that out of the $60 billion that were on offer, $15 billion would be disbursed as aid, interest-free loans and concessional loans.
A $20 billion credit line would be established, while another $10 billion would be channelled into a special fund for China-Africa development.
A $5 billion special fund will also be set up only for African imports.China would also support Africa to achieve "general food security by 2030.
Energy, transport, telecommunications and tapping cross-border water resources would be on China's radar in the next phase of Africa's infrastructural forays.
Peace and security fund
China would set up a peace and security fund in partnership with Africa. Apart from military aid to the African Union, Beijing will support countries in the Sahel region and others bordering the piracy-ridden Gulf of Aden and Gulf of Guinea.
China has already established a naval base in Djibouti on the edge of the strategic Gulf of Aden, which links the Red Sea and the Arabian Sea.
Xi said 50 China-Africa security assistance programmes will be launched under the flagship Belt and Road Initiative (BRI).
He also flagged a China-Africa "green envoys programme" that would muscle Africa's capacity for environmental management, pollution prevention and control, as well as green development.
A China-Africa environmental cooperation centre will be set up where research on environmental issues will be conducted.
President Xi also announced that China will train 1,000 high-calibre Africans, provide 50,000 government scholarships, sponsor seminars and workshops that would benefit 50,000 Africans, and invite 2,000 African youths to visit China for exchanges.
The signed editorial asserted that through his actions, President Xi has shown that re-engaging Africa was Beijing's top priority.
The daily pointed out that China's ties with Africa were "upgraded" three years ago during the Johannesburg summit of the Forum on China-Africa Cooperation.
During that summit, China announced 10 major plans for "in-depth" development, resulting in "China-Africa community with shared future".
The editorial said that China's "new era" approach of "shared interests" sets a model for the rest of the world.
It also contrasted Beijing's outreach towards Africa with the West's sovereignty-sapping interventionist approach.
4. Myanmar court jails reporters for seven years
In news
A Myanmar judge found two journalists guilty of breaching a law on state secrets and jailed them for seven years, in a landmark case seen as a test of progress towards democracy in the Southeast Asian country.
Yangon northern district judge Ye Lwin said Wa Lone, 32, and Kyaw Soe Oo, 28, breached the colonial-era Official Secrets Act when they collected and obtained confidential documents.
The defendants have breached Official Secrets Act section 3.1.c, and are sentenced to seven years. The time served since they were detained on December 12 would be taken into account. The defence can appeal the decision to a regional court and then the Supreme Court.
The verdict comes amid mounting pressure on the government of Nobel laureate Aung San Suu Kyi over a security crackdown sparked by attacks by insurgents on security forces in Rakhine State in west Myanmar in August 2017.
Rohingya issue
More than 7,00,000 stateless Rohingya Muslims have fled into Bangladesh since then, according to UN agencies. The two reporters, who were investigating the killing by the security forces of Rohingya villagers at the time of their arrest, had pleaded not guilty.
Confidential documents
The reporters had told the court two police officials handed them papers at a restaurant in the city of Yangon moments before other officers arrested them.
One police witness testified the restaurant meeting was a set-up to entrap the journalists to block or punish them for their reporting of a mass killing of Rohingya Muslims in Rakhine.
The court determined that "confidential documents" found on the two would have been useful to enemies of the state and terrorist organisations. Documents in their possession and on their phones were not public information.
5. Rapid Trident Military Exercises: Ukraine and NATO
Ukraine launched joint military exercises with the U.S. and a string of other NATO countries as tensions with Russia remain high over the Kremlin-backed insurgency in the country's east.
The annual Rapid Trident military exercises, taking place in the western Ukrainian village of Starychi will involve some 2,200 soldiers from 14 countries.
The Ukrainian Border Guard Service and the National Guard troops will be involved for the first time
The drills start a week before Russia holds its biggest military exercises since the Cold War, with the participation of China and Mongolia.
The Ukrainian Border Guard Service and the National Guard troops will be involved for the first time.
1. Kuttanad: Climate change and Kerala floods
Kuttanad is a region covering the Alappuzha and Kottayam Districts, in the state of Kerala, India, well known for its vast paddy fields and geographical peculiarities.
The region has the lowest altitude in India, and is one of the few places in the world where farming is carried around 1.2 to 3.0 metres (4 to 10 ft) below sea level.
Kuttanadu is historically important in the ancient history of South India and is the major rice producer in the state.
Farmers of Kuttinad are famous for Biosaline Farming. FAO has declared the Kuttanad Farming System as a Globally Important Agricultural Heritage Systems (GIAHS).
Four of Kerala's major rivers, the Pamba, Meenachil, Achankovil and Manimala flow into the region.
It is well known for its boat race in the Punnamada Backwaters, known in Malayalam as Vallamkalli.
Biosaline agriculture is a relatively new way of dealing with salinity in agriculture.
It develops cropping systems for saline environments, using the capacity of certain plants to grow under saline conditions in combination with the use of saline soil- and water-resources and improved soil and water management.
As salinity is influencing our environments more and more, there is urgency in developing cropping systems that can produce in saline conditions. 
Context: Kuttanad may never be the same again
Kuttanad, often cited as a model farming system for climate change adaption scenarios, is also critical to Kerala.
One-third of all the water received through all the rivers of Kerala flows into Kuttanad. It means that Kuttanad's water level decides the water table for midland Kerala.
There are reports of the South American native red-bellied pacu being caught widely from Kuttanad's canals post-flood.
This newspaper had reported in July that the fish, widely grown in private ponds, had not yet been cleared for farming by the Ministry of Agriculture.
A series of bunds protect the below-sea level farmlands of Kuttanad, declared a Globally Important Agricultural Heritage System by the Food and Agricultural Organisation, from the water around it.
The rain of mid-July had breached some bunds, thereby flooding the padasekharams (literally, collection of paddy farmlands) that they protected from the canal and destroying the recently-sown paddy.
The August rain finished off what its July counterpart began: all the padasekharams of Kuttanad are now flooded; bunds that were not breached were submerged; and water continues to inundate houses built on the edges of these fields, sized anywhere between 200-2,500 acres.
Pumps within the paddy fields that were supposed to evacuate this water have failed after being inundated.
The breached bunds need to be repaired before pumping can happen — by padasekhara samithis strapped for cash due to the failure of the 'second crop' this year. All this will delay the 'punja' cultivation, due to begin in late October.
The floods will affect biodiversity.
For example, the nutrified water that has come down from the hills will soon turn green due to a noxious algal bloom.
This turbidity is harmful for the green chromide fish, which needs crystal clear water. Green chromide or pearl spot was declared Fish of the State in 2010.
The silt settling on the Vembanad's clam bed as a result of this year's floods is likely to suffocate the clams. Things have been changing for a while now.
Multiple farmers this reporter interacted with said that they have felt that land has been 'sinking' in Kuttanad.
Ajaya Ghosh of Chenengari pointed to the unevenness of the water level outside his house.
He estimated that there was a difference of over a feet in the water level between two extremes of the building and feared the house would sink further when water receded into the adjacent Paruthivalavu padasekharam.
Padmakumar agreed, saying this was largely due to the ending of a practice where clay from the Vembanad lake was scooped up to layer the farmlands.
Kuttanad, a sedimentary formation, has therefore kept sinking.
Poor implementation
Among other things, the Kuttanad Package for the holistic development of the area — designed by the M.S. Swaminathan Research Foundation (MSSRF) — envisaged the setting up of sluice gates to allow water to enter and exit padasekharams, thereby allowing the deposit of silt.
However, the bunds that were constructed as a result had no such mechanism: the water pumps kept the silt in the lake.
This was pointed out in a study by the National Centre for Earth Science Studies, which said that the carrying capacity of the Vembanad lake had reduced.
Anil Kumar, the Executive Director (in charge) at MSSRF said the package was poorly implemented without the hydrological and ecological concerns taken into account.
The physics of it all works against Kuttanad: a sinking below-sea level land surrounded by rising waters of the Vembanad. Hence, the newly-built bunds were higher.
There are suspicions that they act like levees, merely transferring the flood elsewhere. The bunds built in the 1970s were submersible; water was allowed to come over them.
There is a warning in it for Kuttanad: Mr. Padmakumar points out that the region is only 700 years old, having formed due to a geological event.
The NCESS study cited above had warned that climate change will exacerbate the damage to the ecosystem caused by land use changes, finishing off the wetland system around Vembanad in 50 years.
There will be a lot of adaptation to do. Mr. Kumar of MSSRF predicts that Kuttanad will move from its two crop system to a 'one rice, one fish' model. This will help farmers avoid the intense rainy days as a result of the changing monsoon.
This will take time, and the MSSRF will run pilot projects to demonstrate. Fish will be integrated into this system, moving into an eco-aquaculture model.
A place like Kainakary is a climate hotspot. No habitations should be allowed there. The whole world is looking at Kuttanad. How it survives will be an example for the whole world.
2. Over 1,400 killed in 10 States this monsoon
More than 1,400 people have so far lost their lives due to rain, floods and landslips in 10 States during the monsoon season this year, according to data released by the Union Home Ministry.
According to the Ministry's National Emergency Response Centre, 488 people have died in Kerala and 54.11 lakh in 14 districts of the State have been severely hit by rain and floods, the worst in a century.
As many as 14.52 lakh people displaced by the floods are living in relief camps across the State. Standing crops on 57,024 hectares of land were damaged in the State.
254 killed in U.P.
As many as 254 people have died in Uttar Pradesh, 210 in West Bengal, 170 in Karnataka, 139 in Maharashtra, 52 in Gujarat, 50 in Assam, 37 in Uttarakhand, 29 in Odisha and 11 in Nagaland.
Forty-three people have been missing — 15 in Kerala, 14 in Uttar Pradesh, five in West Bengal, six in Uttarakhand and three in Karnataka, while 386 have been injured in rain-related incidents across the 10 States.
Rain and floods have hit 30 districts in Odisha, 26 districts in Maharashtra, 25 in Assam, 23 each in Uttar Pradesh and West Bengal, 14 in Kerala, 13 in Uttarakhand, 11 each in Karnataka and Nagaland, and 10 in Gujarat.
In Assam, 11.47 lakh people have borne the brunt of rain and floods, which have also hit crops covering 27,964 hectares of land. In West Bengal, the deluge has hit 2.28 lakh people and damaged crops on 48,552 hectares of land.
In Uttar Pradesh, 3.42 lakh people have been impacted and crops on 50,873 hectares damaged. In Karnataka, 3.5 lakh have been hit and crops on 3,521 hectares of land damaged.
1. NITI Aayog: A dedicated mission to salvage and revive spring water systems in the country's Himalayan States
A NITI Aayog constituted group of experts has urged the government to set up a dedicated mission to salvage and revive spring water systems in the country's Himalayan States, given their vital importance as a source of water for both drinking and irrigation for the region's inhabitants.
Spanning States across the country's north and northeast and home to about 50 million people, the Indian Himalayan Region (IHR) has been heavily reliant on these natural groundwater sources that are under increasing threat from the urbanization caused by a constant push for development and climate change.
Almost half of the perennial springs have already dried up or have become seasonal and tens of thousands of villages are currently facing acute water shortage for drinking and other domestic purposes.
Almost 60% of low-discharge springs that provided water to small habitations in the Himalayan region have reported clear decline during the last couple of decades.
Shimla crisis
The extent of the crisis plaguing the mountainous region was recently evident when more than half a dozen districts of Himachal Pradesh and the State capital Shimla faced a severe drinking water crisis this May after major water sources either went fully or partially dry.
While poor water management was said to be the key cause, according to State authorities, they also attributed reduced snowmelt and depressed flow from springs as contributors to the crisis.
While Meghalaya with 3,810 villages with springs had the highest number of these water sources in the Eastern Himalayan States, Sikkim had the greatest density with 94% of its villages having a spring.
In the Western Himalayas, Jammu & Kashmir had both the highest number of villages with springs at 3,313 and the greatest density of 50.6%.
The task force moots an 8-year programme to overhaul spring water management.
This includes: preparing a digital atlas of the country's springsheds, training 'para-hydrogeologists' who could lead grassroots conservation and introducing a 'Spring Health Card.'
Indian roofed turtle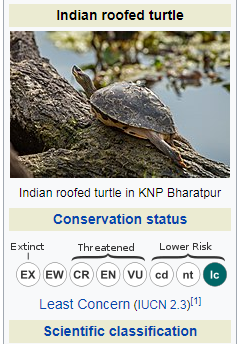 The Indian roofed turtle (Pangshura tecta) is a species of turtle in the family Geoemydidae.
It can be distinguished by the distinct "roof" at the topmost part of the shell.
It is found in the major rivers of South Asia. It is a common pet in the Indian Subcontinent.
IUCN: least concern
Countries occurrence: Bangladesh; India; Nepal; Pakistan
It can be distinguished by the distinct "roof" at the topmost part of the shell.
In news
Till a few months ago, a small population of Indian Roofed Turtles (Pangshura tecta) in the Lota Devi temple pond in West Bengal's Jalpaiguri district, was struggling to survive due to the pollution caused by devotees throwing oil, incense sticks, flowers and other ritual offerings into the small waterbody.
However, an innovative idea has tapped into the religious sentiments of devotees and helped reduce pollution in the pond while channelling the fervour of visitors.
On August 26, an idol of Vishnu in his Kurma (turtle) avatar was installed at the temple complex.
The Lota Devi temple is a very old religious place and thousands of devotees throng to worship Goddess Kali. The offerings made by the devotees in the pond left it very polluted.
This symbolic Kurma idol is placed on an altar just outside the fenced area, where devotees can place their offerings rather than directly polluting the pond.
Tests conducted earlier this year showed that dissolved oxygen in the pond was very low and contamination of the water was resulting in the death of turtles.
The NGO has taken the lead in reviving the species and earlier this year, fenced the pond.
SPOAR and the Wildlife Trust of India (WTI) also cleaned and dredged the pond and added native aquatic plants and fish to help the surviving turtles.
The habitat of the species is shrinking and there is need to protect the species in such ponds which is close to human population.
There were about 20 Indian Roofed Turtle in the pond. Following the conservation efforts, new turtle hatchlings were recently spotted in it.
3. SC order on Construction Activity
The Supreme Court order banning construction activity in States that do not have a solid waste management policy should not apply to Maharashtra.
There are two parts to this order. The first is regarding States that had not followed up on the court's earlier order. The second directive pertains to States that do not have a solid waste management policy in place. Maharashtra is not specifically named in this order.
Job losses flagged
Builders' association Credai has flagged the possibility of job loss and impact on GDP if construction activity were stopped.
However, there is also a possibility that market may, after reaching a point, get stagnant because exorbitant prices will turn away the buyer.
The Goa Foundation, an environmental, non-governmental organisation welcomed the order.
Incidentally, the Supreme Court order was based on a suggestion to this effect made by Additional Solicitor General for the Ministry of Environment & Forests, A.N.S. Nadkarni.
No construction sans solid waste management policy
The Supreme Court said it was "pathetic" that some States and Union Territories had not bothered to frame a solid waste management policy.
The court ordered that further construction activities be stopped in some States and Union Territories that remained unmindful of the interests of their people to live in a clean environment.
A Bench headed by Justice Madan B. Lokur imposed fines on some States and the Union Territory of Chandigarh for not placing on record their respective policies under the Solid Waste Management Rules, 2016.
While Andhra Pradesh was ordered to pay Rs.5 lakh, Maharashtra, Madhya Pradesh, Uttarakhand and Chandigarh were imposed costs of Rs.3 lakh each.
The amount would have to be deposited with the Supreme Court Legal Services Committee within two weeks and would be used for juvenile justice issues.
The SC noted that other States, including, Bihar, Tamil Nadu and Arunachal Pradesh had deposited the costs imposed on them on July 10.
In case the States have the interest of the people in mind and cleanliness and sanitation, they should frame a Policy in terms of the Solid Waste Management Rules so that the States remain clean. Further constructions in the States/Union Territories are stayed until the policy is framed.
The court is hearing the case suo motu since the death of a seven-year-old boy due to dengue in Delhi in 2015.
Justice Lokur had condemned the attitude of the authorities at one point, saying if they want the people to live in dirt, filth and garbage, what can be done then.
During the earlier hearing on July 10, some States did not attend court.
Hence, the Bench imposed Rs.1 lakh each on the defaulting States and UTs whose lawyers were present in court. These included Bihar, Chhattisgarh, Goa, Himachal Pradesh, Jammu and Kashmir, Karnataka, Kerala, Meghalaya, Punjab, West Bengal, Lakshadweep and Puducherry.
For the remaining States/Union Territories, who were either not present or not represented by lawyers, the burden of costs went up to Rs2 lakh.
1. India will allow public sector refiners to import Iranian oil
Background: U.S Sanctions on Iran
United States sanctions against Iran refer to economic, trade, scientific and military sanctions against Iran, which have been imposed by the U.S. and the international community under U.S. pressure through the United Nations Security Council.
Currently, the sanctions include an embargo on dealings with Iran by the United States, and a ban on selling aircraft and repair parts to Iranian aviation companies.
European Commission announced its intention to implement the blocking statute of 1996 to declare the US sanctions against Iran null and void in Europe and ban European citizens and companies from complying with them.
The Commission also instructed the European Investment Bank to facilitate European companies' investment in Iran.
In news
India will allow public sector refiners to import Iranian oil with Tehran arranging tankers and insurance after firms, including the country's top shipper Shipping Corp of India (SCI), halted voyages due to U.S. sanctions, sources said.
New Delhi's attempt to keep Iranian oil flowing mirrors a step by China, where buyers are shifting nearly all their Iranian oil imports to vessels owned by National Iranian Tanker Co (NITC).
The moves by the two top buyers of Iranian crude indicate that the Islamic Republic may not be fully cut off from global oil markets from November, when U.S. sanctions against Tehran's petroleum sector are due to kick in.
S. President Donald Trump ordered the re-imposition of economic curbs after withdrawing the U.S. from a 2015 nuclear deal between Iran and six world powers. No one trading with Iran will do business with America, he said.
Insurers back away
New Delhi turned to the NITC fleet after most insurers and re-insurers had begun winding down services for Iran, wanting to avoid falling foul of the sanctions given their large exposure to the United States.
SCI had a contract until August to import Iranian oil for Mangalore Refinery and Petrochemicals Ltd (MRPL), two sources familiar with the matter said.
The move would benefit Indian Oil Corp (IOC), Bharat Petroleum Corp Ltd (BPCL) and MRPL, which plan to lift Iranian cargoes during the rest of the fiscal year.
India wants to continue buying oil from Iran as Tehran is offering almost free shipping and an extended credit period.
2. Reserve Bank tightens ombudsman scheme
About Banking Ombudsman
Banking Ombudsman is a quasi judicial authority functioning under India's Banking Ombudsman Scheme 2006, and the authority was created pursuant to a decision made by the Government of India to enable resolution of complaints of customers of banks relating to certain services rendered by the banks.
The Banking Ombudsman Scheme was first introduced in India in 1995, and was revised in 2002.
The current scheme became operative from 1 January 2006, and replaced and superseded the banking Ombudsman Scheme 2002.
The Reserve Bank of India has tightened the banking ombudsman scheme with the objective to strengthen the grievance redressal mechanism for customers.
In news
The banking regulator has asked all commercial banks having 10 or more banking outlets to have an independent internal ombudsman (IO) to review customer complaints that are either partly or fully rejected by the banks.
The IO shall examine customer complaints which are in the nature of deficiency in service on the part of the bank, that are partly or wholly rejected by the bank.
The instructions are not applicable for Regional Rural Banks sponsored by commercial banks.
As banks should internally escalate complaints that are not fully redressed to their respective IOs before conveying the final decision to the complainant, customers need not approach the IO directly.
Fixed term
According to bankers, the Internal Ombudsman Scheme of 2018 mandates banks to grant a fixed term of three to five years, which cannot be renewed, to the IO.
The IO can be removed only with prior approval from RBI. The remuneration would have to be decided by the customer sub-committee of the board.
Nothing here for today!!!
Category: POLITY AND GOVERNANCE
1. Beyond uniformity: on ruling out a uniform civil code
Context
The Law Commission has recently urged the legislature to "first consider equality within communities' between men and women rather than equality between communities".
Submitting a consultation paper on "reform in family laws", the Commission has dealt with laws that are discriminatory "rather than providing a uniform civil code which is neither necessary nor desirable at this stage".
What is uniform civil code?
By uniform civil code, it is meant that all sections of the society irrespective of their religion shall be treated equally according to a national civil code, which shall be applicable to all uniformly.
They cover areas like- Marriage, divorce, maintenance, inheritance, adoption and succession of property. It is based on the premise that there is necessarily no connection between religion and personal law in a civilized society.
Therefore, Uniform civil code is a proposal to replace the personal laws based on the scriptures and customs of each major religious community in India with a common set of governing laws for every citizen.
What the constitutional makes thought about this?
During drafting of the constitution prominent leaders like Nehru, Ambedkar pushed for a uniform civil code. However they ended up proposing the uniform civil code into the directive principles of the state policy (article 44) mainly due to opposition from Muslim fundamentalists, lack of awareness among the masses and the time for its imposition then, was not proper.
'I personally do not understand why religion should be given this vast, expansive jurisdiction, so as to cover the whole of life and to prevent the legislature from encroaching upon that field.'– Dr. B R Ambedkar, Constituent Assembly Debates
Highlights of the Law Commission's Consultation Paper
It adopts an approach that would facilitate movement towards establishing a body of civil law that promotes equality within the law governing each community.
In other words, it advocates the removal of discriminatory provisions in the law relating to aspects such as marriage, divorce, succession and adoption in all religions — and the adoption of certain universal principles that would address gender bias and other forms of existing discrimination.
A simple way of moving towards a common marriage law is to make 18 the marriageable age for all communities and genders. When the age of majority and the age of voting, among other indicators of adulthood, stand at 18, there is no reason for differential treatment on this score.
The Commission rightly points out that the present age of 21 for men merely affirms the stereotype that the wife should be younger.
Decriminalising adultery and making it a common ground for divorce, simplifying the 'no-fault' divorce procedure and introducing 'irretrievable breakdown' as a ground for dissolving any marriage are other measures it throws open for discussion.
The panel suggests abolition of the 30-day notice period for civil marriages to prevent its misuse by those against inter-caste and inter-religious marriages.
It also suggests division of property equally after divorce, and removal of illnesses that can be cured or controlled from possible grounds of divorce.
Changes have been mooted to give equal treatment to children and parents of any gender in guardianship and adoption matters.
The juvenile law principle that the child's best interest is the 'paramount consideration' has also been put forward for universal application.
Way Forward
The thrust of the Law Commission's report is founded on the idea that "the mere existence of difference does not imply discrimination, but is indicative of a robust democracy."
The Law Commission's consultation paper on reform of family laws is a progressive document that avoids the advocacy of a uniform civil code merely for the sake of uniformity.
While calling for a wider public debate on its views, the Law Commission has framed the issue in the most reasonable way possible when it says it has "dealt with laws that are discriminatory rather than providing a uniform civil code which is neither necessary nor desirable at this stage."
A just code is one in which universal principles of equality, non-discrimination and avoidance of taboos and social assumptions are applicable in equal measure within every community's set of laws.
Category: INTERNATIONAL RELATIONS
1. Green shoots of revival: on BIMSTEC summit
The 4th BIMSTEC summit successfully concluded recently with Nepal Prime Minister K P Sharma Oli handing over the chairmanship of the grouping to Sri Lankan President Maithripala Sirisena.
What is BIMSTEC?
Bay of Bengal Initiative on Multi-Sectoral Technical and Economic Cooperation (BIMSTEC) is a sub-regional grouping involving seven countries in South Asia and South East Asia.
The BIMSTEC states are those which are on the shore or are adjacent to the Bay of Bengal and are dependent on it. They are Thailand, Myanmar from South East Asia and Sri Lanka, Bhutan, Bangladesh, Nepal and India from South Asia.
The international organization was formed on 6th of June 1997, through the Bangkok declaration and is headquartered at Dhaka in Bangladesh.
Objectives of BIMSTEC
Technological and economical cooperation among south Asian and south East Asian countries along the coast of the Bay of Bengal
BIMSTEC is a sector driven cooperative organization and covers cooperation in sectors like communication, leather, textiles, transport, fisheries, human resource development, tourism, agriculture, investment, technology and commerce etc.
Currently, there are fourteen priority sectors and each member country voluntarily leads one or more sectors.
Counter terrorism & transnational crime and telecommunication & transport are dealt with by India. The grouping is a bridge between South Asia and South East Asia and constitutes a reinforcement of relations between the seven countries.
It is of utmost significance to India as it is a major support in implementing its Act East Policy and the development of its ambitious 'Sagar Mala' project.
The positives of the recent meet
First, work begins now on drafting a charter for BIMSTEC, which has functioned so far on the basis of the Bangkok Declaration of 1997, and outcomes of the past three summits and the Leaders' Retreat in 2016.
Second, a Permanent Working Committee will be set up to provide direction during the period between two summits and also to prepare the Rules of Procedure.
Third, the Secretariat has been promised additional financial and human resources and enhancement of its role to coordinate, monitor and facilitate the grouping's activities.
Fourth, as the institution has been handicapped due to lack of financial muscle, the leaders took the bold decision to establish the BIMSTEC Development Fund.
Fifth, a push to increase its visibility and stature in the international fora will also be made.
Finally, recognising that 16 areas of cooperation represent too wide a spectrum, the BIMSTEC governments will make a serious endeavour to review, restructure and rationalise various sectors, identifying a few core areas. In this exercise, Thailand has proposed a new strategy of five pillars (viz. connectivity, trade and investment, people-to-people contacts, security, and science and technology). This will be considered, although the difficulty in dropping specific sectors dear to individual member-states should not be minimised.
Concerns with respect to BIMSTEC
Fourteen years after signing the framework agreement on Free Trade Area (FTA), the leaders could only renew, rather lamely, their "commitment to an early conclusion" of FTA negotiations.
The Thai Prime Minister bravely urged participants to accept making BIMSTEC a Free Trade Zone by 2021 as "our common goal", but this did not find a place in the summit declaration.
The Myanmar President pointed out that the grouping had established its Energy Centre in 2009, but it was still struggling for the "early operationalisation" of the Centre.
Conclusion
The summit articulated a vision for the Bay of Bengal Region heading towards a peaceful, prosperous and sustainable future. The region is now widely viewed as a common space for security, connectivity and development.
Think tanks are fond of advising governments that they should walk the talk. But this time, that role was appropriated by the Nepalese Prime Minister and the summit chairman, who asserted: "Now is the time not just to deliberate, but also to deliver. Now is the time to translate promises into performance." If this prescription is followed by all, BIMSTEC can become a dynamic, effective and result-oriented organisation. The coming year will be crucial in its further development.
Nothing here for today!
1. Khwaja Moinuddin Chishti Dargah in Ajmer
The historical dargah of Sufi mystic Khwaja Moinuddin Chishti in Ajmer is all set to get a facelift as a memorandum of understanding has been signed by the Dargah Committee, the Ajmer Municipal Corporation and Hindustan Zinc for spending ₹5.68 crore to clean and manage the shrine.
The 13th-century dargah has been included among the Swachh Iconic Places, a clean-up initiative focused on iconic heritage, spiritual and cultural places through a multi-stakeholder approach model.
The campaign was initiated under the Swachh Bharat Abhiyan in 2016.
In Ajmer, the Collector will act as the project's nodal agency with the Dargah Committee and 'khadims' (workers) being the primary stakeholders.
An amount of Rs.5.68 crore will be invested in the project's first phase for establishment of two flower compost making machines, cleaning and basic repair of the Jhalra pond, re-flooring in select areas, procurement of machines for cleaning the floors, risk management system plan, conservation of Shahjahani Gate and initial plans for Nizam Gate.
Moinuddin Chishti
He was a Persian Muslim preacher, ascetic, religious scholar, philosopher, and mystic from Sistan, who eventually ended up settling in the Indian subcontinent in the early 13th-century, where he promulgated the famous Chishtiyya order of Sunni mysticism
He arrived in Delhi during the reign of the Sultan Iltutmish. He was also known as Gharīb Nawāz (Benefactor of the Poor). His legacy rests primarily on his having been one of the most outstanding figures in the annals of Islamic mysticism.
He was one of the first major Islamic mystics to formally allow his followers to incorporate the "use of music" in their devotions, liturgies, and hymns to God, which he did in order to make the foreign Arab faith more relatable to the indigenous peoples who had recently entered the religion or whom he sought to convert.
Mongmong
It is a major festival of the Sangtams, the largest of the three principal tribes in Kiphire district bordering Myanmar.
The Sangtams are a Naga tribe living in the Tuensang and Kiphire districts of Nagaland.They practice jhum, or shifting cultivation.
The festival is observed in the first week of September every year. The predominant theme of the festival is the worship of the God of the house and the three cooking stones in the fireplace.
Mongmong festival, which means togetherness forever is very cautiously observed every year and stretches over six days. The object is to have a good harvest, food grains for which the villagers toiled for the whole year.
Kiphire has been cut off due to landslides caused by incessant heavy rainfall. A tough monsoon made one of the most precious commodities – rice – scarce.
Procuring rice had been an uphill task because a 300-metre stretch of the arterial road from Nagaland's commercial hub Dimapur to Kiphire district headquarters Kiphire had been damaged.
H. Practice Questions for UPSC Prelims Exam
Question 1. Consider the following statements:
Armed Forces (Special Powers) Acts (AFSPA), are Acts of the Parliament of India that grant special powers to the Indian Armed Forces in what each act terms "disturbed areas".

According to The Disturbed Areas (Special Courts) Act, 1976 once declared 'disturbed', the area has to maintain status quo for a minimum of 3 months.
Which of the above statements are correct?
1 only
2 only
Both 1 and 2
Neither 1 nor 2
See
Question 2. Consider the following statements:
Antibiotic resistance is the ability of all microbes to resist the effects of medication.

Those considered extensively drug-resistant (XDR) or totally drug resistant (TDR) are sometimes called "superbugs".
Which of the above statements are correct?
1 only
2 only
Both 1 and 2
Neither 1 nor 2
See
Question 3. Consider the following statements:
Money laundering is the process of creating the appearance that large amounts of money obtained from criminal activity, such as drug trafficking or terrorist activity, originated from a legitimate source.

Layering is the act of concealing the source of that money.

Placement refers to the act of introducing "dirty money" (money obtained through illegitimate, criminal means) into the financial system.
Which of the above statements are correct?
1 and 2 only
2 and 3 only
1 and 3 only
All of the above
See
Question 4. Consider the following statements:
Biosaline agriculture is a relatively new way of dealing with salinity in agriculture.

Biosaline agriculture develops cropping systems for saline environments.

Use of saline soil- and water-resources and improved soil and water management is not a part of Biosaline agriculture.
Which of the following statement/s is/are correct?
1 and 2 only
2 and 3 only
1 and 3 only
All of the above
See
I. Practice Questions for UPSC Mains Exam
What is Debt Trap diplomacy? To what extent should India be intimidated by the Chinese way of influencing its control over smaller countries dependent on aid and investments?
Also, check previous Daily News Analysis
"Proper Current Affairs preparation is the key to success in the UPSC- Civil Services Examination. We have now launched a comprehensive 'Current Affairs Webinar'. Limited seats available. Click here to Know More."
Enroll for India's Largest All-India Test Series