August 25th, 2020 PIB:- Download PDF Here

TABLE OF CONTENTS
1. Warli Paintings
2. River Dolphins
3. Honey Mission

What are Warli Paintings?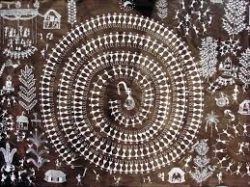 It is a style of tribal art generally practiced by the tribal people from the North Sahyadri Range in Maharashtra.
The paintings are mostly done on walls and use geometric shapes such as circles, squares and triangles to form various other shapes and patterns.
They depict daily life and social events and do not incorporate mythological characters.
The paintings are chiefly done on walls made of mud and cow dung cakes providing a brown background.
The paint used is white and made up of rice with water and gum.
A popular theme in Warli art is a spiral human chain around a central motif depicting the belief that life is a continuous journey with no beginning and no end.
For more on tribal paintings of India, click on the linked article.
---
Context:
Experts from India, Bangladesh, Nepal and Myanmar come together for enhancing conservation of river dolphins in the region.
River Dolphins:
River dolphins are aquatic mammals that reside exclusively in freshwater or brackish water.
There are only five extant species of river dolphins left and all of them are endangered or critically endangered. They are found in regions of Asia and South America.
The Ganges River Dolphin is a type of South Asian river dolphin and is found in the Ganga and Brahmaputra rivers and their tributaries.

It is classified as 'endangered' in the IUCN Red List.
It has been declared the 'national aquatic animal of India'.
It is also the official animal of the city of Guwahati.

South Asian river dolphins have poor eyesight and rely on echolocation to catch prey.

Echolocation is a phenomenon in which animals emit calls out to the environment and listen to the echoes of those calls that return from various nearby objects. They use these echoes to locate and identify objects.
Echolocation is also known as biosonar.
Dolphins and sperm whales use echolocation to navigate dark oceans and catch prey.

River dolphins are at risk because of pollution, dams, shipping and bycatch.
Dolphins are important indicators for the health of the rivers they live in.
Irrawaddy Dolphins:
They are a species of oceanic dolphins found in discontinuous subpopulations near sea coasts and in estuaries and rivers in parts of the Bay of Bengal and Southeast Asia.
The Sunderban delta is a unique ecological space where Gangetic as well as Irrawaddy Dolphin are present, spread over India as well as Bangladesh.
The government had announced the initiation of a Project Dolphin along the lines of Project Tiger in order to enhance the number of river dolphins.
Also read: Facts about India's National Aquatic Animal.
---
Context:
Honey Mission propels self-employment for migrant workers; 700 bee boxes distributed in Western UP.
About Honey Mission:
Honey Mission is Khadi and Village Industries Commission's (KVIC) flagship programme under which migrant workers who have returned are provided with bee boxes.
KVIC identified the returnee migrant workers and imparted them a five-day training on beekeeping. They were also provided with the necessary tool kit and bee boxes to carry out beekeeping activities.
The entire western Uttar Pradesh region, with an abundance of flora that includes a variety of crops, is ideal for honey production.
The Honey Mission was launched by KVIC in 2017 aiming at creating employment for the Adivasis, farmers, unemployed youth, and women by roping them in beekeeping while also increasing India's honey production.
Read previous PIB here.
August 25th, 2020, PIB:- Download PDF Here