Read the daily PIB update and stay up-to-date on current affairs for the UPSC exam
Sentinelese Tribe
Context:
The Government has promulgated various laws/regulations from time to time to ensure that the rights and well-being of the Sentinelese are safeguarded.
Laws/regulation to well-being of Sentinelese:
A &N Islands (PAT) Regulation 1956,
Scheduled Castes and the Scheduled Tribes (Prevention of Atrocities) Act, 1989,
Restrictions under Foreigner (Restricted Area) Orders, 1963,
Visa Manual Conditions/Passport Act 1920, and v) Indian Forest Act, 1927 and Wildlife (Protection) Act, 1972.
Steps taken to ensure the protection of Sentinelese:
The entire North Sentinel Island along with 5 km coastal sea from high water mark is notified as tribal reserve.
The Sentinelese are still in isolation practicing primordial hunting and gathering way of life. The Government respects their way of life style, therefore, has adopted an 'eyes-on and hands-off' practice to protect and safeguard the Sentinelese tribe.
A protocol of circumnavigation of the North Sentinel Island has been notified.  The ships and aircrafts of Coast Guard and boats of Marine Police make sorties around North Sentinel to keep surveillance.
The details of the population of the Sentinelese and Jarawa tribes: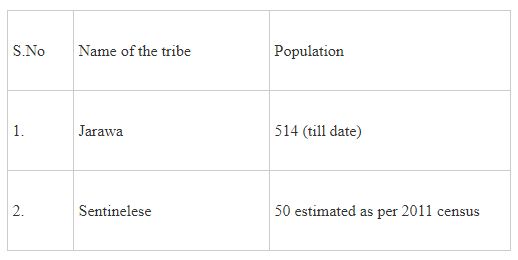 ---
Categorisation of Farmers
In agriculture Census, the operational holdings are categorised in five size classes as follows:-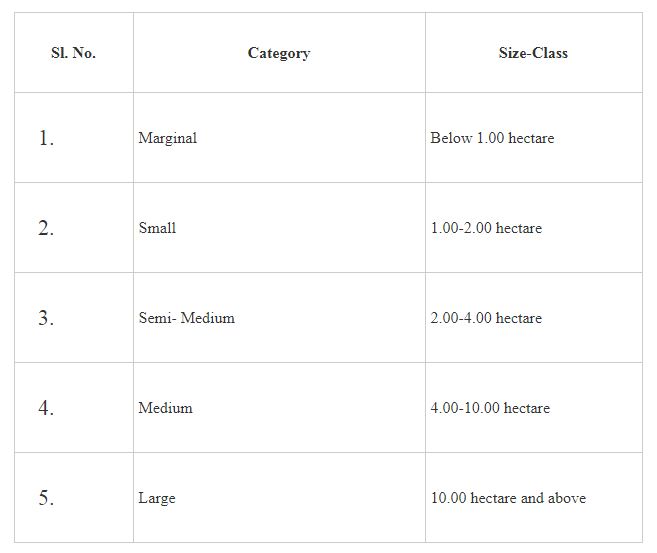 The operational holdings are also classified in three social groups, viz., Scheduled Castes, Scheduled Tribes and Others.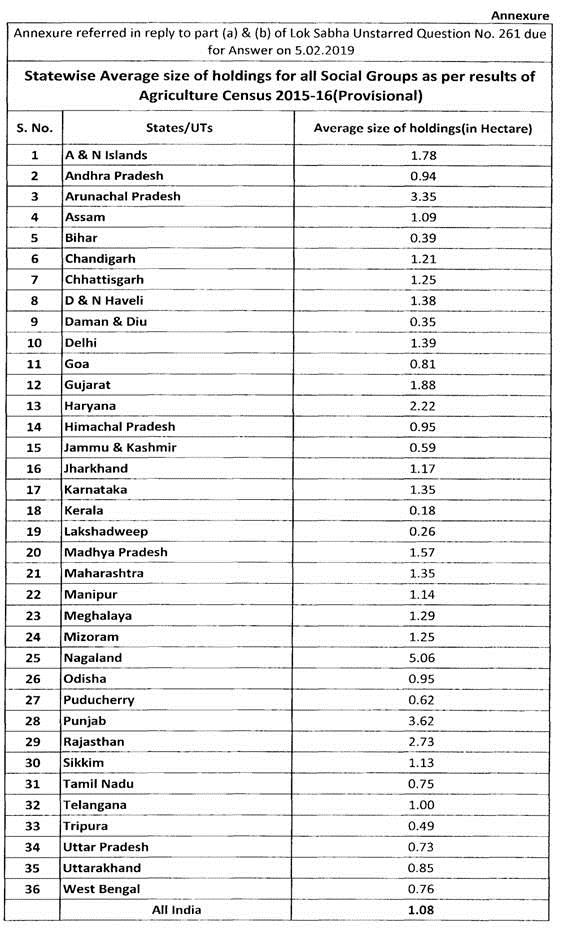 Steps taken to double the farmers' income by 2022:
To improve the condition of Small and Marginal farmers and to double the income of farmers by 2022, Government is realigning its interventions from production-centric approach to farmers' income-centric initiatives, with focus on better and new technological solutions.
These include implementation of schemes like, Pradhan Mantri Krishi Sinchai Yojana (PMKSY), Paramparagat Krishi Vikas Yojana (PKVY), Soil Health Card, Neem Coated Urea, Rainfed Area Development under National Mission for Sustainable Agriculture (NMSA), Pradhan Mantri Fasal Bima Yojana (PMFBY), National Agriculture Market scheme (e-NAM), National Food Security Mission (NFSM), National Mission on Oilseeds & Oilpalm (NMOOP), Mission for Integrated Development of Horticulture (MIDH), Rashtriya Krishi Vikas Yojana (RKVY), National Mission on Agriculture Extension & Technology (NMAET) etc.
In addition, farmers are provided information through Focused Publicity Campaigns, Kisan Call Centres (KCCs), Agri­-Clinics and Agri-Business Centres (ACABC) of entrepreneurs, Agri Fairs and exhibitions, Kisan SMS Portal.
---
Shehri Samridhi Utsav Launched
Context:
Shehri Samridhi Utsav, an initiative of Ministry of Housing & Urban Affairs (MoHUA), aims to extend the outreach of Deendayal Antyodaya Mission – National Urban Livelihoods Mission (DAY-NULM), to the most vulnerable. This was launched across the country.
Details of the programme:
Through Shehri Samridhi Utsav, SHG members across cities are being linked to national government schemes viz. Swachchh Bharat Mission (U), Pradhan Mantri Awas Yojana (U), Pradhan Mantri Ujjwala Yojana, Pradhan Mantri Jan Dhan Yojana, Pradhan Mantri Suraksha Bima Yojana, Pradhan Mantri Jeevan Jyoti Yojana and National Nutrition Mission.
Shehri Samriddhi Utsav began with a series of rallies led by women's' SHGs, across the length and breadth of the country.
These rallies spread awareness about DAY-NULM in urban poor communities. Job melas and fairs to market the products made by women microentrepreneurs were also organized by many states.
---
1st India-Russia Strategic Economic Dialogue
Context:
Joint Statement was issued following the results of the 1st India-Russia Strategic Economic Dialogue which was held at St. Petersburg in Russia on November 2018. The Indian side was led by NITI Aayog Vice Chairman Rajiv Kumar and Russian delegation headed by Economic Development Minister Maxim Oreshkin.
Details of the meeting:
The meeting of the First India-Russia Strategic Economic Dialogue was focused on five core areas of cooperation, namely- Development of Transport Infrastructure and Technologies; Development of Agriculture and Agro-Processing sector; Small and Medium Business support; Digital Transformation and Frontier Technologies; Industrial Cooperation and Trade.
The meeting was held with the objective to identify the most promising areas to improve bilateral trade, economic and investment cooperation, and to define joint projects in the framework of national programs.
To ace UPSC current affairs section, read more PIB articles here.
Also see: