Candidates preparing for UPSC Exam always ask one question to themselves when the UPSC result is announced that my fellow aspirant had same books for IAS Exam preparation and we dedicated the same amount of time in studying yet he/she passed and why not me. Some say we studied for 18 hours in a day, took guidance from seniors and fellow aspirants, and attended coaching institutions but yet failed. While others say they studied only 8-9 hours and still cleared UPSC Mains.   So, what makes one successful in the UPSC Mains Exam and the other failure and what made the successful candidates extraordinary? Here's the answer to the question which many failed candidates ask to themselves and we advise to follow these 9 success mantras and we bet nothing can stop you from being successful.

Better Strategy for UPSC Civil Services Mains (IAS) Exam
---
    Candidates who have cracked the UPSC Civil Services Mains Exam were able to do so as they knew that to clear the mains exam the hours spent on study or how many books to read doesn't matter. And, what matters is the quality time spent in studying by understanding what to read, what not to read, how much to read, and how and when to use answer writing.     UPSC conducts civil services exam not to select the perfect ones but what it looks for in the candidates is the ingenious, creativity, and the real essence in the preparation of UPSC Exam is to have an insight about everything.   Start your preparation for mains with the right strategy and preparation checklist for the same as;
Resources
What to read
What type of questions are asked from topics
Take the guidance and if you feel not right then just follow your instinct and plan.
The better strategy makes one success in mains.
Also, Read | 5 Preparation Strategies to Crack UPSC Mains Exam Easily

 Go through the UPSC Syllabus
---
  You need not wait until the UPSC releases notification for Civil Services Exam, for UPSC Syllabus as there wouldn't be many changes in the syllabus. For General Studies mains paper you can start preparing along with prelims as some of the syllabi of GS Papers (Mains) overlap with the prelims. Go through the UPSC Syllabus thoroughly and know it perfectly, if you know the syllabus then 20% of your work in the preparation process of IAS Exam is completed. You can also take a print of the syllabus and pin it on your desk.  As earlier said, the epitome of the preparation of UPSC Exam is to correlate whatever you study with the day-to-day happenings. Similarly, prepare for the optional subjects as well. For beginners, it is advised to go through the syllabus completely.
Download UPSC Syllabus (Mains) PDF                                               

   A stable and composed approach for Optional
---
  It is always recommended, once you have chosen the optional subject for UPSC Mains Exam never look back or even give a second thought in the halfway of your preparation to change the optional subject as it would be of no point. So, before choosing the optional subject; analyze your plus and minuses and your interest in which subject and then choose. UPSC Mains Exam question papers are of the subjective type that requires answering in 200 words. While preparing for optional make short notes and relate it to the current events and practice answer writing, it is also advised to work on previous year question papers.
Also, Read | Few Thumb Rules to Choose the Right Optional Subject

Answer writing skills
---
UPSC Civil Services mains exam is not only about studying but answer writing is important. As mains exam tests candidate's ability and skill of presenting the answers in a clear-cut and comprehensible way and assess his/her academic qualities and profundity besides understanding. UPSC mains exam is merely about your information and memory, but it is about how you use your knowledge in writing a particular paper. So, while preparing for mains and studying a particular topic always think what type of questions may be asked on a particular topic and how you can correlate it to the current events? It is advised to include flowcharts, graphs, pie-charts and relevant drawings in your answers as it will draw the examiner's attention and always highlight keywords in your answers underline it or circle it. Always try to give positive points in your answers and don't discriminate any particular personality and make any negative points in your answers.
Also, Read | Strategy for Answer Writing in UPSC Mains Exam Part-I


Current Affairs for UPSC Exam
---
With the UPSC Exam Pattern changed, current affairs play a major role in the civil services examination.   It is always recommended to read major newspapers or to refer our Comprehensive News Analysis for UPSC Current Affairs where you can read all the important current affairs in one place instead of referring three to four newspapers. Comprehensive News Analysis for current affairs is prepared by our experts and is categorized into different General Studies Papers also includes Practice Questions for Prelims.
Click here to access to our Monthly Comprehensive News Analysis for UPSC Current Affairs.
Always make your own notes as it will help you to revise. Work on previous question papers and observe what type of questions have been asked from current affairs and also compare the questions that were asked in previous years paper and see is there any changes in questions asked.   Current Affairs is not only crucial in General Studies Mains Papers but also plays an equal part in Optional papers.   For e.g. Recently, the Supreme Court gave a verdict about Cauvery Water releasing where it asked Karnataka a government to "live and let live". The court directed Karnataka to release 15,000 cusecs (cubic feet per second) i.e., 13.6 tmcft (thousand million cubic feet) for ten days, while Karnataka was ready for only 10,000 and Tamil Nadu insisted on 20,000. Instead of remembering the numbers, try to relate the current event with the subject, here it is a water dispute between two states, hence questions in Polity may appear.   From Polity what kind of questions may appear? It is advised to go through the Interstate River Water Disputes ((IRWD) Act in the constitution of India and Inter-State Disputes, as questions may be asked on these under Polity. Moreover, current affairs preparation is a continuous process while preparing for IAS Exam, so don't even give a second thought about skipping today and to read tomorrow as it will be a burden for you.    

Importance of Selective Study
---
  Once you know the syllabus, don't start your studies blindly as it will be stressful and in between, you will find yourselves in a state of confusion. Hence, once you are thorough with the UPSC Syllabus plan your study and choose subjects, topics, and sub-topics selectively as it will make you comfortable and your preparation useful and effective.
"Never test the depth of a river with both feet"!
---
  As everyone is aware that UPSC Syllabus is vast and it is like throwing one into the sea without making any selection, so before starting your preparation check the vastness of the syllabus and be selective.   Studying each and every topic in the syllabus in one year may be possible, but the question arises how completely prepared you are? Therefore, selective study is very important in IAS Exam preparation. One should know what to and what not to study and what to be given more importance.
Some tips on the selective study:
Know the syllabus thoroughly
Go through 3-4 years previous year question papers
Analyze frequently asked questions on topics
Similarly, analyze Current Affairs question and assess what questions may be asked in the current year and start preparing for it
For optional subject refer few standard books instead of multiple books
The selective study helps you to answer any question asked on any particular topic. It is also not wise to waste time in reading topics that are not important in exam point of view. So, one should have an appropriate approach to study in order to succeed in the UPSC Mains Exam. Besides, being selective makes one comfortable in their preparation process for IAS Exam.    

Importance of Compulsory Papers
---
  Till 2013, UPSC did not made the minimum cutoff marks for compulsory language paper public.   But, in the UPSC 2014 notification, the cutoff marks were mentioned.
For English – 75/300 – (25%)
For Language – 90/300 – (30%)
  The UPSC has made English, Indian Language and Essay as compulsory papers for Civil Services Mains Examination and they are qualifying in nature.   Never underestimate the compulsory papers as it has been observed that every year about 10-12 per cent of candidates who appear for mains fail to qualify the compulsory papers in UPSC Exam. Without qualifying these papers, one cannot clear the UPSC Mains Exam; therefore, do not neglect these papers or take it lightly.   To clear these papers, you have to be good at grammar, essay writing, and precise writings.   Essay writing needs comprehensive thinking and a candidate who hits this mark will definitely succeed in the mains.   Few tips on Essay Preparation:
Prepare as many topics as possible
Prepare in a general way
Choose topics for an essay like globalization, democracy, social change, development-oriented topics, terrorism
Try, if you could relate any topics to current events and always include suggestions on reforms in your essay.
Also, Read | 7 Easy Steps on Essay Writing for IAS Mains Exam

Studying for 1750 marks in 100 Days
---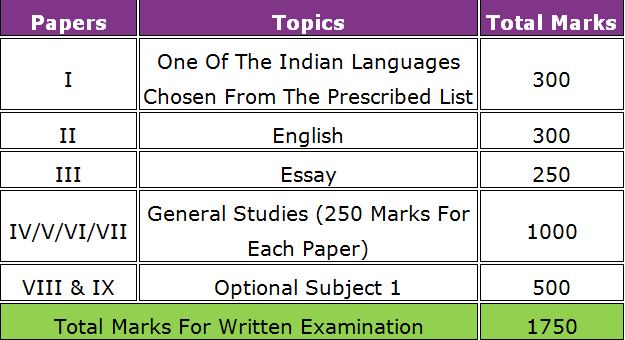 UPSC Civil Services Mains Examination is for 1750 marks with 9 subjective type papers including two compulsory language papers with 300 marks each of qualifying in nature and is important to clear the mains examination.   Generally, there will be a 3-month gap between the UPSC prelims and mains exam i.e., around 120 to 150 days to prepare for mains within which candidates have to study for 9 papers with a total of 1750 marks.   In these 120-150 days, a few days will go in collecting books for studies and the remaining 100 days become crucial. So, split these 100 days into two, make the first 80 days to study and the remaining 20 days for revision.
So, it is advised to create an effective study plan for these 100 days and stick to it and give equal importance to all the selective topics. Your effective preparation strategies for mains in these 100 days will make your UPSC results fruitful.  

Implementation of your preparation and practice on the D-day
---
  After all your struggle of preparation and study for the UPSC Mains Exam here you arrive on the D-day.   All you have to keep in mind is to be calm and not to lose your confidence.   Once you get the question paper, don't hurry in reading the questions, read word by word and understand what is asked and the requirement in the answer. If you hurry, then you will definitely create a blunder and tend to write the wrong answer. So, read the question carefully even twice and then start answering.   Also, Read | Do's and Don'ts Checklist for UPSC Prelims Exam.