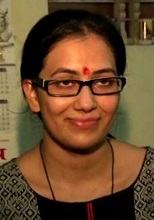 Alankrita Pandey IAS
Imagine that you have to take anti-depressants and attend anger management sessions to deal with a personal crisis. Now imagine preparing for the UPSC exam in such an extreme situation. Sounds frightening and impossible for most people, doesn't it? But this is precisely what Kanpur girl Alankrita Pandey did. Pandey battled depression before embarking on a journey that changed her life forever. She took the 2015 UPSC civil services exam and cleared it with an impressive 2-digit rank of 85. What's more? That was her maiden attempt! Read on for Pandey's amazing IAS success story.
Alankrita Pandey is from a middle class family from Kanpur, Uttar Pradesh. She completed her software engineering from the prestigious MNIIT-Allahabad and started working for an IT company in tech-city Bangalore. Two years before the 2015 results were out Alankrita would not have believed if anyone had told her that she would become an IAS officer one day. Such was the agitation in her life then. She went through a personal crisis and in order to overcome it, she had to rely on anti-depressants. She also underwent anger management sessions. Apart from that, she had to be constantly counseled by her family and friends. Pandey, who had intended to write the IAS exam prelims in January 2014, could not even take the exam because of the turmoil. The aggravated situation continued till October 2014 after which things took a turn for the better.
Alankrita decided to take things seriously and put up a paper on her wall that said, "I want a 2-digit AIR in CSE-2015". According to her, her life changed then and there. She had already achieved her goal in her mind, now she only had to achieve it physically. So, she set about her uphill task. Her regimen consisted of 8 hours of studies per day. She would start her day at 6:00 AM. She would start her studies only after jogging and Yoga. Whenever she felt bogged down by the situation, she would write in a piece of paper why she started out IAS preparation in the first place. This would melt all her doubts and fear away. She would also talk to her friends and parents whose unflinching support came to her aid in the IAS pursuit.
Alankrita planned her preparation first at the macro-level and then at the micro-level breaking it down to topic-wise and then hour-wise scheduling also. She worked hard with determination and dedication and by May 2015, she had completed the full mains syllabus. Meditation, running and exercise – she says helped her beat stress and depression during her IAS preparation.
She focused on reading one book 4 – 5 times rather than reading 4 – 5 books for a single subject. Newspapers were the mainstay for her UPSC preparation. She also relied on the internet for information and strategy. Alankrita also does not suggest candidates to become social hermits whilst engaged in preparation. She never shunned social media sites although she warns against becoming addicted to them. She says that networking and connecting with people is an important part of an IAS officer's job.
Alankrita, who was only 24 years old when she cleared the IAS exam reveals profound wisdom when she states her motto – "Your thoughts become things. Make them good."
Name: Alankrita Pandey
Education: B.Tech
CSE: 2015
AIR: 85
Optional subject: Public Administration
Attempt: First
Also See | How a Rickshaw Puller's son became an IAS Officer and inspired others
Visit BYJU'S Website for strategy and articles on free IAS prep and all the latest on UPSC IAS exam.