Table of Contents:
1. Soft on Saudi Arabia's war on Yemen
2. India readies business card for SAARC businessmen
3. India's evacuation efforts from crisis hit regions
1. No ark for Kaziranga's rhinos as 13 drown, conservation groups fight battle to save wildlife
2. Rajya Sabha set to approve GST legislation tomorrow
3. NASA to explore asteroid during close encounter
1. Child labour by other means
2. The dynamic nature of poverty
1. How India can become a water surplus country
.
+++++++++++++++++++++++++++++++++++++++++++++++
Useful News Articles
A. GS1 Related
Nothing here today folks!
B. GS2 Related
1. 
Soft on Saudi Arabia's war on Yemen
Category: International Relations
Topic: Conflict and Humanitarian assistance
Key Points:
Saudi Arabia's ongoing war on Yemen, 16 months after a Saudi-led coalition started bombing rebels in the poor Arab country, doesn't seem to have met any of the declared objectives of the war.
The Shia Houthi rebels still control huge swathes of territory and President Abd Rabbuh Mansur Hadi, on whose behalf Saudi Arabia intervened in Yemen, hasn't established credible authority even in territories technically ruled by his government.
Saudi Arabia has repeatedly come under international criticism for its brute use of force and lack of interest in finding a settlement to the civil war.
Numbers suggest that Yemen is facing one of the worst humanitarian crises in its modern history.
Saudi Arabia may have its strategic goals behind the war, such as defeating Houthi rebels who Riyadh perceives to be proxies of Iran.
2. 
India readies business card for SAARC businessmen
Category: International Relations
Topic: SAARC
Key Points:
India has decided to roll out the 'India Business Card' announced by Prime Minister Narendra Modi two years ago for seamless travel of prominent businessmen across the SAARC region.
Its likely to unveiled at the Home Ministers' conference of South Asian Association for Regional Cooperation (SAARC) being held at Islamabad.
The Business Card had initially hit a design hurdle with agencies differing on the "security features". Intelligence agencies had expressed apprehension over easing visa restrictions on businessmen from Pakistan but government decided to implement it to bring normalcy in the region.
The business card will be given only to prominent businessmen of the eight SAARC countries and will have to be carried with a passport. It will have all the passport details as well as the travel history of the businessmen. It is being issued to facilitate trade and commerce among the SAARC nations.
The SAARC countries are also working on a "uniform visa application form and software"
Category: International Relations
Topic: Indian Diaspora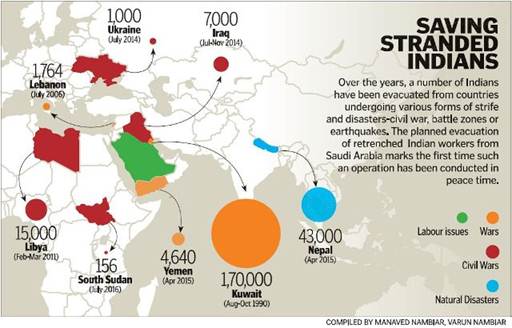 C. GS3 Related
1.
No ark for Kaziranga's rhinos as 13 drown, conservation groups fight battle to save wildlife
Category: Environment
Topic: Wildlife Conservation and Endangered species
Key Points:
The floods in Assam have swept away at least 13 of Kaziranga National Park's iconic Great Indian one-horned Rhinoceros.
It is listed as Vulnerable on the IUCN Red List.
The preferred habitat of an Indian Rhinoceros is alluvial flood plains and areas containing tall grasslands along the foothills of the Himalayas. Formerly, extensively distributed in the Gangetic plains, today the species is restricted to small habitats in Indo- Nepal terai and North Bengal, and Assam. In India rhinos are found in Kaziranga, Orang, Pobitara, Jaldapara, and Dudhwa.
Rhinos have been widely slaughtered for their horn, a prized ingredient in traditional Asian medicines.
2.
Rajya Sabha set to approve GST legislation tomorrow
Category: Economics, Polity
Topic: Taxation, Constitutional Amendment
Key Points:
The Bill to amend the Constitution, paving the way for the biggest, long-pending and much awaited indirect tax reform, is all set to be approved by the Rajya Sabha.
Union Finance Minister will move four key amendments to the Constitution (122nd Amendment) Bill.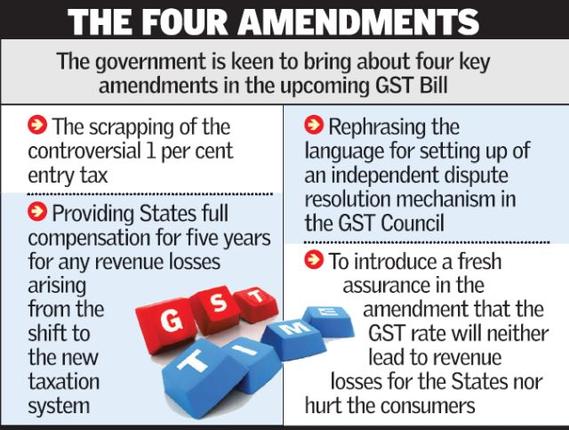 The Bill cannot be passed in the Upper House without support from the Congress as a constitutional amendment needs the support of two-thirds of the members voting.
3. NASA to explore asteroid during close encounter
 Category: Science and Technology
Topic: Asteroid, NASA exploration
Key Points:
A near-Earth asteroid named Bennu that is coming towards our planet after being dislodged by a gravitational pull can indeed strike us and cause massive destruction. Although the chances are very remote.
The OSIRIS-REx Mission, headed by NASA and the University of Arizona, plans to launch an unmanned spacecraft on September 8 in the efforts to reach Bennu in August 2018.
It will orbit the Sun for a year and then use Earth's gravitational field to assist it on its way to Bennu.
In August 2018, OSIRIS-REx's approach to Bennu will begin. It will use an array of small rocket thrusters to match the velocity of Bennu. The spacecraft will begin a detailed survey of the asteroid two months after slowing to encounter Bennu. The spacecraft will briefly touch the surface of Bennu to retrieve a sample.
The sampling arm will make contact with the surface for about five seconds, during which it will release a burst of nitrogen gas. This will cause rocks and surface material to be stirred up and captured in the sampler head.
D. GS4 Related
E. Important Editorials: A Quick Glance
1.  
Child labour by other means
Category: Polity and governance
Topic: Government initiatives for the weaker sections
Key points:
The amendments to the Child Labour (Prohibition and Regulation) Act, 1986, passed by Parliament recently, demonstrate a lack of national commitment to abolishing all forms of child labour.
Parliament has allowed children up to the age of 14 to be employed in 'family enterprises', and created a new category of 'adolescents' (the 14-18 age group) who can be employed in 'non-hazardous' occupations.
In the name of acknowledging the socio-economic realities of India, the amendments tweak the law in such a way that children are in some form or other available for employment.
The only concession to their educational rights is that they are permitted to work in family enterprises only outside school hours and during vacations.
Curiously, the main amendment — to ban children up to the age of 14 in any occupation — is being touted as a progressive leap from the earlier ban limited to some occupations and processes.
It should not be forgotten that with the passage of the Right of Children to Free and Compulsory Education Act, 2009, a statutory obligation to ensure that every child completes elementary education, is already in place. The exemption to family enterprises effectively retains conditions under which children are made to contribute economically while studying. Working outside of school hours and earning valuable income for the family will surely have a deleterious effect on the children's health as well as their aptitude for learning.
Regulation is going to be a big challenge, as it will be difficult to determine whether a particular family is running an enterprise, or whether some faceless owner has employed a single family to circumvent the law.
International Labour Organization Convention 138 mandates compulsory schooling till the age of 15, but permits countries with inadequate education facilities to reduce it to 14.
International Labour Organization Conventions 182 prohibits employment of children "in the worst forms of labour".
Bare compliance with international norms is not enough. Children from the poor and marginalized sections, especially Dalits, are still in danger of being deprived of both the joys of childhood and their constitutional right to education.
2.  
The dynamic nature of poverty
Category: Indian Polity
Topic: Poverty and social security schemes
Key Points:
Concept of poverty today is fundamentally different from that of poverty three decades ago, and that safety nets need to be tailored to meet the needs of a society in transition.
Most of our anti-poverty policies rely on identifying the poor by using Below Poverty Line (BPL) Censuses. The ambiguity and flawed methodologies involved in identifying the poor has led to inefficient implementation of most of the social sector initiatives.
Poverty is dynamic in nature, poor households may move out of poverty and the non-poor may become poor over a period of time, this forces us to question the veracity of our fundamental assumptions about poverty.
Ironically, in spite of a decline in poverty, the proportion of the population receiving welfare benefits has risen sharply. The IHDS shows that between 2004-05 and 2011-12, the proportion of the population deemed to be poor fell from 38 per cent to 22 per cent. But the proportion of households receiving any of the benefits under different government schemes, such as old age pension, widow pension, and the Janani Suraksha Yojana, or scholarships and other benefits, grew from 13 per cent in 2004-05 to 33 per cent in 2011-12. The same trend holds good for PDS and MGNREGA.
The more the number of schemes, the greater is the likelihood of leakage and inefficiency. Moreover, our country has the tendency to initiate schemes without setting aside enough funds to successfully implement them, thereby almost willing them to failure.
he Rashtriya Swasthya Bima Yojana (RSBY) covers hospital costs but not outpatient services. Consequently, many patients delay treatment until the severity of their medical conditions forces them into hospitalization, which, in turn adversely affects their health and increases public expenditure.
Is there another way of providing social safety nets that would circumvent these problems while genuinely taking care of the people's needs? Fundamentally restructuring social safety nets necessitates meeting three key challenges:
identifying those in need of assistance in the context of rapid economic changes;
efficiently delivering this assistance to prevent unintended consequences which may pervert the very purpose of social safety nets; and
ensuring that this assistance is meaningful rather than simply tantamount to applying a bandage to a cancer.
The Financial Express
1.  
How India can become a water surplus country
Category: Resources
Topic: Water management
Key points:
Ocean's hold 96.5% of the water yet over one in ten people around the world don't have access to safe water as per Water.org
Israel has found a cost efficient new-age technology solution to water woes. The new desalination techniques have turned the country which has had over a decade of drought into a water surplus nation.
They have developed a system using porous lava stones to increase the efficiency of desalination plants. The plant works by pushing water through membranes containing microscopic pores. But microorganisms in seawater stick to the membranes thereby blocking the pores, leading to cyclical costly and chemical-intensive cleaning. Lava stones capture the microorganisms before they can reach the membrane thus creating a chemical-free solution to membrane blocking.
Though India has been using desalination techniques, the country can certainly learn from the Israel experience which draws 55% of its water from desalination.
Over 75 million people in India do not have access to safe water, the desalination process would not only increase the availability of water, but also reduce the cost for Indians who pay more than a rupee per litre.
F. Concepts-in-News: Related Concepts to Revise/Learn:
India Business Card
IUCN Red List
Asteroid Bennu
Desalination
Child Labor (Prohibition and Regulation) Act
G. Fun with Practice Questions 🙂
Question 1: With regard to the great Indian one horned rhinoceros which of the following are correct?
It is listed as critically endangered on the IUCN Red List.
Alluvial flood plains with tall grasslands are their preferred habitat.
(a) Only 1
(b) Only 2
(c) Both 1 and 2
(d) Neither 1 nor 2
Question 2: Consider the following statements with regard to SAARC
Its main mandate is to promote regional and economic integration.
SAARC maintains permanent diplomatic relations at the UN as an observer and has developed links with multilateral entities, including the EU.

Which of the above are correct?
(a) 1 Only
(b) 2 Only
(c) Both 1 and 2
(d) Neither 1 nor 2
Question 3: Consider the following statements with regard to constitutional amendment under Article 368  
The Bill must be passed in each House by a majority of the total membership of that House and by a majority of not less than two-thirds of the members of that House present and voting.
There is provision for a joint sitting in case of disagreement between the two Houses.
Which of the above statement(s) is/are correct?
(a) 1 Only
(b) 2 Only
(c) Both 1 and 2
(d) Neither 1 nor 2
Question 4: Consider the following statements,
Desalinating sea water is generally more costly than fresh water from rivers or groundwater.
Israel produces a higher proportion of its potable water via desalination than any other country.

Which of the above statement(s) is/are correct?
(a) 1 Only
(b) 2 Only
(c) Both 1 and 2
(d) Neither 1 nor 2
Question 5: Operation Raahat was the codename for the evacuation of Indian citizens from which of the following conflict ridden countries?
(a) Yemen
(b) Kuwait
(c) Libya
(d) Lebanon
"Proper Current Affairs preparation is the key to success in the UPSC- Civil Services Examination. We have now launched a comprehensive 'Online Current Affairs Crash Course'.
Limited seats available. Click here to Know More."