Table of Contents:
1. Centre enforces income norm for LPG subsidy
2. Kayakalp' Rejuvenating public healthcare facilities.
3. Research tie-ups with Saudi Arabia growing
4. Constitution Bench to decide on National Court of Appeal
1. LCH set for firing trials soon
3. Kakrapar Leak a Level-1 nuclear mishap, says AERB
4. Pharma firms breathe easy after court intervention
1. Our National security mismanagement
2. A dispute that begs resolution
1. Political Resolve Can Address CJI's Concerns
.
+++++++++++++++++++++++++++++++++++++++++++++++
Useful News Articles
A. GS1 Related
— Nothing here today, folks! —
B. GS2 Related
1. Centre enforces income norm for LPG subsidy
Topic: Polity
Category: Schemes/programmes
Location: The Hindu, Page 1
Key points:
The government has begun debarring LPG users who earn more than Rs. 10 lakh a year from the subsidy, starting from their next refill.
LPG distributors has already started sending  SMSsto identified consumers, pointing out their income status and the ineligibility for further subsidies.
Earlier the government has started voluntary " Give It Up Campaign" , but now it has requested Income Tax department to assist in bringing more rationalisation of subsidies.
This kind of initiatives will ensure better targeting of subsidies and facilitate more faster , sustainable and inclusive development as envisioned in our twelfth five year plan.
2. Kayakalp'Rejuvenating public healthcare facilities.
Topic: Polity
Category: Schemes/programmes
Location: The Hindu, Page 4, advertisement
Key points:
Cleanliness and hygiene in patient care areas
Management of biomedical and general waste
Hand hygiene and infection control practices.
(Note: This kind of schemes can be used in writing answers for initiatives taken by government to promote Swachh Bharat Abhiyan)
3. Research tie-ups with Saudi Arabia growing
Topic: International Relations
Category: India-Saudi Arabia relations
Location: The Hindu, page 16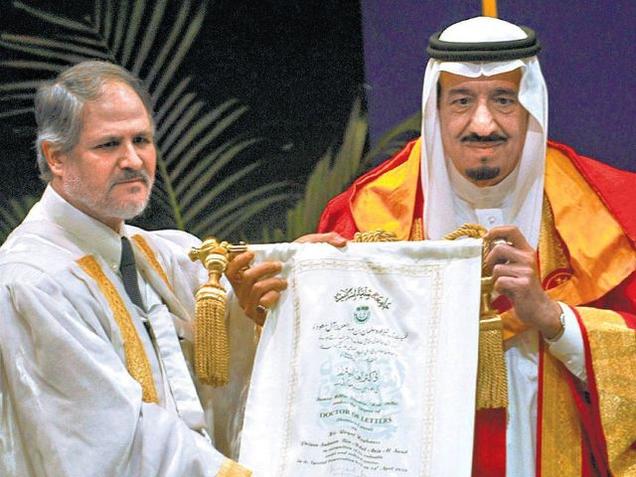 Key points:
In the last 10 years, India and Saudi Arabia research collaboration has seen a 10-fold increase says a study by Department of Science and Technology (DST)
Collaboration with Saudi Arabian universities increased dramatically… Many Saudi Arabian institutions now rank among India's top 10 collaborating organisations.
The study employed a tool called 'Web of Science', a popular, online search tool, used often by scientists to search for research related to their sub-fields.
4. Constitution Bench to decide on National Court of Appeal
Topic: Governance issues
Category: Judiciary
Location: The Hindu, Page 16
Key points:
The Supreme Court of India has decided to set up a Constitution Bench to debate the establishment of a National Court of Appeal (NCA) with regional benches to act as final courts of justice in criminal and civil cases.
The intention is that "equal access to justice for all is a fundamental right under the Constitution"
A verdict in favour of NCA would act as a great influence on Parliament to amend the Constitution itself to make room for NCA
Attorney-General MukulRohatgi's view:  National Court of Appeal is "neither permissible nor desirable"
Chief Justice Thakur's view : Supreme Court is over burdened with cases and we need NCA
At present "mundane" matters from bail pleas to dishonoured cheques to traffic violations flood the Supreme Court.
 Chief Justice Thakur says 98 percent of the work time of the Supreme Court judges are spent on dismissing these cases.
Whereas Attorney –General says  NCA "in the middle between the High Courts and the SC will be a dilution of the judiciary."
C. GS3 Related
1. LCH set for firing trials soon
Topic: Indigenisation of technology
Category: Defence
Location: The Hindu, page 12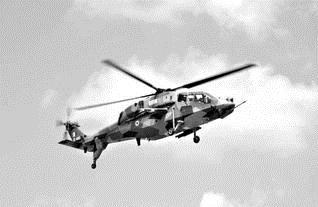 Key points:
TheLight Combat Helicopter prototype TD-3, developed by Hindustan Aeronautics Ltd.
This LCH will participate in the IAF's Iron Fist 2016 exercise which starts on March 18.
The 5.5 tonne LCH is derived from the indigenous multipurpose Advanced Light Helicopter and is being developed for lethal combat operations.
2. LCA output to be ramped up
Topic: Indigenisation of technology
Category: Defence
Location: The Hindu, page 13
Key points:
The production of Light Combat Aircraft TEJAS will be increased as per proposal by Cabinet Committee on Security.
LCA's will have four essential capabilities- Active Electronically Scanned Array Radar, Beyond Visual Range Missiles, Air to Air Refuelling Capability and Electronic warfare suit.
3. Kakrapar Leak a Level-1 nuclear mishap, says AERB
Topic: S&T
Category: Nuclear Technology
Location: The Hindu, page 13
Key points:
India's atomic energy regulatory body has classified nuclear reactor leak at the Kakrapar atomic power station (KAPS) as a Level-1.
Level -1is the lowest in a seven-rung classification scheme internationally used to rate the severity of nuclear mishaps.
The International Nuclear and Radiological Event (INES) scale, developed by the International Atomic Energy Authority, rates a Level 1 as only akin to 'an anomaly in the plant.' Levels 1-3 are termed 'incidents' and 4-7 as 'accident.
One of the pipes carrying heavy water ruptured and led to leakage on the floor of the reactor building.
The present situation at KAPS Unit 1 is stable and the reactor is in cold shutdown state. and there are no major safety concerns.
4. Pharma firms breathe easy after court intervention
Topic: Indian Economy
Category: Pharma sector/Drug policy
Location: The Hindu, page 19
Key points:
Delhi High Court,stayed a government order banning nearly 350 drugs on safety grounds.
This interim injunction suspended the operation of the government notification that prohibited the manufacture, sale and distribution of several fixed dose combinations already approved for use, till the next date of hearing.
This order from the court came in the light of Abbott India approaching Delhi High Court for relief because Abbot India says that the Drug Controller General of India notification came without Abbot India being informed, consulted or allowed a representation by the authority.
The banned Phensedyl received DCGI approval in 1995 and had been on the market in India since the 1980s.
Abbot India claims that the syrup had been used safely and effectively by physicians and patients alike and it is approved by many regulatory authorities across the world like for example USFDA.
D. GS4 Related
– Nothing today –
E. Important Editorials : A Quick Glance
The Hindu
(Note: The article is a critique on present government'sapproach to national security issues and institutions and aspirants should note the key lacunae mentioned)
1. Our National security mismanagement
Topic: Challenges to internal security
Category: Security
Key points:
The institutional and ideational foundations of the country's national security architecture have become weaker and the National security management under the present regime is described as the management of systemic inefficiency .
What is needed?
Reform the National Security Council to make it the hub of all sector-related assessment.
Completely revamp the intelligence gathering system by modernising the intelligence department.
Ensure greater participation of Armed Forces in the decision-making process of the Ministry of Defence.
Study in detail India's nuclear doctrine, and revise and update it, to make it relevant to challenges of current times.
Key institutions of national security management traditionally functioned on the basis of regular deliberations, briefings, and constant assessment of threat scenarios by experts, both internal and external is now missing says the author.
The author cites for example:National Security Advisory Board (NSAB) case.
NSAB was set up during the previous BJP-led government (1998-2004)
It was to undertake long-term analysis of and provide perspectives on issues of national security.
Its policy recommendations and options are conveyed to the National Security Council for its consideration".
However the term of the ninth NSAB came to an end in January 2015 and the new government has not only not bothered to reconstitute it, but is actively thinking of doing away with it.
The author also explains how National Security Council (NSC) is dysfunctional.
NSC, comprises of the members of the Cabinet Committee on Security and the National Security Adviser.
NSC is supposed to be the locus of deliberations and decision-making relating to national security as well as oversee the formulation of the country's nuclear strategy,
However the NSC hardly ever meets to take stock of the security environment
The erstwhile government had created a highly specialised Strategy Programme Staff "to work on a perspective plan for India's nuclear deterrent in accordance with a 10-year cycle".
However the author says there are legitimate concerns today about the mandate of this body, and how empowered it is to deliberate, strategise and engage in strategic nuclear planning.
The author also cites both the Intelligence Bureau (IB) and Research and Analysis Wing are short-staffed at every level with acute deficiency reported at the level of foreign language speakers.
Intelligence Organisations, face a number of challenges today in terms of shortage of sophisticated equipment, inadequate training and staffing, and promotion and career prospects for non-Indian Police Service officers.
Another key post-26/11 institution that is in trouble today is the NATGRID.
NATGRID was Created to function as a metadata intelligence grid by networking multiple datasets available with various agencies,
NATGRID today is neither fully operational nor given adequate importance by the present regime — it does not even have a full-time chief
Another pertinent issue is the demand for reforms in India's higher defence management.
Many committees like the Kargil Review Committee (1999), the Group of Ministers' (GoM) report (2000), and the Naresh Chandra Task Force (2012) has recommended  to create the post of Chief of Defence Staff as a single, authoritative source of military advice to the government. But it is yet see the limelight
Nuclear safety, security and regulation is another key area that the government needs to focus on. Worrying incidents like the recent heavy water leak at the Kakrapar Atomic Power Station in Gujarat and India's ambitious civilian nuclear expansion plans demand to civilian nuclear issues.
With regard to the structural reforms in the civilian nuclear sector, it is highly desired that the lapsed Nuclear Safety Regulatory Authority (NSRA) Bill be given attention to re-introduce it with necessary modifications.
In Jammu and Kashmir, radicalisation is on the rise and youngsters are joining the ranks of militancy, and there seems growing support for militancy in the Valley.
The author says that BJP has lost a historic chance to contain anti-India sentiments in the Valley and reduce the psychological distance between New Delhi and Srinagar.
2. A dispute that begs resolution
Topic: Border issues
Category: Security Challenges
Key points:
The 96-km estuary between India and Pakistan, cutting through where Gujarat State and Sindh province meet, has a dramatic impact on Indian security.
The disputed waters off Sir Creek could be among the world's most active drug trading centres
Both India and Pakistan unable to agree on the exact boundary, the differences flow into the Arabian Sea creating a vast stretch of disputed water, where fishermen's misery, terrorist designs and global drug syndicate interests are all converging.
Pakistan claims the entire Sir Creek based on a 1914 agreement signed between the government of Sindh and rulers of Kutch.
India claims that the boundary lies mid-channel, as was depicted in a map in 1925.
With Time, the creek has been changing its course and this has compounded the problems for demarcating EEZ's(Exclusive Economic Zones) which are rich in gas and mineral deposits.
The Indian fishermen are also facing security issues because of this unsettled borders.
India should attach more importance to the issue and find a solution to what is a low-hanging fruit among the many India-Pakistan bilateral disputes.
(additional reference)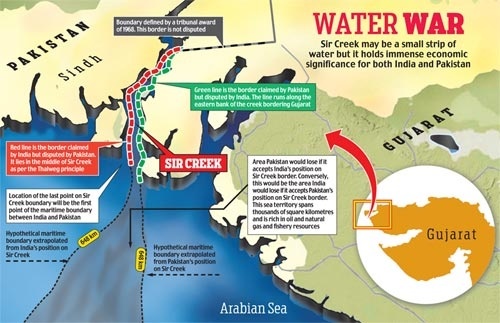 3. A new beginning in Myanmar
Topic: India Myanmar ties
Category: International Relations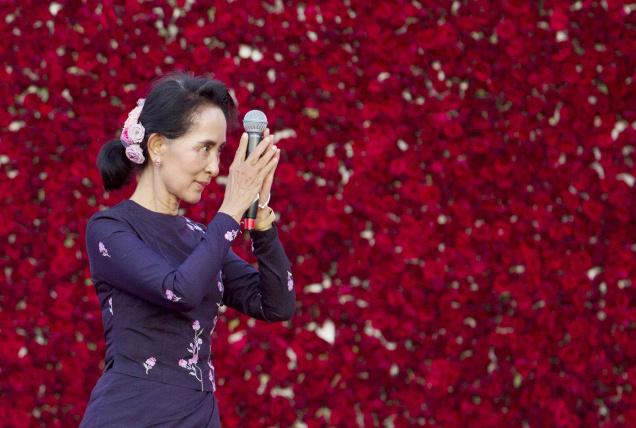 Key points:
 After more than five decades, Myanmar has democratically elected government with a civilian at the helm.
With U HtinKyaw, the National League for Democracy's candidate, being elected on March 15, the country will have a new President, a civilian Vice-President, and a Vice-President from the military, albeit under the supervision of the Tatmadaw or Myanmar's military.
Military still retains a quarter of the seats in Parliament and the power to nominate the three most important ministers: Defence, Home Affairs, and Border Affairs.
The relationship with India has to be seen in the context of this new regime.
India should actively engage with the new regime and build relations at multiple levels so as to give boost to our ACT EAST Policy.
1. Political Resolve Can Address CJI's Concerns
Topic: Transparency, accountability and governance issues
Category:Judiciary
Key Points:
Chief Justice of India is concerned about the alarming situation and crisis of credibility in Indian Judiciary.
Presently there is inordinate delay in delivering justice which tantamounts to denial of justice, undermines people's faith in judiciary and emboldens violators of law.
To tackle the issue of resolving backlog cases we need a holistic and systemic approach beyond filling of existing vacancies and increasing number of judges.
Political resolve is a must to bring in accountability.
Expediting trials in cases of undertrials languishing in prisons for years should be given top priority.
Methods like Alternative Dispute Resolution should bewidely used to resolvecases on ordinary citizens where some government agencies had foisted vexatious cases just to harass them.
Modern and scientific judicial management systems that track timelines and other metrics should be implemented.
Judicial independence and accountability rest more on the character and integrity of individual judges than the generous emoluments and allowances, security of tenure, and other constitutional safeguards.
For post-retirement assignments like with NHRC, tribunals, and commissions etc., transparent, fair and independent mechanisms for appointment of judges must be evolved.
2. Additional reading topic:
The New Indian Express: Page 10.
"Teachers of Law to Blame for Strange Judicial Orders" by Faizan Mustafa( Vice- Chancellor, NALSAR University of Law, Hyderabad)
F. Concepts-in-News: Related Concepts to Revise/Learn:
I. International Nuclear and Radiological Event Scale (INES)
II. Cabinet Committee on Security
III. Sir Creek Issue
IV. EEZ- Exclusive Economic Zone
V. National Security Council
VI. Geneva Peace Talks
VII. LCA-TEJAS
VIII. Alternative dispute resolution.
IX.Drug Controller General of India
G. Fun with Practice Questions 🙂
Question 1: Which of the following are true with respect to moderator in Nuclear Reactors.
Moderator main purpose is to moderate temperature in nuclear reactors.
2. Fast Breeder type reactors may not need moderator.
a) 1 only
b) 2 only
c) Both 1 and 2
d) Neither 1 or 2
Question 2: Consider the following statements?

1. NATCOM programme is related to United Nations Framework Convention on Climate Change.
2. NATGRID programme is related to modernisation of India's electricty sector.
Which of the above are true with respected to terms NATGRID and NATCOM that is regularly in news.
a) 1only
b) 2 only
c) Both 1 and 2
d) Neither 1 or 2
Question 3: The term AlphaGo is in news. which of the following is true with regard to AlphaGo.


a) It is an instrument to measure nuclear reactor's leakage radiation.
b) it is an unmanned aerial vehicle developed by DRDO
c) Its a computer programme
d) Its a new social networking site like whatsup.
Question 4: Which of the below statements are true with regard to India's Defence technologies.
TEJAS is India's indigenously developed pilot less target- light combat aircraft.
Nishant is unmanned areial vehicle.
a) 1 Only
b) 2 Only
c) Both 1 and 2
d) Neither 1 nor 2
Question 5: Sir creek boundary dispute is in between which of the following two countries ?

a. India-Bangladesh
b. India- Afghanistan
c. Sri Lanka-India
d. India-Pakistan
"Proper Current Affairs preparation is the key to success in the UPSC- Civil Services Examination. We have now launched a comprehensive 'Online Current Affairs Crash Course'.
Limited seats available. Click here to Know More."