11 April 1999
Agni-II test-fired
---
What happened?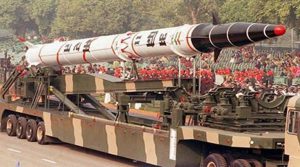 India's strategic ballistic missile, the Agni-II was test-fired for the first time on 11 April 1999 at Balasore, Odisha.
Agni Missile
In this edition of This Day in History, you can read about the Agni-II missile which is an integral part of the Indian defence structure. Internal security is a part of the UPSC syllabus.
The Agni missile series is a series of surface-to-surface ballistic missiles with a medium to intercontinental range. These are developed indigenously by India.
The series is named after one of the elements of nature, fire. It is also the name of the Hindu God of Fire.
The first missile in the family, the Agni-I was tested in 1989 and built as part of the Integrated Guided Missile Development Programme (IGMDP).
After its strategic importance was realised, it started being built as part of a separate programme.
Agni-II, the second one in the series, was first test-fired in 1999 from Abdul Kalam Island, off the coast of Odisha (in Balasore). The island was then called Wheeler Island.
Agni-II has an operational range of 2000 – 3000 km (medium-range, hence designated as MRBM – Medium Range Ballistic Missile) as compared to the Agni-I's 700 – 900 km.
Agni-II is 20 m long and 1 m wide in diameter. It weighs nearly 18000 kg and has a flight altitude of 230 km. It utilises solid propellants in its two stages. It can carry a warhead of up to 1000 kg. It is also armed with a high-accuracy navigation system.
It is built to be launched from both rail and road mobile configurations, this makes it really vital as a land-based nuclear deterrent.
It is a nuclear weapons capable missile and has already been inducted into the Indian Army.
The Agni-II is envisioned as the backbone of the country's missile-based strategic nuclear deterrence.
It has the capacity to reach the whole of Pakistan and most parts of south and southeast China.
Agni-II was developed by adding on the earlier Agni-TD programme that gave the design and technology required for long-range missiles.
The missile entered production-phase in March 2002. It was constructed at Bharat Dynamics Limited (BDL), Hyderabad at a cost of Rs.35 Crore per unit.
As of 2017, 17 such missiles have been made.
The Agni-IIA is a more advanced version of the Agni-II, and has been renamed Agni-IV.
Also on this day




---