7 December 1949
Armed Forces Flag Day
---
What happened?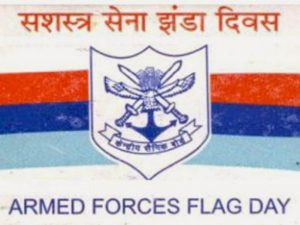 On 7 December 1949, the country observed the first Armed Forces Flag Day in honour of the martyrs and the men in uniform who fought for the safety and honour of the country. Since then, the Armed Forced Flag Day has been an annual affair in India.
Armed Forces Flag Day Background
On August 28, 1949, a committee that was led by the then Defence Minister decided to observe December 7 as a Flag Day every year.
The main purpose behind this celebration was to give the civilian population a chance to directly contribute to the welfare of the armed forces personnel. On this day, the general population would be distributed small flags in return for their monetary contributions that would go into the welfare of India's army, navy, air force personnel.
The idea behind this day's observance is that it is the civilian population's responsibility to take care of the families and dependents of the armed forces, who sacrifice so much for the welfare and safety of the whole country.
The men and women in the armed forces give their energies and talents, and their youth to the country. They give up all material comforts and toil hard to secure the country's borders against forces ready to spread terror and tragedy on the country's citizens.
Many of their lives are cut short during the course of their routine work. Many others are severely and often permanently disabled while performing their duties. Then there are ex-servicemen who suffer from serious ailments like cancer and heart disease.
Also, there are about 60000 service personnel who are compulsorily retired every year at the ages of 35 – 40 years. This is because of the necessity of keeping a young force.
The country's citizens reap the advantages of the services offered by these personnel on the borders. The Flag Day offers an opportunity to citizens to give back to these forces as a token of their appreciation and gratitude.
This is an entirely voluntary contribution towards providing care, rehabilitation, support and financial help to the disabled, non-pensioner, old and infirm ex-servicemen and their families, war widows and orphaned children.
The Armed Forces Flag Day Fund (AFFDF) is administered by the Kendriya Sainik Board. The Fund is headed by the Defence Minister at the Centre and by the Governors or Lieutenant Governors at the Sate or Union Territory level.
The three chief purposes behind the Flag Day observance are:

Rehabilitating battle casualties
Taking care of the welfare of the serving personnel and their families
Resettling and welfare of ex-servicemen and their families

On this day, the three branches of the Indian armed forces namely, the army, the navy and the air force conduct shows, carnivals and other entertainment programmes for the public to spread awareness about their work. Small flags of the three services are distributed all over the country.