TABLE OF CONTENT
A.

 GS1 Related


Art and Culture
1. India to celebrate Falun Gong


B.

 GS2 Related


Polity
1. SC stays cattle sale rules across nation
2. Ministry forms panel for cruise tourism 
3. Minimum qualifications for coop. societies' polls
International Relations
1. U.S. may tighten rules for foreign students


C.

 GS3 Related


Economics
1. 5 States, a UT sign pact with Centre on e-Marketplace
2. Sugar import duty increased to 50% to support domestic prices
3. Railways to promote small entrepreneurs in big way
Environment and Ecology
1. Sensor network to map and predict pollution, effluents in Godavari


D.

 GS4 Related




E. 

Concepts-in-News: Related Concepts to Revise/Learn




F. 

Bills/Acts/Schemes/Orgs in News
G. Practice Questions for UPSC Prelims Exam

UPSC Current Affairs 2017: News Analysis
---
1. India to celebrate Falun Gong
In news:
Falun Gong, the ancient Chinese holistic system that is banned in China, will be celebrated in India on July 15 with a parade and Human Word Formation in New Delhi
Basic Information:
Falun Gong:
Falun Gong (literally, "Dharma Wheel Practice" or "Law Wheel Practice") is a Chinese spiritual practice that combines meditation and qigong exercises with a moral philosophy centered on the tenets of truthfulness, compassion, and forbearance
The practice emphasizes morality and the cultivation of virtue, and identifies as a qigong practice of the Buddhist school, though its teachings also incorporate elements drawn from Taoist traditions. Through moral rectitude and the practice of meditation, practitioners of Falun Gong aspire to eliminate attachments, and ultimately to achieve spiritual enlightenment.
Qigong is a holistic system of coordinated body posture and movement, breathing, and meditation used for health, spirituality, and martial arts training
---
1. SC stays cattle sale rules across nation
Context:
Union Government's May 26 notification: banned cattle sale in livestock markets for slaughter and religious sacrifices.
The rules banned trading in cattle for slaughter at animal markets. The rules included buffaloes in their definition of cattle, raising concerns that they would jeopardize the buffalo meat export business as the supply chain of spent buffaloes will be disrupted.
The Central rules drew criticism from various quarters, including opposition parties, who argued that they virtually ban the sale of cattle in the country. 
In news:
The Supreme Court stayed the Centre's May 26 notification.
Government's stance: the government acquiesced that public outcry and objections from the States about the law's impact on livelihoods made it realise that the rules need "tweaking".
Additional Solicitor- General P. Narasimha response: the government had received a "large number of representations" that "certain aspects" of the Prevention of Cruelty to Animals (Regulation of Livestock Markets) Rules, 2017 and the Prevention of Cruelty to Animals (Maintenance of Case Property Animals) Act, 2017 were "troubling" and threw up some "sensitive" questions about the Central rules.
2. Ministry forms panel for cruise tourism
In News
The Shipping Ministry is setting up a committee to examine cruise tourism reforms
Objectives of the Committee
The committee will consider a single window system for
cruise requirements
dedicated approach road for cruise terminals
reducing security layer for passengers and other measures
Other efforts by the Government
The Ministry had hired a global consultant to firm up an action plan aimed at facilitating customer-friendly and hassle-free logistics process for the cruise tourism industry
Current Scenario of the cruise tourism in India
India's cruise passengers stood at 1.76 lakh in 2016-17, which was merely 0.5% of the global share
Domestic cruise passengers are estimated to grow to 1.5 million by 2031-32
Of the 12 major ports Mumbai, Goa, Cochin, New Mangalore and Chennai have facilities to berth international cruise ships
3. Minimum qualifications for coop. societies' polls
In news:
Rajasthan has become the country's first State to lay down the minimum educational qualifications for contesting elections to village cooperative societies and various other cooperative bodies.
The State Cooperative Societies Rules, 2003, were amended for the purpose and notified on Monday.
Qualification:

The educational qualifications will range from Class V to Class VIII for election as members of governing boards of dairy societies, farming societies, consumer societies, weavers' societies, housing construction societies, urban banks, primary land development banks, credit societies, salary earners' societies and cooperative unions.
Category: INTERNATIONAL RELATIONS
1. U.S. may tighten rules for foreign students
Present System:
International students can stay in the U.S. as long as they are enrolled for a programme.
Students who enter the U.S on F-1 visas are issued an entry document with an end date that states "duration of stay", which is theoretically open-ended. They can stay as long as they have a valid I-20 document, which is issued by the university, with all details regarding the student's programme of study, financing, etc. They can also move from one programme to another and from one institution to another, by a notification, based on a new I-20 document that the institution issues.
Key fact:
Indians are the fastest growing group among the international student population in the U.S.
There are 1,66,000 students from India pursuing higher education in the U.S. now, up from about 1,00,000 two years earlier. A large majority of them pursue science, technology, engineering and math courses.
Around 1.4 million international students are currently present in the U.S.
New proposed Changes: Foreign students in the United States may be required to reapply every year for permission to stay in the country.
Impacts: The proposed measures could increase costs and paper work for students and universities.
Why such a move?
The proposal is part of an ongoing review of the immigration policy to ensure that it "promotes the national interest, enhances national security and public safety and ensures the integrity of our immigration system."
1. 5 States, a UT sign pact with Centre on e-Marketplace
In news:
In a spirit of cooperative federalism, 5 States and a Union Territory (UT) on Tuesday formally adopted the Centre's initiative called the Government e-Marketplace (GeM)
Aim : GeM ensures that public procurement of goods and services in India worth more than Rs. 5 lakh crore annually is carried out through the online platform for transparency and to eliminate corruption.
The States and the UT that signed an MoU with the Centre include Andhra Pradesh, Assam, Gujarat, Telangana, Puducherry and Arunachal Pradesh.
GeM can enhance transparency, efficiency and speed in public procurement.
2. Sugar import duty increased to 50% to support domestic prices
In News:
The government on Monday raised the import duty on sugar to 50 per cent from 40 per cent to discourage dumping of cheaper supplies from abroad and as local prices stabilise after a spike earlier this marketing year
The move will improve the ability of sugar mills to pay farmers for their supplies of cane, according to the sugar industry
Relief for producers:
The hike in the duty comes as a relief for mills amid slowing domestic demand, especially after demonetisation
Cost of production is also increased due to high cane prices
This will help the sugar industry pay the cane price (fair and remunerative price), which has been raised by 11 per cent for the marketing year starting October 2017
Sugar import:
In April this year, the government had allowed duty-free imports of raw sugar up to five lakh tonnes to improve domestic availability
It was due to fear that a drop in domestic output in 2016-17 could trigger a spiral in prices to irrational levels
This was for the first time since 2012 that imports of sugar under the open general license (OGL) was allowed at zero duty, albeit in limited quantity
3. Railways to promote small entrepreneurs in big way
In News:
Indian Railways has taken a big step in a plan to promote micro and small enterprises
It has reserved 358 items including cleaning apparatus, stationery and leather items exclusively for procurement from the MSE sector
Besides, the sector has been exempted from paying tender cost and earnest money deposit for participating in the railway tender
Other changes:
MSEs will be now encouraged to participate in the business of maintenance and operation of rolling stock and also in procurement of cables, linen, paints, coupler body, wall panelling, cutting and drilling machines
Taking up advice:
Recently the national transporter has organised a meeting to increase the participation of micro and small enterprises in railway procurement
The meeting was attended by Railway Minister and senior officials from the ministry and the Small Industries Development Bank of India (SIDBI) besides MSE vendors
The Research Designs and Standards Organisation (RDSO), the research wing of the Railways, was advised to extend its support to MSE vendors on technical issues and SIDBI was advised to provide financial support to MSEs
Category: ENVIRONMENT AND ECOLOGY
1. Sensor network to map and predict pollution, effluents in Godavari
In news: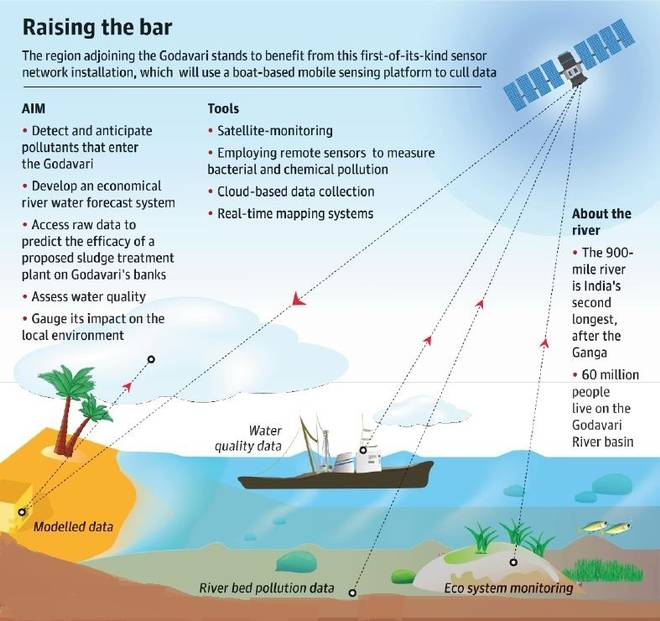 A group of U.S. researchers is working on a system to map undulating pollution trends in the Godavari.
New approach:
Using a mix of methods, including satellite-monitoring, traversing stretches of the river to collect water samples and using special sensors to measure bacterial and chemical pollution, the researchers are trying to develop a cost-effective forecast system.
The team's long-term objective is to be able to inform State officials and citizens of a probable spike in, say, levels of dangerous microbes or effluents, similar to weather and air pollution forecasts
It is to be able to access "raw data" that could be used to inform the efficacy of a proposed faecal sludge treatment plant and whether behavioural interventions — including incentives or punishments — to restrict activities that pollute the river could actually work.
The project measures parameters such as total dissolved salts, nitrate, pH, temperature, turbidity and electrical conductivity. These are relayed to a website called Thoreau, a wireless sensing network maintained at the University of Chicago to map environmental parameters, for analysis. Some river attributes such as microbial levels require to be measured in laboratories, though the team hopes eventually to be able to use low-cost sensors that measure them, too, in real time.
Nothing here for Today!!!
E. Concepts-in-News: Related Concepts to Revise/Learn
---
Nothing here for Today!!!
F. Bills/Acts/Schemes/Orgs in News
---

G. Practice Questions for UPSC Prelims Exam
---
Question 1. What do you mean by Masala Bond?
Masala bonds are bonds issued outside India but denominated in Indian Rupees.
Masala bonds are bonds issued outside India but denominated in US dollars.
Masala bonds are bonds issued outside India but denominated in UK dollars.
None of the above.
See
Question 2. Consider the statements about Organisation for Economic Co-operation and 
Development (OECD):
It is UN agency.
It's head quarter is at New York.
Which of the above statements is/are correct ?
1 only
2 only
Both 1 and 2
None
See
Question 3. 

Sometimes Base Erosion and Profit Shifting (BEPS ) in news. What are they?
Resolving NPA crisis in banking sector
Tax avoidance strategy
Free movement of skilled professional across countries
Free movement of goods across countries
See
Question 4. Deen Dayal Upadhyaya Grameen Kaushalya Yojana is implemented by 
Ministry of Housing and Urban Poverty Alleviation.
Ministry of Rural Development
Ministry of Panchayath Raj Insitution
None of the above
See
Question 5: Deen dayal Antyodaya Yojana is implemented by _________.
Ministry of Housing and Urban Poverty Alleviation.
Ministry of Rural Development
Ministry of Panchayath Raj Insitution
None of the above
See
"Proper Current Affairs preparation is the key to success in the UPSC- Civil Services Examination. We have now launched a comprehensive 'Online Current Affairs Crash Course'. Limited seats available. Click here to Know More."
Practice More: Enroll for India's Largest All-India Test Series