TABLE OF CONTENTS
A.

 GS1 Related




B.

 GS2 Related


Polity
1. Soon, you will be able to order diesel online
2. Cabinet approves anti-superstition Bill
3. SC against last-minute litigation
4. 'Children born of void marriage are legitimate'
Health Issues
1. Falling off the health-care radar
International Affairs/Bilateral Relations
1. Army hits ultras on Myanmar border
2. India assures support to Syria in the fight against terrorism


C.

 GS3 Related


Economy
1. New tax, rule may 'aid' gold smuggling
2. 'Panel to review industrial policy hurdles'
3. India Ratings cuts GDP estimate citing demonetisation, GST
Internal Security and Defense related
1. CCS clears internal security scheme
Environmental Science and Ecology
1. Western Ghats throw up a new snake


D. 

GS4 Related




E. 

Prelims Fact


F. UPSC Prelims Practice Questions
G. UPSC Mains Practice Questions 
Nothing here for Today!!!
1. Soon, you will be able to order diesel online
In news:
The Ministry of Petroleum is working towards creating an e-commerce platform in which customers can order diesel online and get delivery at their doorstep.
Reason behind this move? doorstep delivery of fuel is a viable model to increase digital transactions as well as shorten queues at petrol pumps.
Key challenge ahead:
Petrol delivery: since it is highly inflammable.
Indian Oil Corporation has come up with diesel as the fuel for this model. It is not as flammable, and takes a lot of effort to catch fire.
2. Cabinet approves anti-superstition Bill
In news:
The Karnataka State Cabinet approved the Karnataka Prevention and Eradication of Inhuman Evil Practices and Black Magic Bill, 2017 — better known as the anti-superstition Bill
The bill seeks to ban among other practices the controversial 'made snana' ritual (devotees rolling over plantain leaves having food leftovers) in public/religious places.
'Made snana' is practised at Kukke Subrahmanya temple in Dakshina Kannada district, in violation of human dignity.
Bill proposes to ban evil practices such as killing an animal by biting its neck (gaavu).
Bill seeks to ban:
The Bill also encompasses ban on human sacrifice; coercing a person to perform fire-walk at religious festivals; piercing jaw with rods, baibeega practice; pelting stones in the name of banamathi, mata-mantra; creating panic in the minds of the people by invoking ghost or mantras; claiming to perform surgery with fingers, or claiming to change the sex of foetus in the womb.
It also seeks to ban practices against women: forcing them to stay in isolation; subjecting them to inhuman and humiliating practices such as parading them naked in the name of worship (betthale save); and sexual exploitation by invoking supernatural powers.
Bill fails to cover:
Regulations for astrology and vaastu practice, piercing of ears and nose of children in accordance with certain rituals, and performance of religious rituals such as 'Keshlochan' by the Jains.
Vigilance officers:
The Bill proposes appointment of a vigilance officer to monitor violations of the provisions of the law and its rules.
Violators of the law will be penalised, with imprisonment of not less than one year and a fine of not less than ₹5,000.
3. SC against last-minute litigation
In news:
The Supreme Court has decided to lay down deterrent measures against "last-minute" litigation in medical admission matters.
Supreme Court observations: approaching courts in the eleventh hour upsets the mental equilibrium of thousands of students and leaves admission procedures in colleges across the country in a tizzy.
4. 'Children born of void marriage are legitimate'
In news:
The Supreme Court has upheld a Madras High Court decision that children born of an invalid or void marriage are legitimate and eligible for appointment in the government sector on compassionate grounds.
Case:
The case dealt with the application filed by a man in the Southern Railway, following the death of his father while in harness.
Railway circular
The Railways rejected his application on the ground that he was born out of the second marriage of his father.
Railway Board circular, 1992: bars the appointment of children born of void marriages, especially children out of a second marriage when the first marriage is still subsisting.
Supreme Court judgment in Rameshwari Devi versus State of Bihar, 2000:
The apex court, in this judgment, had ruled on the legitimacy of children of void and voidable marriages.
It held that even though the marriage was void, the children would be legitimate and would be entitled to claim share benefits, including family pension and death-cum-retirement gratuity.
1. Falling off the health-care radar
Context:
Care for the elderly needs to be better targeted by the health system and social networks
National Health Policy (NHP), 2017:
It overlooks the rapid rise in the share of the old (60 years or more), and associated morbidities, especially sharply rising non-communicable diseases (NCDs) and disabilities.
With rising age, numerous physiological changes occur and the risk of chronic diseases rises.
It fails to make a distinction between the aged in general and those suffering from chronic conditions
Based on the India Human Development Survey (IHDS) 2015, among aged males and females, those suffering from NCDs nearly doubled during 2005-12
Non-communicable diseases:
The health system is ill-equipped to deal with surging NCDs
Staffs are not well trained to treat/advise the aged suffering from dementia or frailty
The quality of medical care is abysmal
Hospitalization costs are exorbitant and impoverishing.
Health insurance covers a fraction of medical expenses incurred.
A vast majority of those with NCDs had access to medical advice and treatment but the proportion remained unchanged during 2005-12 ,because
Heterogeneity in providers of medical help — from qualified doctors to faith healers and quacks
Sharp deterioration in the quality of medical services
Immunity and Loneliness:
The link between loneliness and mortality is mediated by unhealthy behaviours and morbidity
Loneliness alters physiology at a more fundamental level.
Research shows that loneliness increases vascular resistance and diminishes immunity.
Networking as support
Today, 'women are increasingly filling other roles, which limits the capacity of women and families to provide care for older people
Children often play an important role in elderly support
If social networks are instrumental in bonding together in periods of personal crises, this could compensate for a lack of family support
But lack of social harmony induces helplessness, disruption of medical supplies and network support.
Way forward
Health systems have to be configured to deal with not one NCD but multiple NCDs to manage them better.
The reconfigured medical system must be complemented by stronger family ties and social networks.
Ageing in place can be further enhanced by creating age-friendly environments that enable mobility and allow them to engage in basic activities.
Category: INTERNATIONAL AFFAIRS/BILATERAL RELATIONS
1. Army hits ultras on Myanmar border
In news: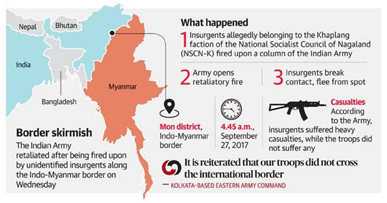 The Army has inflicted heavy casualties on NSCN(K) militants in an operation close to the Myanmar border.
NSCN(K): the National Socialist Council of Nagaland-Khaplang (NSCN-K), a key rebel group that had pulled out of the 14-year-old ceasefire in March 2015 and has been on the warpath with security agencies ever since.
The operation was limited to the Indian border.
June 2015 operation: Indian troops crossed over to Myanmar to carry out a surgical strike against NSCN(K) militants.
2.India assures support to Syria in the fight against terrorism
Context:
Grand mufti of Syrian Republic Ahmad Badr Eddine Mohammad Abid Hassoun visit to India.
In news:
India assures support to Syria in the fight against terrorism, a major theatre of dreaded terror group ISIS.
The Home Minister, Rajnath Singh welcomed the grand mufti and discussion was held on wide-ranging issues including terrorism and security.
1. New tax, rule may 'aid' gold smuggling
Context:
Gold smuggling in India
India is the world's second-biggest consumer of the metal.
Gold import is likely to rise during the country's peak holiday season as buyers try to avoid paying a new sales tax and to dodge new transparency rules
Unaccounted sale will rise in the festive season as some customers are trying to buy without bills
In news:
Background information:
In August, India moved to include gold sales under the Prevention of Money Laundering Act (PMLA).
The law makes it mandatory for jewellers to keep records of customers' personal identification numbers or tax code number for transactions above ₹50,000.
Key Fact:
Indian gold demand typically rises in the last three months of the year as consumers buy more for the wedding season as well as for festivals such as Diwali and Dussehra.
The World Gold Council estimate: India imported 120 tonnes of gold in 2016.
In India, less than 4% of the people pay income tax. Many tax evaders choose to park their illicit wealth in gold as it is nearly as liquid as currency in the country.
Present scenario:
The sales tax on gold rose to 3% from 1.2 % as part of a new nationwide sales tax regime that started on July 1.
Jewellers are buying smuggled gold at discount in cash, then making jewellery and selling it to consumers without receipts.
2. 'Panel to review industrial policy hurdles'
In news:
The Centre will soon set up a 'regulatory review committee'.
Reason: to address policy-related roadblocks and other factors inhibiting the country's industrial growth.
It will also address issues halting 'ease of doing business' and private investments.
The government is also thinking about a new mechanism to monitor domestic and foreign investment proposals.
The idea is to fast-track decisions on such proposals, in coordination with State governments and the Centre's investment facilitation and promotion arm, 'Invest India'.
 Industry's unutilized capacity:
The Centre is looking at ways to ensure use of the industry's unutilised capacity.
Currently, the country-wide average unutilised capacity is about 26% (In other words, average utilisation of industrial capacity is only 74%).
Measures will soon be taken soon to increase domestic demand as well as boost exports to ensure the entire capacity is utilized.
3. India Ratings cuts GDP estimate citing demonetisation, GST
In news:
India Ratings and Research (Ind-Ra) an arm of global rating agency Fitch has cut India's GDP growth forecast to 6.7% from earlier expected 7.4% in the current fiscal.
Reasons:
Because of the disruptive impact of demonetisation and the new GST
After demonetisation, failing to remonetise the economy quickly has proved fatal for the unorganised sector/small and medium enterprise where business transactions are heavily cash dependent
India's GDP growth has been in a free fall since the first quarter of the last fiscal year.
Basic Information:
India Ratings and Research (Ind-Ra)
It is India's Most Respected credit rating agency committed to providing the India's credit markets with accurate, timely and prospective credit opinions.
Ind-Ra currently maintains coverage of corporate issuers, financial institutions, which includes banks and insurance companies. Finance & leasing companies and managed funds, Urban Local Bodies, Structured Finance and Project Finance.
Ind-Ra is headquartered in Mumbai and, it is a 100% owned subsidiary of the Fitch Group
Category: INTERNAL SECURITY AND DEFENSE RELATED
1. CCS clears internal security scheme
In news:
The Union Cabinet has approved a ₹25,000-crore internal security scheme to strengthen the country's law and order mechanism and mordernise the police forces.
The Cabinet Committee on Security (CCS), headed by Prime Minister Narendra Modi, gave its approval for the implementation of the umbrella scheme, Modernisation of Police Forces (MPF), for 2017-18 to 2019-20.
The new initiatives were being introduced to provide assistance to States for upgradation of police infrastructure, forensic science laboratories, institutions and the equipment available with them to plug critical gaps in the criminal justice system.
Police stations would be integrated to set up a national database of crime and criminal records. It would be linked with other criminal justice system such as prisons, forensic laboratories and prosecution offices.
Key facts:
Country's biggest ever internal security scheme.
The financial outlay over the three-year period is ₹25,060 crore, out of which the Central government's share will be ₹18,636 crore and the States' ₹6,424 crore
Special provisions had been made under the scheme for internal security, law and order, women's security, availability of modern weapons, mobility of police forces, logistical support, hiring of helicopters and e-prison among others.
Various other initiatives:
Central budget outlay of ₹10,132 crore had been earmarked for internal security-related expenditure for Jammu and Kashmir, northeastern States and those affected by left wing extremism (LWE).
A scheme for special Central assistance (SCA) for 35 districts worst hit by LWE had been introduced with an outlay of ₹3,000 crore to tackle the issue of underdevelopment.
An outlay of ₹100 crore had been earmarked for police infrastructure upgradation, training institutes, investigation facilities, etc. in the northeastern States.
Category: ENVIRONMENTAL SCIENCE AND ECOLOGY
1. Western Ghats throw up a new snake
In news:
Scientists have described a new species of non-venomous endemic snake, Aquatic Rhabdops.
Location: Northern Western Ghats.
Features:
The three-foot-long
Nocturnal snake hunts for prey underwater.
All Rhabdops snakes are endemic to India.
The Olive Forest Snake Rhabdops olivaceus is found only in the Western Ghats while the bi-coloured Forest Snake Rhabdops bicolor lives in a few localities in the northeast.
The Aquatic Rhabdops too is found only in the laterite plateaus of the northern Western Ghats in Goa, southern Maharashtra and northern Karnataka, in areas facing severe human pressures.
Endemicity, the phenomenon of being present only in a specific geographical area.
Nothing here for Today!!!
Nothing here for Today!!!
F. Practice Questions for UPSC Prelims Exam
Question 1. The Cabinet Committee on Security (CCS), is headed by
Prime Minister
Defense Minister
Home Minister
Defense Secretary
See
Question 2. Consider the following statements.
All Rhabdops snakes are endemic to India.
Rhabdops are nocturnal snake and hunt for prey underwater.
Choose the correct statements.
1only
2 only
Neither 1 nor 2
Both 1 and 2
See
Question 3. The parent organisation of the Indian Council for Cultural Relations is the
Ministry of Culture
Ministry of Tourism
Ministry of External Affairs
It is an autonomous organisation
See
Question 4. 'Technosphere', a term which recently appeared in the news, refers to all
Urban regions of the developed world.
Urban regions of our planet.
Structures those humans have constructed in urban areas.
Structures those humans have constructed to keep them alive on the planet including farms.
See
Question 5. The Lokpal Act, in its present form, provides for a five-member panel 
to select the anti-corruption ombudsman, comprising the
Prime Minister
Lok Sabha Speaker
Rajya Sabha Chairman
Chief Justice of India
Leader of the Opposition in the lower House
Select the correct answer using the code given below:
1, 2, 3, 4 and 5
2 and 5 only
1, 2, 4 and 5 only
1, 3 and 4 only
See
G. UPSC Mains Practice Questions
GS Paper II
What is Two Round Election system? Should India move towards two round first past the post system? Examine the pros and cons of such a move.
GS Paper III
2. What are the various Export control regimes? What does India stand to gain from the membership of these regimes?
Also, check previous Daily News Analysis
"Proper Current Affairs preparation is the key to success in the UPSC- Civil Services Examination. We have now launched a comprehensive 'Current Affairs Webinar'. Limited seats available. Click here to Know More."
Enroll for India's Largest All-India Test Series