TABLE OF CONTENTS
A.

 GS1 Related




B.

 GS2 Related


INTERNATIONAL RELATIONS
1. Court restrains Rajapaksa from functioning as PM


C.

 GS3 Related


INTERNAL SECURITY
1. Woman Maoist surrenders
SCIENCE AND TECHNOLOGY
1. 5.8-tonne GSAT-11 ready for launch
2. Three astronauts will spend the next six-and-a-half months on the space station


D.

 GS4 Related


1. Inspector, youth killed as mob attacks U.P. outpost


E. 

Editorials


INTERNATIONAL RELATIONS
1. Two Punjabs, one South Asia (Kartarpur corridor; India-Pakistan)
2. Tariff truce (Trade Wars)
ECONOMY
1. Make planning fashionable again (Planning)


F. 

Tidbits


1. Sex-sorted semen to control stray bulls
2. 'Women with disabilities are more vulnerable'


G. 

Prelims Fact


H. UPSC Prelims Practice Questions
I. UPSC Mains Practice Questions 

Nothing here for today!!!
Category: INTERNATIONAL RELATIONS
1. Court restrains Rajapaksa from functioning as PM
Context
Sri Lanka's Court of Appeal on Monday temporarily restrained controversially installed Prime Minister Mahinda Rajapaksa and his Cabinet of Ministers from functioning in their respective offices.
Details of the issue
The interim order follows a quo warranto petition filed by 122 MPs on November 23, challenging Mr. Rajapaksa's continuance in office after he lost two trust votes in Parliament on November 14 and 16.
Rajapaksa has decided to appeal in the Supreme Court on Tuesday, as he is "not in agreement with the interim order."
The appeal court has asked the former President and his Ministers to explain, on whose authority they continued in office despite the legislature voting them out twice.
Rajapaksa and President Maithripala Sirisena, who appointed him in place of incumbent Prime Minister Ranil Wickremesinghe in a widely criticised move, are yet to recognise the outcome of the votes in Parliament, citing "breach of procedure."
MPs opposed to Mr. Rajapaksa's appointment have shown a majority in the House as many as six times in the last three weeks.
Background:
Relations between Sirisena and Wickremesinghe have soured since their parties suffered humiliating losses to Rajapaksa's party in February's local council elections.
The pair have disagreed over economic policy and day-to-day administration of the government. Recently, they reportedly clashed during a cabinet session over plans to lease a container terminal to neighbouring India.
Earlier this year, Sirisena reneged on a pledge not to run for re-election, sparking tensions with Wickremesinghe who is believed to have his own presidential ambitions.
Sirisena is also thought to be behind a failed attempt to impeach Wickremesinghe in April, when 122 legislators in the 225-member parliament voted to back the now-sacked prime minister.
The ruling coalition has been further strained in recent days by strong criticism from Sirisena and his allies that ministers from Wickremesinghe's party did not act properly in investigating an alleged assassination plot to kill the president and former Defence Secretary Gotabaya Rajapaksa, the new prime minister's younger brother.
Rajapaksa, who served as president from 2005 to 2015, put down the decades-old Tamil Tiger separatist struggle in May 2009 through a military assault that killed up to 40,000 ethnic Tamil civilians, according to rights groups. His government was also accused of corruption and murdering political opponents.
Sirisena had pledged accountability for war atrocities, but has faced international criticism for being slow to deliver on justice.
Caught in a bitter tussle with his Prime Minister Ranil Wickremesinghe, with whom he joined hands to form the government in 2015, Mr. Sirisena sacked him abruptly on October 26 and appointed former President Mahinda Rajapaksa in his place.
The move drew considerable domestic and international criticism for its apparent defiance of the Constitution. Mr. Wickremesinghe refused to accept the decision and sought a vote in the House to test who commanded its confidence.
Context
A hardline woman Maoist, Ide Madi (23) alias Jiwani, who had a reward of ₹1 lakh on her head, surrendered before the police in Odisha's Malkangiri district on Monday
Details of the issue
She was a member of the Kalimela area committee under the Malkangiri division of Andhra Odisha Border Special Zonal Committee (AOBSZC) of the outlawed Communist Party of India-Maoist (CPI-Maoist) organisation.
According to police records, she was involved in at least five murders since 2017, and in several incidents of Maoist violence and exchanges of fire with security personnel. The Odisha government had declared a reward of ₹1 lakh rupees for her capture.
Ide said increased area dominance by security forces in remote areas of Kalimela because of frequent anti-Maoist operations was a major reason behind her decision to surrender. She had also realised, she stated, the futility (Uselessness) of Maoist violence and was frustrated by the brutal killing of innocents by Maoist leaders, like Deba Madhi alias Randev, in the Malkangiri district.
Meena said Ide would be provided with all assistance for rehabilitation under the Surrender and Rehabilitation Scheme of the Odisha government.
Government Approach towards Naxalism
Focusing on infrastructure creation through Additional Central Assistance scheme & Road Requirement Plan scheme.
Universal Service Obligation Fund supported Scheme of Mobile Services to increase mobile connectivity.
Schemes like Roshni for skill development of rural poor youth.
Facilities of residential schools to children.
To improve public perception of state's commitment towards their welfare, states have been asked to effectively implement provisions of PESA, 1996 on priority, which – categorically assigns rights over minor forest produce to Gram Sabhas; funds are provided to security forces under Civil action program for conducting welfare activities in their deployment areas.
Surrender-Cum Rehabilitation policy for Naxalites in affected areas.
Category: SCIENCE AND TECHNOLOGY
1. 5.8-tonne GSAT-11 ready for launch
Context
A team of top officials and engineers of the Indian Space Research Organisation (IISRO), now stationed in the Guiana Space Centre, South America, is going over the last steps before it sees off the heaviest Indian communication satellite, GSAT-11, to its space orbit.
Details of the launch
The 5,854 kg satellite, almost double the biggest one built or launched by ISRO to date, will ride up on European launch vehicle Ariane 5 ECA, numbered VA246, between 2.07 a.m. and 3.23 a.m. IST, according to the schedule of Arianespace, which is providing the launch services.
GSAT-11 is part of ISRO's new family of high-throughput communication satellite (HTS) fleet that will drive the country's Internet broadband from space to untouched areas; the broadband domain is now ruled by underground fibre and covers partial and convenient locations.
Already up in space are two HTSs — GSAT-29 (November 14) and GSAT-19 (June 2017) — while one more is due to join them in the near future. They are all to provide high-speed Internet data services at the rate of 100 Gbps (Gigabits per second) to Indian users. ISRO has earlier said this speed would be far better than what is available in the country now.
The HTSs will also be the backbone of pan-India digital or easy Internet-based programmes and services — such as Digital India, Bharat Net for rural e-governance, and commercial and public sector VSAT Net service providers.
According to ISRO, GSAT-11's multiple spot beam coverage — 32 in Ku band and 8 in Ka bands — will deliver an improved service of 16 gbps over the Indian region and nearby islands. It said, "GSAT-11 will play a vital role in providing broadband services across the country. It will also provide a platform to demonstrate new generation applications."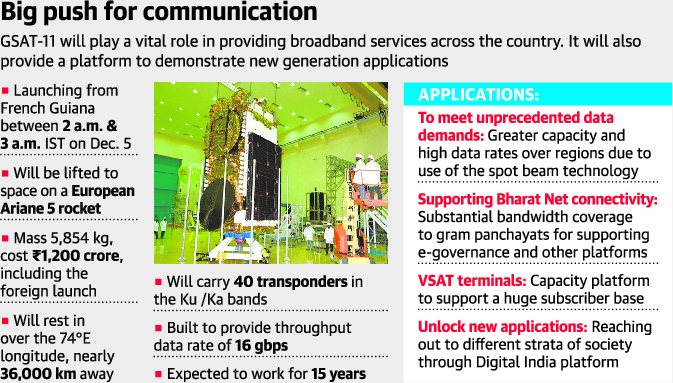 2. Three astronauts will spend the next six-and-a-half months on the space station
Context
A Soyuz spacecraft carrying Russian, American and Canadian astronauts arrived at the International Space Station on Monday in the first manned mission since a failed launch in October.
The Soyuz is the only means of reaching the ISS since the U.S. retired the space shuttle in 2011.
International Space Station (ISS)
The International Space Station (ISS) is a space station, or a habitable artificial satellite, in low Earth orbit. The ISS is now the largest artificial body in orbit.
ISS components have been launched by Russian Proton and Soyuz rockets as well as American Space Shuttles.
The ISS serves as a microgravity and space environment research laboratory in which crew members conduct experiments in biology, human biology, physics, astronomy, meteorology and other fields.
The station is suited for the testing of spacecraft systems and equipment required for missions to the Moon and Mars.
The ISS maintains an orbit with an altitude of between 330 and 435 km. It completes 15.54 orbits per day.
ISS is the ninth space station to be inhabited by crews, following the Soviet and later Russian Salyut, Almaz, and Mir stations as well as Skylab from the US.
Five different space agencies representing 15 countries built the $100-billion International Space Station. NASA, Russia's Roscosmos State Corporation for Space Activities (Roscosmos), the European Space Agency, the Canadian Space Agency and the Japan Aerospace Exploration Agency are the primary space agency partners on the project.
The ownership and use of the space station is established by intergovernmental treaties and agreements. The station is divided into two sections, the Russian Orbital Segment (ROS) and the United States Orbital Segment (USOS), which is shared by many nations.
1. Inspector, youth killed as mob attacks U.P. outpost
Context
A police inspector and a youth were killed when a mob of around 400 persons clashed with the police following the alleged discovery of cow carcasses in a village in Bulandshahr district of western Uttar Pradesh on Monday.
Around half-a-dozen policemen, including a DSP, and several civilians were injured in the clashes, which saw firing from both sides and stones being pelted on the police outpost at Chingravati in Syana. Inspector Subodh Kumar Singh, who was killed in the attack, was in-charge of the outpost.
Video footage showing the officer lying dead in his jeep in a field with youth standing around filming the scene on phones amid sounds of bullets being fired had put pressure on the police to clarify the cause of death. While the body was hanging by the door, the window panes were shattered and all doors were open.
Related Concept – Mob Justice
Mob justice is the verdict of the crowd by subverting the legal procedures and institution in situation of great injustice and mass suffering.
This is totally against the law of the land, detrimental to society and catastrophic to personal and cultural liberty.
The right to life
Granted by Article 21 of the Fundamental Rights Chapter of the Constitution it states explicitly that no person shall be deprived of her life or personal liberty, save by procedure established by law.
In the Maneka Gandhi case (1977), the court ruled that the right to life had to be read along with the right to equality and the right to freedom, granted by Articles 14 and 19 of the Fundamental Rights Chapter. Any procedure that could possibly infringe on the right to life and personal liberty had to be right, just, and fair, and not arbitrary, fanciful and oppressive. The court would decide whether a procedure is just.
Role of an administrator in case of mob justice
If the mob is out for social justice we should help by arranging proper place to hold protests and engaging in dialogue with them and come to solution by consensus. Though particular action would depend on situation and context but few precaution which can be taken by administrator are:
Take away the accused from scene, preferably in police protection.
Talk with leaders of community or gathering, persuade them to not take law in their hand and warn them of possible legal consequences for same.
Assure the gathering of strict, severe and immediate action. The taking of accused in custody can be first step in such situation.
Overall administration should use his persuasive skills (using logic, reason and emotions) to convince crowd and disperse the gathering at earliest.
Conclusion
We may be tempted to come to sudden conclusions regarding such cases. Justice delayed is justice denied no doubt but swift justice may not always be accurate. Evidences may be planted and witnesses may be bribed framing an innocent person.
The Indian Judiciary emphasizes on "even if a hundred culprits go free, not a single innocent man should be punished". Sentences for such crimes are often severe, and it is our moral obligation to ensure that these sentences are handed to only the deserving.
Category: INTERNATIONAL RELATIONS
1. Two Punjabs, one South Asia (Kartarpur corridor; India-Pakistan)
Larger Background:
Recently, India and Pakistan announced plans of operationalizing a visa-free corridor between Dera Baba Nanak in Indian Punjab and Kartarpur Sahib in Pakistan's Punjab.

This has been a longstanding plea of Sikh pilgrims.

For a historical perspective, it is important to note that this demand had gathered pace in 1995, when Pakistan renovated the Kartarpur gurdwara, situated on the site on the bank of the Ravi where the founder of Sikhism, Guru Nanak, spent his last 18 years.

As a matter of fact, leaders from both sides, including Prime Ministers Atal Bihari Vajpayee and Benazir Bhutto, had pushed for it. In their effort to facilitate travel by Sikhs to important shrines on both sides of the border, they were also alert to the potential of such a move to heal ties amongst their people, and promote dialogue between the two governments.
A role this corridor can play:
Given its easy logistics, the 4-km-long Kartarpur corridor is a low-hanging fruit as a meaningful confidence-building measure.

Experts believe that this announcement is particularly timely, with the 550th birth anniversary of Guru Nanak falling in November 2019.
The initiative can also become a template for cross-border exchanges based on faith, which could provide a balm for many communities such as:
Kashmiri Pandits, who have long asked for access to visit the Sharda Peeth in the Neelum Valley in Pakistan-occupied Kashmir;
Sufis in Pakistan who wish to visit the dargah of Khwaja Moinuddin Chishti in Ajmer, Rajasthan; and
Sikhs in India and Pakistan wanting to visit important shrines on both sides of the border.
A Closer Look:
Experts believe that much will depend on how quickly India and Pakistan act on their commitment, once President Ram Nath Kovind lays the foundation stone at the corridor's India end on November 26, 2018 and Pakistan Prime Minister Imran Khan does so at the other end on November 28.

Further, even more will depend on how the two governments manage their relationship in a way that avoids making pilgrims a pawn in bilateral tensions.

Recently, there was an ugly and unnecessary controversy when Pakistan Army Chief Qamar Javed Bajwa revived the Kartarpur proposal in a conversation with Navjot Singh Sidhu, a Minister in the Congress government in Punjab, at Mr. Imran Khan's swearing-in ceremony in August 2018.

This had set back bilateral ties, threatening progress on the project proposal.

Going forward, however, it is important that issues related to the corridor are managed in a non-political manner and details left to diplomats and officials to sort out — for instance, the issue of Indian consular access to pilgrims, which had recently flared up.
Experts believe that given the bilateral freeze, the Kartarpur project will compel India and Pakistan to engage in a positive and purposeful manner, at a time when few other avenues for engagement exist. It is a reminder that dialogue and search for areas of concord are the only way forward for both countries.
A Look at Specifics:
The Kartarpur shrine is located in Pakistani Punjab's Narowal province.
Some experts expect that ever since India and Pakistan announced plans of operationalizing a visa-free corridor between Dera Baba Nanak in Indian Punjab and Kartarpur Sahib in Pakistan's Punjab, the region would be transformed into a bustling network of tourists and pilgrims.

In the last 70 years, several Indian governments and countless delegations from the Sikh community have appealed to the Pakistani government to open access for them directly over the border from Dera Baba Nanak, by building a "pilgrim corridor."

However, it wasn't until August 2018, when Pakistan's Army chief General Bajwa went up to the Congress leader and former cricketer Navjot Singh Sidhu at the swearing-in of Prime Minister Imran Khan and told him that the proposal was being considered, that India received the first official assurance on the issue.

Further, India has also committed to building its end of a two-kilometre four-lane highway corridor from Dera Baba Nanak to the border.

The plan is to complete the project by November 23, 2019, the 550th birth anniversary of Guru Nanak.
Uniqueness of the Project:
The project is unique for several reasons. The reasons are as below:
Human corridors of this sort are normally used for emergency situations: refugees fleeing violence or humanitarian disasters.

Secondly, the corridor will come up at a time when few avenues for India-Pakistan relations exist. It is important to note that in the past few years, not only has all official dialogue ceased but other exchanges by actors, artists, authors, academics, media and musicians have all but ended.

Further, religious pilgrimages by Sikhs and Hindus to shrines in Pakistan and by Muslims to Sufi shrines in India see a reduced number of visas,

and the corridor will be an exception where large numbers will be able to travel visa-free, according to the current plan.
However, many logistics will have to be finalised once officials on both sides meet.
Editorial Analysis:
It is also important to note that Punjab Minister Navjot Singh Sidhu was unfazed by ridicule on Indian television. He spoke of peace, trade and people-to-people contact, all of them lost causes of the 'track two' dialogues of past decades.

Some experts opine that in Navjot Singh Sidhu's outreach, one actually detected the formula for India-Pakistan cohabitation, which would also catalyse cooperation in the larger South Asian region.

Further, peace in the Subcontinent presupposes amity between India and Pakistan, and more than 40 years of efforts at regionalism has been held hostage by hostility of the two, with the other countries watching askance.

Experts opine that the abuse hurled by the state establishments of each side is a populist political tool that distracts the public from pressing matters of growth, equity, democracy and accountability.

They assert that the cost of maintaining massive militaries in each country drags down efforts at social justice is lost in the fog of ultra-nationalism.

As a prescription going forward, it is suggested that India, as the more stable democracy, should inculcate empathy for the neighbour, but the New Delhi commentariat tends not to recognise the difference between the Pakistani state and its people. It is important to note that the Pakistani people have been struggling against extremism, military supremacy and state-centralism all at one go.

Some critics argue that the Indian media, by and large, is not bothered by the travails of Pakistanis, as right-wing trolls rule the airwaves and social media.

It is believed that the trolling and abuse on all matters related to Pakistan can be expected to peak as India's general election of 2019 draws near, which will only help Islamabad's military-intelligence complex tighten its grip on the society. It is high time to try once again for a plan for South Asian regionalism.
A Perspective on Opportunity costs
Some experts have pointed out that the potential of South Asia for sustained high growth has been blocked by the tightened national borders, with India playing its part by building barbed wire fences on the Pakistan and Bangladesh frontiers.

In all of seven decades, the economic history of the Subcontinent has been forgotten, with the ultra-nationalist narrative having us believe that this separate living is how it has always been.

It is important to note that until Cyril Radcliffe drew the map of Partition, the economic synergy across the different parts of the Subcontinent was an unquestioned historical reality.
However, as the historical 'connectivity' of the Subcontinent crumbled, it created massive dysfunction as economies of scale and disrupted production chains. The opportunity costs have been incalculable in terms of infrastructure, production and commerce, and the loss in livelihoods would be heart-rending if only we cared to calculate.
There has also been a failure of South Asian academia. Experts point out that South Asian academia has been unwilling to theorise on the promise of economic growth and social justice that regionalism holds, through soft/open borders.
Critics have also pointed out that the failure is also in seeing economic geography through the New Delhi lens rather than those of the 'peripheral' regions, from Rajasthan to the Northeast.
It is also important to note that 'South Asia' must be understood as a project for social justice, to be achieved through economic rationalisation, sub-regional interactions and reduced military budgets – and open borders such as exists between Nepal and India.
Countering-populism: The Way Forward
Experts subscribe to the view that the goal of the future should be to learn to compartmentalise one's perceptions of the 'other', that Pakistan is made up of its state and its people just as India too is made up of its state and its people.

The mutual demonisation has to do with conflating the two, state apparatus and citizenry, as one.

While the Pakistani state is rightfully critiqued for the way the military/intelligence calls the shots — from the Kargil misadventure to cross-border militancy, to even denying Punjab province the right to import energy from India — the self-perception of India as 'good' and Pakistan as 'bad' should have been abandoned long ago.

It is true that in Pakistan, the space of the public intellectual is circumscribed by the jihadists, the army and the military intelligence. Some experts point out that although India, is a much freer country, however, there is a rise of pernicious ultra-populism that keeps public figures from speaking up.
A realistic formula for South Asian regionalism lies in allowing the federal units of the two largest countries — the provinces of Pakistan and the states of India — autonomy, which today exists only on paper. This is where the Punjab-Punjab formula comes in.
It is important to note how Punjab Minister Navjot Singh Sidhu responded to the Pakistan Foreign Minister's invitation to the Kartarpur Corridor. The Punjab Minister replied in a letter:
"As our nations take this first step, the Kartarpur Spirit can make pilgrims of us all, venturing out on a journey that breaks the barriers of history and opens the borders of hearts and the mind, a journey that our people can walk together towards a future of shared peace and prosperity for India and Pakistan."
Experts point out that if one reads the words and not the perception some have of the gentleman, the future of Punjab-Punjab, India-Pakistan and South Asia as a whole can be found in the paragraph.
The Spirit of Punjabiyat
It is important to note that the Punjab province is by far the most powerful sub-national unit of Pakistan.

The Indian Punjab may not be as powerful within India in relative terms, but it is no pushover either.
The two Punjabs have one history, as the stepping stone for invaders, battlegrounds that go back millennia, the shared tragedy of Partition, and the shared culture and language of Punjabiyat.
Concluding Remarks:
One should note that given the fact that South Asian regionalism can only come from a turn towards genuine federalism in India and Pakistan, Punjab Province and Punjab State are the places to start anew.

It may just be Punjabiyat is the concept which will help bring India and Pakistan closer to peace, and make South Asia a safer and more prosperous place.

Also, it is important to note that Guru Nanak's 550th birth anniversary is the most obvious reason for fast-tracking the project.

However, other questions are legitimately being raised about Pakistan's decision, which was first conveyed by its military leadership, not the political one, to accept the request from India for the corridor.

Security officials have pointed to an uptick in Sikh separatist violence fuelled by terror groups in Punjab, and the appearance of organisations and posters in Gurdwaras in Pakistan that call for a "referendum" in 2020 on a separate state of Khalistan to question whether the move has a hidden motive to radicalise pilgrims.

Further, on the Indian side, the Central government's desire to cater to a major domestic constituency, and its alliance with the Shiromani Akali Dal in Punjab, has added to its alacrity in responding to Pakistan.

Critics however point out that despite India vowing not to engage with Islamabad until "terror ends," it sent two senior Ministers to attend the ground-breaking ceremony by Mr. Khan at Kartarpur this week.

Finally, it is important to note that in a relationship where ties have always progressed at a glacial pace, and often face reverses, the Kartarpur corridor initiative has moved rapidly since August 2018.

On the Pakistan side, a full proposal has already been made, including an expressway that will take pilgrims by bus from the border to the shrine.

Finally, the corridor of peace, as it has been termed by leaders on both sides, stands apart for its potential to further other such exchanges, as well as in promoting dialogue between the two neighbours.

For the moment at least, the Kartarpur initiative itself will be a major marker for both governments to accomplish in the next year, and the realisation of a dream for so many, for so many decades.
What's in the news?
In an important development that took place on the sidelines of the G20 meeting in Buenos Aires in the month of December 2018, the U.S. and Chinese Presidents, Donald Trump and Xi Jinping, agreed to a 90-day truce, signalling a pause to the global trade war.

Experts believe that this pause to the global trade war is welcome.
Larger Background:
Note to Students:
We at BYJU'S have covered a detailed video-based analysis on the issue concerning "Trade Wars". Students are advised to follow this video and make notes on the topic.
The link is as follows:
When we look at the idea of trade wars, from a historical perspective, one of the many factors that triggered the Great Depression, which took place during the 1930s, beginning in the United States, was the role of tariffs, essentially a set of rules known as the

Smoot-Hawley Tariff Act.

We also see that it was the Korean War that froze trade between the U.S. and China for a period of two decades.

Later, it was U.S. President Nixon's visit to China in 1972, that marked a thaw in relations between the two countries. This marked a tense but productive period thereafter, building towards China joining the World Trade Organization (WTO) in 2001. Subsequent to this, China's markets were opened to foreign investors under WTO auspices soon thereafter, in 2007.

Earlier in the year, 2018, in an attempt to revive American industry, US President Donald Trump promised high tariffs on goods from

Mexico

and China, and he has opposed certain trade agreements, particularly the North American Free Trade Agreement (NAFTA). In fact, one of President Trump's first actions was to withdraw the United States from the Trans-Pacific Partnership.  
The issue of trade wars is a topical issue these days, and should be looked into from the perspective of a global phenomenon which naturally does have an impact on India as well.

At its core, this stems for the desire of certain countries towards 'protectionism'.

This year 2018, there were clear signs of a trade war between the US and China, with each country raising import barriers and duty rates on a few products.
US President Donald Trump's trade barriers stemmed directly from the

"America First" trade policy

which he has been promoting since the presidential campaign.

He is orienting the US distinctly towards protectionism and claims that unilateralism in trade is good for the U.S.

Unfortunately, the "America First" policy disregards how America's trading partners will respond to the new U.S. protectionism. Importantly, this is also what American lawmakers ignored during the Great Depression.

Taken from a larger perspective, however, the moves taken by Trump were seen as an attempt by him to fulfill his election promises.
Earlier this year, 2018, at the G7 Summit in Canada, US President Trump's refusal to sign the G7 joint communiqué brought out into the open the cracks between the United States and the globe's other major democracies.
During the summit, President Trump was accused of seeking to undermine the "rules-based" international order.  As a matter of fact, ahead of the summit the US went ahead with raising tariffs on steel and aluminium products for its allies such as Canada and the European Union in addition to countries such as China, India and South Africa. This move by the US had sparked countermeasures.

Canada's Prime Minister Justin Trudeau confirmed he was going ahead with his tariffs against the US in response to US moves against his country's steel and aluminium industries.

It was feared that if these developments led to further retaliation, the effect would be a slowdown in global trade.
A Brief Note on Indo-US Bilateral Trade Issues
In the month of February, 2018, US President Trump had raised objections against India for charging a high 50% duty on the Harley Davidson brand of motorcycles as against 0% that America charges on Indian motorcycles. The US president had threatened India with a 'reciprocal' tax.

In a recent development, the US Trade Representative (USTR) has challenged Indian Export subsidy schemes at the World Trade Organization (WTO). The US is of the opinion that India's export subsidy schemes harm its manufacturing sector by creating an uneven playing field.

According to the USTR, at least half a dozen Indian programmes provide financial benefits to Indian exporters, which allow them to sell their goods at a cheaper rate, to the detriment of US manufacturers.
Possible Impacts of a Trade War on India: 
From an impact on India perspective, we are dependent on both raw materials as well as the import of intermediate goods. Thus, should the tariffs on intermediate goods be raised globally, this would have an impact on domestic manufacturers in India as well. This could affect our 'Make in India' initiative.    

Higher tariffs on products can increase the cost of various raw materials.




Further, this would invariably lead to a higher inflationary and low growth scenario. Thus, in an overall low-growth scenario, and especially considering that the Indian labour market has experienced 'jobless growth' for a while now, a global trade war will put further stress on India's labour market.

Further, it is important to note that a situation of high inflation and low growth happened during the period of the 'Great Depression'.   




One observes that inflation is generally good for assets such as gold, while having a negative impact on currency and some sectors in the equity market. Further, the three external risk factors, namely a) higher tariffs, b) rising interest rates, and c) elevated bond sales at a time when the domestic banking system is grappling with a renewed stress of bad loans, is a serious threat to India.

Further, in the wake of the demonetization initiative of the Government, the growth projections did slow down; if a global trade war persists, then India's own growth projections further take a hit.

Generally speaking, any unexpected turbulence in the global financial markets could negatively affect flows to emerging markets. This can generate major challenges for a wide range of emerging market currencies; particularly in countries with high corporate debt levels, significant foreign debt holdings or weakening economic fundamentals.

Also, India imports soyabean from the U.S., in the event of a trade war, the cost of imports of soyabean from the U.S. would be higher.

The indirect impact of Interest Rates on India: Higher tariffs on a range of imported products,  within the US domestic economy, escalate the threat of higher consumer prices, caused by importers passing on their increased costs of raw material to the end consumer. This could force the Federal Reserve to frontload its interest rate glide path, and in doing so, this would raise rates faster than it would have done otherwise. An increase in interest rates in the US has implications for emerging economies such as India, both for the equity and debt markets.



Editorial Analysis: 
The global trade war has come to a welcome pause. On the sidelines of the G20 meeting in Buenos Aires over the weekend, the U.S. and Chinese Presidents, Donald Trump and Xi Jinping, agreed to a 90-day truce.
Experts opine that the U.S. and China will try to find an amicable solution to the various problems plaguing bilateral trade relations, such as disputes over intellectual property rights and Chinese state support for domestic industries, through talks over the next three months.
Meanwhile, the U.S. will refrain from raising the tariff on Chinese goods worth $200 billion from the current rate of 10% to 25% on January 1, 2019, as planned. In return, according to the White House, China will purchase agricultural and other goods from the U.S. in order to reduce the trade imbalance between the two countries.

It is important to note that if talks fail, however, increased tariff rates are scheduled to come into force immediately.
It is worth noting that Canada and Mexico arrived at a compromise trade agreement with the U.S. in October 2018, replacing the decades-old North-American Free Trade Agreement (NAFTA).
Thus, keeping this in mind, there are signs that the global trade war that began earlier this year 2018 may be cooling down a little as 2018 draws to an end.
What prompted this truce?
What prompted the U.S. and China to arrive at an unexpected, albeit temporary, compromise is unclear.

Experts point out that it will be important to see if any compromise between the two trade giants will include a complete rollback of the tariffs imposed on each other over the year 2018.
However, the temporary trade truce should still offer some relief, as there have been apprehensions about the U.S.-China trade battle bringing global economic growth to a grinding halt.
Experts point out that the signs of a significant slowdown in the Chinese economy and concerns over the negative impact of the trade war on American financial markets may have played a part in Mr. Trump and Mr. Xi agreeing to the truce.
Also, this truce is probably a sober recognition of the fact that there are no economic winners in any trade war.
During the upcoming negotiations, the U.S. is likely to press hard on China's protectionist policies aimed at favouring its domestic industries. However, it is unlikely that China will yield to such pressure as that would require a seismic shift in the country's growth policy, which till now has emphasised the state's role in the economy. In fact, the Chinese government's promise to increase imports from the U.S. is a clear giveaway of the fact that it still dominates the economy.

Further, China itself is bound to draw attention to the U.S.'s own protectionist policies. Lastly, experts opine that a compromise which will allow both sides to claim final victory in the battle would be the best outcome.
1. Make planning fashionable again (Planning)
Editorial Analysis:
India under Nehru's leadership inaugurated a strategy for industrialisation of the country in the early 1950s.

This involved the setting up of public sector units (PSUs) in diverse areas of manufacturing; research institutions in cutting-edge technologies of the time such as space and atomic energy; and centres of higher learning, including the Indian Institutes of Technologies (IITs). It is important to note that all of these initiatives were taken by a poor country, which was still struggling to find its feet amidst the multiple blows it had to endure during the early years after Independence.
Challenging the Status-Quo:
It is important to note that by consciously entering into sectors such as machine building and nuclear research, which needed capital and technology more critically than labour, India was also challenging a deeply held orthodoxy in economic theory.

It has been long argued that countries should develop industries based on their comparative advantage.

According to this theory, a labour-surplus country like India should be limiting its industrial development ambitions to labour-intensive sectors, such as garments or leather.

After all, the theory would ask, why should a country like India produce machines or pharmaceuticals domestically, when such products can easily be imported from advanced countries?
Perspective from the Colonial Period:
Experts point out that during the colonial period, the British government in India had indeed been putting the theory of comparative advantage into practice — to the disadvantage of most Indians.

For example, in his book, The Discovery of India, Nehru described how the colonial government systematically strangulated Indian entrepreneurship.
As a matter of fact, writing from his prison cell in Ahmednagar Fort in the early 1940s, Nehru argued that the fundamental requirements for a modern India included "a heavy engineering and machine-making industry, scientific research institutes, and electric power."
It is important to note that the programmes launched in India from the 1950s onwards to build indigenous capabilities in capital- and technology-intensive sectors, despite the general poverty of the country, became a model for other developing and Third World nations.
Next, the debates around Indian planning provided a fertile launching pad for the evolution of development economics as an important sub-discipline.
A Look at a few Specifics:
The foundations for India's diversified economic base had been laid during the planning years.

Further, the successes that India enjoys today in the information technology and knowledge-intensive sectors owe much to the research and educational institutions that were built during the early decades.

At the same time, however, planning did very little to remove the hurdles to the growth of agriculture and small-scale industries.

India's record during the post-Independence period in implementing land reforms and ensuring primary education for all has been rather unimpressive.

As a consequence, the benefits from state-led development have so far reached only a minority of Indians.

It is also important to note that India's commitment towards development through planning had begun to diminish from the early 1990s itself — much before the Planning Commission was formally dismantled in 2014.

Further, after the introduction of economic reforms in 1991, public investment, especially on agriculture and industry, has been on a decline in the country.

PSUs have begun to be valued only for the returns they bring as commercial entities. There has been little recognition of the important role that PSUs can play as creators of new technologies and knowledge, particularly in fields in which the private sector may have little interest or capabilities.

Some experts opine that the disregard for planning and the general withdrawal of the state from economic decision-making have had important consequences on Indian industry.

India is today one of the largest markets in the world for a wide range of goods, whether passenger cars, mobile phones or food products. Despite the emergence of such a large domestic market, the record of Indian manufacturing in absorbing the large labour reserves in the country remains abysmal.

The imports of machinery, transport equipment, electronic goods and all their components have been rising continuously in India from the 2000s onwards. This trend has not been reversed after the introduction of the 'Make in India' initiative.
Planning in a Globalised Economy
Planning is not incompatible with markets and globalisation. On the contrary, a developing country trying hard to stay afloat amidst the turbulence of a global economy requires more, and not less, guidance thorough industrial policies.

The successes achieved by East Asian countries such as South Korea in manufacturing are, to a great extent, the result of strategic planning over several decades by their governments.

It is important to note that China is gradually shifting its economic base from low-wage industries, and is now emerging as a global leader, even ahead of the U.S., in several new technologies, including artificial intelligence and renewable energy.

Experts point out that these Chinese achievements owe much to the careful planning and investments made by its government, particularly in the area of science and technology.
Concluding Remarks:
Experts point out that the employment challenge that India faces — close to 15 million waiting to be absorbed in the industrial and services sectors every year — is possibly bigger than that faced by any other country (except China) in the world.

Further, this challenge cannot be resolved with the technologies that foreign companies bring into India, which tend to be labour saving.
What India requires, on the other hand, are technological advances that create new economic opportunities and absorb — not displace — labour.

For instance, breakthroughs in biotechnology that may find new commercial applications for our agricultural products, or electric vehicles and renewable energy solutions that depend less on imported material.
It is important to note that India's research institutions and PSUs should engage in the creation and dissemination of such technologies.

Lastly, the country's industrial policies should be able to enthuse young and educated entrepreneurs from rural areas to make use of these technologies to create new jobs. And, for all these, planning should be brought back to the centre of our economic discussions.
1. Sex-sorted semen to control stray bulls
In Uttar Pradesh, where the ban on cow slaughter is taken very seriously, what's illegal for humans may well prove a godsend to tackle the growing menace of stray bulls: sex selection.
The State government plans to reduce the numbers of stray bulls by making sure that they are never born.
The government on Monday approved a 'Sex Sorted Semen' scheme, under which chances of cows delivering a female calf are as high as 90-95%.
After successfully testing the scheme as a pilot project in three districts (Etawah, Lakhimpur Kheri and Barabanki), the government has decided to launch it in all the 75 districts of U.P. The State Cabinet has approved the project.
A senior government official said the scheme would be implemented on indigenous breeds, such as Sahiwal, Gir, Haryanvi, Tharparkar and Gangatiri. To avail of the scheme, cattle-breeders would have to pay ₹300 per conception, while in the drought-prone region of Bundelkhand, this levy would only be ₹
The official said the aim of the project was two-fold: to increase the productivity of cows and to decrease the number of unproductive male cattle.
"It will provide a permanent solution to the stray cattle menace in the next 2-4 years," he said. With a 90% fall in the number of male calves, "there will be lesser number of unproductive animals, which will bring down the number of stray and destitute cattle," said a government note.
The government added that the fall in the number of male cattle will bring down the damage to crops and also the number of road accidents caused by the animals.
2. 'Women with disabilities are more vulnerable'
More than 100 differently-abled women and girls have raised allegations of sexual harassment in West Bengal since 2012, a city-based NGO working for the rights of the disabled said.
Thirty-five cases of sexual assault on differently-abled girls and women were reported in the media from January 2017 to November 2018. "These compilations are based on cases of sexual assault, which are reported in the media, both print and electronic. In the month of November 2018, we came across four cases that were reported in different sections of the media," Shampa Sengupta, director, Sruti Rights Disability Centre, told The Hindu.
On Monday, hundreds of differently-abled persons held a rally in the city on account of the International Day for Disabled Persons and met the Disability Commissioner.
Sengupta said that the Rights of Persons with Disabilities Act, 2016, mandates stricter punishment for harassing persons with disabilities. Under the new laws, any assault on a disabled girl or woman is considered as "aggravated assault", which amounts to more punishment, she added.
Nothing here for today!!!
H. Practice Questions for UPSC Prelims Exam
Question 1. With reference to Indian history, who among the following is a future Buddha, yet to 
come to save the world?

Avalokiteshvara
Lokesvara
Maitreya
Padmapani
See
Question 2. "Rule of Law Index" is released by which of the following?
Amnesty International
International Court of Justice
The Office of UN Commissioner for Human Rights
World Justice Project
See
Question 3. Which one of the following links all the ATMs in India?
Indian Banks' Association
National Securities Depository Limit
National Payments Corporation of India
Reserve Bank of India
See
I. Practice Questions for UPSC Mains Exam
A hardline woman Maoist, Ide Madi alias Jiwani, who had a reward of ₹1 lakh on her head, surrendered before the police in Odisha's Malkangiri district recently. In this context critically evaluate India's efforts in dealing with naxalism. (12.5 Marks; 200 words)

What do you understand by Mob justice? What are the causes and consequences of Mob justice? (10 Marks; 150 words)
Also, check previous Daily News Analysis
"Proper Current Affairs preparation is the key to success in the UPSC- Civil Services Examination. We have now launched a comprehensive 'Current Affairs Webinar'. Limited seats available. Click here to Know More."
Enroll for India's Largest All-India Test Series