In this article, you can get a few tips on how to become an IAS officer. Not only should you make an appropriate IAS preparation strategy, but you should also bring about a few changes to your lifestyle and studying mechanisms if you are to find success in this tough IAS Exam.
The following handy tips will help you understand how to become an IAS officer.
The 
Crucial Strategy for UPSC Exams
page will help you crack the exams with relative ease. Visit the page now!!
The following links will further help their candidates in their exam preparation:
The Five Definitive Traits of an IAS Officer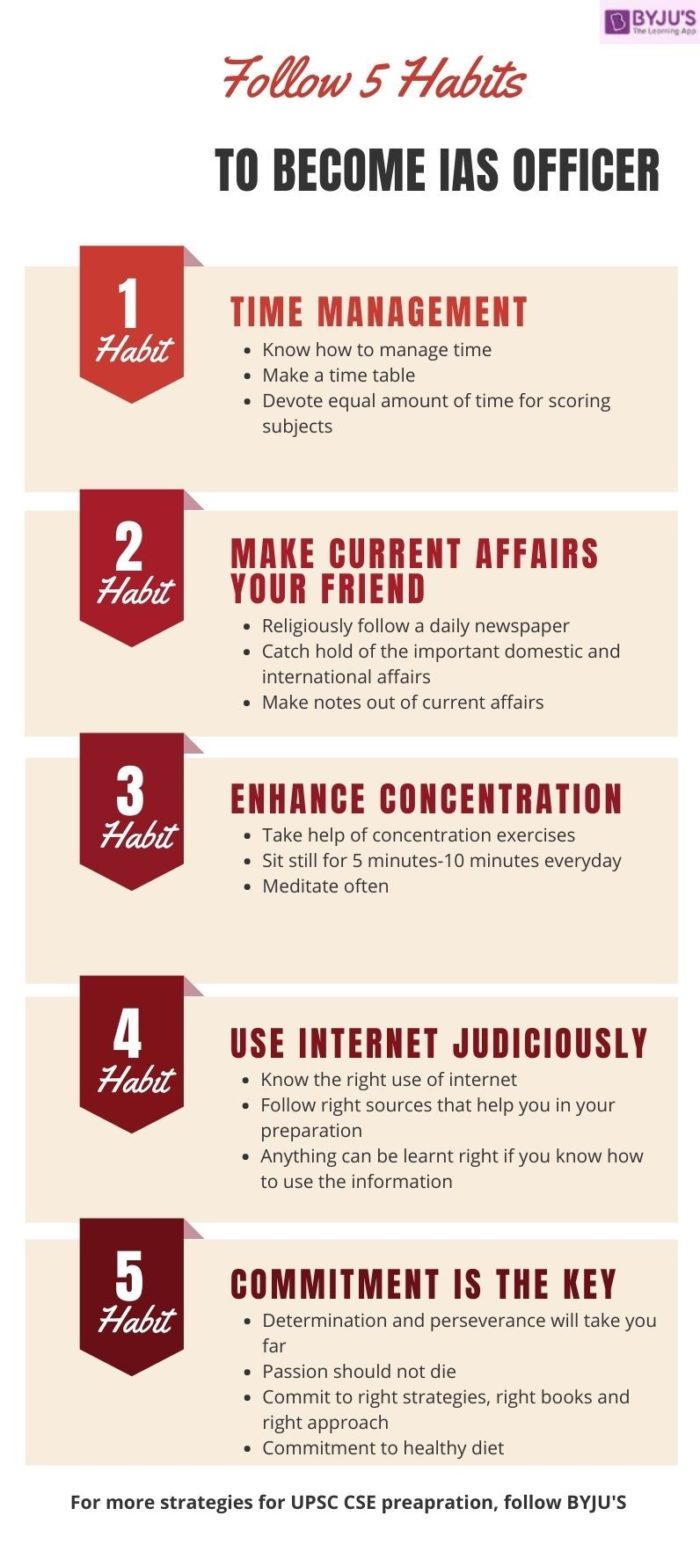 We present to you five must-have traits in details, that a future IAS officer must possess:
1. Effectively Manage Time
To clear the IAS exam, time management is an important habit for your preparation. It is always a good practice to begin months in advance to the prelims, thus making it important to plan your schedule in such a way that these periods get divided into manageable portions between papers 1 and 2. This planning allows for sufficient revision time as well as time to practice with mock tests.
Time management is in itself a broad topic. Aspirants should read more about it in the articles linked from the table below:
You can attempt the CSAT Mock Tests to get the basics of time management right.
2. Stay updated with the news!
For an IAS candidate, newspapers are your most valuable assets. One of the biggest challenges regarding current affairs is that the UPSC syllabus evolves every day due to this aspect. There is always some topic of interest every day both in the international and domestic sphere. Prospective IAS candidates must develop a reading habit involving newspapers daily, but they must remain acutely aware enough to identify major topics likely to be a part of the exam.
To complement your current affairs preparation, candidates can use the following free resources available and make it easy for yourself:

3. Practice concentration exercises
A good concentration is a bonus for most of the aspirants. As we know, it becomes stressful when our brain isn't able to concentrate while we are studying. It wanders. Hence, against running away from the issue of lack of concentration, candidates can rather use of best concentration techniques that are endorsed by the toppers and many successful leaders of our time. A few examples of concentration exercises are:
An aspirant should take some time out in his/her daily schedule and try sitting in silence and stillness. When we learn to remain still, we take our brain in charge of our choice. Hence, it enhances your concentration next time you tell your brain to do a particular time.
Always take small steps before you take a leap. Don't rush to sit for 2 hours in a stretch rather, sit for 15 mins first and try to only focus on your studies at that time. Gradually, increase your study hours to half an hour, one hour and two hours respectively.
Learn to say, a no. While saying no to an activity that is not useful for you, you will concentrate more on important things in life.
Learn to meditate. This is the best mindfulness exercise that helps you being calm and sorted.
To dive deeper into this concept, you can take help from the below-mentioned topics:
4. Spend productive time on the internet
Technology has not forgotten the realm of IAS exam preparation either. The easy availability and access to information at a touch is a valuable asset for every IAS aspirant. Thus it can enable those who live geographically apart to have easy access to quality preparation materials. Also, the judicious use of the internet can help most of the aspirants to have access to the most useful information for the IAS Exam. For example:
With the help of the internet, you can take help of toppers' strategies which helped them to clear the examination
The Internet can also help you with the fetching notes from different sources of information
The right platforms can help you complement your preparation. You can take the help of government and other important websites like PIB, PRS India, MEA, NITI Ayog, and gather important information.
5. Be committed!
The road to your IASdream is a long and difficult one. Long and difficult, but not impossible. Your determination plays a key role in it. During this journey, the candidates will face a barrage of challenges that will test the faith they have in themselves. Some give up after spending years on account of pressure from near and dear ones. Yet, for every failure, there is a success story. And those who succeed they owe it all to their willpower.

To crack the IAS Exam in the first attempt, know the strategy, pattern and syllabus of the GS exams given in the links below: