Abhijit Ray by securing All India Rank 50 has made his place in UPSC Toppers 2021 and in the hearts of the people of his city. Abhijit is the first one to have cleared UPSC from Siliguri and has brought laurels to his district. 
In the post we will highlight Abhijit's background, preparation strategy, number of attempts, UPSC optional subjects, etc.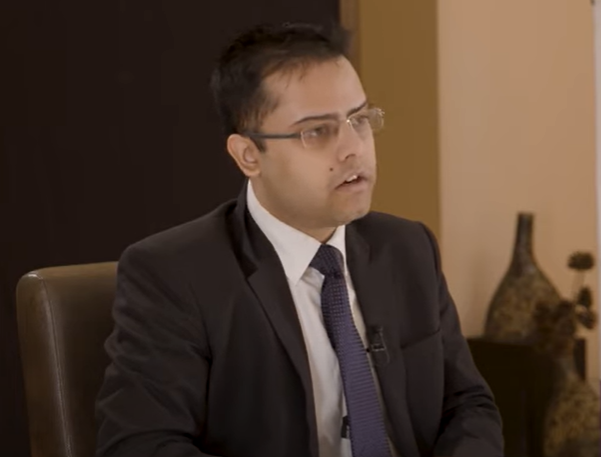 The top candidate in the list of UPSC 2021 toppers is AIR 1 – Shruti Sharma, read her story to boost your morale for the CSE preparation.
Aspirants can go through the success stories of various IAS toppers in 2021 provided in the links given below-
Abhijit Ray AIR 50 – UPSC Topper Background
Abhijit Ray is a resident of Siliguri, West Bengal which is famous for tea, tourism, timber and table tennis.

He is fond of composing poems and his hobby is recreational cycling.

Abhijit worked as an Engineer in a company in Bangalore. He worked for almost four years from 2016.
Educational Background
Abhijit completed his early education from St. Joseph's School in Darjeeling. He topped the Darjeeling district in the ICSE examination.

Abhijit Ray has completed his Graduation in Engineering from University in Delhi.
Aspiration in Abhijit's word – 
'I once went to a blind school in Karnataka. I saw that there is no basic facility. But that is not to say that it is very difficult to give. If you see a little, it will be done. ' He had several such experiences. From then on, he decided to do something for their betterment. The answer came to mind — Civil Services."
Family background & Support
Dr. Mukul Charan Ray, Abhijit Ray's father is a retired health officer in Darjeeling district.

His mother, Chandra Ray is a homeopathic doctor.

Abhijit's family has supported him through all thick and thins. His family jumped with joy as soon as the list of UPSC toppers was released. 

His manager from the office and his friends have also supported and motivated him in this journey.

There was an influx of congratulations. His parents started distributing sweets in the nearby neighborhood. Apart from this, the people around also started reaching his house to congratulate him. 
"My parents have supported me since I was a child. At first he thought a little about preparing to leave the job, but later he fully supported it. He is also by my side mentally. '
Abhijit Ray- UPSC Scores
UPSC Topper Score – Abhijit Ray

Written Total

806

Personality Test Total

193

Final Total 

999

All India Rank 

50
If you are wondering about How to Start UPSC CSE Preparation, visit the linked article.
Abhijit Ray UPSC Topper Preparation Strategy
Abhijit Ray did not join any coaching for his Civil service preparation.

Abhijit believes in self study. In 2018 he took the UPSC exam for the first time but didn't get success. 

His preparation was not very good at that time. Then he tied his waist again and sat for the exam again in 2019. Yet again he faced failure. 

Abhijit had to practice a lot more discipline because of studying on his own.

Even after seeing the failure his confidence did not lose its balance. He kept himself motivated and became obsessed in nailing the UPSC at any cost. 

He resigned from his job in 2020 and moved to Siliguri from Bangalore to start preparing for the exam fiercely.

Perseverance, regular study, practice is what is the main and major to clear this coveted exam.

It is necessary to know in depth about all the happenings in the country and abroad. 

He believes that mental preparation is very important before starting studies for civil services.

Abhijit stressed on making short term goals and ensuring that it is achieved. When asked, he said –
'I had planned the night before, what I will read the next day. I would finish the matter according to that plan. ' No matter how much time it took for him, his goal was to get the job done.
Being patient, handling pressure and clarity of thoughts is what the candidates will need in each and every stage of UPSC preparation.

Arranging study routine, practicing answer writings are a must. 

Strategizing the preparation is crucial and each one should strategize their own plan and not follow others.
"Why am I giving the test? Why do you want to join this work? The answer to this question must be clear to yourself. Understanding how the exam is done, you have to arrange the study routine as per your own. It is very important to handle the pressure especially on yourself, you have to practice the method of writing the answer. "There is no set strategy for success in such a big test,". One-on-one strategies work in one's case. You have to understand your own strength and fix it that way. '
Click on the links in the table below to read more.
Basic Preparation Tips Advised by UPSC Toppers
Before starting your preparation, prepare yourself for the journey, prepare mentally and physically for the examination. Set goals and devote time effectively.

The syllabus is the soul of any exam. Knowing the syllabus is the foremost thing to do before you go through the books. Understand and follow the syllabus for UPSC CSE. It will help you to choose relevant study materials, prioritize the subjects, etc.

There are multiple sources of study material to prepare for the Civil service Examination but your basic reading should ideally start with NCERT textbooks. Read NCERT books from class VI to class XII for all the relevant subjects.

The questions asked in the civil services exam are directly or indirectly connected with current affairs. Hence, it is very important to follow the relevant news items in your daily newspaper. Almost all toppers recommend reading The Hindu and The Indian Express to be included as part of your daily routine.

Choose an optional subject wisely and after a thorough think-through of the pros and cons of the subjects as it accounts for 500 marks in the UPSC final tally. An optional subject should be the one that Interests you, you have a prior knowledge in it or it is your academic background, the one that overlaps with the GS papers, for which the coaching and study materials are easily available.

Previous question papers are the most reliable sources of UPSC pattern, difficulty level and question type. It will also help you understand which areas are the most important in a particular subject. Go through the

UPSC Question Papers

on the linked page.

Preparation for the CSE exam is incomplete without taking mock tests of the prelims and the mains. To get a fair idea of what questions to expect and to time your writing it is imperative that you practice mock tests regularly.

Consistency is the key to Success – Treat every day as the same and prepare with the same dedication and level of commitment.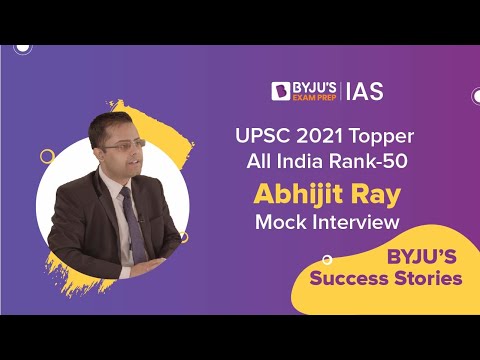 Abhijit Ray– UPSC Topper Info
UPSC Topper 2021 Background

Name

Abhijit Ray

Civil Service Exam 

2021

All India Rank 

50

Number of Attempt

4

Age 

–

Optional Subject 

Anthropology 

Native 

Siliguri, West Bengal

Education

Bachelor in Technology
Keep yourself motivated and stay positive. Always look at the bright side of things and be confident about your ability to crack UPSC 2023.
Aspirants can use the links below to help them in their preparations.