It is very important to develop the right writing skills for the UPSC Civil Service Mains Examination. Developing techniques that will make your answers distinct from those of your competitors is an important skillset that you must develop to make sure that you always have an added advantage in the exam. This article will help you develop the necessary writing skills.
Aspirants would find this article very helpful while preparing for the IAS Exam.
For more tips on how to effectively crack the UPSC Exams, visit the 
Crucial Strategy Articles for UPSC Exams
page now!!
In addition, the following links will help candidates immensely in the upcoming exam:
Writing Tips – An Overview
On clearing the prelims, they take the mains which involve writing descriptive answers. Nearly all of the serious candidates have similar knowledge levels. Then why is it that some get better scores than others in the UPSC mains? What sets their answers apart from the clutter? Yes, you need a certain degree of knowledge and language to be able to express your thoughts in words. One thing to keep in mind is that the examiner would have checked scores of answer sheets on a single day and if you want your answers to grab his attention, you must do something a tad different. You must make your answers beautiful and interesting. It shouldn't be a 'job' for the examiner to finish. You can actually make him enjoy reading your answers. This way, you will definitely score higher marks. Some tips are discussed below by taking a sample question of UPSC exam General Studies Paper I as an example.
Holistic View
Your answers should be well-rounded. It should encompass all major touch points related to the question. Don't have a narrow view of issues. Take the following question in the Essay Paper.
"Character of an institution is reflected in its leader."
Start with an introduction to institution and leader. Then, you should talk about examples from the past like Emperor Ashoka and how he preached his theory of non-violence and peace through various institutions. Also, give examples from the Mughal period, and compare and contrast it to the ancient period. You should talk about leaders from the freedom movement and explain their leadership styles and the institutions they were founded or were associated with. Finally, you can give an apt quote and conclude your answer.
Short & Simple
Keep your answers simple and to the point. Do not fill in the answer sheet just to reach the prescribed word limit. Write in a crisp, clear and simple language.
Presentation
Divide your answers into headings and subheadings. Don't write at a stretch. They make the examiner's job tedious. Use bullet points wherever possible.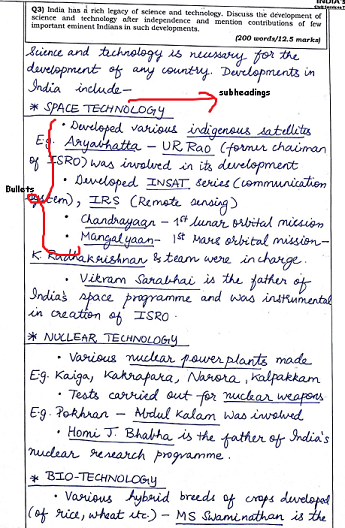 Keywords
Learn to take keywords from the question and use them in your answers. Underline important points.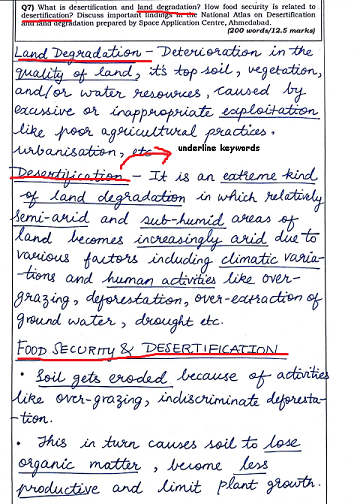 Facts & Figures
Always substantiate your answers with relevant facts and figures. This shows your grip on the subject. It also helps you justify the points written in your answers.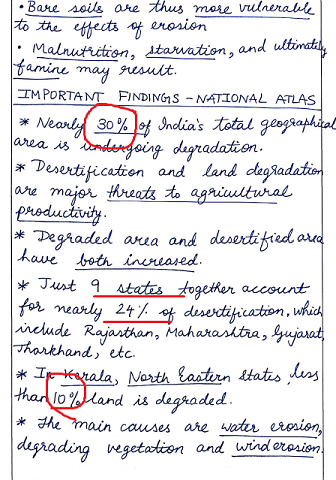 Catchy Introduction
Make sure that the introduction to the answer and the conclusion is catchy. It gives the examiner a break from the regular answers and motivates him to dole out a few extra marks.
Diagrams/Charts/Flowcharts
Draw diagrams and charts wherever required.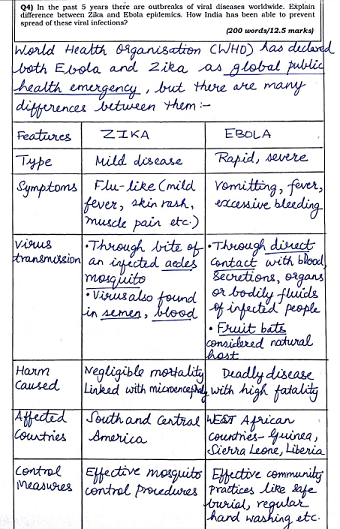 Relate to Current Affairs
This is a sure-shot way to impress the examiner. Relate your answers to the latest news and events. Give your balanced insight on them.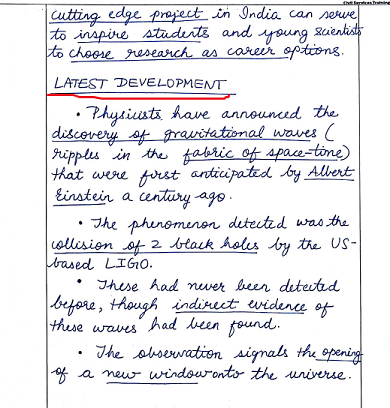 To know how you can Study Current Affairs in 7 Simple Ways, visit the linked article
Keep it Interesting
Make sure that the content you write is interesting! This only comes with a lot of reading and writing practice. One should try to generate ideas and present the information in an unconventional manner.
Neat and Legible
Good handwriting and presentation help score better marks. Try to develop neat and understandable handwriting. Avoid scratches and ink blotches.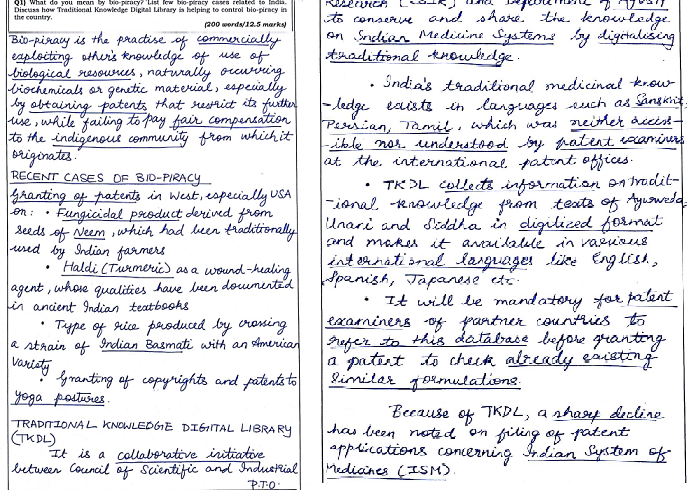 Practice
Last but not the least, practice! Everything can be achieved if you take the trouble to practice. Remember the saying, 'There is no glory in practice, but without practice, there is no glory.'
For more UPSC- related preparation articles visit the links given in the table below. Candidates can also visit the UPSC Syllabus page to understand the general pattern of the exams
Related Links