In the series Sansad TV Perspective, we bring you an analysis of the discussion featured on the insightful programme 'Perspective' on Sansad TV, on various important topics affecting India and also the world. This analysis will help you immensely for the IAS exam, especially the mains exam, where a well-rounded understanding of topics is a prerequisite for writing answers that fetch good marks.
In this article, we feature the discussion on the topic: Boost to India-Japan Ties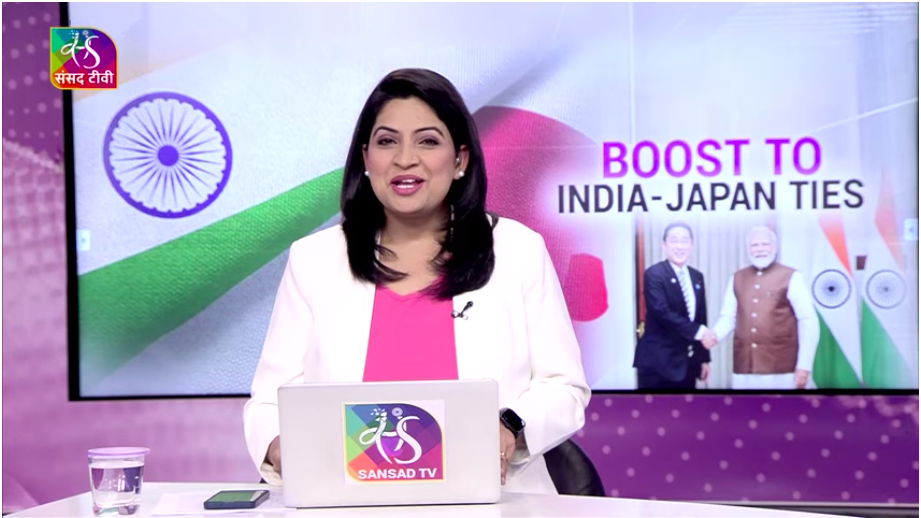 Anchor: Teena Jha
Guests:
Prof. Srabani Roy Chowdhury, Centre for East Asian Studies, JNU

Prabhu Dayal, Former Ambassador 

Prof. Rajib Shaw, Director, India Japan Laboratory, Keio University, Japan

Bharat Joshi, Chairman, Joshi Konoike Transport & Infra
Context: Japanese Prime Minister Fumio Kishida visited India.
Highlights of the discussion:
Introduction

India-Japan relations

Areas of improvement
Introduction:
Japanese Prime Minister Fumio Kishida said that "India is indispensable for peace and stability in the Indo-Pacific and no country should use force or coercion in trying to drive their territorial claims" after unveiling his plan for a free and open Indo-Pacific region. 

He was on a two-day visit to India. He addressed the 41st Sapru House lecture, where he asserted that Tokyo will collaborate closely with New Delhi in contributing to stability in the South Asian region. 

Japanese Prime Minister also held wide-ranging talks with Prime Minister Modi on further strengthening the India-Japan Special Strategic and Global Partnership.
Key Takeaways from the Japanese Prime Minister's Visit to India:
Prime Minister Kishida frequently referred to India as a principal and indispensable partner of Japan.

Former Japanese Prime Minister Shinzo Abe laid the foundation of a free and open Indo-Pacific. Prime Minister Kishida built on this and stressed having an action-oriented approach in the region.

He also ensured that ASEAN centrality should be maintained. 

He promoted Japan's investment in coast guards and military equipment. It was also stated that Japan will continue to invest in India's development story.

It was highlighted that India is a very trustworthy partner as it always promotes the peaceful coexistence of countries in the region.
India-Japan relations:
India and Japan have a common challenge in regional security perspective from an assertive China.

The extensive talks between India and Japan focus on three agendas:

Bilateral Agenda for Economic and Security Cooperation

It is expanding rapidly as India-Japan relations were elevated to a Global Partnership in 2000.

It was further converted into a Strategic and Global Partnership in 2006.

In 2014, it was raised to a Special Strategic and Global Partnership.

In 2022, Prime Minister Kishida announced an investment of 5 Trillion Yen.

Regional Indo-Pacific Security Agenda within the Quad Framework

This plan favouring free and open Indo-pacific was unveiled in India.

It aims to counter China's growing influence in the region.

Global Agenda with Japan as the Chair of G-7 and India as the Chair of G-20

It is a great opportunity to work together on the common priorities of both countries.

Despite having divergent views on the

Russia-Ukraine conflict

, India and Japan are willing to strengthen their relations.

The economic relationship between the two countries is on the upswing in the past few years. The unique and personal relationship between Indian Prime Minister Narendra Modi and Former Japanese Prime Minister Shinzo Abe is responsible to a large extent.

Moreover, Prime Minister Kishida also follows the philosophy and principles of the late Shinzo Abe and thus there is a sort of continuity in the relationship.

The economic potential is expanding with each passing year and it has moved beyond 'trade and investment'. It covers aspects like the Supply Chain Resilience Initiative (SCRI) of which Australia is also a part.

Japan is a very important partner for India in physical infrastructure development.

India and Japan signed an agreement in 2015 to build a bullet train between Mumbai and Ahmedabad.

Apart from strengthening infrastructural connectivity, the bullet train project has trained the manpower.

India and Japan have interesting collaborations in the form of state-to-state and city-to-city links.

Both countries are also trying to cooperate in developing the South Asian Region. They have a good image in countries like Bangladesh where India and Japan have invested in infrastructure development.
Also read: India – Japan Relations
Areas of Improvement:
The government-to-government ties between the two countries are strong. However, informal ties like the business sector and people-to-people connectivity still need to be worked on.

Sectors like healthcare, energy, education, technology, human resource exchange, digital connectivity, and climate-related issues are sectors where cooperation can be improved.

The digital economy and emerging technologies are the two fronts that offer opportunities for future engagements. It should be noted that Japan is considering digital transformation at a national scale and India with its technology prowess can help with it.

Measures should be taken to engage other countries in the region.

India and Japan can mutually help each other and become the voice of developing countries.

It should be noted that there is a huge difference between the demography of both countries. India has a large number of young people whereas the population in Japan is ageing. India can plug this human resources crunch of Japan.

One of the major areas which will significantly boost the relations is the startup ecosystem. India has the third largest ecosystem in the world, whereas in Japan it is still at a nascent stage.

Another crucial sector is the

MSME sector

which can transform the nature and depth of the relationship.

Soft power in areas like entertainment, sports, tourism, and food should also be enhanced.

There is also a need to diversify the exports basket of India.

Though there is a renewed realization of the need to diversify value chains, it is important to implement it on a timely basis.
Read all the previous Sansad TV Perspective articles in the link.
Sansad TV Perspective: Boost to India-Japan Ties:- Download PDF Here