26 May 1999
OCEANSAT was launched
What happened?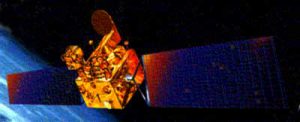 OCEANSAT, the first satellite built chiefly for oceanic applications was launched by the Indian Space Research Organisation (ISRO) on 26 May 1999.
Background
·       
OCEANSAT, also known as IRS-P4 or OCEANSAT-1, was launched by ISRO from its SHAR Centre in Sriharikota.
The satellite weighed 1050 kg and was launched by a Polar Satellite Launch Vehicle (PSLV-C2).
The satellite was placed in a polar sun-synchronous orbit at a distance of 720 km.
It was the first Indian satellite that had a chief objective of conducting oceanographic studies.
The payload it carried were an Ocean Colour Monitor (OCM) and a Multi – frequency Scanning Microwave Radiometer (MSMR).
The OCM was a solid-state camera which operated in the push-broom scanning mode. It used linear array CCD's as detectors in order to create ocean biological parameters.
The OCM had eight spectral bands for measuring biological and physical oceanographic parameters. The MSMR operated at 21, 18, 10.65 and 6.6 GHz frequencies with H and V polarisations. The spatial resolutions it operated at the respective frequencies were 50 km, 50 km, 75 km and 150 km.
The size of the satellite was 2.8 m X 1.98 m X 2.57 m.
It had an inclination of 98.28 degrees and a Period of 99.31 minutes. The Repetitivity cycle was 2 days.
When fully deployed, the OCEANSAT had a dimension of 11.67 m.
The attitude and orbit control were achieved by 3-axis body-stabilised using Reaction Wheels, Hydrazine Thrusters and Magnetic Torques.
The satellite's power was supplied by a solar array having a size of 9.6 m2 that generated 750 W. It also had two 21 Ah Ni-Cd batteries.
The OCEANSAT boosted India's IRS satellite system. The other satellites in this series are: IRS-1B, IRS-1C, IRS-P3 and IRS-1D.
The satellite completed its mission on 8th August 2010 after serving for 11 years and 2 months.
The next in the series, OCEANSAT-2 was launched in 2009 and is now operating.
See previous 'This Day in History' here.