TABLE OF CONTENTS
A.

 GS1 Related


Social Issues
1. Understanding context of SC ruling on triple talaq: Divorce rate of Muslim women is thrice 
that of men


B.

 GS2 Related


Polity
1. SC to rule on right to privacy today  
2. Liquor sale ban does not extend to municipal areas: SC
3. OBC list to be sub-categorized
International Relations
1. Saudi job scheme favouring locals to hit Indians hard  
2. The Trump discontinuity
3. Repair and recover


C.

 GS3 Related


Economics
1. New mechanism to spur PSB mergers 
2. Economy doing well on strong fundamentals, reforms: FSDC
3. 'RBI not for NBFCs taking deposits'
4. Finance Ministry modifies cash management system to include post-GST changes
5. Tax, in the bigger picture 


D. 

GS4 Related




E. 

Prelims Fact


F. UPSC Prelims Practice Questions
G. UPSC Mains Practice Questions 
1. Understanding context of SC ruling on triple talaq: Divorce rate of Muslim women is thrice that of men
Context: Supreme Court Ruling on the issue of triple talaq, which questions the women dignity.
Key points:
The largest percentage of divorces takes place among Muslim women. Stats say that the majority is n the age group 20-34 (43.9%), in which only 24% of the total Muslim female population lies.
Recently the five-judge Bench of the Supreme Court verdict that struck down instant triple talaq describes the social context.
The rate of divorce was significantly lower among men than among women, as per the Census data of India, 2011.
But the disparity was particularly stark among Muslims where the "refined divorce rate", or rate of divorce per 1,000 marriages, was 1.59 among Muslim men, among Muslim women, it was more than three and a half times higher — 5.63.
Buddhists came next on the disparity scale, followed by Christians.
On a broad view, the number of divorces per 1,000 marriages in India are 1.58 for men, and for women, double that at 3.10.
But with respect to the duration of staying divorced as per the Census data, men tend to re-marry at a far quicker rate than women.
Analysis:
Supreme Court verdict striking down talaq-e-biddat or instant triple talaq has been rightly hailed as a victory for gender justice.
But bringing it to the notice, there are no concrete data on the prevalence of this form of divorce thus the impact of the judgment is difficult to measure.
Couples have several other ways to divorce including the intervention of religious institutions such as the Qazi and Dar-ul-Qaza.
The definitive assessment shows that the social, educational and economic backwardness and deprivation status of  women is both the reason and consequence of such social evils.
Legal provision to settle the cases of Divorce
The Divorce Act, 1869 (4 of 1869),
The Parsi Marriage and Divorce Act, 1936 (3 of 1936),
The Dissolution of Muslim Marriages Act, 1939 (8 of 1939),
The Special Marriage Act, 1954 (43 of 1954), and
The Hindu Marriage Act, 1955.
1. SC to rule on right to privacy today
Context:
A bunch of petitions were filed in the Supreme Court in 2015 challenging Aadhaar as a breach of privacy, informational self-determination and bodily integrity.
A nine-judge Constitution Bench of the Supreme Court, is all set to deliver the judgment on the question: whether right to privacy of citizens is a fundamental right under the Constitution?
In news: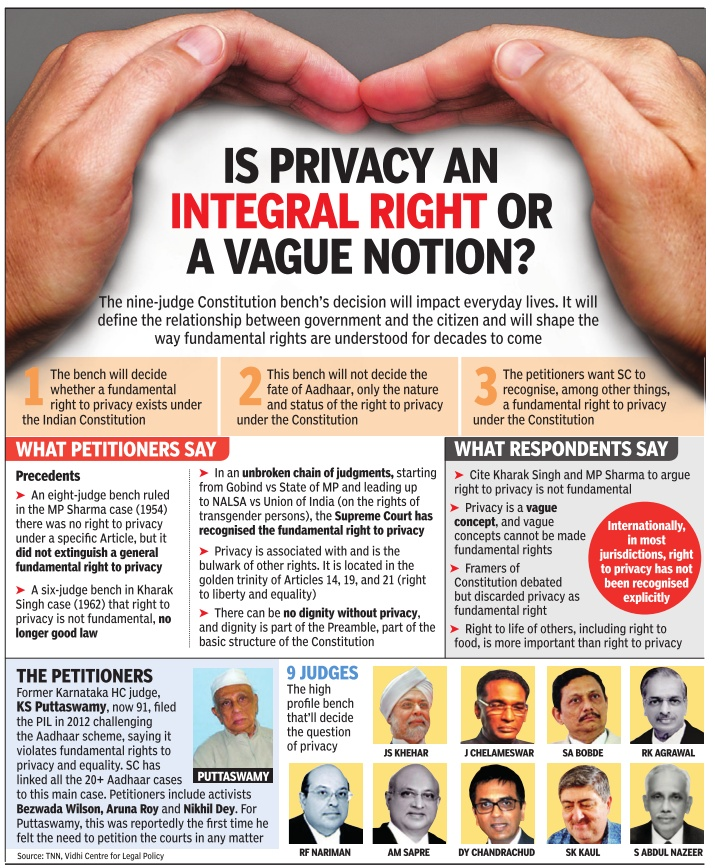 Various dimensions of Privacy: It includes bodily integrity, personal autonomy, informational self-determination, protection from State surveillance, dignity, confidentiality, compelled speech, freedom to dissent or move or think.
International legal framework which speaks about Right to Privacy:

Article 12 of the Universal Declaration of Human Rights, 1948 and Article 17 of the International Covenant on Civil and Political Rights (ICCPR), 1966, both legally protect persons against the "arbitrary interference" with one's privacy, family, home, correspondence, honour and reputation.

Petitioner's argument in Aadhaar case: Aadhaar enrollment is the means to a "Totalitarian State" and an open invitation for personal data leakage.
Apprehension expressed by the Supreme Court:  collection and use of data is the risk of personal information falling in the hands of private players and service providers.
2. Liquor sale ban does not extend to municipal areas: SC
Context:
Supreme Court has clarified its order on 500-metre limit along National and State Highways.
In news
Clarifications:
The nationwide ban on sale of liquor within a distance of 500 metres along National and State Highways does not extend to municipal areas (does not prohibit licensed establishments within municipal areas).
Ban on liquor sale only extends along and in proximity to highways which provide connectivity between cities, towns and villages.
Implication of the clarification:

Stretches of highways running within city limits are now, by default, exempt from the liquor ban.
Litigation infructuous: effectively made infructuous any pending litigation in High Courts on declassification of State or National Highways to district roads by State governments or local authorities.
Huge relief for bar and hotel owners who were forced to shut down operations post the ban orders.
3. OBC list to be sub-categorized
In news:
The Union Cabinet approved a proposal to set up a commission which will examine the issue of sub-categorization of the Other Backward Classes (OBC).
The actual reservation will continue to be 27% and within this the committee will have to do the re-arranging.
Committee mandate: 

To examine the "extent of inequitable distribution of benefits of reservation" among various castes and communities that comes under the Central OBC list.
Work out the mechanism, criteria and parameters for the actual sub-categorization.
To bring order to the Central list of OBCs by removing any repetitions.
Creamy layer cap enhanced:
Increased the "creamy layer" ceiling for the Other Backward Classes to ₹8 lakh per annum from the existing ₹6 lakh for Central government jobs.
Key Fact:
The Scheduled Castes have a 15% quota and the Scheduled Tribes have 5% quota.
States having sub- categorization: Andhra Pradesh, Telangana, Puducherry, Karnataka, Haryana, Jharkhand, West Bengal, Bihar, Maharashtra and Tamil Nadu.
Category: INTERNATIONAL RELATIONS
1. Saudi job scheme favouring locals to hit Indians hard
In news:
Nitaqat (or Saudisation) Scheme
Saudization or Saudisation of the workforce—the replacement of foreign workers with Saudi nationals in the private sector—is the official national policy of the Kingdom of Saudi Arabia.
This new revised scheme is a blow to Indian migrants.
The Nitaqat system was first introduced in mid-2011 to encourage employment of Saudi nationals.
Employers are divided into four categories, Platinum, Green (with three sub categories of high, medium and low), Yellow and Red. Those in Platinum have a higher proportion of Saudi nationals as employees
New revised rules and its impact
From September 2017, only a handful of organisations with high grades ('Platinum' and 'High Green' categories) — based on number of Saudi nationals employed by them and other criteria — will be able to apply for new block visas for migrant employees.
Construction and hospitality, sectors which falls under low category have a predominantly blue collar Indian workforce, are unlikely to gain from such rules. Workers already employed in companies falling in low categories cannot be transferred from one employer to another.
Key Fact: In 2016, there were nearly 25 lakh Indians working in Saudi Arabia
Context: New South Asian policy unveiled by US President
Key points
Trump's new Afghan strategy could be a game-changer for South Asia.
For Delhi it is all about seizing the opportunity to raise India's profile in Afghanistan.
There is an opportunity for India in President Donald Trump's new assertive policy but skeptics in Delhi are doubtful if Washington has the political will to carry through the promised pressure on Pakistan to stop hosting terror sanctuaries on its soil.
India with respect to Afghanistan ought to do more despite its significant efforts in the past to promote economic reconstruction in Afghanistan.
Shift in Washington's thinking
The Bush Administration's- was expansive towards India in the Afghan strategy but cautioned against too large a role in Afghanistan.
It invested enormous political capital in getting the world to lift a four decades-old nuclear blockade (Pakistan) against Delhi.
The Obama Administration began with the intention that the answer to Afghanistan is in promoting a resolution of Pakistan's Kashmir dispute with India.
Consequently Indian diplomacy must necessarily keep its eyes open for a return of these familiar themes in the US approach to Pakistan.
Therefore positive Indian diplomatic approach should involve economic, security and diplomatic elements.
Role of Pakistan
Despite the China card against the US, Pakistan is highly conscious of the dangers of being treated as a rogue state by the West.
Pakistan displays dead silence in response to the Trump speech which suggests that Rawalpindi has chosen to avoid a public argument with Washington.
The Pakistan Army will try and find ways to counter Trump's New South Asian Policy but it will not be easy for Pakistan to abandon its investments in cross-border terror.
Only gate presently open for Rawalpindi is to offer some cooperation in countering terror and make new promises to bring the Taliban to the table.
But it will urge US pressure on India to start talks on Kashmir at the backend.
India- Afghan Bilateral Relationship
India should essentially ramp up its economic diplomacy in Afghanistan to bring immediate benefits to Kabul amongst the deteriorating conditions in the country. Delhi must step up security cooperation with Afghanistan.
India must offer training of its police and armed forces and intelligence sharing.
On the diplomatic front, India must counter the emerging argument that Trump's new approach will intensify the "Indo-Pak rivalry" in Afghanistan and the old one that Kashmir holds the key to peace in Afghanistan.
Prime Minister Narendra Modi had articulated this vision in an address to the Afghan parliament that Delhi must remind the world of India's commitment to regional cooperation with Afghanistan and Pakistan, in an atmosphere free of terrorism.
Way forward
Trump's new Afghan strategy could be a potential game-changer for South Asia or a brief exception to the familiar pattern of US-Pak relations.
While comprehending the potential shadow between Trump's words and deeds, Delhi needs to activate its own activism to stimulate positive outcomes in Afghanistan.
Context: Nepal's Prime Minister, Sher Bahadur Deuba to visit India.
Key points
Nepal's PM Deuba's five-day visit to be seen as an opportunity for India to take a relook on the diplomatic ties between the countries.
Nepal-India relations have been sinusoidal for decades, however the two Modi visits did not help in restoration.
India continues to be seen in Nepal as the interfering Big Brother, who "micromanages" the country's politics and installs puppet governments.
If anything, anti-India sentiment was strengthened by the The 2015 Great Blockade by the Madhesis was seen to have Delhi's tacit support and the end result was strengthening of anti India sentiment. The quest of their demand lies in greater representation in the Nepal Parliament.
But then China poured money into Nepal for several infrastructure projects, and sewed up trade and transit deals during the same period.
Secondly, the Mahakali Multipurpose Project Daube signed when he was PM in 1996 but no progress seen till present.
Thirdly the consequences of the November 2016 demonetization also impacted Nepali traders and businessmen.
Way forward
New Delhi should comfort Deuba's first foreign visit.
MoUs and other agreements to be signed should project that India is a friend, even in the absence of China.
India's challenge will be to persuade both the premier and Nepal that India can really keep out of the country's internal affairs.
1. New mechanism to spur PSB mergers
In news:
The Cabinet has approved 'in-principle' the constitution of an alternative mechanism- ministerial group, that will oversee the proposals for mergers among banks.
Why? For quicker consolidation among public sector banks.
Crisil observations
Cabinet decision regarding constitution of an alternative mechanism is an important first step towards kick starting the consolidation process
Such mergers would improve NPA resolution following swifter decision making and an unified strategy.
Adds commercial strengths, prevents multiplicity of resources being spent in the same areas, and it improves the capacity of the banking system to absorb shocks that the market throws up
Key Fact
Gross NPA (GNPA) ratio of the banking system is at 9.6% and the stressed advances ratio at 12% as of March 31, 2017.
The Indian banking sector has been battling a surge in bad loans over the last three years with gross NPAs climbing to about ₹8 lakh crore.
2. Economy doing well on strong fundamentals, reforms: FSDC
In news:
According to the deliberations at a meeting of the Financial Stability and Development Council (FSDC), India's macro-economic stability remains strong on the back of

Improvement in fundamentals
Structural reforms with the launch of the goods and services tax
Steps to tackle the twin balance sheet problems

The Council, consisting mostly of regulators and secretaries of the finance ministry, also took note of investor confidence in financial markets, which is reflected in high and rising bond and stock valuations and long-term positive consequences of demonetization
Basic Information
Financial Stability and Development Council (FSDC)
It is an apex-level body constituted by the government of India.
FSDC has replaced the High Level Coordination Committee on Financial Markets (HLCCFM), which was facilitating regulatory coordination, though informally, prior to the setting up of FSDC. It is not a statutory body.
Chairperson: The Union Finance Minister of India
Members: Heads of the financial sector regulatory authorities (i.e., RBI, SEBI, IRDA, and PFRDA), Finance Secretary and/or Secretary, Department of Economic Affairs (Union Finance Ministry), Secretary, Department of Financial Services, and Chief Economic Adviser. FSDC can invite experts to its meeting if required.
The objectives of FSDC would be to deal with issues relating to:
Financial stability
Financial sector development
Inter-regulatory coordination
Financial literacy
Financial inclusion
3. 'RBI not for NBFCs taking deposits'
In news:
Deputy Governor N.S. Vishwanathan of the RBI, has said that RBI is not in favour of allowing non-banking finance companies (NBFCs) to accept deposits.
Previously, RBI has given a few NBFCs licenses to accept deposits; it would not do so in the future.
'No cancellation': the licenses already given will not be revoked.
Key Facts: NBFCs are one of the bright spots of the Indian economy, with the rate of growth of advances growing by 14-15%, which is higher than banks.
Basic Information
Non-Banking Financial Company (NBFC)
A Non-Banking Financial Company (NBFC) is a company registered under the Companies Act, 1956 engaged in the business of loans and advances, acquisition of shares/stocks/bonds/debentures/securities issued by Government or local authority or other marketable securities of a like nature, leasing, hire-purchase, insurance business, chit business but does not include any institution whose principal business is that of agriculture activity, industrial activity, purchase or sale of any goods (other than securities) or providing any services and sale/purchase/construction of immovable property.
A non-banking institution which is a company and has principal business of receiving deposits under any scheme or arrangement in one lump sum or in installments by way of contributions or in any other manner, is also a non-banking financial company (Residuary non-banking company).
What is difference between banks & NBFCs?
NBFCs lend and make investments and hence their activities are akin to that of banks; however there are a few differences as given below:

NBFC cannot accept demand deposits;
NBFCs do not form part of the payment and settlement system and cannot issue cheques drawn on itself;
deposit insurance facility of Deposit Insurance and Credit Guarantee Corporation is not available to depositors of NBFCs, unlike in case of banks.
4. Finance Ministry modifies cash management system to include post-GST changes
In news
The finance ministry has modified the cash management system of the Central government
Why? To incorporate the change in date of tax receipts arising out of the new indirect tax regime of the Goods and Services Tax (GST)
Direction to all Departments and Ministries
The finance ministry has asked all financial advisers of all departments and ministries to send a monthly/quarterly expenditure plan to the Budget division of the ministry
This has to be done in within two weeks of passage of their detailed demand for grants in Parliament
Reasons behind the move
Monthly/quarterly expenditure plan form the basis of cash forecast and preparation of indicative calendar for government borrowing
The monthly expenditure plan would form the basis of quarterly expenditure plan
And departments/ministries will not be allowed to release payment beyond quarterly expenditure plan without prior consent of the Budget division
Context: GST avoids the challenge of shifting to a higher proportion of direct taxe
Key points
Sustainability of taxation policy is an echo of economic policy. Thus GST has to be weighed upon a broader taxation policy perspective.
India's tax-GDP ratio is at 18 per cent, which when compared with developed countries (between 30 per cent and 40 per cent) as well as comparable economies such as Mexico, Brazil, and South Africa (between 23 per cent and 26 per cent) the picture looks grim. Therefore India should target to reach 25 per cent.
Reasons
Of the total taxes collected in India, almost two-thirds come from indirect taxes while taxes on income and profits contribute only a one-third share.
But the scenario is exactly in opposite proportion when compared to other nations.
In a country with strong economic progress as well as social policy goals, such an abysmal base of direct taxes and a excessive proportion of indirect taxes is the way for an hostile future.
 GST Analysis
Under reporting of turnover and evasion of taxes on goods and services is the first step towards evasion of taxes on profits and income.
With the junction of direct and indirect tax departments and also owing to the conception of non-erasable automated electronic trails by GST, it is seen as an near impossible task for the business class to default on direct taxes.
GST pushes every firm to be a registered and tax compliant business unit rather than remain an unregistered seller due to the peculiar system of tax input credit.
Despite great potential, the choices with respect to tax rates and the segregations made by the GST council are bringing the graph down rather than promising. India's GST rate is broken down into four rates — 5, 12, 18, and 28 per cent but the reality shows that at least seven rates would be in operation.
This would defy the objective of "one nation one tax" and also increase the possibility of corruption and falsification due to a multiple-slab, loophole-prone tax system.
Certain items such as petroleum, electricity and taxes on liquor, which constitute a major chunk of states' income, are kept away from the purview of the GST.
The exclusion of the petroleum sector from GST, which contributed, for a raise in tax collection by 122% over past three years is a mockery of justice.
Due to lack of infrastructural preparedness, there could be a temporary obstruction in small and medium businesses.
Nothing here for Today!!!
NATIONAL PARKS/SANCTURIES/BIOSPHERE RESERVES
National park is an area, which is strictly reserved for the betterment of the wildlife & biodiversity, and where activities like developmental, forestry, poaching, hunting and grazing on cultivation are not permitted. Their boundaries are well marked and circumscribed. They are usually small reserves spreading in an area of 100 sq. km. to 500 sq. km. In national parks, the emphasis is on the preservation of a single floral or faunal species.
National parks in Jammu and Kashmir
1. Dachigam National Park
Location
Dachigam National Park is located about 22 Kilometers from Srinagar District of the state of Jammu and Kashmir. 
Facts
Total area of the park is about 141 sq.km
This National park is well known for its unique and diverse wildlife and bird species. It habitats the endangered Hangul population in the world, which is characterized by its white rump patch and impressive spread of antlers.
Hangul also called as Kashmiri Stag.
Other wildlife includes Leopard, Common Palm Civet, Jackal, Red Fox, Yellow-throated Marten and Himalayan Weasel.
Over 145 different bird species including the Lammergeier, colourful species like Monal Pheasant and Blue Magpie are seen.
2. Salim Ali National Park
Location
Salim Ali National Park is located in Srinagar
Facts
This National park covers an area of 9.07 sq. km.
This park habitats various wildlife species such as Hangul, Musk Deer, Himalayan Black Bear and about seventy species of birds including Paradise flycathcher, Himlayan Snow Cock.
---
IUCN Red List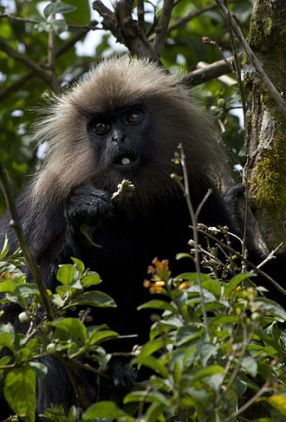 I. Nilgiri langur
Scientific Name: Trachypithecus johnii
IUCN Classification: Vulnerable
Habitat:

The Nilgiri langur is a a type of Old World monkey found in the Nilgiri Hills of the Western Ghats in South India.
Its range also includes Kodagu in Karnataka, Kodayar Hills in Tamil Nadu, and many other hilly areas in Kerala and Tamil Nadu.
Threats: habitat destruction and poaching for its fur and flesh.
---
II. Lion-tailed macaque/ wanderoo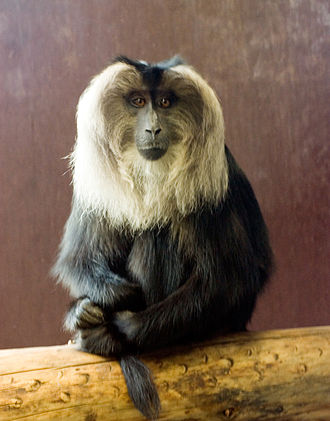 Scientific Name: Macaca Silenus
IUCN Classification: Threatened
Habitat:

The Lion-tailed macaque is a type of Old World monkey endemic to the Western Ghats of South India.
Avoid human presence and they do not live, feed or travel through plantations.
Threat: Habitat fragmentation due to spread of agriculture and tea, coffee, teak and cinchona, construction of water reservoirs and human settlements to support such activities.
F. Practice Questions for UPSC Prelims Exam
Question 1. Consider the following statement with reference to Non-Banking Finance 
Company:
NBFC cannot accept demand deposits
NBFCs do not form part of the payment and settlement system
Deposit insurance facility of Deposit Insurance and Credit Guarantee Corporation is available to depositors of NBFCs
Choose the correct statements
1 and 3
1 and 2
2 and 3
All are correct
See
Question 2. Consider the following statement with reference to Financial Stability and 
Development Council (FSDC):
RBI governor is the Chairperson of FSDC
FSDC is a statutory body
Choose the correct statements.
1 only
2 only
Both 1 and 2
Neither 1 nor 2
See
Question 3. In which of the following States is lion-tailed macaque found in its natural 
habitat?

Tamil Nadu
Kerala
Karnataka
Andhra Pradesh
Select the correct answer using the codes given below.
1, 2 and 3 only
2 only
1, 3 and 4 only
1, 2, 3 and 4
See
Question 4. In which of the following States is Nilgiri Langur found in its natural habitat?

Tamil Nadu
Kerala
Karnataka
Andhra Pradesh
Select the correct answer using the codes given below.
1, 2 and 3 only
2 only
1, 3 and 4 only
1, 2, 3 and 4
See
Question 5. Consider the following statement with reference to Nitaqat scheme:

The scheme refers to the replacement of foreign workers with Saudi nationals in the public sector
It is the official national policy of the Kingdom of Saudi Arabia.
Choose the correct statements.
1 only
2 only
Both 1 and 2
Neither 1 nor 2
See
Question 6. The 'Red Data Books' published by the International Union for Conservation of 
Nature and Natural Resources (IUCN) contain lists of ________.

Endemic plant and animal species present in the biodiversity hotspots.
Threatened plant and animal species.
Protected sites for conservation of nature & natural resources in various countries.
Which of the statement given above is/are incorrect?
1 & 3
2 only
2 & 3
3 only
See
Question 7. Which of the following statements with respect to IUCN are correct?

IUCN is an NGO.
It publishes Red data book.
IUCN contains a list of 'Threatened species' (vulnerable, endangered and critically endangered).
Select the correct option
1 only
1 and 2 only
2 and 3 only
All the above
See
Question 8. Which of the following Indian species under IUCN are critically endangered?

Himalayan Red/Brown bear
Elvira rat
Bornean Orangutan
Sumatran Rhinos
Select the correct options
4 only
1 and 2
1, 2 and 4
All the above
See
G. UPSC Mains Practice Questions
GS Paper II
"State is obliged to put a robust personal data protection mechanism in place in this digital age" Evaluate?
Critically analyze the prospects to India from the recently unveiled "New South Asian Policy of President Donald Trump?
GS Paper III
How can the 'Digital India' programme help farmers to improve farm productivity and income? What steps has the Government taken in this regards?
"GST is a weapon to curb state's financial autonomy." Evaluate?
GS Paper IV
Topic: CASE STUDY ANALYSIS
Question 1.  You are running a Non Governmental Organization to educate orphans, beggars and other single/lonely child. Appreciating the work, Government of India sanctions a grant of Rs. 2 lakhs/year lapsable fund. But due to your commitment towards Civil service examination, you could only spend Rs. 50,000/- this year. A friend advises you not to return the remaining amount as it would result in labeling the NGO as inefficient and reduce the grant for next year. S/he also suggests you to manipulate the accounts and use the remaining Rs.1, 50,000/- along with the next year's grant without misusing the purpose of the grant. So what is your stand?
Answer
NGO is a helping hand to the government for the welfare of the society. It should be a non-competitive, non-profitable organization. In this case study the personal values of Honesty versus Self Interest are tested.
A right is always correct even if nobody is following and a wrong is always wrong even if everyone is following. Therefore a second wrong can never correct the first wrong.
Points on a stand to return the unused grant
First mistake can be the reason behind further wrongs like corruption, inefficiency, inability, and manipulations.
It questions the professional integrity and human values.
Furthermore inner conscience which is a higher court of justice which supersedes all other courts (M K Gandhi) would kill the values and objectives of past achievements.
The honest step to return the unutilized grant can increase the trust and credibility of the organization, which can result in attracting more donors.
Keeping apart the human values, it is the duty of a citizen to follow the law of the land to keep up the spirit of Mahatma Gandhi's ideology – "means are equally important as ends".
On the other hand the act of manipulation is a form of corruption, which has potential to derecognize legally and defame the organization socially.
Points in favor of friend's opinion
Intention to manipulate the accounts was not for self-benefits. Hence there is no misuse in the objective or resources.
This move can bring about a larger outcome (Utilitarian concept- the doctrine that an action is right in so far as it promotes happiness, and that the greatest happiness of the greatest number should be the guiding principle of conduct.)
Conclusion
Looking into the positives and negatives of the move I would decide to return the grant along with a statement of the organization's expenditure and future course of action. So that Government of India could take a call on the future grants.
Also, check previous Daily News Analysis
"Proper Current Affairs preparation is the key to success in the UPSC- Civil Services Examination. We have now launched a comprehensive 'Current Affairs Webinar'. Limited seats available. Click here to Know More."
Enroll for India's Largest All-India Test Series