TABLE OF CONTENT
A.

 GS1 Related


SOCIAL ISSUES
1. Rajasthan leads in child marriages


B.

 GS2 Related


POLITY
1. Cattle slaughter: Not infringing on State laws, says Arun Jaitley
2. EC wants govt to review changes in poll funding laws
3. Revenge porn surge makes government sit up
INTERNATIONAL RELATIONS
1. India, Russia ink nuclear plant pact


C.

 GS3 Related


SCIENCE AND TECHNOLOGY
1. LIGO makes third gravitational wave detection
2. India's polar ship still a long way off
ENVIRONMENT AND ECOLOGY
1. China vows to stick to Paris pact
2. Donald Trump goes rogue, pulls US out of 'partial to India, China' climate deal
3. Earth is on the brink of a sixth mass extinction


D. 

GS4 Related




E. 

Concepts-in-News: Related Concepts to Revise/Learn




F. 

Bills/Acts/Schemes/Orgs in News


G. 

Practice Questions for UPSC Prelims Exam

UPSC Current Affairs 2017: News Analysis
A. GS1 Related
1. Rajasthan leads in child marriages
In News:
Research conducted by Young Lives in coordination with the National Commission for Protection of Child Rights (NCPCR) has revealed that Rajasthan has reported the highest incidence of child marriages.
Key data:
Based on 2011 census, 2.5% of marriages of minor girls were reported in Rajasthan.
Rajasthan also topped in the percentage (4.69%) of boys marrying below the legal age of 21 years.
According to the Census study, 12.9% of girls got married in the age of 10-17 years and 43.6% between 18-20 years. However, only 4.9% of boys got married in the 10-17 years age group and 11.2 % in the 18-below 21 age group.
Urban –Rural Divide:

The decline in rural India, between 2001 and 2011 Census, was marginally higher than in the whole of the country.
Incidence of child marriage among girls increased substantially in urban India from 1.78% in 2001 to 2.45% in 2011.
B. GS2 Related
1. Cattle slaughter: Not infringing on State laws, says Arun Jaitley
Context: Recent notice issued by the center regarding regulating sales of Cattles in the markets.
In news: 
Finance Minister Arun Jaitley response: State laws on cattle slaughter "had nothing to do" with a recent notification by the Union Environment Ministry prohibiting the sale of bovines for slaughter at animal market places.
The new notification says that buyers of cattle at animal markets will have to verify they are agriculturalists and declare that they will not sell the animal/s for a period of six months from the date of purchase.
2. EC wants govt to review changes in poll funding laws
In news:
The Election Commission has conveyed its reservations to the government regarding the recent amendments to the Representation of the People Act and Companies Act, affected through the Finance Bill, with respect to political funding.
Amendments :
RP Act amendment exempts political parties from declaring donations received through the electoral bonds route
Companies Act has been updated to remove the ceiling on corporate donations to political parties.
Contention by Election Commission: undermine transparency in funding of political parties.
What does RP Act says regarding donations?
Section 29 (c) of the RP Act, political parties must declare donations above Rs 20,000
This is proposed to be further cut to Rs 2,000. 
3. Revenge porn surge makes government sit up
In news:
The government is considering changes in the law to ensure stringent action against cyber crimes targeting women such as `revenge porn videos' in the light of an increasing number of such incidents surfacing on social media
Ministry of women and child development (WCD) seeking a greater focus on cyber crime to crack down on online sexual abuse.
The ministry of women and child development is exploring ways to bridge the gap between existing provisions of the Indian Penal Code and the Information Technology Act to deal with `revenge porn'.
What is revenge porn?
Sharing of images or videos with sexual content without the consent of the person whose images or videos are put out on the internet has come to be referred to as `revenge porn'.
This is often the act of a vengeful partner after a relationship has gone sour, the victim ends up being a target twice.
Inter-Ministerial Committee (IMC) consultations:
Inter-Ministerial Committee (IMC) consultations led to interim measures to curb the menace of online child sexual abuse.
Under this order, Internet Service Providers (ISPs) are required to adopt and implement the Internet Watch Foundation (IWF) Resources. This foundation maintains a dynamic global list of websites and URLs which contain child sexual abuse material.
Implementation of IWF Resources will result in relevant content being blocked or removed on an ongoing basis.
This is an interim measure till the IMC puts in place a centralised mechanism to monitor online child sexual abuse material.
Category: INTERNATIONAL RELATIONS
1. India, Russia ink nuclear plant pact
In News:
India and Russia's new agreement :
Setting up of two more units of a nuclear power plant in Tamil Nadu: Kudankulam 5 and 6 reactor units.
Defence cooperation agreement.
'Indra-2017': first tri-Services exercises
Start joint manufacture of frigates, adding to the co-production of Kamov-226 military helicopters.
C. GS3 Related
Category: SCIENCE AND TECHNOLOGY
1. LIGO makes third gravitational wave detection
In news:
The Laser Interferometer Gravitational-Wave Observatory (LIGO) detectors in the U.S. have detected yet another merger of two black holes.
This signal marks the third confirmed detection of gravitational waves coming from a binary black hole merger.
It is of great interest to the scientific community that the black holes, having masses nearly 31 times and 19 times the sun's. Until the first detection of gravitational waves by LIGO in 2015 (GW150914) it was not known that such massive black holes could exist.
New findings: How black holes might have been formed?
The detection has revealed not merely a black hole merger, but also the alignment of the spins of the black holes.
The spins of the individual black holes making up the merger are probably not aligned along the same direction. This supports the theory which says that black holes form independently in a star cluster, then sink to the centre of the cluster and eventually merge
The new observations yields support to Einstein's General Theory of Relativity. According to this theory, gravitational waves, unlike light waves, will not disperse as they travel through space. This too has been confirmed by the analysis of the presently detected signal.
Drawbacks:
One drawback of having just the two detectors at Hanford, Washington and Livingston, Louisiana tuned to detect gravitational waves is that they cannot accurately figure out where in the sky the signal is coming from.
Contribution by Indians:
The study had a major Indian contribution and the LIGO-India facility, which is making immense progress will join the club in 2024.
India's ASTROSAT mission did a related sensitive search for short duration x-ray flashes associated with the event and did not detect any.
2. India's polar ship still a long way off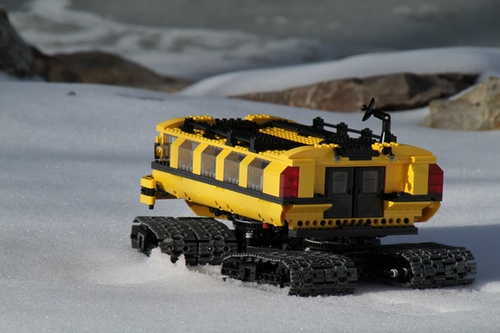 In news:
India's plans to acquire a rs. 1,000-crore polar research vehicle (PRV) — a ship that can cut through ice sheets and glaciers — may see fresh delays.
Earlier attempts: Early 2015, Spanish ship-building company was roped in, the contract fell through, primarily due to escalated costs.
Indian ship companies are not experienced in building PRVs.
There are very few companies in the world with such expertise.
Why do we need a PRV?
The ship is expected to be central to India's ambitions in the Arctic and Antarctica.
India has announced plans to rebuild Maitri, its research station in Antarctica, and make it impervious to its harsh environment for at least 25 years.
Basic Information:
PRV's are also known as 'ice-breaker,' it can cut through a 1.5-metre thick wall of ice.
It has a lifespan of 30 years.
Category: ENVIRONMENT AND ECOLOGY
1. China vows to stick to Paris pact
Context: Washington planning to pull out of the Paris climate agreement.
In news:
China reiterated its position to continue to implement promises made to the Paris Agreement, to move towards the 2030 goal step by step steadfastly.
Russia's reaction: The withdrawal of key players from the Paris climate deal would "complicate" implementation of the pact.
2. Donald Trump goes rogue, pulls US out of 'partial to India, China' climate deal
In news:
The country's 45th President, businessman entrepreneur Donald Trump, announced: "Washington is pulling out of the widely-acclaimed climate change accord".
Reasons given:
Solemn duty to protect America and its people
Accord favored China and India.
Complaints against India, falsely saying New Delhi was demanding "billions and billions and billions" of foreign aid to conform to the deal, and claiming that the accord will allow India to double coal production by 2020.
Trump said the US will seek to negotiate its way back or negotiate a new climate deal that is "fair" to America
The US, under President Obama, had stitched together the deal with great difficulty after convincing a majority of the 198 nations, including long-term holdouts such as China and India.
Key Fact:
China is currently the world's largest CO2 emitter, having overtaken America in the past decade
The US historically is the world's biggest polluter, riding on a century of mass consumption and servicing of everything from large homes to large vehicles.
In 2015, the US released 5.1.million kilotons of CO2, accounting for a sixth of global emissions and more than that of 28 EU countries combined.
In comparison, India, with four times the US population, accounted for 2 million tons of CO2.
Paris Agreement on Climate Change: The Paris Agreement on Climate Change is aimed at cutting emissions and keeping global temperatures from rising more than 2 degrees Celsius above pre-industrial levels.
3. Earth is on the brink of a sixth mass extinction putting animals at 'unprecedented' extinction risk in the next 50 years, experts warn
Context:
Experts predictions: Earth is now on the brink of its sixth mass extinction and human activity is to blame.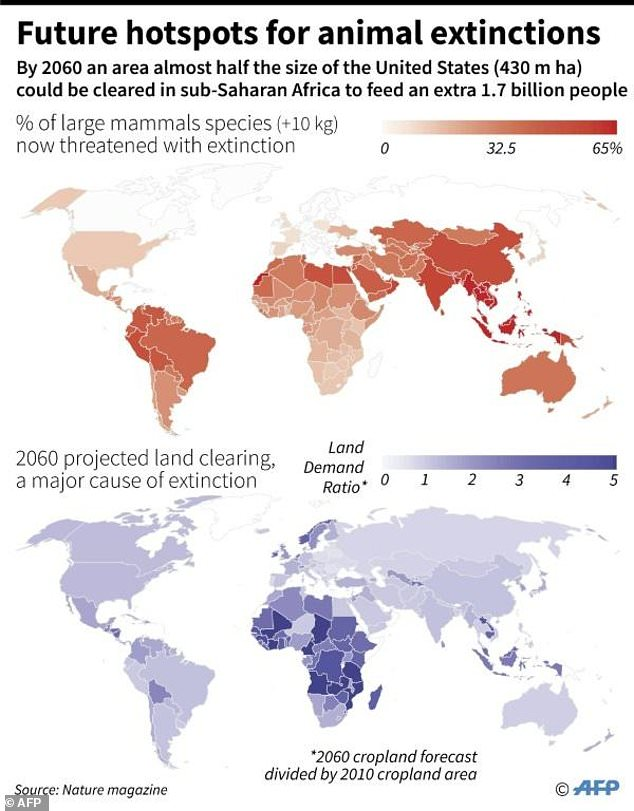 In news:
Researchers around the world examined the current and future threats to biodiversity, and found that
Nearly a quarter of mammal species are at risk of extinction, along with 13 percent of birds.
Human activities are driving the sixth mass extinction in the history of life on Earth
Ever-expanding human population and exploding demand for food, water and living space, will place animals at 'unprecedented' extinction risk in the next 50 years.
The highest level of threat are more than 360 species of large mammals in Africa, Asia and South America — the most biodiverse regions of the world
What needs to be done?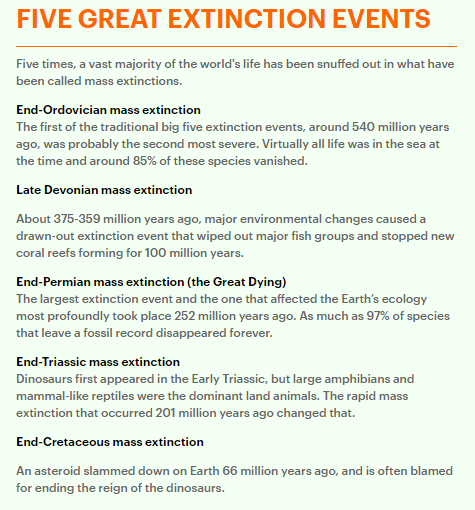 Safeguarding Earth's precious creatures amid such pressures will require the expansion and better management of conservation areas, the authors argued.
The ultimate drivers of hunting and poaching must be addressed, for example, by providing people with alternative livelihoods or sources of protein.
Agricultural yields — the crop produced per available hectare of land — must be increased through measures that include protecting soil fertility, and using more pest- and drought-resistant seeds.
Drastic change to human diets and farming methods could provide 'healthy diets' for 10 billion people by 2060, while also preserving liveable habitats for most remaining species.
Nothing here for Today!!!
E. Concepts-in-News: Related Concepts to Revise/Learn
F. Bills/Acts/Schemes/Orgs in News
| | |
| --- | --- |
| Article in News | About the article |
G. Practice Questions for UPSC Prelims Exam
Question 1: National Centre for Antarctic and Ocean Research (NCAOR) is under which ministry?
Ministry of science and technology
Ministry of Earth Sciences.
Ministry of Environment, Forest and Climate change.
None of the above
See
Question 2: The government of India confers awards to the Armed Forces both for services 
rendered during war as well as peace. Which of the following is awarded as Peace Time 
Gallantary Award?
Vir Chakra
Param Vir Chakra
Shaurya Chakra
Maha Vir Chakra
See
Question 3: The Kala Ghoda Arts Festival is associated with which one of the following cities? 
Kochi
Pune
Mumbai
Mysore
See
Question 4: Which is the most abundant metal in the Earth's crust?
Aluminium
Nickel
Iron
Silicon
See
"Proper Current Affairs preparation is the key to success in the UPSC- Civil Services Examination. We have now launched a comprehensive 'Online Current Affairs Crash Course'. Limited seats available. Click here to Know More."
Practice More: Enroll for India's Largest All-India Test Series