TABLE OF CONTENTS
A.

 GS1 Related




B.

 GS2 Related


GOVERNANCE
1. Centre cannot guarantee power supply to all villages, says official
INTERNATIONAL RELATIONS
1. India, Seychelles talk of 'mutual welfare'


C.

 GS3 Related


ENVIRONMENT
1. Toxic air is causing malnutrition in trees


D.

 GS4 Related




E. 

Editorials


SOCIAL ISSUES
1. For nutrition security: On undernourishment


F. 

Tidbits


1. Maldives leader seeks India's help
2. $4.5 tn investment needed for infra: FM
3. 'Anchor bank for PSB consolidation put on hold'
4. Oil blocks: India to bid with UAE firms
5. India voices concern over housing project
G. UPSC Prelims Practice Questions
H. UPSC Mains Practice Questions 

Nothing here for today!!!
1. Centre cannot guarantee power supply to all villages, says official
While it is the Centre's responsibility to connect households and villages to the power grid or provide them alternative sources of electricity, it cannot guarantee the supply of electricity to them.
The actual supply is the responsibility of the power distribution companies in each State.
The Centre has claimed 100% electrification of all villages and 83% of all households across the country.
It has said that all households will be electrified by the year-end.
Issues
However, there are several discrepancies between the actual and the on-paper status of electrification.
In some cases, the electrification infrastructure such as cables and transformers were stolen days after they were installed, leaving the target village unelectrified in reality but connected on paper.
In other cases, electricity was supplied for just a few hours a day.
Despite the government pegging India as a power surplus nation, almost every State in the country reels under power cuts, especially during peak summer.
This, according to power sector analysts, is because discoms are still very inefficient, with the costs they incur in the transmission far outweighing revenue.
Government data show discoms across the country, on an average, lose Rs.0.22 a unit of electricity supplied.
However, the Power Ministry has claimed that this situation is improving rapidly under the Ujwal Discom Assurance Yojana (UDAY), with Power Minister R.K. Singh recently saying that discom losses have drastically reduced to Rs.17,352 crore in 2017-18 from Rs.51,096 crore in the previous year.
On their own, many of the discoms right now are not ready to provide 24×7 power, for two reasons: the first is their financial health. Most of them are not financially capable to do this.
Secondly, only some of the discoms have the infrastructure to supply good quality power on a sustained basis.
More to achieve
Sector specialists, however, say that while the performance of discoms is improving, they are still not at the performance level to supply electricity 24×7.
The only hope of the utilities is continued assistance from the State governments.
If the respective State governments continue to give financial support and assurances to the discoms, then the condition could definitely improve.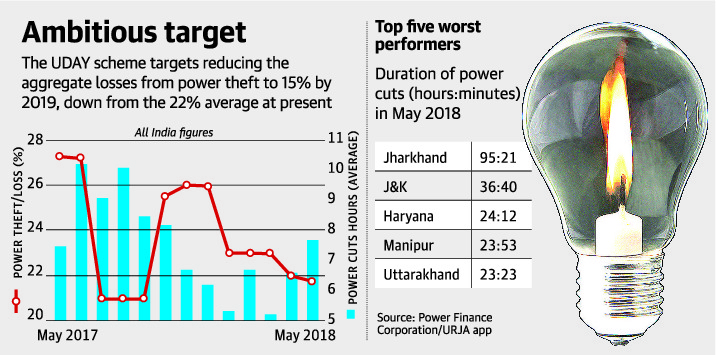 1. India, Seychelles talk of 'mutual welfare'
India and Seychelles will ensure mutually beneficial steps regarding stalled plans for a military base at the island of Assumption, Prime Minister Narendra Modi said after a bilateral meeting with the visiting Seychelles President Danny Faure.
Modi announced several initiatives for the strategically located country, including the grant of $100 million Line of Credit for the purchase of defence hardware.
Background
The statement is the first from the Prime Minister since the National Assembly of Seychelles last week refused to ratify the naval base that India has been planning to build on Assumption to provide a foothold in the western Indian Ocean.
It is not clear how both sides would take the project forward in the absence of a parliamentary ratification.
Initiatives
India also gifted a Dornier aircraft to Seychelles.
India made it clear that its security and strategic cooperation will go ahead as the two countries have convergence of views on the geostrategic importance of the Indian Ocean region.
Faure also declared that both sides would intensify cooperation to carry out hydrographical studies of the maritime region and have declared exchange of necessary oceanic maps between two sides.
He also expressed his country's appreciation of the Indian decisions and said his country will soon be celebrating the 250th anniversary of the arrival of the Indian origin people to the archipelago.
1. Toxic air is causing malnutrition in trees
Besides affecting human health, air pollution is also causing malnutrition in trees by harming a fungi that is important for providing mineral nutrients to tree roots, finds a new study.
The study
The study, published in the Nature, examined 40,000 roots from 13,000 soil samples at 137 forest sites in 20 European countries for a period of 10 years to determine the fungi's tolerance to pollution.
Processes in soil and roots are often ignored as studying them directly is difficult, but it is crucial for assessing tree functioning.
The researchers noted that ecosystem changes can negatively affect tree health.
Further, they found that the characteristics of the tree — species and nutrient status — and the local environmental conditions like the atmospheric pollution and soil variables were the most important predictors of which species of mycorrhizae fungi would be present and their numbers.
These also proved to have a large impact on the fungi.
The researchers suggested that the results should be used to design new studies into the link between pollution, soil, mycorrhizae, and tree growth.
Mycorrhizal fungi
Mycorrhizal fungi is hosted by the trees in their roots to receive nutrients from the soil.
These fungi provide essential nutrients like nitrogen, phosphorus and potassium from soil in exchange for carbon from the tree.
This plant-fungal symbiotic relationship is crucial for the health of the tree.
However, high levels of the nutrition elements like nitrogen and phosphorus in the mycorrhizae changes them to act as pollutants rather than nutrients, the findings showed.
Signs of malnutrition
The signs of malnutrition can be seen in the form of discoloured leaves and excessive falling of leaves.
There is an alarming trend of tree malnutrition across Europe, which leaves forests vulnerable to pests, disease and climate change.
Nothing here for today!!!
E. Editorials
1. For nutrition security: On undernourishment
Why in news?
India remains lacking in the commitment to tackle undernourishment.
The UN's State of Food Security and Nutrition in the World report for 2017 has important pointers to achieve nutrition policy reform.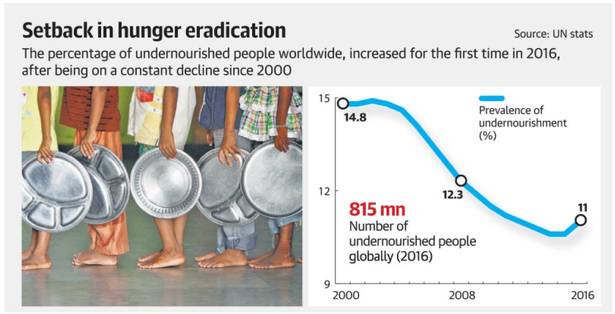 U.N. report:
World's hungry population on the rise again
Conflicts, climate change are main hurdles in meeting development goals
The number of hungry people in the world has risen for the first time in more than a decade, according to a United Nations report released on Wednesday.
There are now approximately 38 million more undernourished people in the world, rising from 777 million in 2015 to 815 million in 2016, the year for which the latest statistics are available.
United Nations's Sustainable Development Goals (SDG) 2018 report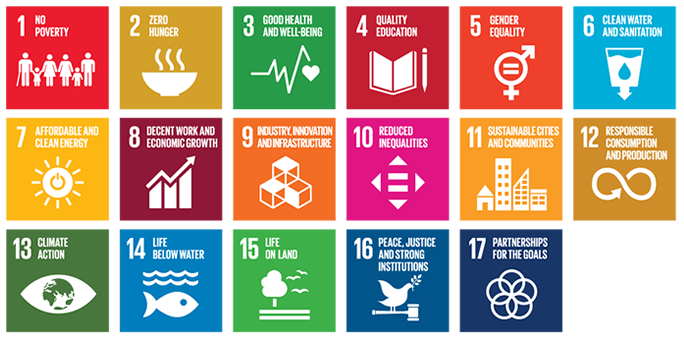 Conflict is now one of the main drivers of food insecurity in 18 countries. "After a prolonged decline, world hunger appears to be on the rise again.
Key factors
Conflict,
drought and disasters
climate change
Violent conflicts also led to the forced displacement of a record high 68.5 million in 2017. Are among the key factors causing this reversal in progress," said the report.
Economic losses
Noting the increasing impact of extreme events related to a changing climate, the report said economic losses attributed to disasters were estimated at over $300 billion in 2017.
This is among the highest losses in recent years, owing to three major hurricanes affecting the United States of America and several countries across the Caribbean.
While there is little country-specific data in the report, it does examine the performance of various regions in meeting the 17 SDGs, which were adopted by U.N. member nations in 2015. The deadline to meet them is 2030.
South Asia, which includes India, has seen child marriage rates plunge, with a girl's risk of getting married in childhood dropping by 40% from 2000 to 2017.
water stress levels for many countries in the region are above 70%, indicating fast-approaching water scarcity.
More than nine out of 10 people living in urban areas around the world are breathing polluted air, with southern Asia scoring the worst in this area.
While electricity and sanitation deficits in south Asia are still poor, the report noted efforts are being made to close the gap.
Sense of urgency for 2030 Agenda
"With just 12 years left to the 2030 deadline, we must inject a sense of urgency," said U.N. Secretary General Antonio Guterres in the foreword to the report.
"Achieving the 2030 Agenda requires accelerated actions by countries along with collaborative partnerships among governments and stakeholders at all levels. This ambitious agenda necessitates profound change that goes beyond business as usual."
Global level
At the global level, the five agencies that together produced the assessment found that the gains achieved on food security and better nutrition since the turn of the century may be at risk.
Although absolute numbers of people facing hunger and poor nutrition have always been high, there was a reduction in the rate of undernourishment since the year 2000.
That has slowed from 2013, registering a worrying increase in 2016. The estimate of 815 million people enduring chronic food deprivation in 2016, compared to 775 million in 2014, is depressing in itself, but more important is the finding that the deprivation is even greater among people who live in regions affected by conflict and the extreme effects of climate change.
In a confounding finding, though, the report says that child under-nutrition rates continue to drop, although one in four children is still affected by stunting.
These are averages and do not reflect the disparities among regions, within countries and between States.
Yet, the impact of the economic downturn, many violent conflicts, fall in commodity export revenues, and failure of agriculture owing to drought and floods are all making food scarce and expensive for many.
They represent a setback to all countries trying to meet the Sustainable Development Goal on ending hunger and achieving food security and improved nutrition.
Conclusion
India's efforts at improving access to food and good nutrition are led by the National Food Security Act. There are special nutritional schemes for women and children operated through the States.
In spite of such interventions, 14.5% of the population suffers from undernourishment, going by the UN's assessment for 2014-16.
At the national level, 53% of women are anaemic, Health Ministry data show. What is more, the Centre recently said it had received only 3,888 complaints on the public distribution system (PDS) over a five-year period. All this shows that the Centre and State governments are woefully short on the commitment to end undernourishment. Institutions such as the State Food Commissions have not made a big difference either.
Distributing nutritious food as a public health measure is still not a political imperative, while ill-conceived policies are making it difficult for many to do this.
Way forward
The report on nutritional deficiency should serve as an opportunity to evaluate the role played by the PDS in bringing about dietary diversity for those relying on subsidised food.
In a report issued two years ago on the role played by rations in shaping household and nutritional security, the NITI Aayog found that families below the poverty line consumed more cereals and less milk compared to the affluent. Complementing rice and wheat with more nutritious food items should be the goal.
1. Maldives leader seeks India's help
Counselling India not to be fooled by assurances from the Maldivian government that it would safeguard New Delhi's interests, Ahmed Naseem, a leader of the Opposition Maldivian Democratic Party (MDP), has said that if President Abdulla Yameen returns to power, he will allow a full takeover of the islands by China.
Issues
Naseem, who was Foreign Minister when Mohammad Nasheed was President, appealed for India's help in ensuring fair elections in the island nation, given that all Opposition leaders were either in jail or in exile.
MDP leaders have complained that they are unable to hold their party conventions and campaign rallies because of the restrictions imposed by the government.
MDP now believes at least 16 of the 26 main atolls that form the Maldives currently see investments and control by Chinese companies.
New Delhi and Male have been at loggerheads over a number of issues, including the Maldives' squeeze on work permits for Indians and the Yameen government's insistence on Delhi taking back two helicopters by the month-end.
Naseem said that the issue of food imports was an ongoing negotiation between the two countries, but he expected to meet External Affairs Ministry officials during his visit to Delhi to discuss their expectations from India, and make a special request for an Indian delegation to visit the Maldives to oversee elections there.
Food export curbs
There were reports saying that India had reduced its food exports as a retaliatory measure.
The External Affairs Ministry sought to clarify its stand after it emerged that the government had rationalised or reduced food quotas on a number of items exported to the Maldives.
The requirements of the Maldives are calculated based on actual utilisation in recent past and is consistent with the mechanism of the trade agreement signed between India and Maldives in 1981.
India remains firmly committed to strong people-to-people ties between the two countries and will ensure that the people of the Maldives do not have to endure any hardships.
2. $4.5 tn investment needed for infra: FM
The country will need more than $4.5 trillion in investments over a decade to create infrastructure but the cost of such investments will be a challenge, Finance Minister Piyush Goyal said.
At the same time, the Minister added that finding funds required for such investments will not be a deterrent.
AIIB funding
Interest rates are rising globally as well as domestically, raising the cost of finance.
India is the second-highest equity investor in AIIB and also the largest recipient of funds from the multilateral agency that started operations in January 2016.
India has picked up 28%, or $ 1.4 billion of the AIIB's total funding for seven projects.
These funds are deployed in both the public and the private sectors.
Plans ahead
The country is looking forward to investments in nine more projects with a funding of $2.4 billion from the Beijing-headquartered agency.
AIIB approved an equity investment of $100 million in India's National Investment and Infrastructure Fund's (NIIF) and is considering a further investment of $100 million in the future.
Concerns
When asked about India's concern over AIIB's funding in the China Pakistan Economic Corridor (CPEC) that passes through Pakistan-Occupied-Kashmir (PoK), Mr. Goyal said one cannot dictate as to what projects a multilateral agency should invest in.
These are independent organisations, not Chinese-led or American-led it is always a multilateral institution, he said.
3. 'Anchor bank for PSB consolidation put on hold'
The concept of having 5-6 anchor banks and merging weaker banks with them to drive consolidation among public sector banks (PSBs) has been put on the back-burner.
Instead, an alternative proposal is before the Finance Ministry, according to T.N. Manoharan, chairman, Canara Bank.
The major hurdle comes in the form of culture when it comes to integration. Instead, one of the suggestions made to the Finance Ministry is classifying banks into three categories.
Suggestions
One is a universal bank which does all kinds of banking, including corporate lending.
The second type includes national retail banks that would focus only on retail lending.
Regional retail banks constitute the third type.
Bad loans
Srinivasan said that the phase of recognition of bad loans was over and now, the focus was on recovery.
Contrary to public perception that bad loans are due to wilful defaulters and indiscriminate lending, it is only a small segment.
The real issue is commercial banks lending to big infrastructure projects, which got into problems, he said.
4. Oil blocks: India to bid with UAE firms
India is considering jointly bidding for oil blocks in the UAE with companies based there, Petroleum Minister Dharmendra Pradhan said.
The Minister also said that India would consider leasing a part of its third strategic reserve in Padur if Abu Dhabi National Oil Company (ADNOC) was interested.
MoUs
It had already leased a part of the strategic reserve in Mangalore to ADNOC.
The MoU signed by Saudi Aramco and ADNOC was to jointly develop and build an integrated refinery and petrochemicals complex at Ratnagiri in Maharashtra.
The project would be implemented by Ratnagiri Refinery & Petrochemicals Ltd. (RRPCL).
Significance
Saudi Arabia has always been a trusted and reliable supplier of crude for India and a key element of India's energy security.
The investment by Saudi Aramco and ADNOC in the $44 billion project will be the highest ever overseas investment in the Indian refining sector.
The significance, however, goes much beyond FDI.
It is a strategic partnership between India, Saudi Arabia and the UAE which is symbolised by the MoU.
The strategic partnership brings together crude supply, resources, technologies, experience and expertise of these multiple oil companies with an established commercial presence around the world.
Ratnagiri refinery
The Ratnagiri refinery would be capable of processing 1.2 million barrels of crude oil per day or 60 million metric tonnes per annum.
It would produce a wide range of refined petroleum products, including petrol and diesel meeting BS-VI fuel efficiency norms.
The refinery is also supposed to provide feedstock for the integrated petrochemicals complex, which would have the capacity of producing about 18 million tonnes per annum of petrochemical products.
5. India voices concern over housing project
India has voiced concern to Sri Lankan authorities over a housing project in the island's Tamil-majority north and east, to be executed by a Chinese company, citing the Resettlement Ministry's lack of transparency in choosing the builder.
Background
In May, Sri Lanka's Resettlement Ministry obtained Cabinet clearance for the project, which involves China Railway Beijing Engineering Group Co. Ltd and its local representative.
The Indian mission has not commented on the issue formally.
India's owner-driven scheme of 46,000 homes across the north and east is nearly complete. Additionally, it is building 14,000 houses in the central highlands.
Locals have sought brick-and-mortar housing that are suitable for their warm climatic conditions.
Concerns
According to a recent report in Sri Lankan newspaper Sunday Times, Indian officials have questioned the government's decision to award a huge contract — to build 40,000 homes — to a Chinese company, reportedly without a fair tendering process.
They particularly raised the opaque manner in which the Ministry finalised the project, apparently excluding experienced companies from India that would have been interested.
Source of funding
The Cabinet-cleared project came with a 100% financing option from the company, and was likely to be completed fast, in two years.
The project will be funded through private commercial loans.
According to official data, as many as 1,65,000 houses are required in the north and east.
G. Practice Questions for UPSC Prelims Exam
Question 1. Consider the following statements with respect to Asia Infrastructure 
Investment Bank:
It is a Chinese bank headquartered jn Beijing, China.
AIIB offers sovereign and non-sovereign financing for sound and sustainable projects.
It supports projects in energy and power, transportation and telecommunications, rural infrastructure and agriculture development, water supply and sanitation, environmental protection, and urban development and logistics.
Which of the above statement/s is/are incorrect?
1 only

2 only

1 and 3 only

None
See
Question 2. In which of the following cases, the Supreme Court held Federalism to be a part of 
the basic structure of the Constitution?
Kesavananda Bharati v. State of Kerala
S.R.Bommai v. Union of India
Minerva Mills v. Union of India
Golak Nath v. State of Punjab
See
Question 3. Which of the following provisions makes the Indian Constitution rigid?
A Constitutional Amendment Bill shall be passed by a special majority as given under article 368 and not by simple majority.
Some of the Constitutional Amendment Bills passed by the Parliament shall have to be ratified by not less than half of the State Legislatures.
A Constitutional Amendment Act cannot violate the basic structure of the Constitution.
Which of the above statements is/are correct?
1 and 2 only

Only 2

2 and 3 only

All the above
See
Question 4. Which of the following features were included in the "Cabinet Proposals"?
The princely states would retain all subjects other than, those ceded to the Union.
Setting up of Constitution making body by the Indians.
Formation of Executive Council and equal representation to the Muslims and Hindus in the council.
Elections to Constituent Assembly were to be held by a method of proportional representation by the provincial assembly.
Select the correct answer using the codes given below.
1, 2, 3 and 4
2 and 3 only
2, 3 and 4 only
1, 2 and 4
See
H. UPSC Mains Practice Questions
Discuss the Indochina relations in the light of growing Chinese presence in India's neighbourhood, be it economic or military.
Terrorist for one is a freedom fighter for another. Bring out an analogy between the Indian National Movement and the separatist movement in Kashmir, with suitable examples.
Also, check previous Daily News Analysis
"Proper Current Affairs preparation is the key to success in the UPSC- Civil Services Examination. We have now launched a comprehensive 'Current Affairs Webinar'. Limited seats available. Click here to Know More."
Enroll for India's Largest All-India Test Series