TABLE OF CONTENTS
A.

 GS1 Related


CULTURE
1. Gatka
2. Ancient Monuments and Archaeological Sites and Remains Act, 1958 Amendments


B.

 GS2 Related


GOVERNANCE
1. Doorstep Delivery of public services by AAP in Delhi


C.

 GS3 Related


ENVIRONMENT
1. Animal Welfare Board of India (AWBI) accused of being lax in enforcement of rules
ECONOMY
1. Malignant Catarrhal Fever (MCF)


D.

 GS4 Related




E. 

Editorials


ECONOMY
1. Cause for caution – On India's GDP growth rate for the first quarter of FY 2018-19
GOVERNANCE
1. Clemency question - On the release of life convicts in the Rajiv Gandhi assassination case


F. 

Tidbits




G. 

Prelims Fact


H. UPSC Prelims Practice Questions
I. UPSC Mains Practice Questions 

1. Gatka
It is a traditional martial art associated with Sikhism
The Punjabi name gatka properly refers to the wooden stick used.

It is a traditional South Asian form of combat-training in which wooden sticks are used to simulate swords

Gatka can be practiced either as a sport (khela) or ritual (rasmi). The sport form is played by two opponents wielding wooden staves called gatka. These sticks may be paired with a shield

It is believed to have originated when sixth Sikh guru Hargobind adopted 'Kirpan' for self defense during Mughal era and tenth Guru Gobind Singh made it compulsory for everyone to use the weapons for self defense
Other States
Huyen langlon, Manipur

In the Meitei language, huyen means war while langlon or langlong can mean net, knowledge or art.
Huyen langlon consists of two main components: thang-ta (armed combat) and sarit sarak (unarmed fighting).
Kalaripayatu, Kerala

Khomlainai (Bodo wrestling), Assam

Mukna ,Manipur

It is popular in Imphal, Thoubal and Bishnupur. The game is generally played on the last day of the Lai Haraoba festival and is an intrinsic part of the ceremonial functions.
2. Ancient Monuments and Archaeological Sites and Remains Act, 1958 Amendments
Context
Historians have vociferously opposed changes to the Ancient Monuments and Archaeological Sites and Remains Act, 1958
Changes intended
It proposes to allow the construction of Centre-approved public infrastructure within a 100 metre radius of Archaeological Survey of India (ASI)-protected monuments

Insertion of a new definition of "public works" in section 2 of the Act.

Amendment to section 20A of the Act so as to allow any Department or Office of the Central Government to carry out public works in the prohibited area after obtaining permission from the Central Government.

Insertion of a new clause (ea) to section 20-I of the principal Act
Background
The iconic monuments in India, images of the Taj Mahal, Ajanta Caves, The Great Stupa at Sanchi and the Sun Temple of Konark, among others are designated as "ancient monuments of national importance" and protected under the AMASR Act.

The Archaeological Survey of India is the custodian of these monuments.
Massive urbanization and lack of laws for Protection
There was a realization that protecting critically threatened monuments was becoming difficult.

Encroachments and illegal construction close to these monuments were happening on a large-scale and the penal provisions in the AMASR Act for endangering ancient monuments were not stringent enough to provide effective deterrence

As a result of the increased pressure of habitation, especially in urban areas, protected monuments and sites were getting hemmed in from all sides.

This affected their safety, security and aesthetics. The AMASR Act was substantially amended in 2010 to strengthen several of its provisions.
Amendment in 2010
The main features of the amendments were the creation of a "Prohibited Area" 100 metres around every national monument where no construction, public or private is permitted,

"Regulated Area" 200 metres beyond the prohibited area, where any construction requires permission of a newly constituted National Monuments Authority.

Given the unique nature of each monument, the Act also proposed heritage bye-laws for each monument to be prepared by an expert body.

The UPA government's decision to designate a 100-metre prohibited perimeter around every monument was upheld by the Supreme Court of India.
Merits
Prohibition of new construction within prohibited area is adversely impacting various public works and developmental projects of the Central Government.

It will pave way for certain constructions limited strictly to public works and projects essential to public within the prohibited area and benefit the public at large.
Concerns
It must be kept in mind that any construction, whether for a public project or private purpose, will pose risks to a monument.

Allowing an exception for "public works" will open a Pandora's Box, and it will be all but impossible for the National Monuments Authority or the Archaeological Survey of India to ensure that such construction do not pose a threat to a monument.

Public works are more often than not very large infrastructure projects. Allowing these in the immediate vicinity of a protected monument will defeat the very purpose of the AMASR Act and will be a violation of Article 49 of the Constitution.

It casts an obligation on the state to protect every monument or place of object of artistic or historic interest declared by or under law made by parliament to be of national importance
1. Doorstep Delivery of public services by AAP in Delhi
Context
The Delhi government launched its ambitious project to deliver public services at the doorstep of residents.
Details
Delhiites can now apply for 40 government documents to be delivered at their homes for a fee of ₹50 per service.

The applicant would have to call 1076 and fix an appointment with a mobile sahayak, who will go to their home and help with filling forms, payment of fees and collection of documents.

They will be informed of the documents they need, and can give a time when a "Mobile Sahayak" can come and collect them.
They will be equipped with necessary machines such as biometric devices and a camera.
The mobile sahayak would then submit the documents at the government office concerned, which would post the certificate or licence once issued.
The government has enlisted a private company, VFS Global, to facilitate the services.
Why was it done?
Availing public services is a time and energy consuming process.

Long queues, poor infrastructure, inadequate officials in public departments and multiple visits to government office add to the public's woes.
Challenges
The Delhi Chief Minister also appealed to the media to highlight problems in the implementation of the scheme to enable his government to resolve them in the next 10-15 days.

People can also file their complaints and feedback on the same number if facing any issue in the delivery of service.
1. Animal Welfare Board of India (AWBI) accused of being lax in enforcement of rules
Context
Union Women and Child Development Minister Maneka Gandhi has locked horns with the Animal Welfare Board of India (AWBI), accusing carelessness in law implementation that specify how wild animals can be depicted in films and television programmes.
Animal Welfare Board of India
It is a statutory advisory body on Animal Welfare Laws and promotes animal welfare in the country. Established in 1962 under Section 4 of the Prevention of Cruelty to Animals Act, 1960

It was started under the stewardship of Late Smt. Rukmini Devi Arundale, well known humanitarian.

Its functions are to look into

That animal welfare laws in the country are diligently followed,
To provide grants to Animal Welfare Organizations and
Advising the Government of India on animal welfare issues,
Details
The board is India's apex body for ensuring that animals are not mistreated.

There were "blatant errors" by the AWBI subcommittee that screens applications from film-makers.

The committee did not seek details of the species being used, which were required to determine whether they were protected.

It had even allowed their depiction in scenes that could promote cruelty to animals.

It cites an instance of approval given for a scene showing animal sacrifice, which is against the Supreme Court's orders.
Steps to be taken: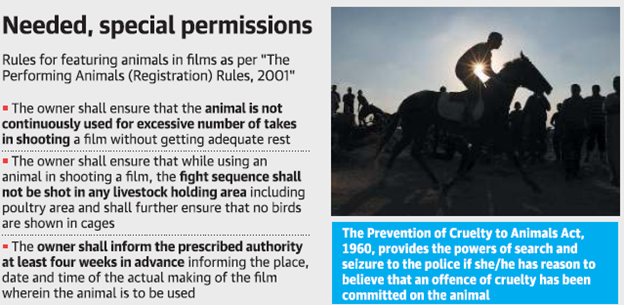 1. Malignant Catarrhal Fever (MCF)
It is caused a by virus transmitted from pregnant or recently-lambed sheep or goats to cattle
It is originally from South Africa that affecting cattle
It has neither a cure nor a vaccination that can prevent its spread.
Symptoms
Affected cattle are profoundly depressed with a high fever (40.5-42.0ºC).
There is a complete loss of appetite and the eyes are severely affected with corneal opacity causing blindness.
Affected cattle avoid bright light and sudden exposure to sunlight causes the eyelids to close
There is copious mucopurulent nasal discharge
Affected animals may become very sensitive to touch especially around the head and may become very aggressive and charge at attendants.
Nothing here for today!!!
1. Cause for caution – On India's GDP growth rate for the first quarter of FY 2018-19
Context:
GDP growth rate for the first quarter (April – June) of fiscal year 2018-19 came at 8.2 per cent. A question being raised about the GDP estimates for the first quarter of this year (April-June) is: How should 8.2% GDP growth be interpreted in, or reconciled with, the overall context of some of the pronounced trends in the economy?
What are the current trends in the Economy:
Rupee depreciation, rising bank bad loans or non-performing assets (NPAs), a trade deficit that has shot up to a five-year high, and retail fuel prices that are increasing every day.
Details:
One of the explanations being offered is that the faster growth has come on a low base which has produced a statistical effect, making growth appear faster. This is partly correct. The low base does explain a part of the growth estimated, but not all of it.
The full picture emerges from sectoral estimates, which show that while some parts of the economy grew faster, a few others did not.
Agricultural GDP growth quickened as two successive years of good rains improved farm produce.
Manufacturing and construction, both industries that were dealt a severe shock by demonetisation, recovered, as the cash shortage moderated.
Policy support — such as simplification of the messy Goods and Services Tax collection systems — can strengthen this revival. If nurtured, it can be employment-positive.
Services growth slowed. Industries such as trade, hotels and transport, and the financial, real estate and professional services fall in this segment, as do public administration and defence services. Services growth is relatively more representative of the economic sentiment of the vocal among urban and semi-urban Indians. The performance of services probably explains the sense of disconnect with the growth estimate being expressed in some quarters.
Despite slowing as compared to a year ago, the services sector grew faster than the agricultural GDP.
Rural wage growth has remained stagnant for the past four years.
Consumption led growth:
Surprisingly, the slower services sector growth has not been a drag on consumption. Private consumption expenditure growth has quickened, relative to the preceding quarter, as well as compared to the same quarter last year.
The strong, sustained growth, despite the high base, suggests that a consumption boom is in the making.
Government salary and pension hikes including at the State level are feeding this consumption spree that is funded by taxpayer money and has remained unaffected by the sharp surge in retail fuel prices.
Consumer industries are also reporting robust rural sales growth.
Pockets of the rural economy — land-owning large farmers, for instance — appear flush with disposable income.
The cause for caution is that the GDP growth continues to be powered by consumption, not investments.
Consumption-led growth is sustainable up to a point, especially if it is financed by expanding the government (Centre plus States' cumulative fiscal) deficit.
The high growth in the years preceding the global financial crisis was driven by savings and investments. After the global economic downturn disrupted that trend, negative trend in investments followed.
Other concerns:
The economy is still not out of the investments slowdown. The share of investments in GDP dropped from 32.2% in January-March to 31.6% in April-June this year as a direct consequence of the worsening NPA crisis.
A recapitalisation of banks was undertaken. It has not measured up to the problem. The insolvency mechanism has just about started functioning after dithering and delays.
The estimates for the subsequent quarters of this year will not enjoy the benefit of the low-base effect. First quarter estimates are early indicators and not necessarily representative of the remaining nine months of a year.
Ranging from rising international crude prices to the risk of inter-country trade wars, these are likely to keep the current account deficit — and therefore the rupee — under stress.
A depreciating rupee will inflate retail fuel prices, unless the Central and State governments cut the taxes on them. Tax cuts will increase the fiscal deficit.
Way forward:
Reforms, by removing bottlenecks, will promote growth even in an environment of rising macroeconomic vulnerability. The government must come up with the reform measures to sustain this growth.
The government must take steps to reform the public sector banks. It is high time, government shakes out of inaction.
To sustain the 8%-plus growth through the rest of the year, will require a far more pro-active policy push than appears probable in a year that is fraught with global economic challenges and mounting macroeconomic pressures.
The Reserve Bank of India can hike interest rates to arrest the rupee's depreciation. But that will further increase the cost of borrowing, including the government's debt.
1. Clemency question – On the release of life convicts in the Rajiv Gandhi assassination case
Context:
After failing to get the seven convicts in the Rajiv Gandhi assassination case released by exercising its statutory power to remit life sentences, the government in Tamil Nadu has taken recourse to a possible constitutional remedy.
It has decided to invoke the Governor's clemency power under Article 161 of the Constitution. 
The timeline:
January 28, 1998: A designated Terrorist and Disruptive Activities Act (TADA) court sentenced all 26 accused to death.
May 11, 1999: On appeal, the Supreme Court upheld the death for 4, commuted sentence to life for 3 and freed 19 others.
October 8, 1999: Supreme Court confirms death for 4, dismissing their appeals to commute their sentences to life.
October 27, 1999: Tamil Nadu Governor rejected clemency petitions of the same 4 convicts.
November 25, 1999: Madras High Court quashed Tamil Nadu Governor's rejection of clemency petitions; directed the Governor to pass a fresh order after obtaining the State Cabinet's views.
April 19, 2000: Tamil Nadu Cabinet chaired by then Chief Minister M. Karunanidhi decided to recommend commuting death sentence of one among the four, Nalini alone.
April 21, 2000: Tamil Nadu Governor accepted Cabinet decision to commute death sentence of Nalini.
April 28, 2000: Tamil Nadu government forwarded the clemency pleas of the other 3 to the President.
August 12, 2011: President rejected clemency petitions.
February 18, 2014: Supreme Court commuted the death sentence on grounds of delay in disposing their mercy pleas.
February 19, 2014: Tamil Nadu Cabinet decides to immediately release all 7 convicts and sends decision to Centre under Section 435 of the Code of Criminal Procedure.
April 1, 2014: Dismissing the Centre's petition, the Supreme Court refuses to review its verdict commuting death sentence of Santhan, Murugan, and Perarivalan in the case.
April 25, 2014: Supreme Court refers matter on remission of sentence to Constitution bench and frames seven questions to be decided by it.
July 29, 2015: Supreme Court dismisses Centre's curative plea against commutation of death penalty into life term of three convicts.
December 2, 2015: Supreme Court says Centre will decide whether the convicts will be released or not holding that States cannot exercise suo motu the power to grant remission without any specific plea from convicts.
March 2, 2016: In yet another bid to release the seven convicts, Tamil Nadu government writes to Centre seeking its views on its decision to free them
April 19, 2016: Centre rejects Tamil Nadu proposal to free the three.
January 23, 2018: A three-judge Bench of the Supreme Court gives the Centre three months to decide the Tamil Nadu government's proposal made in 2014 to remit the sentences of the seven life-term convicts.
June 15, 2018: President Ram Nath Kovind rejects the Tamil Nadu government's request to release the seven prisoners convicted in the case.
August 20, 2018: The Supreme Court gives Perarivalan a fortnight's time to place on record a copy of his application made to the Tamil Nadu Governor two years ago seeking grant of pardon.
September 6, 2018: The Supreme Court asks the Tamil Nadu Governor to consider the mercy petition of Perarivalan.
September 9, 2018: The government in Tamil Nadu decides to recommend to Governor Banwarilal Purohit the release of all seven life convicts in the Rajiv Gandhi assassination case.
What options does the Tamil Nadu Governor have?
Article 161 of the Constitution speaks about the Power of Governor to grant pardons, etc, and to suspend, remit or commute sentences in certain cases. The Governor of a State shall have the power to grant pardons, reprieves, respites or remissions of punishment or to suspend, remit or commute the sentence of any person convicted of any offence against any law relating to a matter to which the executive power of the State extends
In this case, the Governor can:
Either take a call on the advice of the State's Council of Ministers and decide whether he is bound by it. (Or)
Reject the proposal or seek its reconsideration. (Or)
Pause to consider the Centre's opinion against releasing those involved in the assassination case.
In either case, his decision will be subject to judicial review.
Arguments FOR the release of the convicts:
The convicts have completed close to three decades of imprisonment.
The idea of locking away a person for life, without so much as a sliver of hope of freedom, is not in keeping with the ideals of a truly modern society. 
The real purpose of sending criminals to prison is to transform them into honest and law abiding citizens by inculcating in them a distaste for crime and criminality.
Arguments AGAINST the release of the convicts:
When lifelong imprisonment is regarded as a humane alternative to capital punishment, releasing life convicts may only strengthen the demand for the imposition of the death penalty — which would be retrograde.
The release of all 7 convicts would set a very dangerous precedent and lead to international ramifications.
Other Concerns:
There is no clarity as to what happens to the four Sri Lankan nationals among the convicts? Will they remain in India or be repatriated?
Way forward:
There has to be a case-by-case evaluation for releasing those sentenced for life. An omnibus order of release clearly will not address the particularities in each case, or evaluate the gravity of their role in the crime and the effect on society of releasing them. 
In principle, the idea that convicts who have suffered prolonged Imprisonment require compassion cannot be ignored.
Although there are many political considerations behind the move to release the convicts, this case must be decided on the basis of legal principles alone.
Nothing here for today!
Nothing here for today!!!
H. Practice Questions for UPSC Prelims Exam
Question 1. Consider the following statements with respect to Gatka:
It is a traditional martial art associated with Sikhism.

It is a traditional South Asian form of combat-training in which wooden sticks are used to simulate swords.
Which of the above statements are correct?
1 only
2 only
Both 1 and 2
Neither 1 nor 2
See
Question 2. Consider the following statements about 
Animal Welfare Board of India:
It is a statutory advisory body on Animal Welfare Laws and promotes animal welfare in the country.
It was established in 1962 under the Prevention of Cruelty to Animals Act, 1960.
Which of the above statements are incorrect?
1 only
2 only
Both 1 and 2
None of the above
See
I. Practice Questions for UPSC Mains Exam
Rupee depreciation, rising bank bad loans or non-performing assets (NPAs), a trade deficit which is five-year high, and rising retail fuel prices,in the midst of these challenging trends, How can India sustain a robust economic growth? Discuss.
Also, check previous Daily News Analysis
"Proper Current Affairs preparation is the key to success in the UPSC- Civil Services Examination. We have now launched a comprehensive 'Current Affairs Webinar'. Limited seats available. Click here to Know More."
Enroll for India's Largest All-India Test Series