TABLE OF CONTENTS
A.

 GS1 Related




B.

 GS2 Related


INTERNATIONAL RELATIONS
1. Russia's 'far east'
2. Sri Lanka :The effects of foreign debt on human rights
3. British government's post-study work visa
4. United States threatened to arrest and sanction court officials of ICC
5. MILEX 18 exercise :Nepal and Thailand send only observers to grouping's first joint military exercise
HEALTH
1. Human Immunodeficiency Virus and Acquired Immune Deficiency Syndrome (Prevention and Control) Act, 2017
GOVERNANCE
1. Special courts to try sitting MPs and MLAs
2. Challenges for CRPF during panchayat polls in J&K


C.

 GS3 Related


DEFENCE
1. India's first missile tracking ship is readying for sea trials
ENVIRONMENT
1. Supreme Court orders razing of illegal structures in the protected forests of the Aravallis
ECONOMY
1. Former RBI Governor flags risks in MUDRA, Kisan credit card loans in his report to MPs' panel


D.

 GS4 Related




E. 

Editorials


ECONOMY
1. Avoidable Suspense – SEBI's handling of Indian origin Foreign Portfolio Investors (FPIs)
INTERNATIONAL RELATIONS
1. The Centre Holds – An analysis of Sweden's elections and the rising tide of right wing extremism in Europe


F. 

Tidbits




G. 

Prelims Fact


H. UPSC Prelims Practice Questions
I. UPSC Mains Practice Questions 

Nothing here for today!!!
Category: INTERNATIONAL RELATIONS
About Eastern Economic Forum
Eastern Economic Forum is an international forum held each year since 2015 in September, at Far Eastern Federal University in Vladivostok, Russia, for the purpose of encouraging foreign investment in the Russian Far East. The Russian president and the Japanese premier have attended this forum since its beginning.

Far East Economic Forum is sponsored by the organizing committee appointed by Roscongress, an association of the Russian Government, which also sponsors other international forums, such as St. Petersburg International Economic Forum.
About Vostok 2018
Vostok 2018 is a large-scale upcoming Russian military exercise, to be held from 11 to 15 September 2018, throughout Siberia and the country's Far East.

The exercise will involve units from the Army, Air Force and Navy.China, Mongolia, as well as NATO member Turkey have been invited to the exercise.
In news
China and Russia are signalling their intent of working together to link the Russian 'far east' with the Asia-Pacific as part of a larger Eurasian integration plan.

Chinese President Xi Jinping arrived in Vladivostok — a coastal city in Russia's resource-rich 'far east' — to discuss plans with his Russian counterpart Vladimir Putin for developing the region.
Economic forum
Japanese Prime Minister Shinzo Abe and his South Korean counterpart Lee Nak-yeon have also marked their presence at the Eastern Economic Forum (EEF), which Mr. Putin is hosting. Commerce Minister Suresh Prabhu is leading an Indian delegation to the forum.

Observers say that his visit is part of a fresh round of New Delhi's engagement with Moscow, which will culminate in October when Prime Minister Narendra Modi will host Mr. Putin for the India-Russia annual summit.
Putin's regional plan
Analysts say that presence of the two leaders who have arrived from Tokyo and Seoul demonstrates the interest of key countries of the Asia-Pacific in realising Mr. Putin's ambitious regional plan, which has China and other countries, including India, as possible partners.

The Vladivostok conclave is being held amid a massive ongoing Russia-China joint military exercise — an indication of Beijing and Moscow's intent to deter a military strike on Eurasia's core. The Vostok-2018 is involving a mammoth 3,00,000 troops.

Russia-China Investment Fund (RCIF) — a joint undertaking of the state-owned China Investment Corporation and Russian sovereign wealth fund — announced that a group of of Russian and Chinese businesses are considering 73 joint investment projects, with a cumulative value of more than $100 billion.

According to Russian media, Russia and China are also expected to discuss reconstruction in Syria. Moscow and Beijing are unlikely to compete in the economic recovery of Syria.
2. Sri Lanka :The effects of foreign debt on human rights
Sri Lanka must not cut its social spending while servicing its external debt, a UN expert said on Tuesday, urging authorities to boost domestic demand through progressive tax reforms, expansion in social benefits and renegotiation of debt.

The Sri Lankan government should undertake an assessment of the human rights impact of both its economic reform policies and infrastructure projects.

Struggling to rebuild its post-war economy in the last decade, Sri Lanka resorted to heavy external borrowing.

The country's foreign debt stood at $28.7 billion in 2017, according to official data.

Pointing to loans from the World Bank, Asian Development Bank, Japan, South Korea, India and China, that account for a total $19.3 billion, nearly 48% of the total loans taken by the state, Mr. Bohoslavsky criticised both bilateral donors and multilateral agencies for ignoring human rights assessments in line with international standards.
IMF funding
The IMF's Extended Fund Facility of $1.5 billion, he said, had resulted in reforms, including those aiming at lowering the budget deficit and increasing the government revenue.

However, while some macroeconomic targets had been met there were gaps to be addressed from a human rights standpoint.

In a sharp attack on microcredit, prevalent across the country and particularly among war-affected families in the country's Tamil-majority north and east, the UN expert urged the government to establish an interest rate cap on financial institutions and individual lenders, in addition to passing strict regulations.

Women were specially targeted by microfinance companies that charged up to 220 % interest rates.

They were often harassed by collecting agents demanding sexual favours.
3. British government's post-study work visa
The British government's advisory body on immigration has called for a change to the regime for international students, including reforming the ways in which students could access the U.K. job market.

However, it has stopped short of advocating a post-study work visa, as many have been pushing for, or removing students from the government's net migration figures, which has also become a focal point for campaigners.

There is no doubt that international students offer positive economic benefit, including cross-subsidising the education of domestic students and research.

In leaving the EU, the British higher education sector faces new challenges, and that there is a "real risk" of Britain being overtaken by Australia as the second largest international student market after the U.S.
Right to work
The report called for a more generous post-study work regime, including Ph.D students being given one year to remain in the U.K., and graduates from U.K.'s higher education institutions having easier access to tier 2 jobs for two years after completing their course, even if they leave the U.K.

However, the MAC rejected the call from campaigners, including the universities body, Universities UK, for a separate post study work visa.

The earnings of some graduates who remain in the U.K. seem surprisingly low and it is likely that those who would benefit from a longer period to find a graduate-level job are not the most highly skilled

It could result in demand for degrees becoming based not on their long-term value but on temporary right to work.

The Universities UK called on the government to bring in a re-vamped post-study work visa, which was scrapped in 2012.

Under the current system, students have four months to find work through a Tier 2 sponsor visa or be accepted under the government's entrepreneur scheme.

The report acknowledged that the current post-study work visa had an impact on a sharp decline in the number of Indian students. Britain's share of Indian student numbers has fallen by about 11% since 2010.
India's concerns
Britain's approach to international students — and contention that many overstay their visa – has been a long-running source of tension in bilateral relations with India.
4. United States threatened to arrest and sanction court officials of ICC
About ICC
The Hague-based ICC was set up in 2002 with a jurisdiction to investigate and prosecute the world's worst crimes, including genocide, war crimes and crimes against humanity.

The court, however, does not have the capacity to arrest suspects and depends on member states for their cooperation.

The United States has not signed up to the court and in 2002, its Congress passed a law enabling Washington to invade the Netherlands to liberate any U.S. citizen held by the court.
In news
The ICC, as a court of law, will continue to do its work undeterred, in accordance with those principles and the overarching idea of the rule of law.

The Hague-based court's response comes a day after the United States threatened to arrest and sanction court officials should they move to charge any American who served in Afghanistan with war crimes.

White House National Security Adviser John Bolton called the Hague-based rights body "unaccountable" and "outright dangerous" to the United States, Israel and other allies, and said any probe of U.S. service members would be "an utterly unfounded, unjustifiable investigation".

The U.S. is prepared to slap financial sanctions and criminal charges on officials of the court if they proceed against any Americans, he added.

But in response, the ICC declared itself an "independent and impartial judicial institution". It also stressed that it would only investigate and prosecute crimes when the states will not or cannot do so.
5. MILEX 18 exercise :Nepal and Thailand send only observers to grouping's first joint military exercise
India is facing an embarrassing situation at the first-ever military exercise of the regional grouping BIMSTEC (Bay of Bengal Initiative for Multi-Sectoral Technical and Economic Cooperation) with Nepal and Thailand backing out from sending full contingents.

Nepal also conveyed that its Army Chief would not be able to attend the Chiefs' conclave at the exercise.

All participating nations except Nepal have confirmed their Army Chiefs would attend the Chiefs' conclave. The reason was their new Chief has just taken charge and has a large number of commitments.
Nepal's new chief
Nepal, which had initially confirmed a full contingent, pulled out in the last minute and instead sent three observers. General Purna Chandra took charge as the Chief of Nepal Army on Sunday.

The exercises were proposed by Prime Minister Narendra Modi during his speech at the BIMSTEC summit in Kathmandu last month that brought together leaders of India, Nepal, Bangladesh, Bhutan, Sri Lanka from South Asia and Myanmar, and Thailand.

Interestingly, Nepal is scheduled to hold its second military exercise with China next week.

Thailand, which was the last to confirm its participation in the exercise, conveyed that it could only send observers.

The MILEX 18 exercise, being held from September 10 to 16 at the Aundh Military Station in Pune, is aimed at helping BIMSTEC nations practise "planning and conduct of counter terrorist operations".

Each country was asked to send a contingent of 30 personnel including five officers and 25 soldiers in addition to three observers.

Thailand Ambassador to India Chutintorn Gongsakdi said, Thailand is absolutely committed to BIMSTEC.This level of participation is due to fiscal year ending in September and MILEX being an unforeseen event.
1. Human Immunodeficiency Virus and Acquired Immune Deficiency Syndrome (Prevention and Control) Act, 2017
Safeguarding the rights of people living with and affected by HIV, the Union Health Ministry has issued a notification to bring in force from Monday the Human Immunodeficiency Virus and Acquired Immune Deficiency Syndrome (Prevention and Control) Act, 2017.

Provisions of the Act address HIV-related discrimination, strengthen existing programme by bringing in legal accountability, and establish formal mechanisms for inquiring into complaints and redressing grievances.
Some features of the Act
The Ministry said the Act seeks to prevent and control the spread of HIV and AIDS, and prohibits discrimination against affected persons.

The Act lists various grounds on which discrimination against HIV positive persons and those living with the condition is prohibited.

These include the denial, termination, discontinuation or unfair treatment with regard to: employment, educational establishments, health care services, residing or renting property, standing for public or private office, and provision of insurance (unless based on actuarial studies). The requirement for HIV testing as a prerequisite for obtaining employment or accessing health care or education is also prohibited.

Every HIV infected or affected person below the age of 18 years has the right to reside in a shared household and enjoy the facilities of the household. The Act also prohibits any individual from publishing information or advocating feelings of hatred against HIV positive persons and those living with them.

Provisions of the Act state that a person between the age of 12 and 18 years who has sufficient maturity in understanding and managing the affairs of his/her HIV or AIDS-affected family shall be competent to act as guardian of another sibling below 18 years of age to be applicable in matters relating to admission to educational establishments, operating bank accounts, managing property, and care and treatment, among others.

Provisions of the Act state that every person in the care and custody of the State shall have the right to HIV prevention, testing, treatment and counselling services.
Issues which are not addressed in the present Act
Implementation of the HIV/ AIDS [Prevention and Control] Act is certainly a positive and a much-awaited development. However, the provisions only protect infected individuals from prejudiced behaviour and attitudes.

Communities that are vulnerable to infection, individuals who are yet to be tested and kin of those infected are still subjected to stigma and biased perspectives.

The need is to adopt a holistic approach to successfully combat discrimination against the infected and the vulnerable, and create safe spaces for them.

Till about 15 years ago, people living with HIV/AIDS faced several challenges once they tested positive, particularly from healthcare providers, hospitals or clinics.

Even today, the LGBTQ community faces double stigma — for being a part of the community and for being HIV positive.

This is the reason many of them became secretive about their condition, and lived in seclusion.

The historic apex court decision will ensure protection of their rights, reduce taboos and increase visibility for their issues.

It will also cover legal disputes of family succession and property, which this community generally faces.

Services provided to this community, such as health, entitlements or legal protection will now be regulated, and protected from abuse and exploitation.

The next important step will be public education as acceptance of this community in society is still a challenge.
1. Special courts to try sitting MPs and MLAs
The Centre informed the Supreme Court that 12 special courts have been set up across 11 States exclusively to try sitting MPs and MLAs.

Delhi has two such courts, while Andhra Pradesh, Telangana, Karnataka, Kerala, Tamil Nadu, Uttar Pradesh, Bihar, West Bengal, Maharashtra and Madhya Pradesh have one each. Six are sessions courts and five are magisterial courts. "The class of court in Tamil Nadu is not indicated," the Centre's affidavit said.

The special court in each State would have jurisdiction over the entire State, while the two in Delhi would cover cases within the precincts of Delhi or "partly Delhi".

The Supreme Court had on December 14, 2017 ordered that special courts be set up across the country to fast-track the long-pending trials of lawmakers. These courts would devote themselves for the purpose.

The Centre said 1,233 cases had been transferred, 136 disposed of and 1,097 cases were pending in these special courts.
2. Challenges for CRPF during panchayat polls in J&K
As the Centre grades panchayat constituencies in Jammu and Kashmir according to their "threat potential", the chief of the Central Reserve Police Force (CRPF) says that "grenade attacks" on forces was a major concern this year.

CRPF Director-General R.R Bhatnagar told that militants active in the Kashmir Valley got most of their armaments, including the "so-called Chinese grenades", from across the border.

The CRPF would be at the forefront of the security set-up for the panchayat polls in the State, where the security for individual candidates would also be factored in.

The State under Governor's rule is gearing up for panchayat and urban local body polls that were previously held in 2011 and 2005, respectively, after a gap of four decades.

Major political parties such as the National Conference and the Peoples Democratic Party (PDP) have decided to boycott the polls to be held in October-November. J&K has 4,378 panchayats.

Panchayat polls were not "party-based" and the boycott by the political parties was unlikely to have any bearing on them.

The Hizb-ul-Mujahideen (HM) has threatened to pour acid in the eyes of people who participate in the electoral process. Till August this year, there have been 20 grenade attacks on security pickets. In 2016, there were eight such attacks. Since our presence in crowded areas has increased, militants use the cover of the crowd — they hit and run.
Stone throwing
The officer said that since 2016, there had been a sharp decrease in incidents of stone throwing in the Valley.Stone pelting is well under control.

The DG said that stone throwing incidents involving the CRPF were down to 400 this year, compared with about 1,600 in 2016.

Violent protests broke out in the Valley after July 8, 2016 — when HM commander Burhan Wani was killed in an encounter with security forces. Several people were blinded due to injuries inflicted by pellet guns used by the CRPF.

Another official said that around 30,000 CRPF personnel deployed for the Amarnath Yatra would be diverted for the polls.
1. India's first missile tracking ship is readying for sea trials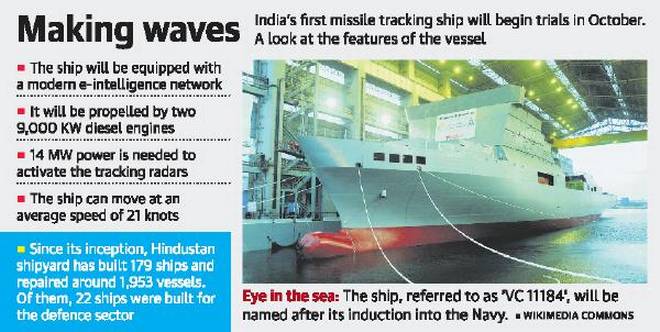 India's first missile tracking ship, a force multiplier and cruise the country into a global elite club. Hindustan Shipyard Limited (HSL) is gearing up to undertake sea trials of India's first missile tracking ship by October.

The keel of the ship, which was laid on June 30, 2014, is being built for the National Technical Research Organisation, the technical intelligence agency working directly under the supervision of the Prime Minister's Office and the National Security Adviser.

Considered a topmost secret project, a lot of confidentiality is being maintained in executing the project costing about Rs. 750 crore. It will be named after its induction into the Indian Navy. For now, it is simply referred as VC 11184.

This will be the first of its kind ocean surveillance ship being built as part of the efforts under the NDA government to strengthen the country's strategic weapons programme.

This would put India in the elite of club of a few countries that have such a sophisticated ocean surveillance ship.
300-strong crew
The ship was built inside the covered dry dock. It has the capacity to carry 300-strong crew with hi-tech gadgets and communication equipment, powered by two diesel engines, and a large deck capable of helicopter landing.

HSL, set up in 1941, achieved a total income of Rs. 651.67 crore and a value of production of Rs. 644.78 crore during 2017-18, the highest since inception.

It is poised to get orders for construction of five fleet support ships costing Rs. 9,000 crore and finalise request for proposal for design collaborator for construction of two Special Operation Vessels called mini submarines.

It is also banking on the order for medium refit of Russia-made third Sindhughosh class submarineINS Sindhuratnafor which it has submitted technical bids.

Visakhapatnam is considered a strategic location on the East Coast for the Indian defence forces as it is home for Ship Building Centre to build nuclear powered submarine INS Arihant class, Naval Alternate Operational Base at Rambilli, the second naval base after Eastern Naval Command headquarters, training centre for Marine Commandos and headquarters of the submarine arm.
1. Supreme Court orders razing of illegal structures in the protected forests of the Aravallis
The Supreme Court ordered the demolition of structures built illegally by a prominent builder in the protected forests of the Aravallis, noting that ecological damage done by colonisers to the ancient hills was irreversible and "quite frightening."

A Bench of Justices Madan B. Lokur and Deepak Gupta ordered that all structures built after August 18, 1992 in the area known as 'Kant Enclave' at Anangpur in Faridabad district of Haryana should be demolished.They have to be razed down by December 31, 2018, the court said.

It held that these illegal structures defy a Haryana government notification of August 18, 1992, issued under the Punjab Land Preservation Act, declaring the area as forest land and fragile.
Granted exemption
The court, however, ordered not to disturb constructions made between April 17, 1984 and August 18, 1992.

These structures were built on the basis of an exemption given to Kant & Co. by the State's town planning department under the Haryana Development and Regulation of Urban Areas Act of 1975 for setting up a "film studio and allied complex" in the area.

The exemption was removed when the August 18, 1992 notification kicked in.

Kant & Co., the court ordered, should pay a full refund to investors to whom they had already transferred the land. The builder has to pay interest at 18% per annum from the date of the investment.

The court pulled up the State town and country planning department for supporting the illegalities. The department was myopic and brazen to push its agenda in favour of the builder no matter what it cost to the environment and ground water in the area.

The Bench accused the department of having completely vitiated the efforts of the forest department as well as the orders of the Supreme Court.
Status report on EIA
The Madras High Court on Tuesday directed the State government to file a detailed affidavit, explaining the circumstances under which several trees were felled near the Kalvarayan hills, on lands that were proposed to be acquired for the ambitious Rs. 10,000-crore Chennai-Salem greenfield expressway.

A Division Bench of Justices T.S. Sivagnanam and V. Bhavani Subbaroyan issued the direction while hearing a batch of cases filed against the acquisition proceedings. It also directed the Centre to spell out the exact stage of the Environment Impact Assessment (EIA) reportedly being carried out for the project.
About EIA
Environmental assessment (EA) is the assessment of the environmental consequences (positive and negative) of a plan, policy, program, or actual projects prior to the decision to move forward with the proposed action.

In this context, the term "environmental impact assessment" (EIA) is usually used when applied to actual projects by individuals or companies and the term "strategic environmental assessment" (SEA) applies to policies, plans and programmes most often proposed by organs of state.

Environmental assessments may be governed by rules of administrative procedure regarding public participation and documentation of decision making, and may be subject to judicial review.

More than 500 trees being felled for the project without obtaining permission from the court or an empowered committee constituted by the Supreme Court in the famousT.N. Godavarman Thirumulpad case.

On the other hand, Government Pleader T.N. Rajagopalan claimed that only 109 trees had been "felled illegally", for which necessary action had been initiated by the officials concerned. He also produced a communication he had received in this regard from the District Revenue Officer of Dharmapuri.

After perusing the communication, the judges observed that they were not convinced with the reasons given in it.

Stating that it did not answer several questions, including the necessity to cut trees from a hilly area, they insisted upon the filing of a detailed affidavit explaining the reasons for having cut the trees.
1. Former RBI Governor flags risks in MUDRA, Kisan credit card loans in his report to MPs' panel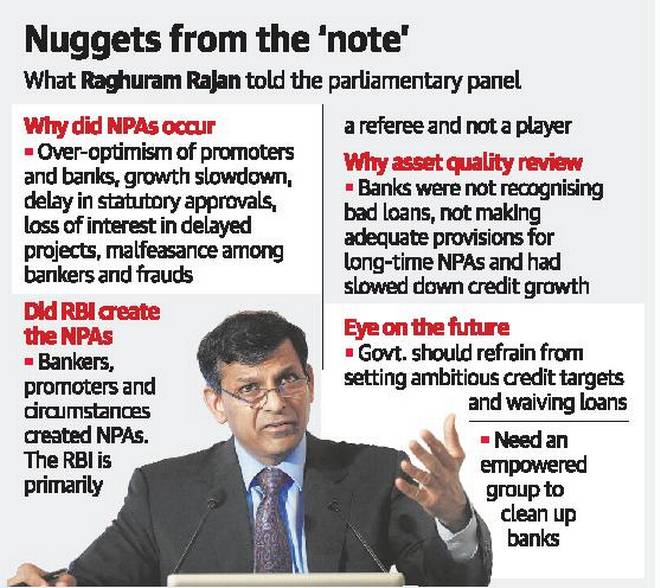 Former RBI Governor Raghuram Rajan has cautioned that the next crisis in India's banking sector could come from loans given to the unorganised micro and small businesses, called MUDRA loans, and credit extended through the Kisan credit card.

MUDRA loans are offered under the Prime Minister Mudra Yojana or PMMY, launched in 2015 by the NDA government.

A total of Rs. 6.37 lakh crore has been disbursed under the scheme by public and private sector banks, regional rural banks and micro-finance institutions till date, as per data from the Micro Units Development and Refinance Agency (MUDRA) website.
Credit targets
In a note on bank non-performing assets (NPAs) prepared at the request of Murli Manohar Joshi, Chairman of the Parliament Estimates Committee, Dr. Rajan said the government should refrain from setting ambitious credit targets or from waiving loans.

"Both MUDRA loans as well as the Kisan Credit Card, while popular, have to be examined more closely for potential credit risk," Dr. Rajan wrote in his 17-page note.

He also flagged the Credit Guarantee Scheme for MSMEs, run by the Small Industries Development Bank of India, calling it "a growing contingent liability" that needs to be examined with urgency.

He pointed out that most of the bad loans were created during 2006-08, a period that coincides with the first term of the UPA. "A large number of bad loans originated in the period 2006-2008 when economic growth was strong… it is at such times that banks make mistakes," he wrote.

Countering the BJP, which cited this reference to attack the UPA regime, the Congress claimed that NPAs of public sector banks were a "controllable" Rs. 2.83 lakh crore when the UPA demitted office in May 2014 but now it had gone up to Rs. 12 lakh crore.

The former RBI Governor also revealed that he had shared a list of high-profile fraud cases with the Prime Minister's Office in order to "coordinate action to bring at least one or two to book" but he did not mention whether it was done during the UPA's time or the NDA's.
Loan renegotiation to be done under its shadow, not in it'
Former RBI Governor Raghuram Rajan is of the view that bankruptcy court should be the final option and loan renegotiation should be done under its shadow, not in it.

"Banks and promoters have to strike deals outside of bankruptcy, or if promoters prove uncooperative, bankers should have the ability to proceed without them," he said in a note prepared for the Parliament Estimates Committee at the request of its chairman Dr. Murli Manohar Joshi.

Dr. Rajan's statement assumes significance in the backdrop of the ongoing resolution of 20 power sector NPA accounts where there's a tussle on between the RBI and banks.

In a different context, the former RBI governor blasted those who were saying that the RBI was responsible for the slowdown in credit and the economy because of its push to recognise NPAs, calling such claims "ludicrous".
Cleanup not the problem
"Cleanup was part of the solution, not the problem," he said, pointing out how public sector banks had started soft-pedalling on loans to industry, agriculture and MSMEs since April 2014, well before the cleanup process began in the second half of fiscal 2015. (see graphs). This was even as they pushed hard on personal and housing loans, where the NPAs were low.

"The slowdown is best attributed to over-burdened public sector bank balance sheets and growing risk aversion in public sector bankers," he said, pointing out that private banks had not slowed down on their lending to industry. Their aversion was also visible in the way they slowed down on accepting deposits relative to their private sector peers.

Conceding that the RBI "should probably have raised more flags about the quality of lending in the early days of banking exuberance," Dr. Rajan said that with the benefit of hindsight, the RBI should not have agreed to forbearance.

He also defended the much-criticised asset quality review initiated by him during his tenure, saying that it was necessary because banks were simply not recognising bad loans, not following uniform procedures for recognition, and not making adequate provision for loans that had stayed as NPAs for a long time.

Looking ahead, Dr. Rajan said that governance of public sector banks had to be improved by professionalising boards and depoliticising appointments by handing it over to the Banks Board Bureau. He suggested introduction of outside talent into top management of PSBs given the talent deficit they faced.
Nothing here for today!!!
1. Avoidable Suspense – SEBI's handling of Indian origin Foreign Portfolio Investors (FPIs)
Context:
On 10th April 2018, the market watchdog, SEBI asked category II and III FPIs (not well-regulated in their countries of origin) to conform to a higher degree of KYC norms in order to curb round tripping of illicit money and strengthen anti-money laundering measures.
It asked category II and III FPIs to provide the list of their beneficial owners (BO) along with their identification and verification in a certain format within six months.
The measures were mainly targeted towards "high-risk" nations with a history of money-laundering, terrorism and so on.
On Sept 10th 2018, lobby group Asset Management Roundtable of India or AMRI said that the immediate impact of the new SEBI norms, if not amended, will be that $75 billion worth foreign portfolio investment managed by overseas citizens of India (OCIs), persons of Indian origin (PIOs) and non-resident Indians (NRIs) will be disqualified from investing in India, and the funds will have to be withdrawn and liquidated within a short time frame.
This created quite a scare in the capital market, especially at a time when the rupee is in freefall and struggling under external pressure and has raised questions about SEBI's handling of the issue and the need for wide consultation before drafting such regulations.
Who are Foreign Portfolio Investors?
In India, the term "Foreign Portfolio Investor" refers to FIIs. FPI stands for those investors who hold a short term view on the company, in contrast to Foreign Direct Investors (FDI). FPIs generally participate through the stock markets and gets in and out of a particular stock at much faster frequencies.
Foreign portfolio investment differs from foreign direct investment. In foreign portfolio investment the investor purchases stocks, securities and other financial assets but does not actively manage the investments or the companies that are issuing the assets. So, in FPI the investor does not have direct control over the securities or businesses.
This means that FPI tends to be more liquid. The relatively high liquidity of FPI's makes them much easier to sell than FDI's. Hence FPI investments are considered volatile compared to FDI and is termed as 'Hot Money'.
FPI route is also preferred by those who are seeking to launder black money and hence SEBI closely regulates the flow of FPIs.
Portfolio Investment by any single investor or investor group cannot exceed 10% of the equity of an Indian company, beyond which it will now be treated as FDI.
Concerns of SEBI
SEBI called AMRI's warning as "preposterous and highly irresponsible".
SEBI's April 10th rules were framed in line with anti-money laundering norms and the Prevention of Money Laundering Act.
FPIs have invested in securities worth at least $450 billion in Indian equities. Of this, NRIs have invested around $75 billion through India-focused funds in which majority owners are FPIs.
So there is an urgent to monitor and regulate the flows to prevent round tripping of illicit money.
SEBI had said that FPIs should provide information of the real owners or effective controllers of those companies and trusts.
Sebi had said that if the beneficial owner (BO) exercises control through means like voting rights, agreements and arrangement then that should also be specified.
Such BOs, it added, should not be from jurisdictions that are combating financing of terrorism deficiencies to which counter measures apply or those that have not made sufficient progress in addressing these deficiencies.
Sebi had setup a committee under the chairmanship of former deputy governor of RBI, H.R. Khan to review the FPI rules. The panel will also look into the issues raised with regard to the April 10th circular. 
Concerns of FPIs:
The Asset Managers Roundtable of India (AMRI) warned that India's booming stock markets will be in for a tight bear-hug and the embattled rupee could face even greater pressure if the April 10th diktat of SEBI is not scrapped.
AMRI argued that the SEBI circular disqualifies about $75 billion of portfolio investments into India made by FPIs backed by domestic institutions, NRIs, Persons of Indian Origin and Overseas Citizen of India card-holders.
The H.R. Khan Committee set up by SEBI has recommended changes that may be made to the regulator's directive, addressing most of the concerns raised by the FPIs.
The panel's report clarified that NRIs, OCI card-holders and resident Indians can manage the investments of any FPI registered with SEBI and, more importantly, hold up to 50% of an FPI's assets under management.
This has removed any ambiguity and provided relief to foreign investors who were left guessing how the term 'majority' — as stated in the April circular — would be determined by SEBI while applying the beneficial ownership test.
The committee also said the deadline for complying with the circular, which was already extended from August 31 to December 31, must be extended further, and funds with investments breaching the final thresholds that the regulator decides upon should be granted 180 days to unwind positions.
FPIs have appealed to the PM to have a relook at the SEBI circular and have asked SEBI to have a process of consultation before notifying such rules.
Way Forward:
SEBI has now announced public consultations before it finalises these norms, and in the process created some breathing space for FPIs to remain invested.
There should be no issues with attempts to curb round-tripping of illegal domestic wealth into the Indian market through the foreign investments route.
But treating all FPIs with Indian-origin managers as potential suspects and conduits of money laundering is unwise.
SEBI could have managed all of this as an independent regulator had it held public consultations and timely dialogue with stakeholders before framing these norms.
Such uncertainty in policy and frequent U-turns will do little to enhance India's credibility among global investors and FPI being a part of India's capital account and balance of payments, it plays a crucial role in balancing the deficit and hence SEBI needs to adopt a more consultative approach.
Category: INTERNATIONAL RELATIONS
1. The Centre Holds – An analysis of Sweden's elections and the rising tide of right wing extremism in Europe
Context:
In the recent elections in Sweden the vote share of centrist parties has shrunk and that of far-right parties has increased considerably.
This echoes the growing anti-immigrant mood in the Nordic nations and across Europe.
Sweden's electoral verdict:
The incumbent Social Democrats have emerged as the single largest party, but they are short of a clear majority.
Their narrow lead over the centre-right will complicate Prime Minister Stefan Löfven's bid to form another minority government.
But the most notable phenomenon of the election has been the extreme-right Sweden Democrats, who have been riding the populist wave over immigration and rising domestic crime.
The immigrant issue in Europe:
Conservative far-right parties in Europe have adopted a very shrill voice to argue against the liberal policies of centrist parties to allow immigrants in to their countries.
Few European governments including Sweden, Germany etc. had adopted a favourable policy towards the huge inflow of immigrants in to Europe coming from the conflict torn regions of Syria, Libya etc. on humanitarian grounds.
The far right's criticism of the government's policy to admit Syrian refugees in 2015 as a strain on Sweden's generous provision of social welfare has already gained some traction.
Similarly, it has also stoked the anti-immigrant sentiment by playing on security concerns arising from terrorist attacks in several parts of Europe.
The cause for alarm is the ties of these far-right outfits with fascist and neo-Nazi ideologies.
Way Forward:
With healthy economic growth and relatively low levels of unemployment, the challenge for the new Swedish government is to address the mounting demands on the country's public health care and education services.
That would be an effective counter to the populist rhetoric of the extreme right.
The region's next big democratic test will be the 2019 elections to the European Parliament.
The history of the European Union-wide elections bears little evidence of popular enthusiasm. Nor have the Members of European Parliament been effective in addressing the authoritarian challenge in, say, Hungary and Poland.
But the common threat of right-wing extremism could well trigger a popular pan-European response.
Nothing here for today!
Nothing here for today!!!
H. Practice Questions for UPSC Prelims Exam
Question 1. Consider the following statements:
Eastern Economic Forum is an international forum held in Vladivostok, Russia, for the purpose of encouraging foreign investment in the Russian Far East.

Vostok 2018 is a large-scale Russian military exercise.
Which of the above statements are correct?
1 only
2 only
Both 1 and 2
Neither 1 nor 2
See
Question 2. Consider the following statements:
The International Criminal Court -ICC was setup in 2002 with a jurisdiction to investigate and prosecute the world's worst crimes, including genocide, war crimes and crimes against humanity.
The International Criminal Court -ICC is based in Hague, Netherlands.
Which of the above statements are correct?
1 only
2 only
Both 1 and 2
None of the above
See
Question 3. Consider the following statements:
India's first missile tracking ship will be built by Hindustan Shipyard Limited (HSL).

VC 11184 will be the first of its kind ocean surveillance ship .
Which of the above statements are incorrect?
1 only
2 only
Both 1 and 2
Neither 1 nor 2
See
Question 4. Consider the following statements:
Pradhan Mantri MUDRA Yojana (PMMY) is a scheme for providing loans upto 50 lakh to the non-corporate, non-farm small/micro enterprises. .

MUDRA loans are given by Commercial Banks, RRBs, Small Finance Banks, Cooperative Banks, MFIs and NBFCs.
Which of the above statements are incorrect?
1 only
2 only
Both 1 and 2
Neither 1 nor 2
See
I. Practice Questions for UPSC Mains Exam
SEBI asked category II and III FPIs (not well-regulated in their countries of origin) to conform to a higher degree of KYC norms. At a time when the rupee is in freefall and struggling under external pressure questions have been raised about SEBI's handling of the issue and the need for wide consultation before drafting such regulations. Comment.
Also, check previous Daily News Analysis
"Proper Current Affairs preparation is the key to success in the UPSC- Civil Services Examination. We have now launched a comprehensive 'Current Affairs Webinar'. Limited seats available. Click here to Know More."
Enroll for India's Largest All-India Test Series