The UPSC Prelims is the first step in getting closer to your IAS dreams. The 2019 IAS exam process commenced with the civil services preliminary exam, which was held on 2nd June. The results of the same are expected in a couple of week's time. In this article, you can get a brief analysis of the 2019 prelims papers (GS I), and understand the trend the UPSC has been following in setting up the question paper each year.
UPSC Exam Analysis 2019 – Subject-wise Breakup
Take a look at the following table and graph, which gives the subject-wise breakup of the questions asked in this year's UPSC Prelims.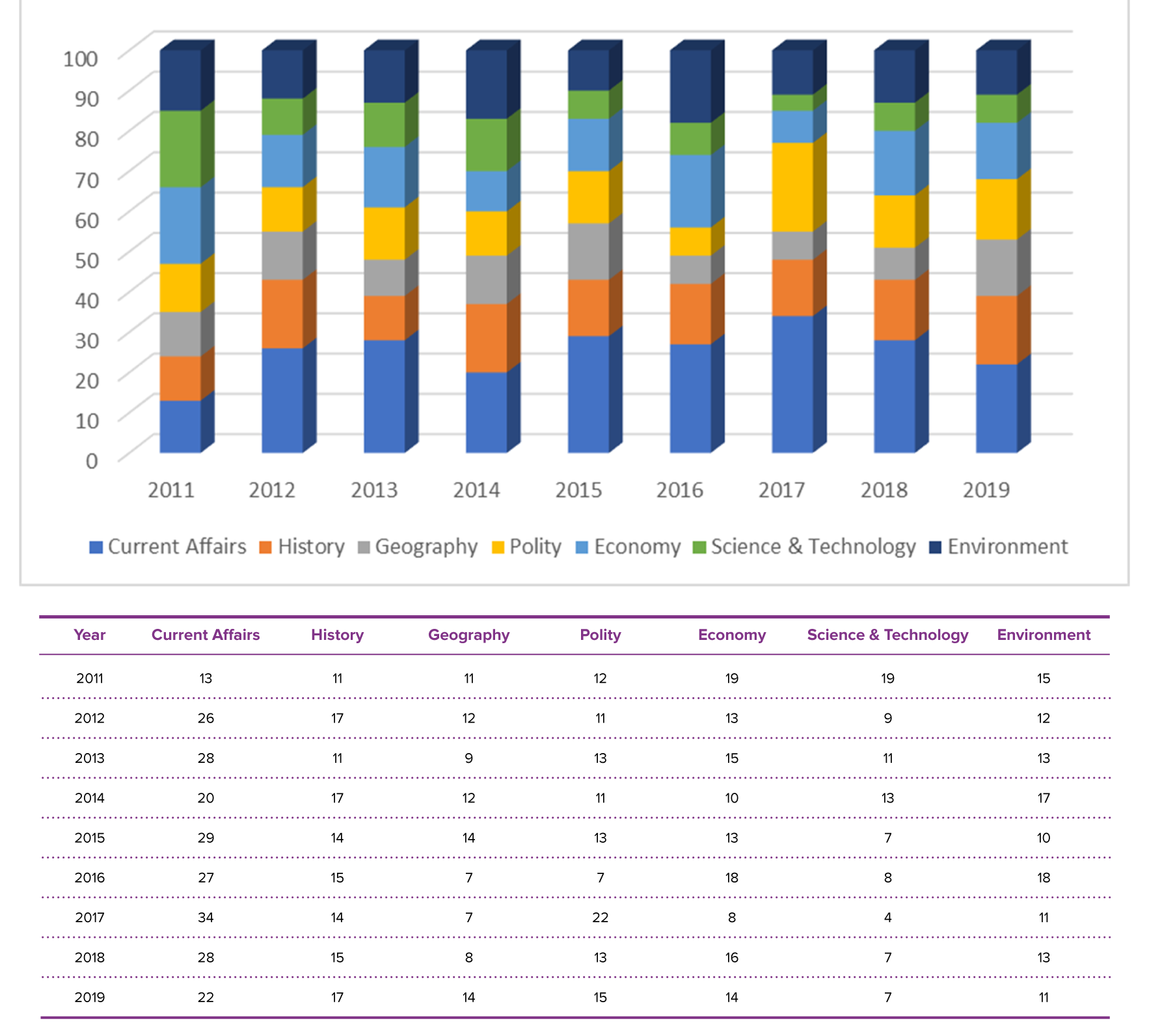 As you can see from the graph, current affairs was the area from where maximum number of questions were asked. Thus, the old adage that newspapers are the key to cracking the IAS exam has been proved true yet again.
BYJU'S presents the most important news and views from the newspapers in a classified and student-friendly manner in the Daily Comprehensive News Analysis (CNA), to aid your IAS preparation.
Before we proceed towards a detailed analysis of the 2019 prelims paper, let us go through the UPSC syllabus and pattern for Prelims (GS 1).
UPSC Prelims Pattern
The General Studies (GS) Paper 1 comprises of 100 questions, all of which are of the MCQ type.
You would be given 4 choices of answers out of which you have to select the correct one.
An incorrect answer will cost you 0.66 marks.
The questions are for a total of 200 marks and you will have 2 hours to finish the paper.
The following table will make it more clear:
| | | |
| --- | --- | --- |
| Paper | GS I | CSAT |
| Total marks | 200 | 200 |
| Number of questions | 100 | 80 |
| Duration | 2 hours | 2 hours |
| Negative marking | Yes | Yes |
| Type | Objective | Objective |
| Nature | Merit ranking | qualifying |
You can get more information on the CSAT here.
UPSC Prelims Syllabus
General Studies Paper I
Current events of national and international importance
History of India and Indian National Movement
Indian and World Geography-Physical, Social, Economic
Geography of India and the World
Indian Polity and Governance-Constitution
Political System, Panchayati Raj, Public Policy, Rights Issues, etc.
General issues on Environmental ecology, Biodiversity and Climate Change – that do not require subject specialization
Economic and Social Development-Sustainable
Development, Poverty, Inclusion, Demographics, Social Sector Initiatives, etc.
General Science
CSAT
Comprehension
Interpersonal skills including communication skills
Logical reasoning and analytical ability
Decision making and problem-solving
General mental ability
Basic numeracy (numbers and their relations, orders of Magnitude, etc.) (Class X level), Data interpretation (charts, graphs, tables, data sufficiency etc. — Class X level)
UPSC Prelims Analysis – Detailed Analysis
In this section, we shall discuss the nature of questions asked, toughness levels and trends seen in the 2019 Prelims GS I question paper divided into subjects.
History Questions
There were a total of 17 questions asked from history this year.
Most number of history questions were from the topic of modern history (5 questions), followed by art & culture and medieval (4 questions each), then ancient history (3 questions) and the least number was from the post-independence section (1 question).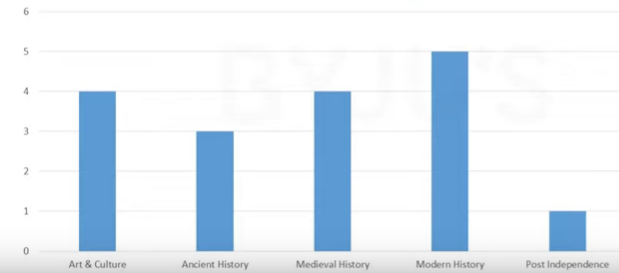 There has been a shift in the number of questions asked. The number of questions asked from modern has come down substantially and has shifted to art & culture, ancient and medieval portions.
What this means for UPSC 2020 is that the hitherto less significant section of Medieval History will have to be given more focus.
Watch a detailed analysis of the 2019 history questions by our in-house expert below:
Polity Questions
There were 15 questions asked from polity this year in the prelims GS I paper.
Most of the questions were easy and attemptable in this section. Except for a couple of questions which could be called 'difficult', the rest were doable if you had studied the basic sources.
The questions were asked from the following subsections of polity

Fundamental Rights
Historical background of the Constitution
Rights issues (tribes related)
Basic structure, amendments
Judicial review
Judiciary
Executive
Legislature
Terms in political science
Watch a detailed analysis of the 2019 polity questions by our in-house expert below:
International Relations Questions
There were five questions asked from the IR section this year.
The number has seen a decrease when compared to the 2018 Prelims exam. Last year, there were 10 questions asked from the IR segment.
The questions have been generally easy in 2019 on the international relations topic.
Watch a detailed analysis of the 2019 International Relations questions by our in-house expert below:
Economy Questions
There were 14 questions asked from economy this year in the prelims exam.
Many questions were asked from banking and finance, schemes, sectors of economy and balance of payments and international trade.
One question each was asked on fiscal policy, agriculture and labour rights.
Watch a detailed analysis of the 2019 Economy questions by our in-house expert below:
Science & Technology Questions
There were 7 questions from this section this year.
In general terms, this section was not an easy one.
In previous years, the observation was that the science and tech questions were pretty direct and one need not have had to go beyond the basic facts.
But, this year, the questions were a little deeper and some of them could be called confusing as well.
Watch a detailed analysis of the 2019 Science & Technology questions by our in-house expert below:
Geography & Environment Questions
There were 14 questions from geography and 11 from environment sections this year.
Most questions from geography were static, while the environment questions were a mix of current affairs and static.
In geography section, most of the questions were from the Indian geography section, followed by physical geography and world geography, in that order.
Some of the questions were tough in the geography section, for example, there were two questions on rivers that are not very well known.
The Mediterranean Sea continues to be important. From 2015 onwards, there has been one question from this topic throughout the years until this year.
Watch a detailed analysis of the 2019 Environment & Ecology questions by our in-house expert below:
You can check the answer key for prelims 2019 (GS I + CSAT) from here.
UPSC Prelims Trend Analysis
Trend analysis refers to the pattern in the previous years' UPSC question papers. The following link will give the number of questions asked from each subject over the years 2011 through 2019.
UPSC Prelims Subject-Wise Weightage
UPSC Prelims Results
The 2019 Prelims results are expected to be released in the first half of July. We will update it as soon as the official word is out at this link.
For more on how to select the optional, click here.
Related Links:
Frequently Asked Questions UPSC Prelims & Mains
What will be the cut off for the UPSC Prelims 2019?
Our experts predict the cut off marks to be in the range 95 – 100 for the general category. Read more on UPSC Cut off marks here.
How do I check my UPSC Prelims results?
You can check the UPSC Prelims results by logging onto the official website of the UPSC and following the instructions therein. Alternatively, you can check your results on this website as well, which we update on a regular basis.
How do I apply for the UPSC Mains 2019 if I qualify?
You can apply for the mains 2019 only on the UPSC's official website. Check our website for regular updates on how to apply, last date to apply, etc.
When will the UPSC Mains exam be conducted?
The UPSC Mains 2019 exam will be conducted for five days starting 20th September 2019.
How to choose an optional subject for IAS Mains?
Keep in mind the following factors while selecting an optional for the IAS mains:
Interest in the subject
UPSC syllabus for the optional subject
Prior knowledge/academic background
Overlap with the GS papers