Silicon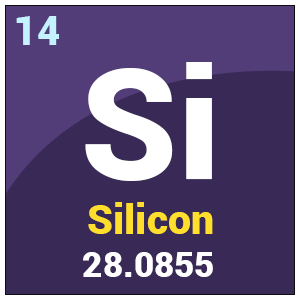 | | |
| --- | --- |
| Symbol | Si |
| Atomic Number | 14 |
| Atomic Mass | 28.0855 g.mol -1 |
| Discovered by | Jöns Jacob Berzelius in 1824 |
Chemical Properties of Silicon
Group
14
Melting point
1414°C, 2577°F, 1687 K
Period
3
Boiling point
3265°C, 5909°F, 3538 K
Block
p
Density (g cm−3)
2.3296
Atomic number
14
Relative atomic mass
28.085  
State at 20°C
Solid
Key isotopes
28Si, 30Si
Electron configuration
[Ne]3s2 3p2
CAS number
7440-21-3
ChemSpider ID
4574465
ChemSpider is a free chemical structure database
What is Silicon?
Silicon (Si) is a close relative of carbon (C) in the periodic table.
The element could be traced universally in our world but is not found individually in our environment.
Uses of Silicon
The element is a major constituent in ceramics and bricks.
Being a semiconductor, the element is put into use for making transistors.
Silicon is used in a different manner in computer chips and solar cells.
Properties of Silicon
Silicon could be found attached to other elements, for instance, oxygen (O).
Silicates are the rocks which contain both silicon and oxygen.
When decontaminated, it is a grayish crystal that looks metallic.
Although it may be glistening like metal, it is not a metal.
Certain Facts About Silicon
Silicon was isolated and forced to develop its first crystals in the year 1854.
In the periodic table, one can find silicon just underneath carbon in the third row of the periodic table.
Silicon's electrons are arranged in a makeup comparable to carbon.