The art and culture are an important portion of the UPSC IAS Prelims Examination. Here in this article, we are giving important caves architecture in India. The cave architecture in India is supposed to have begun during ancient times. These caves were used by Buddhist and Jain monks as places of worship and dwelling. In the beginning, the caves were unearthed in western India. Let's have a look at the Cave Architecture in Ancient India which is a very important part of Indian Art and Architecture.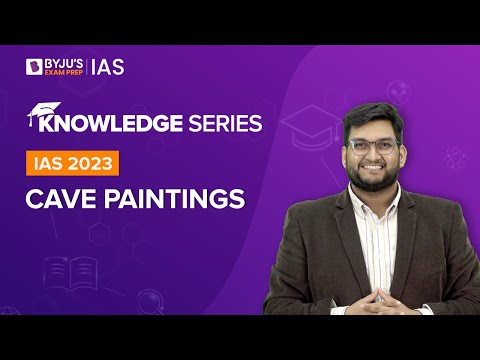 Aspirants can find information on the structure and other important details related to the IAS Exam, in the linked article.
Aspirants should begin their preparation by solving
UPSC Previous Year Question Papers
now!!
To complement your preparation for the upcoming exam, check the following links:
Ajanta Caves
This cave is located in Aurangabad district of Maharashtra
It comprises about 30 rock-cut Buddhist cave monuments
Since 1983, the Ajanta Caves have been a UNESCO World Heritage Site
All three kinds of art combined – sculpture, architecture, and paintings(mural paintings)
Famous fresco paintings of Ajanta are dying princess, flying apsara, and preaching Buddha.
Ellora Cave
It is locally known as 'Verul Leni'
It is located in Maharashtra
This also a rock-cut monastery by the Buddhists
It is famous for the largest monolithic excavation in the world- the great Kailasa
The hills in which the caves are carved forms part of the Sahyadri ranges of the Deccan
It is a UNESCO World Heritage Site
Chaitya cave number 19 of Ajanta group
Built-in Gupta age
Cave 19 is a very elaborate rock-cut chaitya hall from the late 5th century
The peripheral frontage has a large horseshoe-arched window edged by figures of yakshas and Buddhas carved in relief.
The curved ceiling has rock-cut ribs.
Vihara cave number 16 & 17
Vihara is a monastery
There are lots of mural painting in the caves 16 and 17 which are the are epigraphs of the Vakataka Dynasty
The murals are uninterrupted without barriers, typically representing Buddhist tales, like 'Jataka' stories, which describe Buddha's earlier lives.
Candidates can go through the detailed information on Ajanta and Ellora Caves on the given link.
Elephanta Cave
It is located on Elephanta Islands in Mumbai
There are seven cave excavations in the Elephanta group
There is Trimurti of Shiva
The caves are carved from solid basalt rock.
Further details on Elephanta Caves are available on the linked page.
Sudama / Nyagodh Cave
It represents the earliest example of rock-cut architecture in India
It belongs to belong Maurya period
It is located in Barabar hills
The cave was dedicated by emperor Ashoka in 261 BC
It consists of a Rectangular chamber connected to circular chamber
Lomasa Rishi Cave
It represents the earliest example of rock-cut architecture in India
It belongs to belong Maurya period
This cave was carved out of a gigantic rounded granite rock
It has an arch-like shape frontage copying the contemporary timber architecture
It is located in Nagarjuni hills
It belongs to belong Maurya period
Frieze of elephants
Barabar Hills embraces the cluster of four caves, together called Barabar Caves. These four caves are Lomas Rishi Caves, Sudama caves, Vishwakarma Caves, and Karan Chaupar caves. This cluster of Barabar Caves lies around 40 km from Bodh Gaya, in the state of Bihar in India. Read in detail about these four Barbara Caves on the given link.
Bhaja Cave
This is the oldest Deccan rock-cut cave dated on 2nd century BC
It is located in Maharashtra.
The inscriptions and the cave temple are preserved as a National Monument
It is famous for its decorative frontages
It belongs to the Hinayana Buddhism sect
Stone carvings are not very deep
It has octagonal pillars
Go through the details of Bhaja Caves on the link provided here.
Karle Cave
Ancient India Buddhist early rock-cut architecture
It is located in Maharashtra
Related with the Mahasaṃghika sect of Buddhism
There is a pillar of the Asokan type with a huge sixteen-sided shaft rising over a platform.
It has a great chaitya hall
Bedse Cave
These are a group of Buddhist rock-cut monuments.
These were constructed during the reigning period of Emperor Ashoka.
Karla Caves and Bedse Caves both are located in the Maval taluka of the Pune district. These are the Buddhist caves that were excavated during the 1st century BC.
Nashik Caves
Located near Nashik in Maharashtra
It is called as Pandavleni Caves/ Trirashmi Buddhist Caves
It is a cluster of 24 caves carved between the 2nd century BCE and the 2nd century CE
It is representing the Hinayana Buddhist caves
Details regarding Nashik caves / Pandavleni Caves/ Trirashmi Caves can be read on the given link.
Udayagiri and Kandhagiri caves of Odisha
Earliest groups of Jain rock-cut shelters
The caves of Udayagiri and Khandagiri called lena or leṇa in the inscriptions
Hathigumpha and Ganeshagumpha are particularly well known due to art reserves of their sculptures and reliefs
Khandagiri offers a fine view back over Bhubaneswar from its summit.
Ratnagiri, Udayagiri and Lalitgiri, the three sites together are known as the diamond triangle of Odisha. Candidates can know in detail about the Udyagiri, Kandhagiri, Lalitgiri and Ratnagiri Caves on the linked page.
Pancha Pandava cave
It is located in Mahabalipuram in Tamil Nadu
It is part of the cluster of Monuments at Mahabalipuram
It is one of the supreme testimonials to the ancient Vishwakarma Sthapathis which is unfinished.
The architecture style used was the Indian rock-cut style.
The hills are locally known as Tiruppanmalai.
Cave temple of Mandagapattu
Mandagapattu is built by Mahendravarman I
It is a shrine which holds a significant position in the history of the architecture of the Pallavas
It is the oldest stone shrine in Tamil Nadu
Bagh caves
There were nine rock-cut caves, built-in vertical cliff soaring 45 – 50 m above the Baghani River, on the southern slopes of Vindhya Range.
Caves were established by Buddhist monk Dataka
Mandapeshwar Caves
It is located in on the banks of the Dahisar River in Borivali
8th Century rock-cut shrine dedicated to Shiva
This is the only Brahmanical cave to be transformed into Christian cave
Junagadh Caves groups
Located at Junagadh district in Gujarat
Caves were engraved from Emperor Ashoka's period up to 1st-4th century AD.
These caves are three distinct sites of rooms carved out of stone to be used as monks' quarters
Multiple Choice Question
Consider the following Statements
Famous fresco paintings of Ajanta are dying princesses, flying apsara and preaching Buddha.

Ellora caves are carved forms part of the Sahyadri ranges of the Deccan.

Lomasa rishi cave belongs to the Mauryan period.

Bhaja cave belongs to the Hinayana Buddhism sect.
Which of the following options is correct?
A) All the above statements are true
B) Only statements 1, 2 and 3 are correct
C) Only statements 2, 3 and 4 are correct.
D) Only statements 1,3 and 4 are correct
Answer: A
Candidates can find the general pattern of the UPSC Exams by visiting the UPSC Syllabus page.
Frequently Asked Questions on Cave Architecture in Ancient India
Q1
Q 1. Are Elephanta Caves a UNESCO heritage site?
Ans. Yes, the Elephanta Caves, on Elephanta Island in Mumbai also known as Gharapuri island, is a UNESCO World Heritage site. It has been a heritage site since 1987.
Q2
Q 2. What is Cave architechture?
Ans. Cave architecture is also known as Rock-cut architecture. Indian rock-cut architecture is one of the main forms of architecture seen in caves.It is the practice of creating a structure by carving it out of solid natural rock. Along with sculptures some caves are famous for painting.
Related Links