Table of Contents:
1. 1.46% of workforce in firms in India suffer from some or the other form of stress: Data
1. Misunderstandings resolved, says Nepal
2. MoUs soon with Sri Lanka, Myanmar: CG chief
3. U.S. warns Pak. over militants using its territory
1. Industrial output contracts in April
2. Renewable energy capacities at 42.8 GW pip hydro generation
3. Patent Office issues norms for start-ups
4. Indian aid worker kidnapped in Kabul by armed gunmen
1. The elephant at the peace table
2. Steering India to safer roads
3. The story of India's 29th State — Telangana
1. National intellectual property policy suffers from a lack of conceptual clarity
1. PIB
a) Textiles Minister briefs the media about the initiatives and achievements of the Ministry during the past two years
b) Status of Jal Marg Vikas Project on River Ganga
a) Pension plans for entire population expensive
b. Why natural gas is the cleanest option for fossil fuel guzzling India
        a) Prakash Javadekar and ManekaGandhi, let kindly light ahead
      a) Farming needs liberalised leasing laws
.
+++++++++++++++++++++++++++++++++++++++++++++++
Useful News Articles
A. GS1 Related
Topic: Society
Category: Mental Health
Location: The Economic Times

Key points:
1.46% of workforce in firms in India suffer from some or the other form of stress: Data
"It is a burning issue in corporate India that everyone has to address. Our entire society creates stress, right from childhood exam results to making a career. Organisations must understand that there is this serious factor called stress and proactively deal with it," – said a commentator
B. GS2 Related
Topic: International Relations
Category: Indo-Nepal Relations
Location: The Hindu
Key points:
Nepal never accused India of destabilising the government of Nepal, Deputy Prime Minister and Foreign Minister of Nepal, Kamal Thapa sais
Bilateral mechanisms were reviewed — including political exchanges, connectivity and trade said a statement issued by the MEA
2. 
MoUs soon with Sri Lanka, Myanmar: CG chief
Topic: India's NeighbourhoodCategory: Myanmar and Sri Lanka
Key points:
The Indian Coast Guard will sign Memorandums of Understanding (MoUs) with Sri Lanka and Myanmar to conduct joint exercises
The fifth edition of Indo-Korean joint maritime exercise 'Sahyog-Hyeoblyeog-2016 s on the way
The Coast Guard has signed MoUs with six countries, namely Japan, South Korea, Pakistan, Bangladesh, Vietnam and Oman and two are in the pipeline with Sri Lanka and Myanmar
3. U.S. warns Pak. over militants using its territoryTopic: International Relations
Category: Pakistan
Key points
A US State Department statement said :
"We believe that Pakistan and India stand to benefit from practical cooperation and encourage direct dialogue aimed at increasing cooperation and reducing tensions,"
"And that includes steps by Pakistan to ensure that its territory is not used to plan attacks in India and that Pakistan takes steps to address or to go after all the terrorist groups that are currently using its territory. That continues to be an area of collaboration and cooperation that we pursue with Pakistan in its counterterrorism operations,"
A. GS3 Related
Topic: Economy
Category: Industrial output
Key points
A contraction in manufacturing output dragged industrial production growth back in to the negative zone in April, rekindling concerns if a turnaround has indeed taken place and also raising fresh worries over the quality of the data
The IIP numbers are based on the old series and the IIP data seems at odd with the fourth quarter corporate results in segments such as auto, ceramics, plastic products and pharma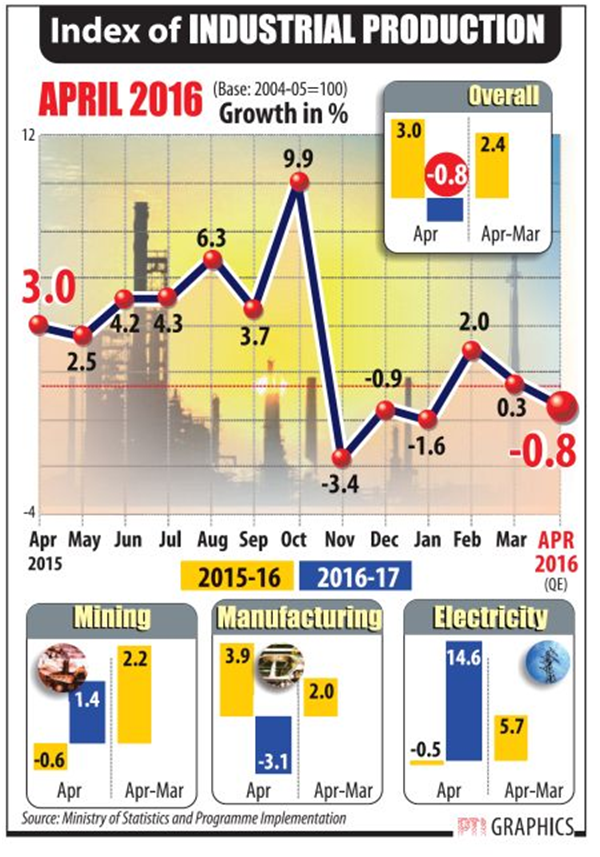 2. Renewable energy capacities at 42.8 GW pip hydro generation
Topic: Economy
Category: Energy sector
Location: The Hindu
Key points
Helped by policy initiatives and early stage private investments in solar and wind power, the renewable energy sector has for the first time surpassed hydro power generation
According to the Central Electricity Authority data, the total capacity of renewable energy sector increased to 42,849.38 MW, surpassing the total capacity of hydro power sector at 42,783.42 MW, out of the nation's total installed capacity of a little over 3 lakh MW on April 30, 2016
He has been critical of 'ultra-low' monetary policies adopted among some countries in the developed world. Their decisions to keep interest rates low to support growth and re-inflate their economies have impacted emerging market economies
"The kind of anxiety comes at a time when a number of countries are already asking: Are we too integrated?"(implying Brexit)
3. 
Patent Office issues norms for start-ups
Topic: EconomyCategory:PatentsLocation: The Hindu
Key points
Indian Patent Office has issued guidelines for facilitators and start-ups with respect to filling and processing of applications for patent, designs and trade marks aiming to encourage budding entrepreneurs and boost innovation
As per the guidelines, a start-up willing to file a patent application for an invention will have to select a facilitator who would help in preparing the request and also assess the patentability of the invention as per acts and rules, the Controller General Patents, Designs and Trade Marks, according to a public notice
4. 
Indian aid worker kidnapped in Kabul by armed gunmen
Topic: Security Category:TerrorismLocation: The Hindu
Key points
An Indian aid worker with the Aga Khan Foundation, Judith D'Souza, was kidnapped in the Tamani area of Kabul late on Thursday. Authorities in Afghanistan are yet to hear from any of the terror groups
The Indian Ambassador to Afghanistan said it wasn't clear whether Ms. D'Souza had been targeted for being an Indian or for working at the NGO
D. GS4 Related
E. Important Editorials: A Quick Glance
Topic: International Relations
Category: Indo-Pakistan Relations
Key points
The PMs of both India and Pakistan seems to share a cordial relationship in the personal front
Indeed, Mr. Sharif does not need convincing to reach out, as he is one of the most ardent supporters of peace with India and within the larger South Asian region. In a recent private conversation with a Pakistani journalist, he reiterated the economic dividends that would accrue from improvement in relations. Mr. Sharif is the only political leader willing to take the risk of pushing the peace agenda where other leaders have become more cautious
At the Pakistan end, the India-Pakistan peace fairy tale begins and ends with the politically powerful armed forces. Since the early years after the country's birth in 1947, the Army has continued to be the lead protagonist in both domestic politics and foreign policy. This is not a reality that Mr. Sharif is oblivious of, which gives rise to the question, does he really imagine he could mend fences with New Delhi on his own? The issue here is not with Mr. Sharif's sincerity of purpose, but the tactics adopted to attain the end
A large part of the problem lies with Mr. Sharif's style of governance. He resists institutionalising decisions and processes, and that results in strategic failures. He had faced the problem in his dealings with the Army in 1999, and he is confronting a similar crisis again. It would have made more sense, for instance, had he taken Mr. Modi to the Governor's House in Lahore instead of his personal estate at Raiwind, where the military and Foreign Office (which, of course, is heavily influenced by the GHQ) were not welcome
Apparently he committed a similar faux pas in dealing with Saudi Arabia's request for committing troops for Riyadh's war in Yemen. This personalised style of dealing with foreign leaders, that mainly involves his family members or close aides, tends to make the Army very nervous
The bilateral situation has gone back to the status quo. The establishment in Islamabad, as was voiced by the Prime Minister's adviser on foreign affairs, Sartaj Aziz, is not in a hurry to kick-start the peace initiative. Islamabad's Joint Investigation Team (JIT) looking into the Pathankot terror attack was not convinced of anyone's involvement from Pakistan and has sent back a set of questions for New Delhi to answer. Moreover, the argument is that if India wants to move forward on peace, it should elevate discussions beyond terrorism and come to fundamental issues — or even if it is terrorism, then the conversation must begin with the Samjhauta Express attack
The Kashmir dispute is one of the issues, but it may not be the only one. The important fact is that a debate with the Pakistan military has never been held seriously, both internally or externally, regarding its end vision vis-à-vis India. The inherent flaw with Mr. Sharif's game plan, as pointed out earlier, is that it aims for peace without bringing the biggest domestic actor into the conversation. In doing so, the government ignores, much to its own disadvantage, the Army's capacity to stall any initiative. No civilian government has demonstrated an ability to stop the Army once it begins to checkmate a peace initiative
According to one perspective, which is the more popular in India, Pakistan's Army hampers any move forward towards peace because its very existence depends upon conflict. But at some point the organisation will have to respond to pressures from its external partners such as the U.S. and China. Beijing has often encouraged Islamabad to abandon its isolationist policy. The regional environment is changing, and that will have implications for the military, its status and role in the region
It also should not be forgotten that the organisation is not a monolith and from time to time it does evaluate, though timidly, ties with India. More than a year ago it deputed a well-known Pakistani university, which was studying trade with India, to examine the impact on the military business complex
In order to establish peace, two parallel conversations would have to begin: one between Pakistan's military and its political leadership, and the other between New Delhi and the military
Ultimately, peace is a long-drawn process which will not deliver fruit in a hurry. Even if peace is a dead-end street, the possibility is still worth exploring by talking with actors who have power to tilt the balance
Note : Institutions are a shield against arbitrariness. Governance and administration cannot be left to the whims and fancies of individuals. Examine citing examples
2. Steering India to safer roads Topic: Governance
Category: Road Safety
Key points:
Road accidents in India kill more people than some epidemics, but the Central and the State governments refuse to see it for what it is — a national crisis. The antiquated traffic management and transportation system resulted in 1,50,000 deaths and left more than half a million injured last year, affirming the country's status as among the riskiest in the world for road users
Significantly, the counts for deaths and injuries in accidents are viewed as less than accurate. The 'Road Safety in India' status report 2015 from the Indian Institute of Technology, Delhi, says injuries requiring hospitalisation are likely to be underestimated by a factor of four and for all injuries by a factor of 20
For everyone undertaking a road journey, the risk of a fatal accident has been rising steadily: absolute fatalities in 2014 showed a 6 per cent average annual growth rate compared to 1970 figures
Data also show that more than half of those killed last year were in the productive age group of 15 to 34, pointing to a calamitous loss of young lives. This is a public health emergency that requires immediate action. One of the most productive measures to bring down accidents is zero tolerance enforcement. Strong policing reduces the risk for vulnerable road users such as pedestrians and two-wheeler riders, who must be compelled to wear helmets
In spite of fast-paced motorisation, India does not have a scientific accident investigation agency. Nine years have passed since the Sundar Committee on Road Safety and Traffic Management recommended the creation of a safety board through legislation
Under the archaic Motor Vehicles Act and the Indian Penal Code, the police adopt simplistic methods to determine 'driver fault', rather than look at composite factors including bad road design and failure of civic agencies to maintain infrastructure while fixing responsibility for accidents
It is unlikely that the proposed National Road Safety and Traffic Management Board will lead to dramatic improvements, since it is envisaged only as an advisory body
Without empowered oversight, it is impossible to eliminate systemic corruption in transport departments in vehicle certification and licensing of drivers, and poor monitoring of roadworthiness of commercial vehicles
The Centre should also act on the virtual monopoly held by automotive companies on the sale of spares and servicing of vehicles, which is raising cost of ownership and affecting quality of maintenance. Research suggests there will be an annual rise in fatalities until 2042, before a decline sets in. That distressing prognosis can be changed only through determined action today
3. The story of India's 29th State — Telangana 
Topic: Polity
Category: States of India
Key Points
The seeds of Telangana struggle were sown in 1955 when the recommendation of the States Reorganisation Commission to retain Hyderabad as a separate State went unheeded
On November 1, 1956, Telangana merged with the State of Andhra, carved out of erstwhile Madras, to form Andhra Pradesh, a united state for the Telugu-speaking populace
The State witnessed a violent 'separate Telangana' agitation in 1969 and a 'separate Andhra' agitation in 1972. The 1969 stir was primarily started by social groups, students and government employees
Following the agitations, a six-point formula was evolved by Prime Minister Indira Gandhi for "accelerated development of backward regions and preferential treatment to local candidates in employment."
In 2001, when K. Chandrasekara Rao floated the Telangana RashtraSamithi (TRS) to revive Telangana movement.
Karimnagar was the host for the intensification of Telangana statehood movement in 2009, when the TRS president had decided to launch a fast-unto-death, demanding the Telangana State
Following the continuation of his fast-unto-death while in a hospital, the Union government had announced the formation of separate Telangana State on December 9, 2009. However, the government had again gone back on the issue on December 23, 2009.
About 17 pro-Telangana students had launched a fast-unto-death in front in the Osmania University campus after the Centre backtracked on the statehood issue
Sri Krishna Committee report
On February 3, 2010, a panel headed by Justice (Retd.) B.N. Srikrishna was formed to "bring about a permanent solution" to the statehood demand. The panel met 30 times, visited 23 districts and 35 villages and held interactions with about 100 organisations
It said, "The united Andhra option is being suggested for continuing the development momentum of the three regions and keeping in mind the national perspective. With firm political and administrative management it should be possible to convey conviction to the people that this option would be in the best interest of all and would provide satisfaction to the maximum number of people in the state."
Cabinet approves bifurcation
In December 2013, the Union Cabinet approved a Bill for the creation of Telangana State with 10 districts, paving the way for the bifurcation of Andhra Pradesh. The Cabinet had broadly approved most of the recommendations made by the Group of Ministers constituted to consider the contentious issues
Passage of the A.P. Reorganisation Bill
– The A.P. Reorganisation Bill was passed in 2014, listing out the specifics involved in the process of bifucation. Some of the salient features the Bill were:
– The Bill envisages Hyderabad as the common capital. The Andhra Pradesh Governor will be Governor for both successor States of Andhra Pradesh and Telangana.
– The common capital includes the existing area notified as Greater Hyderabad Municipal Corporation. Centre shall form expert committee to suggest a new capital of Andhra Pradesh within 45 days
– The Centre will set up an apex council for the supervision of Krishna and Godavari rivers on water sharing
– 25 Lok Sabha seats to be allocated to residuary Andhra Pradesh and 17 Lok Sabha seats to Telangana
– Residuary Andhra Pradesh will get 175 Legislative Assembly seats and Telangana 119
– Existing admission quotas in all government or private, aided or unaided institutions of higher, technical and medical education shall continue for 10 years during which common admission process shall continue
– The Polavaram Irrigation Project will be declared as a national project and the Centre will take under its control the regulation and development and the Tungabhadra Board will continue to monitor the release of water to high level canal, low level canal and Rajolibanda diversion scheme
– The High Court at Hyderabad will be common for both States till a separate High Court is set up for residuary Andhra Pradesh.
– Any dispute, regarding financial assets and liabilities, shall be settled through mutual agreement failing which by the Centre's order on the advice of the Comptroller and Auditor General
All properties situated outside existing Andhra Pradesh will be apportioned between the successor States on the basis of population ratio
– Greyhound and OCTOPUS forces of the existing Andhra Pradesh will be distributed after seeking opinions from the personnel and each of these forces
– The award made by the 13th Finance Commission to the existing State of Andhra Pradesh will be apportioned between the successor States by the Centre on the basis of population and other parameters
Indian Express
Topic: Governance
Category: Patent policy
Key Points:
The Department of Industrial Policy and Promotion (DIPP) of the ministry of commerce and industry released a document on the National Intellectual Property Policy on May 13 seeking to promote "creative and innovative" India
Only a few years ago India undertook massive legislative measures to amend the patent, copyright, and trade mark and design acts and no new measures are on the anvil. Further, recent years witnessed wideranging and contentious debates over issues relating to "compulsory licensing" and "ever greening" of patents by foreign drug majors
Unfortunately, India has continued to be under pressure from the US pharmaceutical lobby and the US Trade Representative with suggestions to tighten IPR laws and regulations beyond India's international obligations
In response to fears expressed by non-governmental organisations the government of India reassured critics that it would not succumb to foreign pressure in instituting IPR amendments. Unfortunately, the current document on IPR, especially its reframing of the objectives of IPR, seems to send a different message
The basic thrust in it raises more doubts than it seeks to resolve. For instance, it specifies that all "knowledge" should be "transformed into IP assets." It suggests that national policy should "spread the importance of IP rights" by using "eminent personalities as ambassadors"
Sadly, it betrays an imbalance in the IPR regime that can tilt the balance away from access to important public goods. There is by and large agreement among economists and the scientific community that IPR in itself has limited ability to promote innovation.
Others:
1) Textiles Minister briefs the media about the initiatives and achievements of the Ministry during the past two years
Amended Technology Upgradation Fund Scheme (ATUFS) rolled out in January 2016 with a budget provision of Rs.17,822 crores for the next seven years; expected to attract an investment of Rs. One lakh crore and generate employment for 30 lakh persons
India Handloom Brand launched on 7th August, 2015 by Hon'ble Prime Minister to ensure quality assurance to consumers and increased earnings to weavers. Credit flow to handloom weavers streamlined
Integrated Processing Development Scheme rolled out to provide up to 50% assistance for Common Effluent Treatment Plants with Zero Liquid Discharge system, subject to a ceiling of Rs.75 crore; six projects sanctioned to support processing clusters
24 new Textile Parks sanctioned under the Scheme for Integrated Textile Parks with a potential investment of Rs.4500 crore and employment for 66,000 people.
Status of Jal Marg Vikas Project on River Ganga
'Jal Marg Vikas' is a  project on the river Ganga , being developed between Allahabad and Haldia to cover a distance of 1620 kms. The project envisages development of a fairway with three metresdepth ,  which would enable commercial navigation of at least 1500 ton vessels on the river.  Construction of multi modal terminals, jetties, river information system, channel marking, navigational lock, river training and conservancy works are to be undertaken as part of the project. The project  is being implemented with technical and investment support from World Bank and would be completed over a period of six years at an estimated cost of Rs. 4200 crore
2.The Financial Express:
a) Pension plans for entire population expensiveTopic: Governance
Category: Social  sector
Key Points
Given that over 90% of the country's workforce is in the unorganised sector and is likely to be bereft of any pension/insurance cover, the labour ministry proposing a universal cover by 2030—as part of its vision statement—seems an admirable goal. Except, it needs to be carefully thought out as the costs can be crippling
Keep in mind that while government bureaucrats are quite a small number, the generous pension plans for them proved very expensive, which is why the government also moved away from the defined-benefits pension to a defined-contribution plan several years ago
If PF/pension plans are defined-contribution ones, they are obviously not a burden since the retirement payout and pensions are all based on the money earned on the contributions made. Obviously the choice of PF/pension cannot be restricted to the EPFO, but has to be opened up to the New Pension Scheme since that also offers, at the moment, higher returns. That this requires the tax treatment for both schemes to be the same is equally obvious
Matters, however, get problematic when there is an element of a defined-benefit. The EPFO, for instance, has a pension component fixed at half the last salary drawn subject to a ceiling, right now R6,500 per month(The person should get at least Rs 3250 each month when he retires if he was earning Rs 6500 monthly salary. If it is more, it does not apply)
While that may be viable right now, what happens when life spans rise as they are? Also, when politicians want a minimum pension component of Rs 3,250 the problem gets magnified
Doing this for a few crore persons, as now, can be funded but how do you do it for 50 crore persons—it helps that there are far more contributors today as compared to those drawing pensions, but the scheme will be a real problem when the situation reverses as it will with an aging population
The issue of how contributing to pensions takes a lot out of the salary of low-paid employees also cannot be ignored, and it needs to be kept in mind that regular collection of pension contributions is a difficult task when the bulk of the labour force is in the informal sector, may not have regular jobs and is also migratory
Insurance of the sort started by the prime minister recently is equally tricky. While it is desirable, it needs to be seen how viable it is, and that can be seen only after several years when insurance companies deal with the medical and death payouts—whether the numbers are good or bad, they will look a lot worse as the population ages
Once again, the numbers here are critical—funding losses is easier when the numbers insured are small. While desirable and politically popular, pension/insurance decisions require a lot of actuarial homework—it is to be hoped the labour ministry has done that
3.
2. Why natural gas is the cleanest option for fossil fuel guzzling India
Topic: EconomyCategory: Clean energyKey points:
A World Health Organisation (WHO) report named Delhi, from among 1,600 cities, as the world's most polluted city. The high concentration of particulate matter—particularly smaller than 2.5 micron diameter (PM2.5), responsible for respiratory diseases—placed the National Capital Region (NCR) in this seat
This was in 2014. The latest WHO report (May 2016) gives policy-makers a breather: PM2.5 levels have improved marginally and Delhi, in this respect, has dropped to 11th position. Because PM2.5 is still 12 times over the safety limit in the NCR
The national Air Quality Index (AQI), launched by the government some time ago, is an important decision. This presents air quality values across 44 cities and 22 state capitals
Government data has historically been cascaded to the public in spiritless and not-so-user-friendly formats. This is where AQI makes a difference. It presents real-time info on air quality in a simple five-colour-format that citizens can easily read and, based on this, plan their daily life (for example, stay indoors when pollution levels soar, pull on sneakers if the weather is looking up). The idea of giving the public cues around air quality and prompting action from them is indeed noteworthy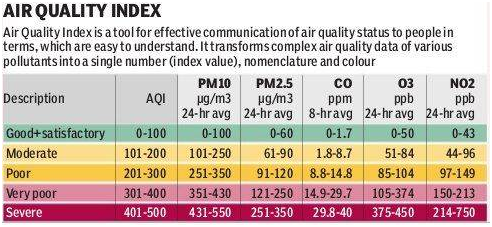 A dust management plan, which includes strict penalties for violators, is long overdue. About eight mechanised road sweepers were in operation in Delhi in June 2015; the city needs more numbers of these. Manual cleaning of roads and footpaths actually ends up "kicking up dust" and worsening pollution
In addition, it's time India's city administrators took steps to decentralise environment management protocols, which means even a small colony can have an air quality plan, with active participation by its residents
Air contamination in India can also be traced back to the energy systems the country is saddled with. The answer for our policy-makers is not picking one source of energy over another
At various stages of economic growth, different energy sources have been useful and continue to be so. For instance, coal is going to be critical to the economy in the short term, and most particularly so, because extending electricity to every Indian is now the highest priority
Be that as it may, the country must start building alternatives for cutting back greenhouse emissions. In this aspect, India should, without a doubt, aggressively pursue opportunities in renewable energy
Many of the recent policies lay stress on meeting the growing hunger for energy in rural India with solar power. However, the country cannot expect to electrify every single household using photovoltaic cells. The sheer magnitude of this sector calls for a multidimensional approach. The even-now-dominant biomass (firewood, agricultural waste and dry cattle dung), the traditional fuel in this part of the world, can't just be wished away
Numerous technologies are now doing the rounds that enable more fuel-efficient, smoke-free and safer burning of these fuels. In the interim, large sections will move to such improvised and cleaner cook stoves. And even as they are at it, a lot of thought should go towards finding ways to bring cleaner and more mature fuels, such as biogas, within the reach of the larger masses. By doing so, energy experts can buy time, which they so badly need, to fully understand the economics and technology challenges associated with large-scale and distributed solar photovoltaic rollouts
If India has to depend on fossil fuels, natural gas is by far the cleanest option. In the developed world, natural gas accounts for a quarter of electricity generation, whereas in India, we have only about 10% of thermal power generation capacity in the form of combined cycle gas generation turbines
Using a mix of local and imported natural gas, the government is trying to put new life into gas-fired power stations that were idling away because of fuel shortage. This is proving a costly affair
With a view to improve the circulation of natural gas in India, policy-makers are intensifying the effort to find so far unexplored domestic natural gas deposits. This includes tapping about 63 trillion cubic feet of shale gas potential, hidden away within fine sedimentary rocks. But as a guaranteed base load capacity, natural gas will be essential in what will be potentially the world's third largest power consumer. Therefore, natural gas can provide an assured stockpile of energy, and from this fortified position, India can tap further into its renewable energy sources
4. TheBusinessLine:
a) Farming needs liberalised leasing lawsTopic: Economy
Category: Agriculture
Key points:
What are the 'man-made' factors that can be managed to improve agricultural productivity and rural income?
Land consolidation
Over the past 70 years, our population has grown four times, which has effectively resulted in a similar drop in per capita landholding. In fact, of the total holdings today, 85 per cent are in small and marginal farm categories of less than two hectares. Fragmented landholdings have not only hindered infusion of technology (use of hybrid varieties and farming techniques) but capital investment (irrigation and mechanisation of land holdings) as well, resulting in low yields as compared to global standards
According to the latest FAO Report, the average yield of rice in India is 2.3 tonnes/ha as against a global average of 4.37 tonnes/ha. Countries such as Australia, US and China enjoy productivity levels of 10.1 tonnes, 7.5 tonnes and 6.5 tonnes, respectively
Fragmented land holdings have also meant that too many hands are employed to produce too little. 'Hidden unemployment' is quite evident, as most of our land under cultivation happens to be of the single crop variety because of lack of irrigation facilities
To usher in a transformational change, we need to initiate action on multiple fronts. Crop diversification — multiple cropping and introduction of high value crops — needs to be backed by a significant step-up in investment in research and irrigation. Technology upgrade — introduction of high yielding varieties and investment in post-harvest storage and processing — will also be critical to improve realisation for farmers. As important as all the above would be an accelerated shift of people working in farms to other non-farm occupations
The Government has already made its intent clear while announcing big investments in agriculture in the 2016-17 Budget. One thing that can really galvanise the sector is enabling larger land holdings and incentivising the farmer and private sector to take land on long tenure lease and make the requisite investments in terms of capital and technology
The private sector is better placed to improve yield through research, modern irrigation methods, introduction of high yielding varieties and appropriate crop rotations to increase soil productivity. Enhanced productivity and cost efficiency will reflect in increased farm incomes
Leasing of farm land has long remained a contentious issue. Most State governments have hesitated to bring in liberalised land leasing laws that enable 'organised usage' of farm land. Restrictive tenancy laws enacted in the 1960s and 70s continue to be in force in many States, effectively ruling out leasing of land to the private sector
While some States such as Kerala and Manipur, and the Union Territory of Jammu & Kashmir completely rule out leasing, other states like Karnataka, Uttar Pradesh, Madhya Pradesh, Chattisgarh, Telangana, Odisha, Himachal Pradesh, Uttarakhand and Tripura allow only restrictive categories of people to lease out land
In Haryana, Gujarat, Maharashtra, Assam, Andhra Pradesh, Tamil Nadu, and West Bengal, though there is no legal ban on leasing, there are enough restrictive clauses to discourage leasing per se
Lack of liberalised leasing laws has resulted in 'concealed tenancy' or 'informal tenancy'. Such tenancies restrict investment in land improvement and irrigation because of the inherent overhang of uncertainty
The other problem informal tenants face is lack of access to institutional credit and insurance
Worst of all, in view of the legal restrictions, many land owners prefer to keep their land fallow due to fear of losing their ownership rights
In the past few decades, even socialist countries such as China and Vietnam have liberalised agricultural land leasing with significant impact on growth and equity. There is no reason for India to be hesitant
The need of the hour is a liberalised land leasing law that not only ensures complete security of ownership rights for land owners and no tenancy rights for lessees, with a provision of automatic resumption of land to the lessor after the expiry of the lease period.
In fact, Punjab and Rajasthan already have legislations allowing long term lease of land. It's high time the Central Government brings into force the Model Land Leasing Act that can be adopted by the State Governments
Leasing out land to a better organised private farming entity can have decisive impact both on productivity and the income of the lessor. Land owners can not only earn regular rental from their leased out land but seek employment with the lessee cultivator, which can earn him/her regular wages as well. Alongside this income multiplier, the potential impact of private sector intervention on the overall agronomic environment too can be of immense value
Private management cannot just dramatically transform the way the factors of production — land, labour, capital and technology — are employed in the sector, it can also leave a powerful 'demonstration effect' even on other farmers. These farmers, in large numbers, can gain from best practices to increase their yield/ha as well as become a partner in such private initiatives
Another equally powerful consequence can follow private sector involvement in agriculture: sustained investment in post-harvest management and processing by corporates, which can create incremental employment opportunities to take care of the 'hidden unemployment' in rural areas
Agriculture desperately needs a transformational thrust. Allowing private sector to deliver this will be a welcome initiative.
4. The Economic Times:
a) Prakash Javadekar and ManekaGandhi, let kindly light aheadTopic: Economy
Category: Energy sector
Key points:
The inter-ministerial spat over the Centre's decision to let states cull crop-damaging wildlife has generated heat but little light. In case of enhanced human-animal conflict, the best solution is rarely to kill the offending animals
Identify the cause of the conflict and address it. If animals stray out of their habitat because their water sources have dried up, dig water holes. If the grass they eat has been overrun by inedible new flora, correct that. If their numbers have grown beyond what their habitat can sustain, relocation is one option: relocate the surplus population or introduce predators, if the situation is conducive. If all this fails, cull. But first, study the options
The heightened level of human-animal conflict is symptomatic of problems of development choices and habitat management. This cannot be resolved through "scientific management", an euphemism for killing or culling alone, as global experience shows
Humans have been encroaching on wildlife habitat, irrevocably changing the manner in which humans and animals have co-existed, and the way wild animals behave
Climate change and its impacts on water availability, flora and fauna, will only exacerbate the conflict. The solution lies in adopting a science-based approach to land use and habitat management and better monitoring of wildlife movements to help design interventions that work.
There is no silver bullet. Constant monitoring and evaluation of the different interventions is necessary to determine the options that have the best results in different areas
The government must reconsider designating wild animals posing a danger to human life and crops as "vermin," which closes the door on identifying the specific causes of conflict. Give science a chance, instead
F. Concepts-in-News: Related Concepts to Revise/Learn:
G. Fun with Practice Questions 🙂
1. Which of the following statements is/are correct?
1.Technology Upgradation Fund Scheme provides subsidy on capital investment for entrepreneurs in the textile industry
2.The Integrated Process Development Scheme will help the textiles industry to become competitive on the global scale by adopting environmentally friendly processing standards and technology
a) 1 only
 b) 2 only
c) Both 1 and 2
d) Neither 1 nor 2
Ans c
2.Which of the following are functions of the National Road Safety and Traffic Management Board according to the proposed National Road Safety and Traffic Management Board Bill?
Recommend standards for design, construction and maintenance of national highways
Conduct safety audits to monitor compliance with the standards notified by the central government
Recommend standards for vehicular traffic on the national highways
Conduct research on road safety and management and establish procedure for data collection
a) 1,2 and 3
b)1,2 and 4
c)2,3 and 4
d) All the Above
Ans d
Question 3:Which of the following statements is/are correct about the present Air Quality Index(AQI) released by the government of India?
1) The AQI has 6 categories ranging from Good to severe
2) TheAQI will consider eight pollutants
3) The colours depicting levels of pollution in the AQI range from green to maroon
4)The numerical range in the AQI is from 0 to 500
a) 1,2 and 3
b)1,2 and 4
c)2,3 and 4
d) All the Above
Ans d
Question 4: Which ofthe following industriesis/are included in the Index of Industrial Production used in India?
Electricity
Mining
Fertilizers
Consumer goods
a) 1,2 and 3
b)1,2 and 4
c)2,3 and 4
d) All the Above
Ans d
Question 5:Which of the following statements is/are correct?
Shale gas is obtained by hydraulic fracturing and horizontal drilling
China has the largest amount of technically recoverable shale gas
a) 1 only
b)2 only
c)Both 1 and 2
d) Neither 1 nor 2
Ans c
"Proper Current Affairs preparation is the key to success in the UPSC- Civil Services Examination. We have now launched a comprehensive 'Online Current Affairs Crash Course'.
Limited seats available. Click here to Know More."