Child labour essay for UPSC
" LET EVERY CHILD BE FREE TO BE A CHILD." – KAILASH SATYARTHI   Yes indeed. This holds true for many of us who have lived our innocence. However, this isn't the reality for the 'not so privileged'.
According to a recent ILO report on South Asia, based on national (government) household surveys, more than 88 per cent of all children aged 7-17 in India attend school, with children in employment less likely to be doing so than elsewhere in South Asia. The school attendance rate drops from 93.5 per cent among 7-14-year-olds to 74.3 per cent for 15-17-year-olds.
According to the government's U-DISE 2013-14, the enrolment rate is 97 per cent for elementary level and 76.64 per cent for secondary level. The data also shows that 36.3 per cent of children drop out before completing the full eight years of their elementary education, and the number of dropout children increases as children move on to secondary level.
The theme for the 2015 World Day against Child Labour was "No to child labour – Yes to quality education." The definition of Child Labour must be seen in line with the different categories of the same instead of using it in a sweeping manner:
Child Labour: Those children who are doing paid or unpaid work in factories, workshops, establishments, mines and in the service sector such as domestic labour.
Street Children: Children living on and off the streets, such as shoeshine boys, ragpickers, newspaper-vendors, beggars, etc.
Bonded Children: Children who have either been pledged by their parents for paltry sums of money or those working to pay off the inherited debts of their fathers.
Working Children: Children who are working as part of family labour in agriculture and in home-based work.
Children used for sexual exploitation: Many thousands of young girls and boys serve the sexual appetites of men from all social and economic backgrounds. Direct links between the commercial sexual exploitation of children and other forms of exploitative child labour are numerous.
Migrant children: India faces a huge challenge with "distress seasonal migration". At worksites, migrant children are inevitably put to work. All evidence indicates that migrations are large and growing. The number of children below 14 years of age thus affected.
Children engaged in household activities: Apart from children who are employed for wages (either bonded or otherwise) as domestic help, there are a large number of children (especially girls) who are working in their own houses, engaged in what is not normally seen as "economic activity". These children are engaged in taking care of younger siblings, cooking, cleaning and other such household activities. Further, if such children are not sent to school, they will eventually join the labour force as one of the above categories of child labour.
CAUSES :
Over Population
Illiteracy
Poverty
Urbanization
Orphans
Adult unemployment
Debt trap
Cheap labour
The causes such as poverty, illiteracy, overpopulation, adult unemployment, cheap labour can also be seen as an impact of Child Labour. It can be understood as under: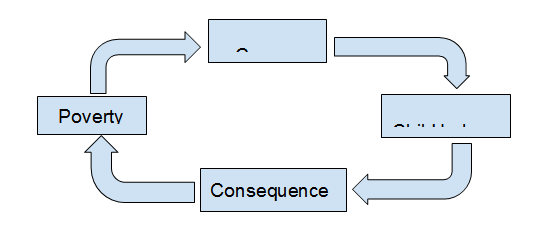 Child labour is a matter on which both the Union Government and state governments can legislate. A number of legislative initiatives have been undertaken at both levels. The major national legislative developments include the following:
The Child Labour (Prohibition and Regulation) Act, 1986
The Factories Act, 1948
The Mines Act, 1952
The Juvenile Justice (Care and Protection) of Children Act, 2000
The Right of Children to Free and Compulsory Education Act, 2009
National Child Labour Programme, 1988
Article 24 of the Indian Constitution
Non-Governmental Organisations doing outstanding work :
Bachpan Bachao Andolan
CRY
Pratham, etc.
Solutions: The solutions have to come from 3 ends :
The Parents
The Employers
The Government
All three need to act as a check on the upper one. Parents need to be vigilant enough to be able to understand the implications of Child Labour. Since it is mostly the children of rural background who are the soft targets, hence awareness is needed, the task of which can be undertaken by the government, private NGOs and even people like us. The employers need to respect human rights and sensitise themselves towards the cause. They need to act as an example to others. The government can act as a watchdog for the employers and the serial offenders in case of parents. Along with the above, social issues such as poverty, unemployment and illiteracy need to be eradicated from society. The future of India is our children. If they are not safe, healthy and educated, our future remains to be dark without hope!