National Nutrition Strategy was released by NITI Aayog in 2017. The vision is to achieve Malnutrition free India by 2022. Malnutrition is a serious problem in India and the statistics shows the issue is appalling. This article covers the statistics on the levels of malnutrition in India, objectives and other important facts on National Nutrition Strategy.
Aspirants would find this article very helpful while preparing for the IAS Exam.
Aspirants should enhance their preparation by solving
UPSC Previous Year Question Papers
now!!
To complement your preparation for the upcoming exam, check the following links:
National Nutrition Strategy – Introduction
The National Nutrition Strategy was released by the NITI Aayog in 2017.
The strategy talked about the negative impact of malnutrition on the productivity of the population, and its contribution to the mortality rates.
It laid out objectives for the country to achieve in reducing malnutrition rates.
Malnutrition
Malnutrition in children implies that they are either too short or too thin according to their age.
Stunting: Stunting indicates a child's height is lower than the average for his/her age.
Wasting: Wasting indicates a child's weight is lower than the average for his/her height.
Underweight: An underweight child's weight is lower than the average for his/her age.
Malnutrition in India
As per data given by the UNICEF, India was at the 10th spot among countries with the highest number of underweight children, and at the 17th spot for the highest number of stunted children in the world.
Malnutrition adversely impacts children's chances of survival, enhances their susceptibility to illness, decreases their ability to learn, and causes them to be less productive in life later on.
Malnutrition is also estimated to be a contributing factor in 1/3rd of all deaths of kids below the age of five years.
The graph below shows the rate of malnutrition in India for kids under the age of 5: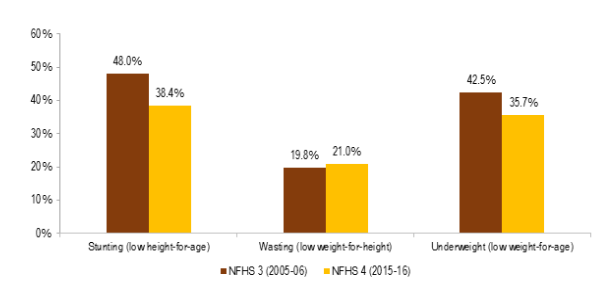 The source of the above data is the National Family Health Survey.
Although the rates of underweight and stunting have improved, there has been an increase in wasting rates.
The prevalence of underweight children was found to be more in rural areas than urban areas.
For 19% of the kids born in India, the national average birth weight is under 2.5 Kg. This is a worrying figure because according to the WHO, newborns weighing under 2.5 Kg are twenty times more likely to die than heavier babies.
In addition, more than half of the children in the country are anaemic, implying an insufficient amount of haemoglobin in the blood. This is caused by a nutritional deficiency of iron and other essential minerals, and vitamins in the body.
Another trend observed in India is that malnutrition is observed not only in children, but also in adults. About 20% of men and 23% women in India are considered undernourished.
However, 19% of men and 21% of women are obese.
For more insights into Nutrition and India, click here.
National Nutrition Strategy – Objectives
Vision: To achieve Kuposhan Mukt Bharat (malnutrition free India) by 2022.
Focus: To prevent and reduce undernutrition across the lifecycle as early as possible, particularly in the first 3 years of life.
Goals: The Strategy envisions to contribute to major national development goals for a more inclusive growth, like the reduction of infant, maternal and infant mortality through the achievement of the following targets:
Decrease in the rate of underweight children below 5 years to 20.7% by 2022. (Current rate is 35.7%)
Decrease in the prevalence of anemia in kids (6 – 59 months) to 19.5% by 2022. (Current rate is 58.4%)
Decrease in the prevalence of anemia in women and girls (15 – 49 years) to 17.7% by 2022. (Current rate is 53.1%)
As a long term goal, the purpose of the National Nutrition Strategy is to progressively reduce all forms of undernutrition by 2030.
National Nutrition Strategy Other Details
The POSHAN Abhiyaan (National Nutrition Mission) is being implemented as part of the Strategy with the aim of ensuring a malnutrition free India by 2022. The key objective of this Abhiyaan is to reduce stunting in children by improving usage of key Anganwadi services.
The Strategy envisions certain interventions such as:

Encouragement of breastfeeding for the first 6 months after birth
Universal access to young and infant child care (including Integrated Child Development Services [ICDS] and crèches)
Enhanced care, referrals and management of severely undernourished and sick children
Twice yearly vitamin A supplements for children between the ages of 9 months and 5 years
Micronutrient supplements and twice a year deworming for children

The Strategy also includes steps to augment maternal nutrition and care such as:

Supplementary nutritional support during pregnancy and breastfeeding period
Nutrition and health counselling
Sufficient intake of iodised salt and screening for severe anaemia
Institutional childbirth, lactation management and better postnatal care

The Strategy also envisages some reforms in the governance aspects such as:

Convergence of district and state implementation plans for ICDS, NHM and Swachh Bharat
Focus on the most vulnerable communities in districts with the highest levels of child malnutrition
Service delivery models based on evidence of impact
The above details would help candidates prepare for UPSC 2021.
Related Links