TABLE OF CONTENTS
A.

 GS1 Related




B.

 GS2 Related


POLITY
1. L-G bound by 'aid and advice' of Delhi govt., says Constitution Bench
GOVERNANCE
1. Union Cabinet clears DNA profiling Bill
2. EC launches Braille-enabled Voter IDs


C.

 GS3 Related


INTERNATIONAL ORGANISATIONS
1. Copyright treaties get Cabinet nod
ECONOMY
1. Moody's survey shows oil prices as the main risk to India's economy
SCIENCE AND TECHNOLOGY
1. ISRO to test its astronaut escape feature today


D.

 GS4 Related




E. 

Editorials


DISASTER MANAGEMENT
1. Flood of despair: Mumbai's flooding woes
ECONOMY
1. The paradox of job growth
2. Fuel: getting the mix right
3. Stopping the rupee's free fall
INTERNATIONAL RELATIONS
1. Freedom from being 'India-locked'
EDUCATION
1. Opening up to the world
SECURITY
1. Insecurity in cyberspace


F. 

Tidbits


1. Cashew processing units feel the crunch
2. U.P. SC/ST panel sends quota notice to AMU


G. 

Prelims Fact


1. Tinbergen rule
H. UPSC Prelims Practice Questions
I. UPSC Mains Practice Questions 

Nothing here for today!!!
1. L-G bound by 'aid and advice' of Delhi govt., says Constitution Bench
A five-judge Constitution Bench of the Supreme Court unanimously held that Lieutenant-Governor is bound by the aid and advice of the Delhi government.
The judgement
Lieutenant-Governor is bound by the aid and advice of the Delhi government, except for issues of public order, police and land.
In case of difference of opinion, the L-G should straightaway refer the dispute to the President for a final decision without sitting over it or stultifying the governance in the National Capital.
It concluded that the governance of Delhi cannot rest upon the whims of one functionary — the Lieutenant-Governor.
Real authority to take decisions lie in the elected government. This is the meaning of 'aid and advice'.
There is no independent authority with the LG to take decisions except in matters under Article 239 (every Union territory shall be administered by the President) or those outside the purview of the NCT government.
Every trivial difference of opinion between the LG and the NCT government cannot be referred to the President for a decision. The issues referred should be of substantive or national importance.
Elected representatives would be reduced to a cipher if 'any matter' in Art 239AA (4) is interpreted as every matter of governance.
A reference to the President was only an exception and not the general rule.
In this context, even in case of differences of opinion, the LG and the NCT government should act with constitutional morality and trust for each other. LG cannot act without applying his mind and refer everything to the President.
The NCT government need only to inform the LG of its well-deliberated decisions. The government need not obtain his concurrence in every issue of day-to-day governance.
Freeze on government decisions by the LG negates the very concept of collective responsibility. The governance of the National Capital demands a meaningful orchestration of democracy and a collaborative federal architecture.
Collective responsibility means the government speaking in one voice to the people whose aspirations the govt reflects.
Background
The judgment came on appeals filed by the NCT government against an August 4, 2016, verdict of the Delhi High Court, which had declared that the L-G has complete control of all matters regarding the National Capital Territory of Delhi, and nothing will happen without the concurrence of the L-G.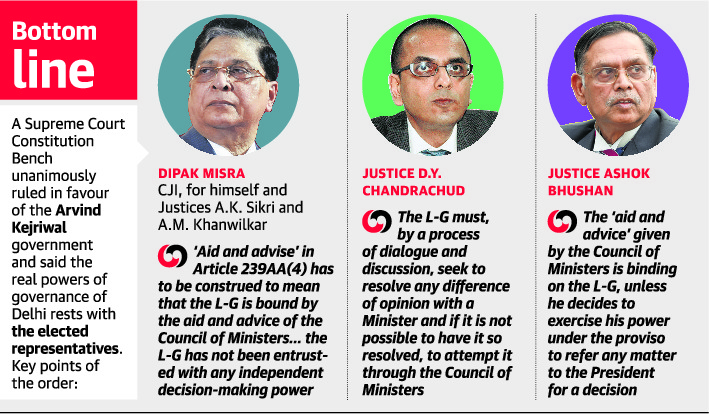 The question of Statehood
SC opined that a mixed balance has to be struck considering the special status of the Delhi and fundamental concerns as Delhi is the National Capital.
Delhi as the national capital belongs to the nation as a whole.
The Supreme Court followed the 1987 Balakrishnan report to conclude that Delhi is not a State.
The report envisaged that Delhi could not have a situation in which the national capital had two governments run by different political parties. Such conflicts may, at times, prejudice the national interest.
The report foresaw that if Delhi became a full-fledged State, there would be a constitutional division of sovereign, legislative and executive powers between the Union and the State of Delhi.
Parliament would have limited legislative access and that too only in special and emergency situations.
The Union would be unable to discharge its special responsibilities in relation to the national capital as well as to the nation itself.
The report said the control of the Union over Delhi was vital in the national interest.
1. Union Cabinet clears DNA profiling Bill
The Union Cabinet has cleared a Bill that allows law enforcement agencies to collect DNA samples, create DNA profiles and special databanks for forensic-criminal investigations.
The DNA Technology (Use and Application) Regulation Bill
The DNA Technology (Use and Application) Regulation Bill, 2018, is the latest version of a Bill that originated as a DNA profiling Bill, framed by the Department of Biotechnology.
The aim of that draft legislation was to set in place an institutional mechanism to collect and deploy DNA technologies to identify persons based on samples collected from crime scenes or for identifying missing persons.
Proposals
The Bill seeks to set up two new institutions — a DNA Profiling Board and a DNA Data Bank.
DNA Profiling Board
The Board, with 11 members, is supposed to be the regulatory authority that will grant accreditation to DNA laboratories and lay down guidelines, standards and procedures for their functioning.
It will advise central and state governments on all issues relating to DNA laboratories.
It will also be the authority to make recommendations on ethical and human rights, including privacy, issues related to DNA testing.
DNA Data Bank
A national databank of DNA profiles is proposed to be set up, along with regional databanks in every state, or one for two or more states, as required.
All regional DNA databanks will be mandated to share their information with the national databank.
The databanks will maintain five sets of databases — for DNA samples picked up from crime scenes, for suspects or undertrials, and for offenders, missing persons, and unidentified dead bodies.
Labs
Certain DNA Profiling Board-accredited labs would be authorised to carry out DNA testing and analysis.
These are the only places to which DNA samples, picked up from a crime scene, for example, by police, can be referred for analysis.
Data from the analyses will need to be shared with the nearest regional DNA databank which will store it and share it with the national databank.
Concerns
The main issue is whether DNA technology is foolproof, and whether the proposed law adequately addresses the possibility of abuse.
There are chances, however remote, that a wrong match is generated. If the DNA result is taken as the ultimate evidence, no recourse will be available to an individual who has been wrongly matched.
More frequently asserted are the privacy-related objections.
Questions such as whose DNA can be collected and under what circumstances, whether the consent of the individual is required, who can access the database, to what uses the DNA information can be put apart from identifying an individual, and the circumstances under which a record can be deleted, have been raised repeatedly.
It has been pointed out that information like ancestry or susceptibility to a disease, or other genetic traits, is liable to be misused.
It has also been argued that DNA tests have not led to an improvement in conviction rates in countries where it is already being followed.
2. EC launches Braille-enabled Voter IDs
The Election Commission has launched voter identity cards with Braille label (characters are represented by patterns of raised dots that are felt with the fingertips) to ensure greater participation of persons with visual impairment in the electoral process.
Accessible Elections
The Commission also unveiled a strategic framework on "Accessible Elections" on conclusion of a two-day national level consultation with representatives of the Central government, political parties, NGOs and experts on disabilities.
A series of measures for Persons with Disabilities (PwDs) in the electoral process have been announced, which includes printing of photo-identity cards with Braille, accessible communication awareness materials, a mobile phone application to motivate and educate the voters and appointment of Disability Coordinates at the Assembly constituency, district and State level.
The EC plans to impart cascaded training on accessibility to poll officials, set up auxiliary polling stations, provide accessible photo voter slips, sign-language window in all the audio visual training and advertisement content material for the convenience of deaf persons and free transport facility to PwDs and their Assistants.
A new Accessible Division in the India International Institute of Democracy and Electoral Management will also be set up.
Category: INTERNATIONAL ORGANISATIONS
1. Copyright treaties get Cabinet nod
The Union Cabinet approved accession to the WIPO Copyright Treaty and the WIPO Performers and Phonograms Treaty which extends coverage of copyright to the Internet and digital environment.
Both the WIPO treaties came into force in 2002 and have 96 contracting partners each.
Significance
India already extends protection to foreign works through the International Copyright order and the WIPO treaties will enable Indian right holders to get reciprocal protection abroad.
The approval of the Department of Industrial Policy and Promotion proposal will enable creative right-holders to enjoy the fruits of their labour, through international copyright system that can be used to secure a return on the investment made in producing and distributing creative works.
These treaties would enable Indian right holders to get reciprocal protection abroad.
WIPO
WIPO is the global forum for intellectual property services, policy, information and cooperation.
It is a self-funding agency of the United Nations, with 191 member states.
Its mission is to lead the development of a balanced and effective international intellectual property (IP) system that enables innovation and creativity for the benefit of all.
Its mandate, governing bodies and procedures are set out in the WIPO Convention, which established WIPO in 1967.
It is headquartered in Geneva, Switzerland.
The WIPO Copyright Treaty (WCT)
It is a special agreement under the Berne Convention which deals with the protection of works and the rights of their authors in the digital environment.
In addition to the rights recognized by the Berne Convention, they are granted certain economic rights.
The Treaty also deals with two subject matters to be protected by copyright:

computer programs, whatever the mode or form of their expression; and
compilations of data or other material (databases).
The WIPO Performances and Phonograms Treaty (WPPT)
The WIPO Performances and Phonograms Treaty (WPPT) deals with the rights of two kinds of beneficiaries, particularly in the digital environment:

performers (actors, singers, musicians, etc.); and
producers of phonograms (persons or legal entities that take the initiative and have the responsibility for the fixation of sounds).
1. Moody's survey shows oil prices as the main risk to India's economy
Oil prices, pace of banks' balance sheet clean-up and investment remain the key credit risks in India, according to an investor survey by Moody's Investors Service.
India would not meet the central government's fiscal deficit target of 3.3% of GDP for the financial year ending in March 2019, according to the release.
The government's bank recapitalisation package was mostly insufficient to resolve solvency challenges.
Although the recapitalisation package will be sufficient to meet the minimum regulatory capital needs, it will be insufficient to support credit growth.
Banks have not been able to raise new capital from the equity markets as planned under the government's recapitalisation measures.
Category: SCIENCE AND TECHNOLOGY
1. ISRO to test its astronaut escape feature today
Indian Space Research Organisation (ISRO) has scheduled a 'pad abort test' of an experimental space crew capsule as an important cog of its plan to send Indians to space one day.
The launch pad abort test, or PAT, involves aborting a space capsule at launch to save the inmates.
Significance
The priority of all space agencies in a human space mission is the safe return of its astronauts.
With the pad abort test, ISRO aims to prove its technology that will safely parachute future astronauts down in case their space vehicle develops snags while taking off.
ISRO describes PAT as the first milestone in qualifying its crew escape system in an emergency.
The test is also one of the many main and supporting technologies that the space agency is developing ahead of its ambitious Human Space Flight Programme (HSP).
Human Space Flight Programme (HSP)
The Indian human Spaceflight programme is a proposal by the Indian Space Research Organisation (ISRO) to develop and launch a two-person crew to low Earth orbit.
There is no time-frame set for this, as manned space programme is not an approved programme by the Government of India.
India and Russia signed a memorandum of understanding on joint activities in the field of human spaceflight programme in 2008.
Nothing here for today!!!
1. Flood of despair: Mumbai's flooding woes
Focus of the article: Mumbai's capacity to deal with nature's challenges is falling with every passing year
Introduction
Mumbai is an efficient city in some ways, but this reputation depends on fair weather. It turns into a soggy mess with the arrival of a monsoon.
This year the season has begun with the spectacular collapse of a pedestrian bridge on a crucial railway line in Andheri, causing injuries and overall urban paralysis.
Not even a year has passed since the ghastly stampede on a foot overbridge at Elphinstone Road station, that took over 20 lives.
Thinking lines
The recurrent disasters involving infrastructure are proof of the indifference among policymakers to the city's needs, even as they speak of a 'global standard' of living.
The city continues to attract a large number of people looking for opportunity
Urban managers, led by the Brihanmumbai Municipal Corporation, have not invested enough in new infrastructure and have done a shoddy job of maintaining the old.
If Maharashtra has to achieve higher rates of economic growth and touch an ambitious 10%, as Chief Minister Devendra Fadnavis desires, Mumbai's infrastructure planning should be in the hands of an empowered custodian who can secure the cooperation of all urban agencies.
A return to nature is needed to relieve Mumbai of its flooding woes. According to one estimate, the city's Mithi river, blocked by debris and garbage, has lost about 60% of its catchment to development.
Integrated Flood Management (IFM)
IFM – to maximise the efficient use of the flood plains and minimise loss of property and life; to enhance the benefits of floods and minimise their destruction
IFM measures can be grouped into 4 classes
Land-use measures; – aimed at "keeping people away from floods".
Structural measures;- aimed at "keeping flood waters away from the people".
Flood preparedness measures; aimed at "getting people ready for floods".
Flood emergency measures; – aimed at "helping affected people cope with floods".
Strategies to prevent floods in these two metros
Introduce better flood warning systems
Modify homes and businesses to help them withstand floods
Construct buildings above flood levels
Protect wetlands and introduce plant trees strategically
Restore rivers to their natural courses
Introduce water storage areas, Improve soil conditions, Put up more flood barriers must also be implemented.
Municipal bodies of our cities have to come out with consistent and coherent urban policy.
 Way forward
A cleaner river connected to functional drainage can aid in the speedy removal of flood waters, and improve the environment.
In a 2015 study, the World Bank found that half of the poor did not consider moving out of flood-prone areas, because of the uncertainty of living in a new place with severe social disruptions and reduced access to education and health facilities.
What this underscores is the need to make the best use of all available space, densify development where feasible, and improve conditions in situ.
It is welcome that a joint safety audit with the IIT will be conducted on public infrastructure, in the wake of the bridge collapse. But such inspections must be regularly carried out and quick remedial steps taken.
1. The paradox of job growth
Issue
The latest employment estimates by the Central Statistics Office (CSO) are factually incorrect.
They are off the mark, and confined to the economy's organised or formal sector, accounting at best for 15% of the workforce.
According to CSO release titled – Payroll Reporting in India: An Employment Perspective – April 2018", the economy added 4.1 million new jobs in the formal sector.
Apparently, these estimates supplement the data on organised sector employment that are reported regularly in the Economic Survey since the early 1960s, compiled by the Directorate General of Employment, Ministry of Labour and Employment.
The CSO release defines jobs as ones that provide at least one government financed (or mandated) social security benefit such as Employees' Provident Fund (EPF), National Pension Scheme, or Employees' State Insurance Scheme.
NITI Aayog and official economists have also put out similar estimates since early this year, inviting widespread scepticism among knowledgeable people.
As the formal sector accounts for just about 8-15% of India's workforce (depending on the definitions used), the official estimates are completely silent about the majority of the workforce engaged in the informal sector.
Lacunae
The estimates are based on administrative records of implementing the social security schemes, whose completeness, consistency and accuracy are unknown.
Since a formal (organised) sector worker, in principle, can legitimately access (or subscribe to) more than one social security scheme, double counting is a distinct possibility.
The release does not explain how the problem is addressed in the database.
Therefore, rightly, experts have demanded the release of the administrative data for independent verification.
Moreover, the official data suffer from a conceptual problem.
The social security databases, by design, are lists of workers enrolled in the schemes, as an entitlement or as voluntary subscribers — not employment registers.
These schemes are applicable to establishments above a certain size (of employment), and to certain kinds of enterprises.
For instance, in the factory sector, those employing 20 or more workers are mandated to provide EPF to all the workers (with a matching contribution by the employer).
So, if in a factory, employment goes up from 19 to 20 workers, it comes under the purview of the EPF, to be provided to all the 20 workers.
Thus, the EPF enrolment increases by 20 workers, but the additional job created is just for one worker.
Historically, evasion of EPF by employers is widespread, given poor enforcement of labour laws.
The present government, in its efforts to formalise employment, has incentivised employers to enrol workers under EPF by offering to make employers' contribution to the social security scheme for three years, thus boosting enrolment.
Maharashtra, for instance, as an additional labour welfare measure, has widened the ambit of EPF to include all power-loom workers (irrespective of the size of the enterprise), boosting formal sector employment.
Such measures, however temporary, may enlarge the formal sector size but cannot be counted as new jobs created. Hence, the official measure is flawed.
A comparison
The formal sector stands at the apex of India's labour market pyramid, agriculture being at the bottom, employing 50% of the workforce.
The remaining workers are in the non-farm informal sector, spread across rural and urban areas.
In fact, it is this sector that has grown in recent decades at the expense of the other two sectors mentioned above.
Moreover, nearly half of the informal labour workers are self-employed in household (or own account) enterprises, often engaging unpaid family labour.
Varying degrees of under-employment or disguised unemployment are the defining feature of informal labour markets.
Background
Since 1972-73, the five-yearly Employment-Unemployment Surveys (EUS) conducted by the National Sample Survey (NSS) have been the mainstay for analysing labour market trends.
Though infrequent, the database has served a valuable purpose of capturing the complexities of the labour market; access to household-level data lately has spawned rich and granular analyses of the informal economy.
As the last round of the EUS was in held in 2011-12, there is no reliable way of updating employment trends.
The EUS has been replaced with an annual Period Labour Force Survey, and a time use survey.
However, it will be a while before these data series come up with stable and credible estimates.
The Labour Bureau under the Ministry of Labour and Employment has been carrying out household surveys somewhat similar to the EUS since 2010-11.
They show a decline in worker-population ratio between 2013-14 and 2015-16, suggesting a deteriorating employment situation recently (the estimates for 2016-17 are apparently withheld).
Challenges
A few jobs have been created even when the economy is said to growing at over 7%.
GDP growth figures are probably overestimated on account of the mis-measurement of GDP in the new National Accounts Statistics (NAS) series.
The economy is probably growing much slower.
The faulty barometer of economic well-being seems to be misleading the nation.
For instance, in manufacturing, in the last few years, the growth rates reported by the Index of Industrial Production (IIP), and the Annual Survey of Industries (ASI) are consistently lower than those reported by GDP in manufacturing, suggesting an overestimation of manufacturing value added in the NAS.
Demonetisation and the Goods and Services Tax (GST) seem to have dented informal sector production and employment, which official data sources seem in no position to capture.
The CSO's press release has claimed that 4.1 million new jobs were created in the economy's formal sector during eight months since last September.
It is based on enrolment of additional workers under state-provided (or mandated) social security schemes. The claim seems questionable on empirical and conceptual considerations. Empirically, there is a possibility of double counting of workers. Consistency and accuracy of the administrative datasets have not been publicly established. Conceptually, the data are about enrolment in the social schemes, not about new jobs generated. The recent rise in the enrolment is probably on account of an expanded coverage of the social security measures by incentives to employers', and the mandated expansion of the coverage in States like Maharashtra.
Way forward
The official claim is about the formal or organised sector, which at best counts for 15% of India's labour force.
In the absence of a nation-wide, time-tested EUS data for recent years, there is no way of knowing what is happening in agriculture and the non-farm informal sector, accounting for 85% of the workforce.
The paradox or mystery of poor employment growth and high GDP growth disappears if one concedes that the recent output growth rates are probably overestimated after the latest revision of the National Accounts Statistics a few years ago, on account of the questionable methodologies and databases used.
2. Fuel: getting the mix right
Even as the common man grapples with skyrocketing fuel prices, the Ministry of Petroleum and Natural Gas continues to chase its ambitious targets based on ambiguous plans and questionable technologies.
Issues
As the current policies lack a solid foundation, substance and a practical approach, the average householder has no choice but to pay higher taxes.
While the entire country is reeling from a fuel price shock, nothing major has been done to reduce toxic emissions and ease fuel prices.
As things stand, in States like Odisha, the fuel blending rate is 0% and there is no explanation for this.
And it is not just Odisha, the whole country continues to flounder in the dark while the government applies its questionable world-class ideas.
Background
In the past, the government has dithered several times on the National Policy on Biofuels (NPB).
In 2003, the Ethanol Blended Petrol Programme (EBP) focussed on 5% blending of molasses-based ethanol with petrol.
By 2008, it pushed for the blending target to be 10%.
Thereafter, the National Biodiesel Mission proposed a two-phase strategy for biodiesel production from Jatropha seeds to achieve a 10% blending mandate with diesel by 2012.
These targets were not met.
Yet, in 2009, the NPB proposed a revised target of 20% blending for ethanol and biodiesel by 2017.
This is yet to be realised.
Fuel blending with ethanol varies from 85% (E85) in Australia to vehicles run on 100% (E100) ethanol in Brazil, where the ethanol blending mandate is 27% (E27).
In contrast, India has an abysmal 2-4% blending rate and is woefully short of the original target of 5% due to the inconsistent supply of domestically produced ethanol.
Many States like Odisha have not even started their innings on fuel blending.
The government's priorities in implementing the NPB were to find a solution to air pollution, maintain affordable transportation fuel prices, promote clean and sustainable fuels, move towards energy self-sufficiency, and reduce dependence on crude oil imports.
Unfortunately, precious little has been done so far.
Promises and problems
Against this backdrop of poor performance, the National Policy on Biofuels 2018 repeats the pattern of promising the moon and delivering little.
There is no defined future road map for India in it.
At a time when the World Health Organisation has already declared 14 Indian cities as among the most polluted in the world, it is surprising that the government is looking at sourcing untested technologies like the production of 2G ethanol.
The policy is totally silent on octane, which has direct consequences on air quality and pollution as it assists in proper combustion of fuels, thereby affecting vehicular emissions.
In the present-day scenario, petrol is blended with cancer-causing imported aromatics to boost octane rating.
This has negative consequences on health.
The policy states that a viability gap funding scheme for 2G ethanol bio refineries of Rs. 5,000 crore in 6 years in addition to additional tax incentives, higher purchase price as compared to 1G biofuels will be provided.
Like the NPB 2009, the NPB 2018 is overly ambitious.
This is in light of the fact that the capability of 2G has not been realised till today.
Therefore, completely relying on a mechanism which has not been proven commercially is flawed.
Excessive expenditure from the exchequer is sought to be made by the NPB for a technology (production of 2G) which is untested and has not taken off commercially internationally.
Further, the ways in which companies are selected for driving the NPB agenda forward is odd.
So far, there's an investment of Rs.10,000 crore to set up 12 2G biorefineries across 11 States.
Apart from laying the foundation stone of one biorefinery in Bathinda, Punjab, nothing more has developed on this front.
The government has signed six MoUs with oil marketing companies, of which three have been awarded to Praj Industries without any transparent process of selection.
The criteria and reasons for awarding these MoUs is unknown.
The biggest irony is that the government is willing to spend thousands of crores on building statues but is unwilling to spend much on developing existing technologies to augment the generation and production of ethanol for a better future.
The burning issues of vehicular emission, fuel octane efficiency, rising fuel prices and air pollution remain largely unaddressed.
The way forward
Merely increasing the price of ethanol by Rs.3 and reducing fuel prices by a few paise will not help the current scenario.
The government needs to roll back the increase of Central government taxes on fuel, which have doubled after 2014.
The government also needs to demonstrate a clear thinking for increasing ethanol production to reduce oil imports and the current account deficit.
If necessary, the government should look at importing ethanol in the interim, thereby creating consistency of supply, and providing relief from the pollution created by fossil fuel burning.
Facilitating import of ethanol will make up for the inconsistency in the availability of domestic ethanol, thereby ensuring the accomplishment of the present blending mandate of 10% (E10).
A similar practice has been adopted by countries like the Philippines, which have seen resounding success in achieving their blending mandate, consistency in ethanol supply, and foreign exchange savings.
Appropriate blending of consistently available ethanol throughout the country will prevent octane savings to the tune of approximately Rs.3,000 crore.
Further, a consistent supply of ethanol will serve as a substitute for expensive and harmful imported aromatics like BTX.
This will additionally contribute to foreign exchange savings worth approximately Rs.1,500 crore since ethanol has an octane rating of 113, while the mandated octane rating for fuel is 91.
Interim import of ethanol should be considered while 1G production is being increased and technology to produce 2G ethanol is still developing and proving its commercial viability.
These corrections in policy will lead to lower fuel prices, cleaner air, foreign currency savings and efficiency in the oil economy.
3. Stopping the rupee's free fall
What's happening to the rupee?
The rupee last week fell to an all-time low of 69.09 against the U.S dollar.
The currency has fallen about 7.5% since the beginning of the year, making it the worst-performing currency in Asia.
The fall has raised fears of a repeat of the currency crisis of 2013 when the rupee suffered a drastic loss of about 20% in just a few months.
Many other emerging market currencies have also witnessed a steep fall in their value against the dollar this year.
Why is it falling?
The tightening of monetary policy by the U.S. Federal Reserve has caused the price of American debt to fall and yields to rise (bond prices and yields move in opposite directions).
This, in turn, has pushed investors to pull money out of India and other emerging market economies in order to invest in the U.S., where they can get higher returns.
The dollar has benefited immensely as a result.
The dollar index, which measures the value of the U.S. dollar against a whole host of other major currencies, has risen by about 6.5% since February.
Meanwhile, Indian importers have rushed to purchase oil which is in short supply.
This has caused the value of the rupee, which is used to purchase the dollars required to buy oil in the international market, to fall.
Moreover, investors have also been worried about the government's rising fiscal deficit.
A burgeoning fiscal deficit raises the risk of the Reserve Bank of India (RBI) printing rupees to fund the expenses of the government, thus weakening the rupee.
What lies ahead?
The RBI, which raised interest rates for the first time in more than four years last month, is likely to tighten the supply of money.
This may help contain dollar outflows from investors seeking higher yields in the U.S., thus shoring up the value of the rupee.
The RBI might also look to intervene directly in the foreign exchange market to prop up the value of the rupee.
As of June 22, the RBI had foreign exchange reserves of $407.81 billion, which it can sell in the open market.
The Fed, however, is expected to further tighten monetary policy in the coming months, potentially forcing emerging markets like India to raise interest rates further.
Category: INTERNATIONAL RELATIONS
1. Freedom from being 'India-locked'
In Nepal, after Prime Minister K.P. Sharma Oli returned from China last month, the visit was hailed as a great success.
Background
This visit had much significance as Mr. Oli had made his first visit as Prime Minister to China in March 2016, as Nepal was just recovering from the Indian blockade that had paralysed lives.
Whipping up anti-India sentiments as Nepali nationalism has been common since the Shah Kings and Rana rulers, but the blockade of 2015 was different.
Nepalis, who had been hit by a major earthquake in April 2015, were still recovering.
And India's blockade, coming against the backdrop of Indian reservations about the constitution Nepal was adopting, changed the course of bilateral relations.
An entire generation of young Nepalis, who were already alienated from India due to the opening of newer education destinations, saw the blockade as a move against a neighbour which had not got its act right.
Nepal has historically remained 'India-locked', rather than being termed landlocked, as it is dependent on India for transit to the seas.
Being landlocked is not much of an issue as one can get sea-locked, like the Maldives, but to be completely dependent on a single country for transit rights now became an issue to resolve.
During his visit to China in 2016, Mr. Oli, for the first time, managed to push the agenda of a trade and transit agreement with China on the lines with special agreements with India.
This trip was to consolidate the moves made two years ago.
Nepal-China relations
With the U.S. receding into its own cocoon, globalisation on the world stage was captured well by China in 2017.
It became the enabler of connectivity, world trade and dependency as it pushed its Belt and Road Initiative (BRI) in a hurry.
Many analysts say that if it were not for the U.S., the BRI would not have been introduced so early.
With Southeast Asia well covered and inroads made in Pakistan, Sri Lanka and Bangladesh, for China, Nepal is the obvious next country for engagement.
With India opting out of the BRI, Nepal continues to remain the best conduit for Indian markets for China.
Therefore, Nepal will be connected with China through a railway network in addition to roads.
While optical fibre cables already connect Nepal and China, transmission lines will connect the two countries, providing Nepal a much-needed alternative to sell excess power.
Rail and road networks will also provide Nepal an alternative for petroleum products that continue to remain the highest imported product.
Why?
For Nepal, nurturing the relationship with China is important.
It is more out of compulsion than choice.
Way forward
China has continuously maintained and maintains that Nepal's economic connectivity issues with India are more cost effective than with China and has advised Nepal to work with India.
Therefore, now the onus is on India to rethink on a long-term basis how to recalibrate its relationship with Nepal.
Nepal is a place of opportunity for people from the border towns of India.
The impact of the Nepal blockade in Indian border towns was so intense that it forced Indian traders to tap their own channels to end it.
The perspective has to change in New Delhi to factor in Nepal's concerns on the open border.
India needs to also realise the new reality that its monopoly over geopolitics in Nepal is over, and there is another relationship that Nepal is nurturing.
This comes at a time when there is a sense of hope among the Nepali people, who are experiencing a semblance of political stability after years of insurgency and then of political transition.
It is time for India to be proactive and redefine its engagement rather than continue to be reactive.
The way India has been flexible with the Eminent Persons Group (EPG) meetings is a good signal.
India needs to continue to understand that there is another opportunity to rewrite bilateral and geopolitical history.
1. Opening up to the world
Since Independence, the challenges of building a mass higher education system with inadequate government funding has meant poor quality, increasing privatisation and politicisation.
The National Institutional Ranking Framework
The National Institutional Ranking Framework (NIRF), implemented in 2016, is India's first government-supported ranking of colleges and universities.
It may in the future guide government financial support for higher education.
It also provides the basis for differentiating among colleges and universities, and forces participating institutions to submit data on critical areas, permitting government to make key decisions.
Unsurprisingly, there are allegations that a few private institutions manipulate the process.
Other initiatives
Two additional initiatives build on the idea of creating elite, globally competitive world-class universities in India: the Institutions of Eminence (IoE) project and the Graded Autonomy project.
The IoE project will recognise 20 universities, 10 public and 10 private, and provide significant government funds to the public institutions (no extra money to the privates) and give enhanced autonomy for them.
It is similar to many of the "excellence initiatives" common worldwide in providing extra funding in return for innovative ideas to the winners.
The Graded Autonomy programme provides considerable freedom for academic, financial and administrative innovation to the colleges and universities participating.
Given the often-stifling bureaucracy of higher education, it will be a significant stimulus for innovation. Both public and private institutions are involved.
Traditionally, colleges and universities have been restricted from deep international collaboration, and there has been little emphasis on attracting international students — only 47,575 international students study in India compared to the almost 400,000 in China.
The Graded Autonomy programme makes it easier to hire international faculty, traditionally very difficult to do.
The new Study in India initiative seeks to attract international students mainly from a group of African and Asian countries and is aimed at doubling India's tiny share of global student mobility from 1% to 2%.
India is moving towards signing a pact on mutual recognition of academic qualifications with 30 countries.
Recently a government-to-government MoU was signed between India and France to mutually recognise academic qualifications, a historic development.
Challenges
Upgrading 20 or more Indian universities to world-class quality will be complex.
It will also take time and consistent funding, probably at a scale beyond what is envisaged in current plans.
Internationalisation is central to academic success in the 21st century — and India has been notably weak.
The inability in recent years to pass legislation relating to foreign branch campuses and other relationships with overseas universities is an indication of the problem.
Indian universities are not taking care of the challenges of the 21st century.
Way forward
Excellence is possible, as the IITs and IIMs show, although it is limited to a tiny segment of a system that enrols 35 million students.
In the past several years, there are indications that things are changing, at least at the Central government level and at the top of the higher education system.
Further, greatly increased autonomy will be needed — and freedom from the bureaucratic shackles of government is not easy to attain.
Just as important as autonomy are innovative ideas from the top universities themselves, of which there has been little evidence.
Releasing the imagination of Indian professors is necessary.
Ensuring that universities have imaginative leadership is also a key necessity.
Carefully studying what has worked abroad may also provide useful ideas.
India has shown academic innovations over the years, but on a limited scale and never in the comprehensive universities.
The national ranking initiative needs to be extended throughout the higher education system and requires simplification.
Overly complex arrangements must not get in the way of practical solutions.
The Study in India initiative and proposals relating to relationships between Indian and foreign institutions are useful beginnings.
But more thinking must go into these ideas.
For example, it is not enough to focus on Asia and Africa and full degree programmes.
Students and post-docs from Western countries for shorter-term study are necessary to provide new ideas — such students will not be attracted for degree study but can be lured for other arrangements.
India has the advantage of using English as the main language of higher education.
At least several innovative programmes, backed by government, are in the works. Implementing them effectively remains the key challenge.
1. Insecurity in cyberspace
Data mining and surveillance may have become synonymous with social good and public safety in the digital age, but anxiety about data theft and tampering has become a reality for social media, Internet and digital service users.
Reports
On April 13, the new Breach Level Index, released by digital security firm Gemalto, reported a 783% increase in cases of data theft in India in 2017.
Most compromised or stolen records belonged to the government, which was followed by the retail and technology sectors.
Globally, sectors which were hit the most by data theft in 2017 were healthcare (27%), financial services (12%), education (11%) and government (11%).
In terms of the number of records lost, stolen or compromised, the most targeted sectors were government (18%), financial services (9.1%) and technology (16%).
Facebook estimated that the personal data of 5,62,455 users in India was improperly shared with British consultancy firm Cambridge Analytica after users accessed an app, "this is your digital life", between November 2013 and December 2015.
India, with 241 million active Facebook users, is the largest audience country for the social media giant.
Illegal data mining apart, the Reserve Bank of India reported a 35% increase in ATM credit, debit card and net banking related fraud cases between 2012-13 and 2015-16 even as concerns about data theft from the Unique Identification Authority of India persisted.
Concerns
The cumulative effect of reported security breaches is that a sense of mistrust is taking shape among Internet users.
Reports suggest that a significant number of users have shown unwillingness to use technology and are uncertain about sharing basic data — name, location, date of birth — on third party applications.
Quantifying the level of concern, a market research company, Velocity MR, in May 2018 released a survey that found that after the Facebook security breach, 24% of Indian users started sharing lot less personal data online while 7% stopped sharing data altogether.
Also, 6% stopped Internet transactions while 28% of users reduced such transactions and 42% reported that they had become more cautious.
Challenges
With India's Internet users expected to hit the 500 million mark this year, dispelling data anxieties remains a key challenge.
There is an anxiety that financial and private activities of individuals are being monitored for profit by a third party.
Way forward
Developing trust in government to protect citizens is the first step towards reducing people's fears.
Though the Supreme Court ruled in August 2017 that the right to privacy is a fundamental right, the question remains: is everyone ready to take the next personality quiz on an app online?
1. Cashew processing units feel the crunch
The cashew processing industry in Andhra Pradesh may soon face a threat like in Kerala if the government fails to come to its rescue by offering subsidy on purchase of machinery for modernisation and other slew of incentives to increase crop production.
In Kerala, almost 95% of units have been forced to shut shop due to high labour costs and denial of permission for modernisation.
A.P. is home to 600 to 650 processing units which employ nearly 70,000 to one lakh directly and indirectly.
The State produces two to three lakh tonnes per annum and are second in raw nut production after Maharashtra.
The main problem in the State is the ageing of the crop – which is around 50 to 100-year-old — causing abysmally low yield.
The average yield in AP is 0.5 tonnes per hectare as against 1.2
2. U.P. SC/ST panel sends quota notice to AMU
The Uttar Pradesh SC/ST Commission asked Aligarh Muslim University to explain why it was not following the quota system despite not enjoying minority status.
The State SC/ST Commission has shot off a letter to AMU asking it to clarify why it has to date not provided the constitutional right of reservation to students from Dalit communities.
There has been no such ruling from the Supreme Court that barred AMU from providing reservation to SC/ST students.
Justification
In the case of AMU, there is a stay order by the apex court on the 2005 decision of the Allahabad High Court and therefore, till the Supreme Court finally determines its minority character, no change in its reservation policy is legally possible.
The university clarified that it is being governed by the AMU Act, 1981, which has granted minority status to it and minority institutions are exempted by Article 15 (5) from implementing constitutional reservations.
AMU, meanwhile, has clarified that it has never followed the policy of reserving seats for Muslims. It reserves 50% seats for internal students regardless of their religion or caste.
This refers to a rule of thumb which states that policymakers trying to achieve multiple economic targets need to have control over at least one policy tool for each policy target.
This is because the achievement of certain economic targets precludes the achievement of others.
For instance, a central bank with just the power to influence the money supply in the overall economy can only control either inflation or the exchange rate.
It cannot simultaneously ensure low inflation and a depreciating currency because decreasing the money supply to lower inflation will cause currency appreciation.
H. Practice Questions for UPSC Prelims Exam
Question 1. Consider the following statements:
Higher Education Financing Agency (HEFA) is a joint venture of MHRD Government of India and Canara Bank.
It was established for financing creation of capital assets in higher education institutions in India.
It is a not-for- profit organisation that will leverage funds from the market.
Which of the above statement(s) is/are incorrect?
i) only
i) and ii) only
iii) only
None of the above
See
Question 2. Which of the following statements with respect to Minimum Support Price (MSP)
is incorrect?
It is a form of market intervention by the Government of India to insure agricultural producers against any sharp fall in farm prices.
It is announced by the Government of India at the beginning of the sowing season for all the crops.
It is based on the recommendations of the Commission for Agricultural Costs and Prices (CACP).
Both b) and c)
See
Question 3. Consider the following statements regarding Right to Equality:
Socially and Educationally backward citizens or SCs or STs can get special treatment in admission to educational institutions.
Educational institutions cover private, aided, unaided and minority institutions.
Choose the correct option:
Only i) is correct
Only ii) is correct
Both are correct
Both are incorrect
See
Question 4. Indian Constitution talks about Right to Equality in employment. According to it:
State cannot discriminate against citizen on the grounds of residence.
Parliament can prescribe residence as a condition for certain employment.
Which of the above statement/s is/are correct?
i) only
ii) only
Both i) and ii)
None
See
I. UPSC Mains Practice Questions
The unorganised sector plays a pivotal role in the Indian economy and hence deserves special attention. Examine the issues and challenges faced by the unorganised sector and the workers.
Nepal has changed the course of bilateral relations with India. Discuss in the context of China-Nepal relations.
Also, check previous Daily News Analysis
"Proper Current Affairs preparation is the key to success in the UPSC- Civil Services Examination. We have now launched a comprehensive 'Current Affairs Webinar'. Limited seats available. Click here to Know More."
Enroll for India's Largest All-India Test Series