TABLE OF CONTENTS
A.

 GS1 Related




B.

 GS2 Related


GOVERNANCE
1. Allow gambling in sports but regulate it, says law panel


C.

 GS3 Related


SCIENCE AND TECHNOLOGY
1. Cosmic collision reshaped Milky Way
ECONOMY
1. Nasscom unveils centre for data, AI
2. Give legal backing to MSP, says panel


D.

 GS4 Related




E. 

Editorials


SOCIAL ISSUES
1. Role of Social Media in lynchings across the Country


F. 

Tidbits


1. Test-tube embryos may save northern white rhinos
2. India to bring back copters
3. Create leprosy awareness: SC
4. Consider allowing visitors of all faiths, SC tells Puri temple
5. Winged guests arrive at Bhitarkanika for nesting
6. Taiwan protests against use of 'Chinese Taipei' on AI website
G. UPSC Prelims Practice Questions
H. UPSC Mains Practice Questions 

Nothing here for today!!!
1. Allow gambling in sports but regulate it, says law panel
The Law Commission of India has submitted a report to the government, saying that since it is impossible to stop illegal gambling, the only viable option left is to regulate gambling in sports.
Recommendations
The Commission recommended a classification of 'proper gambling' and 'small gambling.' Proper gambling would be for the rich who play for high stakes, while small gambling would be for the low-income groups.
The panel wanted the government to introduce a cap on the number of gambling transactions for each individual: monthly, half-yearly and annual.
Restrictions on the amount should be prescribed while using electronic money facilities such as credit cards, debit cards and net-banking.
Gambling websites should not solicit pornography.
Transactions between gamblers and operators should be linked to their Aadhaar and PAN cards so that the government could keep an eye on them.
According to the Commission, foreign exchange management and foreign direct investment laws and policies should be amended to encourage investment in the casino/online gaming industry.
Advantages
The Commission, headed by former Supreme Court judge B.S. Chauhan, recommended cashless gambling in sports as a means to increase revenue and deal a blow to unlawful gambling.
The money generated can be used for public welfare measures.
For that, the revenue from gambling should be taxable under laws such as the Income Tax Act and the Goods and Services Tax Act.
The regulations should protect vulnerable groups, minors and those below the poverty line, those who draw their sustenance from social welfare measures, subsidies and Jan Dhan account-holders from exploitation through gambling.
Investment in the casino industry (online gaming) would propel tourism and employment.
Criticism
However, one of the members expressed strong dissent in a separate note filed with the government.
The dissenting note said the recommendation may lead to an unhealthy and unwarranted discussion.
The Law Commission's report was not comprehensive.
A country as poor as India should not allow 'legalised gambling.'
Such a move would leave the poor poorer, and only vested interests want legalisation of gambling.
The Commission did not even bother to consider the socio-economic conditions in the country before making such a recommendation.
Socio-economic and cultural circumstances of the country are not pragmatic to accept legalised gambling activities as it is still treated as a social stigma.
The present condition in the country is not ripe for legalising betting in sports.
This would favour the amassing of money clandestinely by a handful of game operators.
The policy of the government, in general, is to disallow betting and gambling.
The Commission has exceeded the brief given to it by the Supreme Court in 2016.
The court had asked the Commission to look into the narrow question of legalising betting in cricket, and not sports as a whole.
The reference had come in its judgment in the BCCI case involving illegal betting in IPL cricket matches.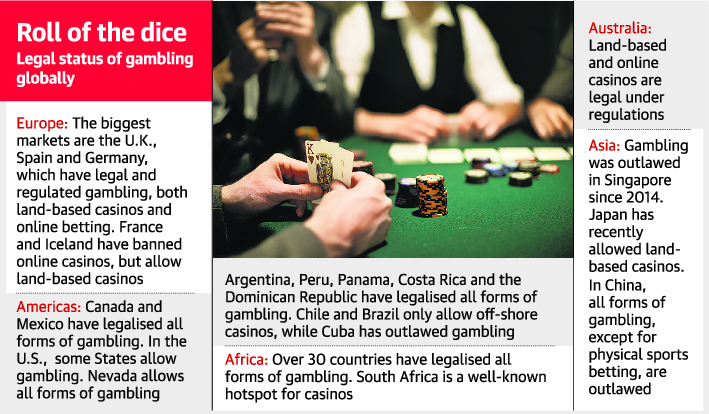 Category: SCIENCE AND TECHNOLOGY
1. Cosmic collision reshaped Milky Way
Astronomers have discovered an ancient cosmic collision with an object, dubbed the "Sausage" galaxy, that reshaped the structure of the Milky Way galaxy.
The crash was a defining event in the early history of the Milky Way and helped fashion both its inner bulge and its outer halo.
Scientists propose that around 8 billion to 10 billion years ago, an unknown dwarf galaxy smashed into the Milky Way.
The dwarf did not survive the impact: it quickly fell apart, and the wreckage is now all around us.
The collision ripped the dwarf to shreds, leaving its stars moving in very radial orbits that are long and narrow like needles.
Researchers used data from the European Space Agency's Gaia satellite.
The paths of the stars from the galactic merger earned them the moniker (name) "the Gaia Sausage".
The Milky Way continues to collide with other galaxies, such as the puny Sagittarius dwarf galaxy.
1. Nasscom unveils centre for data, AI
The National Association of Software and Services Companies (Nasscom), India's premier software lobby, opened a Center of Excellence (CoE) for Data Science and Artificial Intelligence.
The CoE initiative is a nationwide programme on innovation, focusing on solutions in smart manufacturing, automotive, healthcare, agriculture, energy, IoT, banking and financial services, retail, telecom, and host of emerging technologies.
Nasscom also signed a MoU with NITI Aayog to collaboratively foster applied research, accelerating adoption and ethics, privacy and security.
Significance
With the aim to strengthen the country's AI ecosystem, the CoE and MoU, both aim to serve as a platform for intelligence-sharing and technology collaboration between stakeholders to build collective capabilities for the industry and country in the cutting-edge areas artificial intelligence.
Nasscom would support the government's National Strategy for AI and will facilitate collaboration between NITI Aayog and CoEs.
It will also include NITI Aayog as a knowledge partner.
Leveraging their skilling platform FutureSkills, Nasscom and NITI Aayog will together accelerate innovation and cultivate skilling in India.
2. Give legal backing to MSP, says panel
The government panel, which recommended minimum support prices for kharif crops that were approved by the Cabinet, has also recommended that the Centre bring out a legislation which would give that announcement some legal teeth by giving farmers the right to sell their produce at those prices.
CACP
The Commission for Agricultural Costs and Prices is a statutory panel under the Ministry of Agriculture which makes the recommendations for MSPs for 23 kharif and rabi crops.
Its suggestions are not binding on the government.
In its report titled 'Price Policy for Kharif Crops for the Marketing Season 2018-19,' the CACP notes that the procurement mechanism is broken for most crops and for most farmers.
Neglected regions
It has been observed that often farmers of remote areas do not have sufficient access to APMCs [Agricultural Produce Market Committees] and their potential market is local 'haats' where their produce is sold below MSP.
Strong procurement operations need to be expanded to neglected regions, particularly eastern and north eastern regions.
Nothing here for today!!!
1. Role of Social Media in lynchings across the Country
Context
Over the past couple of months, mobs have materialised to beat to kill people they suspect — almost always without basis — of plotting to kidnap children to harvest their organs.

Warnings to beware of child kidnappers, sometimes with the rider that they are likely to hail from other parts of India, are mostly circulated on WhatsApp, the Facebook-owned encrypted messaging platform.

Since a cluster of such killings in Tamil Nadu in May, deaths have been reported from States as far apart as Assam, Karnataka and Maharashtra.

In one recent attack, five people were clobbered to death in Maharashtra's Dhule's district on child-lifting rumours; the mob numbering hundreds overpowered the few policemen present.
How did the Government Respond?
The Central government has moved to react to the lynchings reported from across the length and breadth of the country.

Ministry of Electronics and Information Technology has told WhatsApp to take remedial measures to prevent proliferation of these fake and at times motivated/sensational messages.
Can Whatsapp be regulated?
WhatsApp is the communication platform of choice in the age of cheap smartphones.

One of the USPs of the platform is that the messages are encrypted in a manner that makes it impossible for them to be read.

Given this, it is not clear how such a platform can take measures to limit the spread of motivated or sensational messages.

Also, whether such checks would amount to legitimising surveillance and a loss of privacy — a rare commodity in this digital age.
Issues with Rumour in Indian Context
Even if it can do so without compromising privacy, the problem is not the medium.

Rumour has historically found its way around communication walls, and it can only be effectively blocked through old-fashioned information campaigns and administrative alertness.

Rumour's potency predates mobile phones, even if there is no denying that smartphones, with their ability to instantly transmit text and images, have a tendency, in this era of fake news, to rapidly spread panic and anger.

This happens in different ways across the world, but in India the problem has assumed truly distressing proportions.
Way Forward
An unrelated video of an act of violence that went viral was responsible for fuelling communal hatred in Muzaffarnagar in 2013.

District administrations and gram panchayats have to reach out to locals to persuade them against falling for rumours, and to come to the authorities if they have any fears.

The messaging needs to be amplified along with appealing to WhatsApp .
1. Test-tube embryos may save northern white rhinos
Months after the death of Sudan, the world's last male northern white rhino (NWR), scientists have grown embryos containing DNA of his kind, hoping to save the subspecies from extinction.
With only two northern white rhinos known to be alive today — both infertile females — the team hopes their novel technique will lead to the re-establishment of a viable breeding population.
How?
The team's work, using a recently-patented, two-metre egg extraction device, resulted in the first-ever test tube-produced rhino embryos.
The hybrid embryos were created with frozen sperm from dead NWR males and the eggs of southern white rhino (SWR) females, of which there are thousands left on Earth.
The eggs were harvested from rhinos in European zoos.
The team now hopes to use the technique to collect eggs from the last two northern white rhinos living in a Kenyan national park.
The results indicate that ART (assisted reproduction techniques) could be a viable strategy to rescue genes from the iconic, almost extinct, northern white rhinoceros.
Challenges
The procedure is not without risk: they have to do a full anaesthesia, the animal is down for two hours, and it is quite a risky situation for the last two of their kind.
Impressive results in a Petri dish don't easily translate into a herd of healthy offspring.
There is no prior experience (examples to learn from) as far as ART is concerned.
2. India to bring back copters
India is preparing to bring back the two helicopters it had gifted to the Maldives, in a sign that it is hoping to use dialogue as the way forward in resolving issues with Male after months of strain in ties, caused by a squeeze on work permits to Indians and unhappiness over the Maldivian election process.
The government has in principle decided to withdraw the helicopters, as well as accompanying personnel from two atolls in the Maldives, which has been the consistent demand of the Yameen government for the last few months.
3. Create leprosy awareness: SC
The Supreme Court has directed the government to constitute a separate wing devoted to create and extend public awareness that leprosy is curable and not contagious.
A three-judge Bench led by Chief Justice of India Dipak Misra ordered All India Radio and Doordarshan to air programmes nationally as well as regionally in the States.
Chief Justice Misra said it was the primary duty of the state to erase the stigma against those suffering from leprosy and nudge them back into the mainstream.
The Chief Justice said there had to be social awakening to the fact that leprosy was curable and not contagious, considering the advance made in modern medical science.
Afflicted persons could not be exposed to stigma which denuded them of basic human dignity.
Persons suffering from leprosy deserved the empathy from authorities as well as the society at large.
They deserve to be treated with equality.
Earlier, the court had asked the Centre and the States to remove references to leprosy as a disability from statute books.
It had noted that references to leprosy as a disability amounted to statutory stigma.
Stressing the need for awareness campaign right up to the 'gram panchayat' level, the Bench said such measures would eventually help in eradicating the disease and ending discrimination of sufferers.
Attorney General K.K. Venugopal said steps were being taken to repeal legal provisions in laws which discriminated against leprosy patients.
4. Consider allowing visitors of all faiths, SC tells Puri temple
In a major order ahead of the annual Rath Yatra in Puri, the Supreme Court has directed the Jagannath temple management to consider allowing every visitor, irrespective of his or her faith, to offer prayers to the deity.
The directions
The apex court, however, said that allowing of every visitor will be subject to regulatory measures regarding dress code and giving an appropriate declaration.
A Bench of Justices Adarsh Goel and S. Abdul Nazeer, while referring to an earlier verdict of the court, said: "Hinduism does not eliminate any other belief. It reflects eternal faith and wisdom and inspiration of centuries."
The court said not only the State, but even the Centre could look into the aspect of difficulties faced by the visitors, deficiencies in the management, maintenance of hygiene, appropriate utilisation of offerings and protection of assets with regard to shrines, irrespective of religion.
Every district judge throughout India may examine such matters himself or through any court under his jurisdiction and send a report to the concerned High Court so that such report can be treated as PIL on the judicial side and such direction may be issued as may be considered necessary having regard to individual fact situation.
5. Winged guests arrive at Bhitarkanika for nesting
With the onset of the monsoon season, residential water birds have begun thronging the Bhitarkanika National Park in Odisha's Kendrapara district.
The birds visit the park in large numbers during this time of the year for nesting and breeding.
The water birds have started arriving at the wetland in small groups.
Their arrival has re-established Bhitarkanika as a prominent heronry (breeding ground) of the State.
The congregation will only get larger when the monsoon picks up pace, he added.
The birds build nests and lay eggs atop the mangrove trees.
Their sojourn usually lasts for three to four months, after which they embark on their homeward journey.
The Bhitarkanika National Park is one of the largest habitats of endangered estuarine crocodiles in the country.
6. Taiwan protests against use of 'Chinese Taipei' on AI website
Taiwan expressed deep disappointment with the Air India changing 'Taiwan' into 'Chinese Taipei' on its website.
Taiwan's criticism
The change of name on the website of the state-owned carrier might impact freedom of doing business.
It can be seen as a gesture of succumbing to the unreasonable and absurd pressure from China.
People's expression of opinion may be undermined.
India's justification
The decision of Air India is consistent with international norms and India's position on Taiwan since 1949.
India-Taiwan relations
India and Taiwan do not have full-fledged diplomatic ties.
Both sides maintain trade representatives in each other's capitals.
However, the move by Air India comes a year after India hosted a delegation of Taiwanese legislators that had drawn an angry response from China.
In 2016, a delegation of Indian MPs had visited Taiwan.
India's economic & Commercial links, as well as people-to-people contacts with Taiwan, have expanded in recent years.
G. Practice Questions for UPSC Prelims Exam
Question 1. Which of the following statement/s is/are incorrect with respect to Bhitarkanika 
National Park?
It is the second largest mangrove ecosystem in India.
Bhitarkanika has one of the largest populations of endangered saltwater crocodile in India.
It has been designated as a Ramsar site.
Options:
i) and ii) only
ii) only
ii) and iii) only
None of the above
See
Question 2. Consider the following statements:
Right to life is available against executive only.
It covers biological and social life.
It is not confined to animal existence but extends to life with dignity.
Which of the above statement(s) is/are incorrect?
i) and ii) only
i) only
ii) and iii) only
None of the above
See
Question 3. Which of the following is/are included in Right to life?
Right to pollution free water.
Right to life with human dignity.
Right to free legal aid and speedy trial.
Right to livelihood.
Right of women to be treated with decency.
Choose the correct option:
ii), iv) and v)
i), ii), iv) and v)
ii), iv) and v)
All of the above
See
Question 4. Quit India Movement was launched in response to:
Cabinet Mission Plan
Cripps Proposals
Simon Commission Report
Wavell Plan
See
H. UPSC Mains Practice Questions
India has lost its eminent position in South Asia as a consequence of reckless adventurism in its neighbourhood.
Diversity in India takes form in numerous ways. Explain.
Also, check previous Daily News Analysis
"Proper Current Affairs preparation is the key to success in the UPSC- Civil Services Examination. We have now launched a comprehensive 'Current Affairs Webinar'. Limited seats available. Click here to Know More."
Enroll for India's Largest All-India Test Series