TABLE OF CONTENTS
A.

 GS1 Related


HUMAN GEOGRAPHY
1. How high altitude shapes human body


B.

 GS2 Related


GOVERNANCE
1. India's first river interlinking project caught in U.P.-M.P. tussle


C.

 GS3 Related


HEALTH
1. Toothpastes contribute to antibiotic resistance


D.

 GS4 Related




E. 

Editorials


SCIENCE AND TECHNOLOGY
1. The seeds of sustainability


F. 

Tidbits


1. Faster way to synthesise DNA developed
2. Bhutan central bank warns citizens not to hold Indian currency in cash
3. GST on fuel may not be 'pure', says official
4. Rising oil prices to hit private consumption, says Urjit Patel
5. High oil prices hurting fiscal balance, Pradhan tells OPEC
6. Oli's China visit to focus on connectivity
7. Sanctions act passes, sans any waiver provision
8. India, South Korea to align policies for Southeast Asia
9. Shillong bags Smart City tag
10. Rajasthan focuses on waterbodies
11. Vohra takes charge in J&K, reviews security situation
12. China offers to boost ties between India and Pakistan
13. U.S. quits UN human rights body
14. Have policy on lateral entry: Moily
15. India contests overstayers' figures
G. UPSC Prelims Practice Questions
H. UPSC Mains Practice Questions 

1. How high altitude shapes human body
Living the high life — growing up, in other words, at extreme altitude — forces a developing human body to conserve energy, and that can be translated into shorter arms, according to a study.
The research
Nepalese men and women born and raised at 3,500 metres and up are more likely to have curtailed forearms compared to people of similar ancestry from lowland areas, scientists reported in the journal Royal Society Open Science.
Intriguingly, adjoining parts of the anatomy — the upper arms and hand — remain the same for both groups.
A similar pattern was uncovered in earlier research among Peruvian children, reinforcing the notion that harsh mountain conditions were somehow responsible.
Questions raised
The findings raise a host of questions, starting with this one: What is it about a high-altitude living that makes the body shape-shift?
This is most likely an adaptation to improving oxygen uptake.
For similar reasons, indigenous peoples of the Himalayas and Andes often have barrel chests, the better to expand lung capacity and take in more oxygen.
Although air contains 21% oxygen at all altitudes, it feels as if there is less of it in the mountains due to lower air pressure.
Using the measure of effective oxygen, the level drops by just under 40% at 3,500 metres compared to sea level.
Not evolution
In high-mountain regions, low oxygen availability results in inefficient conversion of food into energy, which means that there is less energy available for growth.
This becomes especially true when combined with a nutrient-poor diet.
But what possible advantage is there to diminished forearms and lower legs, which also tend to be foreshortened among mountain-folk? And why not other parts of the body?
The human body prioritises which segments to grow when there is limited energy available for growth, such as at high altitude.
1. India's first river interlinking project caught in U.P.-M.P. tussle
Disagreements over water-sharing and difficulty in acquiring non-forest land impede the Rs.18,000-crore Ken- Betwa river interlink project.
The project, which involves deforesting a portion of the Panna Tiger Reserve in Madhya Pradesh, was accorded clearance by the National Wildlife Board on the condition that the land lost would be made good by acquiring contiguous, revenue land.
This is to ensure that wildlife corridors in the region aren't hit.
Water dispute
Another hurdle is a dispute over how Uttar Pradesh and Madhya Pradesh — the two beneficiaries — will share water in the Rabi season.
The project
Conceived as a two-part project, this is India's first river interlinking project.
It is perceived as a model plan for similar interstate river transfer missions.
Phase 1 involves building a 77 m-tall and a 2 km-wide dam, the Dhaudhan dam, and a 230 km canal to transfer extra water from the Ken river for irrigating 3.64 lakh hectares in the Bundelkhand region of Uttar Pradesh and Madhya Pradesh.
Originally, this phase envisaged irrigating 6,35,661 ha annually (3,69,881 ha in M.P. and 2,65,780 ha in U.P.).
In addition, the project was to provide 49 million cubic metres (MCM) of water for en route drinking water supply.
Concerns
While there's a 2005 agreement between Uttar Pradesh and Madhya Pradesh on how water would be shared, Madhya Pradesh said last year that these assumptions were no longer valid and the only way to meet increased water requirements would be to include certain local water management projects — the Kotha barrage, Lower Orr and Bina complex that were envisaged in the second phase of the project — in the first phase.
In theory, this could mean a completely fresh environmental appraisal.
The Central Water Commission is yet to officially take a call, though government sources say the Centre is agreeable to the change.
However, new demands by Madhya Pradesh for more water during the Rabi season are yet to be negotiated.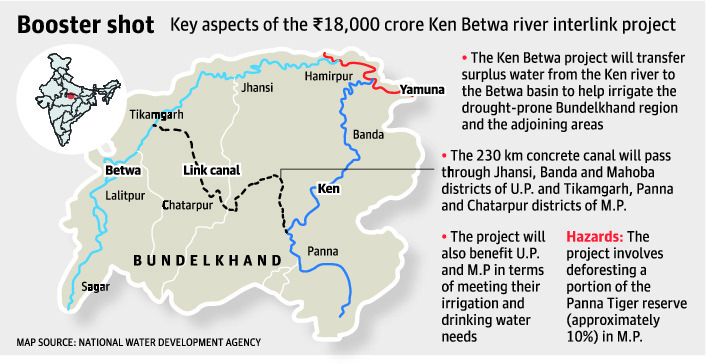 1. Toothpastes contribute to antibiotic resistance
A common ingredient found in toothpastes and hand washes could be contributing to the rise of antibiotic resistant bacteria, a study has found.
Antimicrobial resistance (AMR) is the ability of a microorganism (like bacteria, viruses, and some parasites) to stop an antimicrobial (such as antibiotics, antivirals and antimalarials) from working against it. As a result, standard treatments become ineffective, infections persist and may spread to others.
The study, led by Jianhua Guo from University of Queensland in Australia, focused on triclosan, a compound used in more than 2,000 personal care products.
While it was well-known the overuse and misuse of antibiotics could create 'superbugs', researchers were unaware that other chemicals could also induce antibiotic resistance until now.
These chemicals are used in much larger quantities at an everyday level, so you end up with high residual levels in the wider environment, which can induce multi-drug resistance.
The discovery should be a wake-up call to re-evaluate the potential impact of such chemicals.
Antimicrobial resistance has become a major threat to public health globally with about 700,000 people a year dying from superbug infections.
The Review on Antimicrobial Resistance report predicted this will reach 10 million deaths a year by 2050 if no action is taken now.
Nothing here for today!!!
Category: SCIENCE AND TECHNOLOGY
1. The seeds of sustainability
Context:
The Andhra pradesh State would fully embrace Zero Budget Natural Farming (ZBNF), a chemical-free method that would cover all farmers by 2024.
They had revealed these plans at the meeting of the World Economic Forum in Davos.
About the programme: Zero Budget Natural Farming (ZBNF)
According to the agency that is implementing the ZBNF, the programme will be extended in phases. This year, 5 lakh farmers will be covered, and at least one panchayat in each of the mandals will be shifted to this new method, bringing the programme to a tipping point. By 2021-22, the programme is to be implemented in every panchayat, with full coverage by 2024.
Towards this end, substantial resource mobilisation for about Rs.16,500 crore is in progress. Tenant farmers and day labourers are also being trained, to ensure that through the ZBNF, livelihoods for the rural poor will be enhanced.
A retired civil servant in charge of implementing the programme, views farmer-to-farmer connections as vital to its success. According to him, the role of the Agriculture Department is to just listen to farmers and motivate and assist them in different ways.
Farmer's collectives such as Farmer Producer Organisations need to be established and these would be critical to sustaining the programme.
The Government of India provides funding through the Rashtriya Krishi Vikas Yojana and Paramparagat Krishi Vikas Yojana. Additional resources have been made available through various philanthropic organisations.
Significance
Zero Budget Natural Farming could be the model for the future
Even though this revolution has been in the works for several years, this is still a momentous occasion and highlights the way to improve the welfare of farmers, reduce the cost of farm inputs, cut toxins in food, and improve soils.
With successful pilot programmes that were initiated in 2015 and partners who brought experience in different aspects needed to carry out such a transformation, Andhra Pradesh has become the first State to implement a ZBNF policy.
Natural farming
Natural farming is "do nothing farming", a Japanese farmer who, in the 1970s, was a proponent of no-till, no chemical use in farming along with the dispersal of clay seed balls to propagate plants.
He found it important to apply nature's principles in farming and developed a deep-rooted philosophy around the process.
The ZBNF has been developed after the efforts at chemical farming failed.
The four aspects that are now integral to his process and which require locally available materials:
seeds treated with cow dung and urine;
soil rejuvenated with cow dung, cow urine and other local materials to increase microbes;
cover crops, straw and other organic matter to retain soil moisture and build humus; and
soil aeration for favourable soil conditions.
These methods are combined with natural insect management methods when required.
In ZBNF, yields of various cash and food crops have been found to be significantly higher when compared with chemical farming.
For example, yields from ZBNF plots in the (kharif) 2017 pilot phase were found on average to be 11% higher for cotton than in non-ZBNF plots. The yield for Guli ragi (ZBNF) was 40% higher than non-ZBNF.
Input costs are near zero as no fertilizers and pesticides are used. Profits in most areas under ZBNF were from higher yield and lower inputs.
Model ZBNF farms were able to withstand drought and flooding, which are big concerns with regard to climate change. The planting of multiple crops and border crops on the same field has provided varied income and nutrient sources.
As a result of these changes, there is reduced use of water and electricity, improved health of farmers, flourishing of local ecosystems and biodiversity and no toxic chemical residues in the environment.
Sikkim was declared India's first fully organic State. But organic agriculture often involves addition of large amounts of manure, vermicompost and other materials that are required in bulk and need to be purchased. These turn out to be expensive for most small farm holders.
Model for other States
The changes taking place in Andhra Pradesh are a systematic scaling up of farming practices based on agro-ecological principles in opposition to the dominant chemical agriculture. Changes at this scale require many different elements to come together, but open-minded enlightened political leaders and administrators are fundamental.
Over the years, Andhra Pradesh has supported and learned from its many effective civil society organisations such as the Watershed Support Services and Activities Network, Centre for Sustainable Agriculture and the Deccan Development Society.
A step-by-step increase in the area covered is another notable aspect. The scaling up relies primarily on farmers and local groups — all in all, very much a bottom-up process.
With its combination of delta regions, arid and hilly tribal areas, districts in Andhra Pradesh are similar to those in other parts of the country and could, therefore, serve as a model for replication.
The approach taken by APPI to monitor the improvements is vital to understanding the outcomes of large-scale changes that are under way; this is critical to expanding the ZBNF to other States. As ZBNF is applied in India's various agro-ecological zones, making farmers the innovators is essential.
Positive connotations
Resilient food systems are the need of the day given the variability of the monsoons due to global warming and declining groundwater in large parts of India. The drought-prone Rayalaseema region (Andhra Pradesh) is reportedly seeing promising changes already in farms with the ZBNF.
More encouraging is that the programme can have a positive effect on many of the sustainable development goals through improvements in soil, biodiversity, livelihoods, water, reduction in chemicals, climate resilience, health, women's empowerment and nutrition.
Andhra Pradesh is one of the top five States in terms of farmer suicides. Agricultural distress across the country has to be addressed.
Conclusion
Agricultural distress across the country has to be addressed. Andhra Pradesh is one of the top five States in terms of farmer suicides.
Technology is simply the systematic application of knowledge for practical purposes and the ZBNF is a technology of the future with a traditional idiom. Agricultural scientists in India have to rework their entire strategy so that farming is in consonance with nature. The dominant paradigm of chemical-based agriculture has failed and regenerative agriculture is the emerging new science.
The world is at critical junctures on many planetary boundaries, and establishing a system that shows promise in improving them while supporting people sustainably is surely one worth pursuing.
1. Faster way to synthesise DNA developed
Scientists at the Berkeley Lab in the US have pioneered a new way to synthesise DNA sequences (biological process by which a deoxyribonucleic acid (DNA) molecule is created) through a creative use of enzymes that promises to be faster, cheaper, does not require the use of toxic chemicals and more accurate.
With greater accuracy, the technique could produce DNA strands 10 times longer than today's methods.
The new technique relies on a DNA-synthesizing enzyme found in cells of the immune system that naturally has the ability to add nucleotides to an existing DNA molecule in water, where DNA is most stable.
Old method
Current DNA synthesis, which dates from 1981 and uses techniques from organic chemistry labs is time consuming, often requires multiple attempts and sometimes fails completely.
Significance
Increased access to DNA constructs can speed up the development of new cures for diseases and simplify the production of new medicines
Synthesizing DNA is a growing business as companies order custom-made genes so they can produce biologic drugs, industrial enzymes or useful chemicals in vats of microbes.
Researchers purchase synthetic genes to insert into plants or animals or try out new CRISPR-based disease therapies.
The discovery could address a critical bottleneck in biology research.
2. Bhutan central bank warns citizens not to hold Indian currency in cash
The Royal Monetary Authority (RMA) of Bhutan has warned Bhutanese citizens of the risks of holding Indian currency, saying that it would not be responsible for any future actions — such as demonetisation — taken by the Reserve Bank of India.
RMA has advised the citizens to deposit all their Indian currency in the banks and not to hold it in cash.
The Bhutanese central bank also warned citizens of counterfeit ₹500 notes in the Indian currency and requested the public to be careful while accepting notes of this denomination.
Indian currency is legal tender in Bhutan.
Reason for notification
These instructions [regarding the limits on the movement of the currency] are the reason behind the notification being issued.
There has been no new information about any other action by the RBI.
The instruction regarding the Indian notes were just as a matter of precaution.
3. GST on fuel may not be 'pure', says official
A peak tax rate of 28%, plus States levying some amount of local sales tax or VAT on petrol and diesel, is likely to be the tax structure when the two auto fuels are covered under the GST regime.
The peak GST rate plus VAT would be equal to the present tax incidence, which is made up of excise duty levied by the Central Government and VAT charged by the States.
Centre to decide
But before the two fuels are put under GST, the Centre has to decide if it is willing to let go of the Rs.20,000-crore input tax credit it currently pockets by keeping petrol, diesel, natural gas, jet fuel and crude oil out of the Goods and Services Tax (GST) regime which came into force from July 1, 2017.
There is no pure GST on petrol and diesel anywhere in the world and so in India too, it will have to be a combination of GST and VAT.
The timing of including petro products in GST will be a political call which the Centre and States will have to take collectively.
The Centre currently levies a total of Rs.19.48 per litre as excise duty on petrol.
4. Rising oil prices to hit private consumption, says Urjit Patel
The recent rise in oil prices could impact private consumption adversely, Reserve Bank of India governor Urjit Patel said at the meeting of the Monetary Policy Committee.
The six-member MPC had unanimously decided to raise the repo rate by 25 basis points to 6.25%, citing inflation fanned by a sharp increase in oil prices.
Private consumption expenditure contributed almost 60% to the gross domestic product last fiscal.
RBI has raised its inflation projection for the fourth quarter to 4.7% from 4.4% it had estimated in April.
A normal monsoon could however act as a mitigating factor to the uncertain inflation path by keeping food inflation benign.
5. High oil prices hurting fiscal balance, Pradhan tells OPEC
While India is not in favour of oil prices as low as $30 a barrel, the prevailing price levels are too high and stand to hurt the country's fiscal situation, Petroleum Minister Dharmendra Pradhan said.
He urged the OPEC countries to commit towards ensuring more sustainable prices.
Concerns
Globally, crude prices have gone beyond the threshold, which can be sustained by the world, particularly countries like India, which is a key driver of world economy.
These prices are creating stress throughout global economy, as it is giving pain to people in India.
The global economic outlook already has threats from trade wars, geopolitical events and the threat of instability coming back to the Eurozone.
The already fragile world economic growth will be at threat if oil prices persist at these levels.
This might lead to energy poverty in many parts of the world.
It also causes undue hardships, particularly to those at the bottom of the pyramid in developing and least developed countries.
6. Oli's China visit to focus on connectivity
Nepal's Prime Minister K.P. Sharma Oli's visit to China will focus on advancing cross-border connectivity, including through a railway corridor to Kathmandu, which could be extended to India in the future.
Nepal has been seeking improved connectivity with China via Tibet, after New Delhi was accused of blockading essential supplies across the India-Nepal border in 2015.
A balancing act
Oli has been trying to establish a balance between Nepal's ties with India and China, which has also included symbolic gestures such as choosing to visit New Delhi first after becoming Prime Minster for the second time.
Oli pointed out that Nepal had recently proposed some infrastructure projects covering roads, railway, energy, transmission lines with China under the Beijing-led Belt and Road Initiative (BRI).
In April, Chinese Foreign Minister Wang Yi had alluded to the formation of the Trans-Himalayan economic corridor that could be extended to India.
China's security concerns demanded that appropriate safeguards were in before Tibet-Nepal transit was fully developed.
7. Sanctions act passes, sans any waiver provision
The U.S. Senate has ignored the Donald Trump administration's request for inclusion of waiver provisions in the Countering America's Adversaries Through Sanctions Act (CAATSA).
The act requires the Congress to impose sanctions on countries that have significant defence relations with Russia.
The Senate version of the National Defence Authorisation Act (NDAA) for 2019 was passed and has no waiver provisions.
The version of the NDAA 2019 passed earlier by the House of Representatives had provisions for waiver, but that is inadequate to address India's concerns about the law.
Setback for India
The House version allows for waivers for 180 days, provided the administration certifies that the country in question is scaling back its ties with Russia.
This formulation is inadequate as it links waiver to India rolling back its ties with Russia.
India is currently caught in the crossfire of the bipartisan law against Russia, due to its defence relations with Kremlin.
The House and Senate versions of the Bill are usually reconciled through a conference process, but any hope of a legislative resolution to the CAATSA headache now appears out of reach.
People lobbying for changes in the law in order to ensure that India's increasing defence purchases from America won't be interrupted by sanctions said lawmakers would be more amenable to change after the November 2018 midterm elections.
8. India, South Korea to align policies for Southeast Asia
India and South Korea will align their policies (Modi's Act East policy and Moon's New Southern policy) for the region during the visit of South Korean President Moon Jae-in to India next month.
Last November, Mr. Moon unveiled the "New Southern policy" aimed at deepening ties with southeast Asia as part of efforts to diversify trade.
This complements the Modi government's Act East Policy of deepening strategic ties with southeast Asian nations.
The two countries are looking for expanding cooperation in security and defence industries and they expect the summit to produce substantial outcomes.
There are many initiatives to be agreed to at the summit; around 20 Memorandum of Understanding (MoU) among other outcomes.
9. Shillong bags Smart City tag
As the Smart Cities Mission enters its fourth year, the Centre has finally announced the 100th and the last city which will be part of the project: Shillong.
This announcement also sets the end date for the mission as June 2023, as every city gets five years to complete its projects.
The first 20 cities were selected in January 2016, and they should now be at the halfway point of their mission.
2.5% fund spent
The total proposed investment in the 100 cities will be Rs.2.05 lakh crore, according to a statement by the Ministry of Housing and Urban Affairs.
Until May 2018, about 2.5% of that amount — Rs.5,225 crore — has been spent on 316 completed projects.
Another 632 projects are under implementation, at a cost of about Rs.25,000 crore.
Each selected city is required to set up a Special Purpose Vehicle which will actually carry out the mission, a process that takes at least six months.
10. Rajasthan focuses on waterbodies
With the NITI Aayog giving an improved ranking to Rajasthan in water management index, the State has laid emphasis on restoration of irrigation potential of waterbodies and revival of the traditional water sources, besides expediting the ambitious Eastern Rajasthan Canal Project to interlink three major rivers.
The NITI Aayog, which had ranked Rajasthan 13th in the country in the base year, 2015-16, has given 10th spot to the State in the composite water management index in 2016-17, making the improvement in ranking the highest in the country.
Water index indicators
The NITI Aayog gave rankings to the States based on the first-ever assessment and analysis of its kind for the composite water sector scenario, for which the data was collected for two years. The comprehensive document was published last month.
The indicators in water index were grouped into nine broad themes, which included the source augmentation and restoration of waterbodies, major and medium irrigation supply side management, rural drinking water arrangement, urban water supply and sanitation.
Rajasthan ranked top on some of these parameters.
Jal Swavlamban Abhiyan
The Jal Swavlamban Abhiyan of the state launched for the water sector in 2016 had helped restore most of the irrigation potential of the identified water bodies largely through community-managed ponds and tanks.
A total of 12,000 villages had been covered with the Jal Swavlamban Abhiyan in its three phases, while the survey for the fourth phase had started.
11. Vohra takes charge in J&K, reviews security situation
Governor N.N. Vohra took over the reins of the administration in Jammu and Kashmir, a day after coalition partners Peoples Democratic Party and the BJP parted ways.
He reviewed security preparedness in the militancy-hit State.
Actions
Vohra issued the proclamation to impose Governor's rule under Section 92 of the Constitution of J&K, immediately after getting the President's approval.
He placed the Legislative Assembly under suspended animation.
The Governor held a meeting with senior administrative officers and key officials of the security forces.
All orders issued by government departments on June 19 were kept in abeyance, as he issued fresh administrative orders.
The Governor called for cohesive action to enforce constant vigil on the International Border and the Line of Control, effectively maintain internal security and ensure the safety of the people, sensitive establishments and installations.
He asked representatives of all the security forces to identify existing gaps and ensure coordinated action on the ground for prompt and strong counter-terror responses.
12. China offers to boost ties between India and Pakistan
Without explicitly proposing a trilateral dialogue among India, Pakistan and China, Beijing offered to strengthen its cooperation with New Delhi and Islamabad to bolster stability in the region.
Without abandoning the prospects of a trilateral meeting altogether, the Chinese Foreign Ministry seemed to step back from explicit offer of a meeting among China, India and Pakistan, made by its Ambassador in New Delhi, Luo Zhaohui.
In reference to the recently concluded SCO summit in Qingdao, where India and Pakistan participated as full members, Mr. Zhaohui had said that some Indian friends suggested that India, China, and Pakistan may have some kind of trilateral summit on the sidelines of the SCO.
So, if China, Russia and Mongolia can have a trilateral summit, then why not India, China, and Pakistan, he added.
India was exploring the possibility of connectivity to Central Asia through the Pakistan-Afghan corridor, under the SCO framework.
However, another official said that New Delhi had not been considering the SCO as a forum where bilateral differences between India and Pakistan were to be addressed.
13. U.S. quits UN human rights body
The United States announced its withdrawal from the United Nations Human Rights Council (UNHRC) terming it hypocritical and self-serving.
S. Secretary of State Mike Pompeo and U.S. Ambassador to the United Nations Nikki Haley blamed the UNHRC for bias against Israel and refusing to eject members who are violators of human rights.
Announcing the decision at the State Department, the officials named Russia, China, Cuba and Egypt for thwarting U.S. efforts to reform the Council.
The U.N. body also focused on the situation in Jammu and Kashmir in a report recently.
Background
The UNHRC has been among the targets of President Donald Trump's politics against global organisations and treaties.
Under his presidency, the U.S. has withdrawn from the U.N. climate treaty and the UNESCO.
UNHRC was founded in 2006. Then President George W. Bush was dismissive of the body. Under President Barack Obama, the U.S. joined it in 2009.
The latest confrontation between the U.S. and UNHRC followed the body's criticism of Israel in the aftermath of the recent killing of protesters in the Gaza Strip.
The U.S. decision also comes against the backdrop of global criticism of the Trump administration's policy of separating children and parents detained for illegally entering the U.S.
UN human rights chief Zeid Ra'ad al-Hussein asked to halt America's unconscionable policy.
14. Have policy on lateral entry: Moily
Veerappa Moily, former Union Minister and Chairman of the Administrative Reforms Commission (ARC) during the UPA government, has rung alarm bells over the manner in which the current government is bringing in lateral entrants into the Civil Services.
Lateral entry into the government is not new, it has happened in an ad hoc manner in the past.
But the current government should come out with a framework policy since they want to institutionalise it; they haven't done that, simply issued advertisements.
Objective process
At the outset, selection process should be objective.
The Union Public Service Commission (UPSC) has been in charge of recruitment of civil servants, and there is a process in place, which is strict and objective.
The Indian Administrative Service selection as such has not been questioned till today, except perhaps to say that there is a colonial overhang in the system.
Concerns
The way in which this government is going about the matter, straightaway advertising posts to be filled, is akin to opening a Pandora's box.
It will hurt the current set of bureaucrats, who may have to report to these lateral appointees, and which is opposite of the continuity that is there in the Indian Civil Services system.
Indian system is different from the 'spoils' system of the United States where whenever a new President is elected, he brings his civil servants with him, a committed bureaucracy that works with a directly recruited one.
The current move of the government is a back entry being granted to the 'spoils' system.
As far as the requirement of specialised personnel to deal with Finance and other Ministries is concerned, as suggested in the 10th report of the ARC, at the time of training, those with some aptitude for specialised positions could be trained in that line.
The reservation policy in government jobs has to be kept in mind as well.
Most important, this kind of lateral entry might lead to politicisation of the civil services.
The danger of saffronisation is very much present as there is already a pre-Civil Services exam training institute run by the RSS.
15. India contests overstayers' figures
India has questioned Britain's assessment of the number of Indians overstaying their visa in the U.K. and called for policies based on statistics, amid an ongoing controversy over Britain's failure to include Indian students in the relaxation of visa norms, and whether it was linked to India's failure to sign an MoU on the return of illegal immigrants.
Exclusion slammed
The exclusion of Indian students has also been condemned by the main political parties.
Allegations that India and visitors have misused the system is an enormous roadblock in the way of having some kind of special trade relationship.
The Labour Party has also condemned the exclusion of India.
G. Practice Questions for UPSC Prelims Exam
Question 1. With reference to the Pradhan Mantri Matritva Vandana Yojana (PMMVY), 
which of the following statements is/are correct?

It is available to all Pregnant Women & Lactating Mothers.
It is a central sector scheme.
The scheme is applicable to the mothers above the age of 19 years and for the first two live births.
Select the correct code:
Only 1
Only 3
Only 2 and 3
All of the above
See
Question 2. With reference to Konark Temple, which of the following statements is/are correct?
It was built by King Narasimhadeva I, the great ruler of Ganga dynasty.
The Konark is the third link of Odisha's Golden Triangle.
It is also known as "White Pagoda".
Select the correct code:
Only 1 and 2
Only 1 and 3
Only 2 and 3
All of the above
See
Question 3. With reference to Kalamkari, which of the following statements is/are correct?
Kalamkari is an ancient style of mechanized painting done on cotton or silk fabric.
There are two identifiable styles of Kalamkari art in India – Srikalahasti style and Machilipatnam style.
It uses the natural dyes and is famous in the states of Rajasthan and Gujrat.
Select the correct code:
Only 1
Only 2
Only 2 and 3
All of the above
See
Question 4. With reference to the National Highway of India, consider the following statements.
It is a statutory body under the Ministry of Road and Transport.
NHAI is mandated to implement Bharatmala Project which is India's largest ever Highways Project.
Which of the above statement(s) is/are incorrect?
Only 1
Only 2
Both 1 and 2
None of the above
See
H. UPSC Mains Practice Questions
According to the World Bank, 70% of the global greenhouse gas emissions comes from infrastructure development, construction, power plants and transport system operations. In light of the above statement, discuss the challenges faced by the developing countries in modernizing the society.
Ideology has an important role to play in the formulation of a country's foreign policy. Discuss.
Also, check previous Daily News Analysis
"Proper Current Affairs preparation is the key to success in the UPSC- Civil Services Examination. We have now launched a comprehensive 'Current Affairs Webinar'. Limited seats available. Click here to Know More."
Enroll for India's Largest All-India Test Series