Yojana Magazine is an important source of material for the UPSC exam. The monthly magazine provides details of major government schemes and programmes in various domains. Moreover, coming from the government, it is an authentic source of information for the UPSC Exam. Here, we provide the Gist of Yojana, exclusively for the IAS Exam.
TABLE OF CONTENTS
1. Vision for Industry
2. Leveraging Technology for Accessible Quality Education
3. Atal Innovation Mission
4. Agriculture - A Journey from Shortage to Surplus
5. Indian Economy - Historical Perspective

1. Vision for Industry
Introduction:
The road to 75 years has not been easy, yet India has come a long way — from a country that saw its wealth drained by its colonial masters to a major player in the global economy. As India enters the Kartavya Kaal, it is time for the country to realise its potential and emerge as a world leader in this post-Covid New World Order.
The Potential of India in the Manufacturing Sector:
According to a FICCI-McKinsey report, by 2047, a growing India is expected to become a high-income nation with six times its current per capita income and to create 60 crore jobs to gainfully employ its growing workforce. 

Achieving this potential will make India an approximately

Rs 1500 lakh crore ($19 trillion) economy

in real terms by 2047.

Manufacturing has the highest potential of all sectors to propel job growth, with the potential

to create 60 million to 70 million jobs by 2030. 

India could aim to:

Boost overall manufacturing

productivity fivefold by 2030

(by tripling labour productivity and doubling capital productivity), 

Achieve

70-80% digital adoption by MSMEs

, and 

Increase the number of

World Economic Forum lighthouses tenfold

to drive IOT and automation adoption and boost productivity.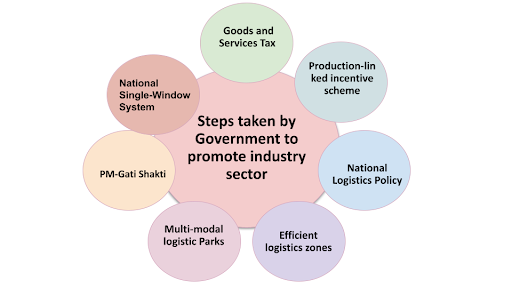 Focusing on the following areas to realise the full potential in manufacturing: 
New-age Factory of the World: 
Supply chain:

India could ensure the supply chain and capture an increased share of key global supply chains valued at between $800 billion and $1.2 trillion by 2030. India is well-positioned to leverage Global Value Chains (GVC) for higher economic growth and job creation. 

New-age sectors:

India has selected multiple new-age sectors such as mobile phones, solar PV modules, drones, wearables and semiconductors. These new-age sectors would help India gain prominence as a manufacturing hub.  

Plug-and-play cluster zones:

State governments could support efforts by creating plug-and-play cluster zones based on their manufacturing strengths. 
Embracing the Digital Revolution in Manufacturing:
Industry 4.0 solutions:

As per a recent NASSCOM report, the Indian manufacturing industry spent between US 5.5 and US 6.5 billion dollars on Industry 4.0 solutions in FY21. 

Digitisation could improve reliability and value chain resilience.  

Technology grants and international joint ventures

could help secure technology expertise that would help propel manufacturing into the digital future. 

Smart manufacturing: The ongoing 5G rollout would play a key role in the transformation to 'smart manufacturing' like Connected Warehouses, Logistics, Fleet Management, etc.
Skill development programmes:

India needs to invest in robust skill development programmes and collaborate with educational institutions and industry bodies to bridge the skills gap.  
Leaping towards Sustainable Manufacturing:
The future of manufacturing is sustainability. Customers are looking for products and partners who follow eco-friendly practices, adopt green policies, and share a commitment to sustainability. 

Manufacturers need to prioritise the creation of green alternatives, such as 

Bio-based feedstock

Sustainable packaging

Green building materials

'Zero Defect – Zero Effect' 
Strengthening Infrastructure:
India has inefficiencies in terms of a large number of goods transitioning within an industrial value chain, as well as the high cost and lengthy time for transition. 

The country is solving infrastructure challenges with a variety of interventions, such as 

Industrial Corridor Development Programme, 

National Logistics policy. 

Additionally, state and central governments could strengthen infrastructure in key manufacturing hubs through 

Public-private partnerships (PPPs) and 

Special-purpose vehicles and 

Expand smart-city coverage. 
Conclusion:
FICCI is confident that as India moves ahead on the path towards India@100, the process of reforms will further gather pace and strengthen the foundation on which India will have a world-class industrial sector that is efficient, productive, sustainable, and imbibe a major export orientation.
2. Leveraging Technology for Accessible Quality Education
Introduction: Modern technologies like Augmented Reality (AR), Virtual Reality (VR), Extended Reality (ER), Artificial Intelligence (AI), and Machine Learning (ML)  have revolutionised education enhancing learning experiences. The National Education Policy 2020 (NEP 2020) also envisions sweeping reforms in the education sector through technology to create accessible, equitable, and high-quality education for all.
The sudden push for online education was driven by the disruption caused by the Covid-19 pandemic. The availability of online classes, internet through fibre connectivity and DTH content delivery through satellites helped to ensure high-quality education delivered at home during this period. 
Limitations in Online Education: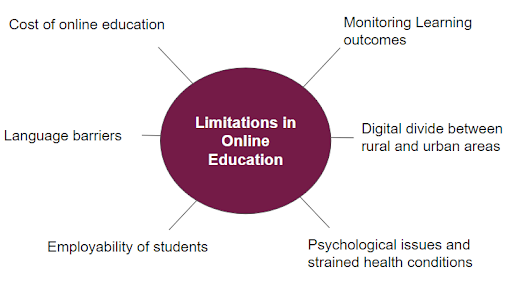 Government initiatives to promote education through technologies: 
National Programme on Technology Enhanced Learning (NPTEL):

NPTEL, started in 2005, provided high-quality recorded engineering lectures delivered by IIT professors. Subsequently, in 2008, Virtual labs were started to provide simulation-based experiments for all students. 

Teacher training platforms:

The

Amrita Virtual Interactive E-Learning World (A-VIEW)

, a collaboration between AMRITA University and the Ministry of Human Resource Development (MHRD), was established with the purpose of providing online training to educators.

IIT Bombay and IIT Kharagpur launched the '

Train 10,000 Teachers' (T10kT)

program, which focuses on augmenting the teaching skills of teachers in core engineering and science subjects.

AICTE Training And Learning (ATAL) Academy

was instituted to facilitate the dissemination of high-quality technical education across the nation.

SWAYAM platform: SWAYAM platform stands as the world's largest online free e-learning portal, meticulously designed to realise the goals of accessibility, equity, and quality education across all educational tiers.
National Internship Portal

was established to foster connections between students and industries, including Micro, Small, and Medium Enterprises (MSMEs).

The National Educational Alliance for Technologies (NEAT)

scheme, implemented by the All India Council for Technical Education (AICTE), aims to act as a bridge between ed-tech companies, academic institutions and students.

Anuvadhani

, an artificial intelligence-based translation tool developed by AICTE, is developed to bridge the language gap and provide equal learning opportunities to students across the country. It can translate text files, and enable speech-to-text typing, and editing.

National Digital Library Project

by IIT Kharagpur provides free access to digital books and documents.

Academic Bank of Credit (ABC): Initiated by the National Education Policy (NEP) 2020, students can store their academic credits and credentials earned in Digilocker. It serves as a credit bank for students that allows them to accumulate, verify, transfer, and redeem their credit which ensures flexibility and enhances learning opportunities for students.
Conclusion: The NEP 2020 aims to achieve a Gross Enrollment Ratio (GER) of 100% in school education and 50% in higher education. Technology plays a pivotal role in achieving this goal by bridging the gap and ensuring access, upholding equity, maintaining quality, increasing affordability, and fostering accountability across the education sector.
3. Atal Innovation Mission
Introduction: Innovation is the process of creating value by applying novel solutions to meaningful problems. The article discusses the importance of building a holistic innovation ecosystem in India to foster innovation and entrepreneurship, solve societal challenges, and contribute to the country's economic growth.
Innovation's Role in Economic Growth:
Historical perspective:

Early GDP growth was tied to consumption due to population increase, with limited real growth (0.1% annually) until 1700 AD. 

GDP after the industrial revolution: Post-1750s, the industrial revolution triggered exponential GDP growth through technology and innovation-driven changes.
Technology-led innovation:

Technological innovation fueled economic progress by enhancing productivity, and efficiency, and creating opportunities in various sectors.

 
TFP's significance in GDP growth:

Total Factor Productivity (TFP) significantly impacts GDP growth by improving output efficiency through innovation and technological advancement.

Leading nations' technological innovation:

Technologically advanced nations (e.g., USA, UK, Germany, Japan) have driven GDP growth through substantial investments in research and innovation.
Terms:
Total Output:

Total output is the amount of goods and services produced by an economy, industry, or firm. 

Labour

: The collective human effort, skills, and work put into the production process.

Capital:

The financial and physical assets, tools, equipment, and resources used for production.

Total Factor Productivity (TFP): TFP is a measure of how efficiently inputs are used to produce output.
Government's Role in Fostering Innovation:
State-sponsored initiatives

have contributed to the development of new technologies and industries. For example, Israel and the USA showcase effective government-led innovation initiatives that have yielded significant results.

National Innovation Foundation (NIF):

India established NIF to empower grassroots technological innovations and preserve traditional knowledge.

Science, Technology, and Innovation Policy:

This policy aims to position India as a global scientific leader and establish a robust Science, Research, and Innovation system (SRISHTI).

Supporting Innovation Culture:

In a diverse country like India, government support is pivotal in cultivating an innovation culture.

Atal Innovation Mission (AIM): AIM was initiated by the Government of India in 2016. AIM's primary objective is to cultivate innovation and entrepreneurship and it aims to create an environment conducive to generating and implementing innovative ideas. Read more on the Atal Innovation Mission in the linked article.
Programs under AIM's Holistic Approach:
Atal Tinkering Labs (ATLs): 

Establishes tinkering labs in schools to encourage innovative thinking among students. 

Nurtures creativity, problem-solving, and hands-on learning from an early age.

Atal Incubation Centres (AICs):

Focuses on supporting innovators during the transition from idea to prototype to market.

Provides necessary infrastructure, mentoring, and resources to foster start-up growth.

Atal Community Innovation Centres (ACICs):

Aims to expand innovation beyond major cities to tier-2 and tier-3 locations.

Promotes innovation within local communities by providing resources and guidance.

Atal New India Challenge (ANIC):

Offers a platform for start-ups to solve pressing national challenges through innovation.

Provides funding, mentorship, and resources for the development and implementation of solutions.
Conclusion: India's strategic innovation adoption aligns with its goal of a $5 trillion economy by 2025. Its progress is evident as it moved from 57th to 40th in the Global Innovation Index, delivering global-scale innovations like Aadhaar and UPI. A collective effort is now crucial to unlock India's economic potential and tech-driven decade.
4. Agriculture – A Journey from Shortage to Surplus
Introduction: 
In the span of 75 years since India's independence, its agricultural landscape has undergone a phenomenal transformation. From struggling with food shortages and depending on foreign aid, India has emerged as a self-sufficient nation in terms of food production and a significant player in the global agricultural arena. 
The Green Revolution: From Scarcity to Surplus
At the dawn of independence, India faced acute food scarcity, barely able to meet its population's basic needs. 

The turning point came with the

Green Revolution, catalyzed by the introduction of high-yielding and disease-resistant crop varieties.

 

Scientist

Dr. Norman Borlaug's

innovations in

wheat varieties boosted yields

, and coupled with government support under the leadership of doctor

MS Swaminathan,

led to record-breaking harvests. 

This surge in productivity, termed the

Green Revolution

, not only ensured food security but also paved the way for

self-sufficiency and agricultural exports.
India leads in sugar, ranks 2nd in rice (after China), and holds 14.14% global wheat production share in 2020.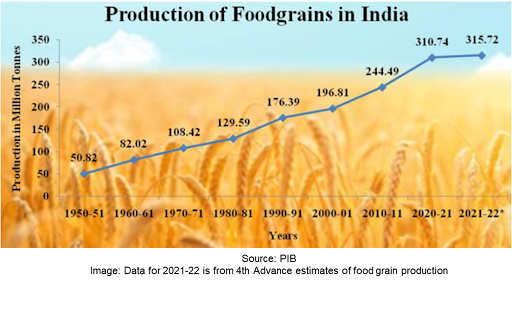 International Year of Millets: A Nutritional Resurgence
Recognizing the significance of millets, India celebrated the International Year of Millets in 2023, rebranding them as 'Shree Anna'.

 

With targeted strategies and government support, millet production has surged, aiding

nutritional security.

 

The cultivation of millets has soared, setting the stage for India to become

a global hub for these nutrient-rich grains.
Yellow Revolution: Triumph in Oilseeds Production
The Yellow Revolution marked a breakthrough in oilseed production.

 Innovative cultivation practices and the introduction of advanced crop production technologies led to a dramatic increase in oilseeds output. 

India's oilseed production grew from

108.30 lakh metric tons in 1985-86 to an impressive 400,000 million tons in 2022-23,

establishing self-reliance in this crucial sector.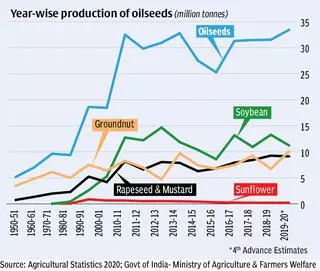 The White Revolution: From Milk Crisis to Global Leadership
In a similar vein, the White Revolution addressed India's milk crisis. With per capita milk availability dwindling, the National Dairy Development Board (NDDB)

chaired by

Verghese Kurein launched Operation Flood in the 1970s

. 

This initiative established

a network of village-level milk cooperatives, modern processing plants, and a seamless supply chain

.

India has been a global leader in milk production for over a decade, with a total production of around 22 crore tonnes in the year 2021-22.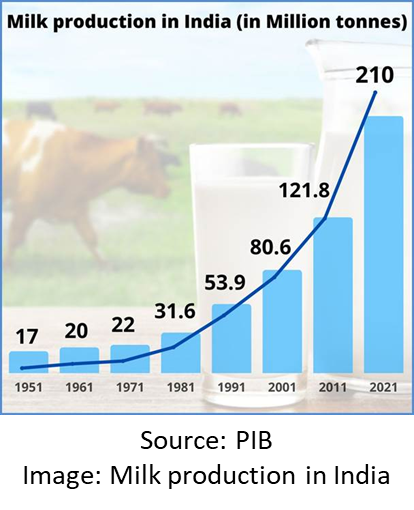 The Blue Revolution: Empowering Fisheries
Post-independence efforts in the fisheries sector resulted in the Blue Revolution.
India transformed into the second-largest fish-producing country globally, with policies

promoting both marine and inland fisheries.

The Blue Revolution not only boosted fish production but also elevated India's status as

a leading seafood exporter.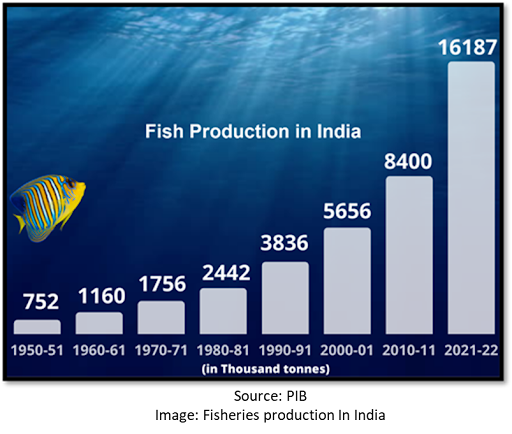 The Silver Revolution: Poultry Powerhouse
Rising to become the

third-largest egg producer globally,

India's poultry industry has added another feather to its agricultural cap.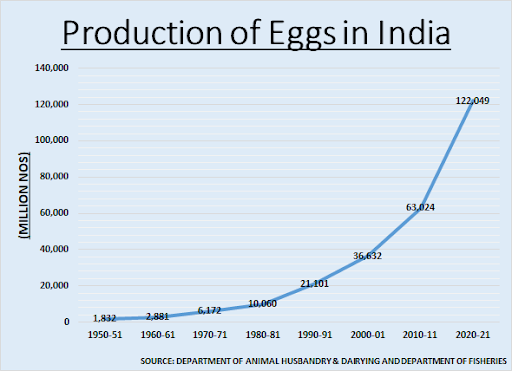 Challenges and the Road Ahead: 
As India's agricultural success story continues, challenges such as

climate change, resource depletion, and productivity constraints

must be addressed. 

Initiatives like the

National Mission on Sustainable Agriculture and Agri-Tech Infrastructure Fund

focus on sustainable practices and technology integration. 

Digital tools, precision agriculture, and market linkages are redefining modern farming.

From

financial support to crop insurance and institutional credit,

these initiatives empower farmers. 

T

he National Agriculture Market (e-NAM)

is revolutionizing agricultural marketing, ensuring fair prices and market access.

India's agricultural journey is a testament to

scientific innovation, political will, and the unwavering toil of farmers.
5. Indian Economy – Historical Perspective
Introduction: After independence, India adopted a mixed economic model that blended socialist policies with market economy elements. It helped in nation-building and industrialisation while pursuing self-sufficiency through Public Sector Enterprises and import substitution. However, this approach also inadvertently gave rise to issues like bureaucratic inefficiencies, limited competition and stifled innovations.
Macroeconomic imbalances of the 1990s and structural reforms:
Causes of macroeconomic imbalance: High combined deficit of central and state governments, elevated inflationary pressure and unsustainable current account deficit triggered the balance of payment crisis.
Economic liberalisation and reforms from 1990-2014:
Liberalisation, Privatisation, and Globalisation (LPG) reform:

The government implemented policies that dismantled licence raj, encouraged foreign direct investment and promoted privatisation. 

Flexible exchange rate

with full convertibility of rupee in the current account and partial convertibility in the capital account.

New Telecom Policy of 1999: It

catalysed the information technology (IT) sector boom in India, generating widespread benefits for other sectors as well.

The Department of Disinvestment

was established to further the disinvestment and privatisation of public sector enterprises. 

Fiscal Responsibility and Budget Management (FRBM) Act:

The act was passed to address the fiscal deficit of central and state governments.

Structural reform in the banking sector: SARFAESI Act 2002 and the deregulation of interest rates were introduced to help banks burdened with bad debts. 
These reforms have helped in achieving an average growth rate of over 8% during the 2003-2008 period where the global growth averaged at 4.8%.
New age reforms after 2014: 
Since 2014, the government's economic policy focus has been to restore India's growth potential by easing business conditions and significantly enhancing physical and digital infrastructure.

Simplifying regulatory frameworks: The Insolvency and Bankruptcy Code (IBC) and the Real Estate (Regulation and Development) Act (RERA) were enacted to enhance the ease of doing business.
Tax reforms:

Adoption of Goods and Services Tax (GST), reduction in corporate and income tax rates, abolishment of the retrospective tax, etc. have reduced the tax burden on individuals and businesses.

GST implementation resulted in broadening the tax base, free flow of goods across states and the formalisation of the economy.

Average monthly gross GST collections are consistently rising from INR 0.9 lakh crore in FY18 to INR 1.5 lakh crore in FY23 and INR 1.7 lakh crore in the first quarter of FY2024.

Capital expenditure:

Capital expenditure of the central government has increased from 2.8 % of GDP in 2013-14 to 3.8% in 2022-23. This has improved connectivity and modernised infrastructure across the country.

National Infrastructure Pipeline (NIP)

was established to fund infrastructure investment projects of around INR 111 lakh crore spread over five years until 2024-25. 

More than 9,000 NIP projects, with a total investment of over INR 108 lakh crore, are at various stages of implementation.

Atmanirbhar Bharat and Make in India initiatives

to enhance India's manufacturing capabilities and promote exports across various industries.

Production Linked Incentives (PLIs):

implemented across various sectors to attract domestic and foreign investments in the manufacturing sector.

A New Public Sector Enterprise policy

was implemented to limit governments' presence to a few strategic sectors. 

Decriminalising minor economic offences

under the companies act 2013 to improve the ease of doing business.

1400 archaic laws have been repealed in the last nine years

Micro Small and Medium Enterprise (MSME):

Emergency Credit Line Guarantee Scheme (ECLGS), revision in the definition of MSMEs, TReDS to address the delayed payments for MSMEs to enhance resilience in the MSME sector. 
Conclusion: A robust financial sector, coupled with increased public spending, digitalisation reforms, formalisation of the economy, enhanced financial inclusion, expanded economic opportunities, and substantial upscaling in research and development, will constitute the essential drivers for India's economic growth in the 'Kartavya Kaal'.