Table of Contents:
1. Experts unsure if El Nino will fade away
1. A people's initiative to restore a river's glory
2. OCI cards enough to visit India
1. Oil hits 2016 high of above $42 on production
2. The cyberthreat is very real
.
+++++++++++++++++++++++++++++++++++++++++++++++
Useful News Articles
A. GS1 Related
1. >Experts unsure if El Nino will fade away
Topic: Geography
Category: Important Geophysical phenomena
Location: The Hindu, Page 15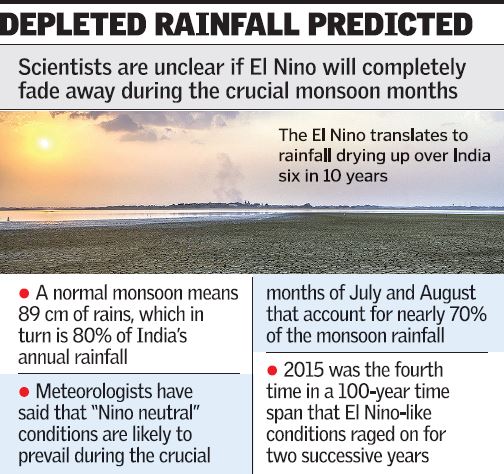 Key Points:
El Nino refers to an anomalous heating up of the waters in the central-eastern regions of the equatorial Pacific and implies a consistent, average rise in temperature of 0.5 degree Celsius above normal.
Historically that translates to the monsoon drying up over India six in 10 years.
Conversely, the La Nina, or an anti-El Nino, when waters in the same regions dip at least 0.5 degree Celsius and generally considered favourable for the monsoon, is only expected to set in after September, says an update by the U.S.-based National Oceanic and Atmospheric Administration.
B. GS2 Related
1. A people's initiative to restore a river's glory
Topic: Governance
Category: Role of NGOs
Location: The Hindu, Page 11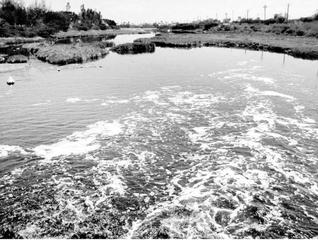 Key Points:
The Noyyal river originates in the Western Ghats and runs through the four districts to join the Cauvery at Noyyal village.
The Noyyal River Restoration Federation will launch 'Noyyalai Nokki' (Towards Noyyal), a people's initiative to restore the Noyyal river system, jointly with the government.
This joint effort is unique and special. Unique as hundreds of volunteers, businesses, educational institutions, and non-governmental organisations from four districts in western Tamil Nadu have come together, special because it is to restore a river.
2. OCI cards enough to visit India
Topic: Indian Polity
Category: Government policies and interventions
Location: The Hindu, Page 15
Key Points:
The Indian diaspora will no longer have to get a visa affixed on their passports every time they travel to India as the Union government has decided to do away with the process.
The government has decided that since the categories Overseas Citizen of India (OCI) and the Persons of Indian Origin (PIO) were merged last year, the OCI card will suffice to enter the country and hence would require no visa.
Carrying a passport will, however, be mandatory.
The government is also planning to make arrangements to print OCI cards at a few big missions like the U.K and the U.S., countries where many Indians reside.
The OCI card bears certain security features that cannot be tampered with and are made after several layers of checks.
The government amended the Citizenship Act last year and a notification was issued to merge the two cards.
C. GS3 Related
1. Oil hits 2016 high of above $42 on production, demand outlook
Topic: Economy, International Relations
Category: International Trade, Effect of policies and politics of developed and developing countries on India's interests
Location: The Hindu, Page 18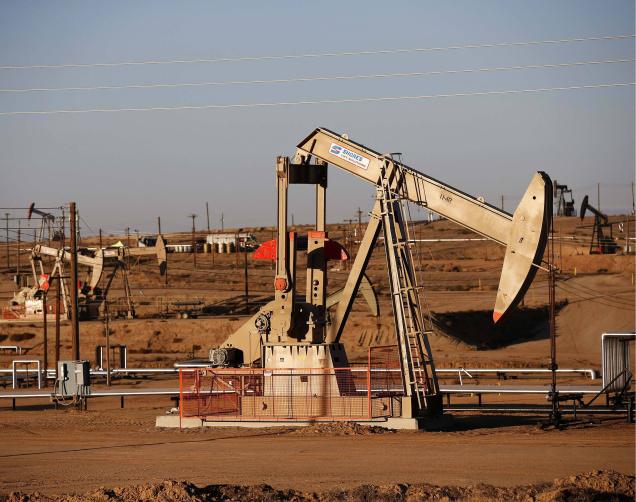 Key Points:
Oil rose above $42 a barrel, hitting its highest this year
Expectations of a production freeze by major exporters, stronger seasonal demand and dollar weakness are attributed to be among the reasons for the rise in prices.
OPEC kingpin Saudi Arabia and non-OPEC producers led by Russia will meet on April 17 in the Qatar capital Doha in an effort to agree the first global supply deal in 15 years.
D. GS4 Related
Nothing here for today folks!
E. Important Editorials : A Quick Glance
Topic: Indian Polity
Category: Government policies and interventions for development in various sectors
Location: The Hindu, Page 12
Key Points:
The Punjab Assembly passed the Punjab Sutlej-Yamuna Link Canal(Rehabilitation and Re-vesting of Proprietary Rights) Bill 2016, seeking to return land acquired for the canal's construction to the original owners free of cost.
This, it is believed would impede the work that is currently still under progress to channel to Haryana its duly allotted share of the waters of the Ravi and the Beas.
The state of Punjab is upper-riparian when compared to Haryana.
The origins of the crisis go back to 2004, when the State passed the Punjab Termination of Agreements legislation.
Through this legislation, the state of Punjab, reneged on its upper-riparian responsibility to share water with Haryana through the SYL Canal.
2. The cyberthreat is very real
Topic: Internal Security
Category: Cyber Security
Location: The Hindu, Page 12
Key Points:
There has been debate in Parliament on the Aadhaar Bill, 2016.
During these debates, the concerns that have been expressed are with respect to certain provisions within the bill that provide scope for 'surveillance' of citizens. These concerns require a discussion to remove any lingering suspicion about the government's intentions.
The Broader Context
By 2020, online devices are projected to outnumber human users by a ratio of 6:1. Cyberspace was primarily intended as a civilian space. It has, however, become a new domain of warfare.
A few incidents that are worth mentioning in this regard are as follows,
In 2007, Estonia was almost brought to its knees through a cyberattack, presumed to be by Russian hackers.
The Stuxnet cyberattack (2010) on an Iranian nuclear facility at Natanz
The past few years have seen successful attacks against the best-guarded installations of advanced nations.
The past year also witnessed a devastating attack on Ukraine's critical infrastructure. It is evident that no rule of law exists in cyberspace.
Challenges
The architecture of the Internet was designed to promote connectivity, not security.
Cyber experts warn that the more technologically advanced and wired a nation is, the more vulnerable it is to a cyber-attack.
Cyber security has an interesting parallel to terrorism. Both are asymmetric. Ensuring security of data, information, and communication is considerably harder than hacking into a system. The attacker has an inherent advantage in both conventional terrorism and cyber-attacks. In the case of state-sponsored attacks, the challenges are of a much higher magnitude.
The Way Forward
Erecting proper defences is vital.
The spectre of growing cyber-threat demands changes in the attitude of users of systems, a proactive approach to investment in hardening systems, better training in computer security practices, and careful engineering of things to be connected to networks.
It would mean that certain critical computers and controls are unhooked from the network, a practice known as 'air gapping'.
Policy formulation will need to be supported by a legal framework, leading to greater cyber resilience and crisis responsiveness.
Despite having a National Cyber Security Policy(2013), risks to our critical infrastructure remain.
In spite of instituting a National Cyber Security Coordinator (2014), internecine rivalries between the National Technical Research Organisation (the nodal agency for cyber-security) and the Ministry of Communications and Information Technology impede cooperation.
To be forearmed, with both offensive cyber operations and strengthened cyber-security, is essential.
Topic: International Relations
Category: India and its neighborhood- relations.
Location: The Indian Express, Page 14
Key Points:
Prime Minister Narendra Modi said Sufism was "a celebration of diversity and pluralism" which "helped shape a distinct Islamic heritage of India".
Modi's comparison of "India's spirit" with the music of a sitar's strings plucked in harmony is in tune with the reality of diversity. The metaphor suggests a nation of people who follow diverse faiths.
Their collective struggles, sacrifices, bravery, skills, art and pride unite the country and pull it towards a common destiny.
F. Concepts-in-News: Related Concepts to Revise/Learn:
I.   National Cyber Security Policy
II.  El Nino
III. La Nina
IV.  Cyber security
V.  Sufism
G. Fun with Practice Questions 🙂
To be Updated
"Proper Current Affairs preparation is the key to success in the UPSC- Civil Services Examination. We have now launched a comprehensive 'Online Current Affairs Crash Course'.
Limited seats available. Click here to Know More."