Table of Contents:
1. Supreme Court stops Punjab from leveling Sutlej-Yamuna link canal land
2. Kurds declare Federal region in Syria
3. U.N backed sanctions imposed on North Korea
4. Ford Foundation taken off watch list
1. India 'Not scared of Monsanto Threat'
2. Indian Railways ties with ISRO route surveys
1. Sedition Law needs revisiting
2. Privacy is a Fundamental Right
.
+++++++++++++++++++++++++++++++++++++++++++++++
Useful News Articles
A. GS1 Related
— Nothing here today, folks! —
B. GS2 Related
1. Supreme Court stops Punjab from leveling Sutlej-Yamuna link canal land
Topic: Polity
Category: Federal structure, Dispute Redressal
Location: The Hindu, Page 1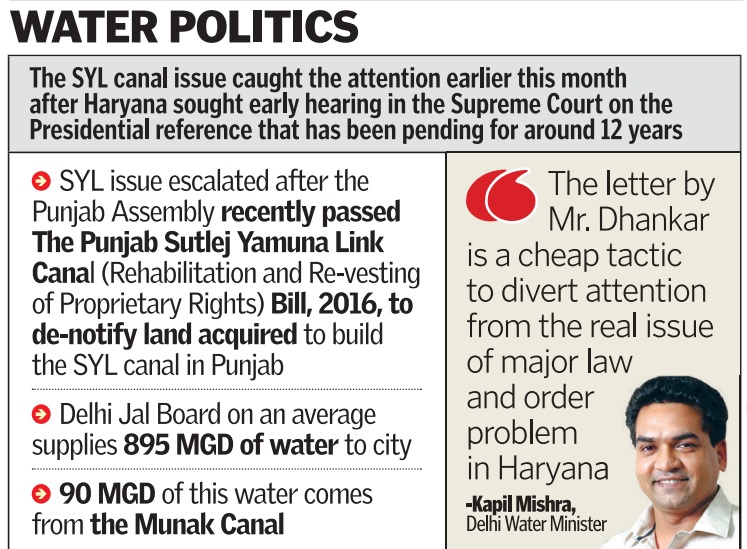 Key points:
 Supreme Court's five judge Constitution Bench  ordered status quo on land meant for Sutlej-Yamuna Link canal after Haryana raised objection about "attempts to alter" its use by leveling the land.
SYL issue came to limelight after Punjab passed The Punjab Yamuna Link Canal (Rehabilitation and Re-vesting of Proprietary Rights) Bill, 2016 in order to build SYL canal in Punjab by de-notifying land
This bill paves way for de-notifying 53000 acres of land required for 122 KMs of canal in Punjab
2. Kurds declare Federal region in Syria
Topic: International Relations
Category: Global Events
Location: The Hindu, page 14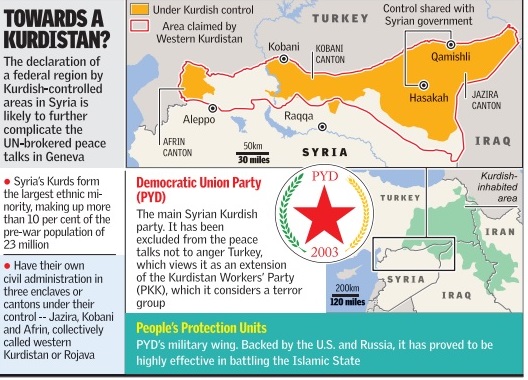 Key points:
Syria's Kurds (an ethnic group) declared federal region in areas under their control in north of conflict hit country.
The announcement has complicated peace talks by Geneva and angered Turkey which has its own Kurdish Insurgency problem in the southern region
Delegates declare a "Federal System" unifying territory run by Kurds across several provinces leading to creation of three Kurdish cantons.
Kurdish parties already operate a system of three Autonmous Administration in Syria's northern borders with Turkey & are in the provinces of Aleppo, Hasaken.
The new Federal system is expected to centralize governance in three cantons under elected councils.
3. U.N backed sanctions imposed on North Korea
Topic: International Issues
Category: International Fora
Location: The Hindu, page 14
Key points:
S. President Barack Obama signed an order implementing U.N. backed sanctions on North Korea after a nuclear test and missile launch this year
The sanctions will hit North Korea's financial and shipping assets as well as trade and meant as a measured response to the nuclear test and missile launch
P.R.K's closest ally China has opposed to the sanctions terming them as "Unilateral Actions".
4. Ford Foundation taken off watch list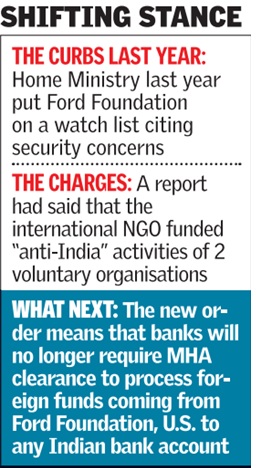 Topic: NGO's
Category: Development processes & Development Industry
Location: The Hindu, page 01&12
Key points:
Home Ministry issued orders to reverse Ford Foundation from prior permission category , which was previously put on NGO "Watch List"citing concerns to National Security.
The report by Gujarat Government said that Ford Foundation funded anti-India activities of citizens for Justice and peace and sabrang Trust run by activist Teesta Setalvad
The order meant that banks will no longer require ministry's clearance to process the foreign funds coming from the foundation to any Indian bank account
Ford Foundation which wasn't registered either as a NGO or under Indian Society Act till now applied under FEMA and got registered as Branch Office.
C. GS3 Related
1. India 'Not scared of Monsanto Threat'
Topic: Agriculture
Category: Cropping patterns, Bio-Technology
Location: The Hindu, page 16
Key points:
S based company Monsanto leads the G.M.(Genetically Modified) seeds market especially in the G.M. cotton crop
M. cotton seeds helped turn India into the biggest maker of cotton fibre
Monsanto controls 90% of cotton seed supply
M. said the govt. expects to develop its own G.M. cotton varieties early next year to end Monsanto's dominance
New technologies are critical to lifting India's poor farm productivity
Case in point, the introduction of G.M cotton led to India's lead in cotton production where as ban on G.M food crops like in pulses hasn't helped the pulses production which remains far below the demand
The problem here though is that Monsanto promotes farmers to overly rely on it for seeds and then over prices its products leading to burden on cotton farmers
2. Indian Railways ties with ISRO route surveys
Topic: S&T
Category: Emerging Technologies
Location: The Hindu, page 15
Key points:
Railway Minister signed agreement with ISRO to leverage space technology for providing passenger info in all trains, map railway assets and help survey new route alignments
ISRO was requested to find ways to ensure smooth rail traffic during winter when fog hamper railway transit
The MOU aims to develop application in the field of remote sensing and graphic info system
It proposes to provide info such as train stoppages, real train tracking, survey of new rail route alignments in hilly and difficult terrains
D. GS4 Related
-No related new-
E. Important Editorials : A Quick Glance
1. Sedition Law needs revisiting
Topic: Governance
Category: Constitution and features
Key points:
admitted that present definition of "Sedition" in IPC Section124-A is too wide & requires reconsideration
The provision is draconian & prone to misuse, since there is a tendency to invoke against those involved in forms of political dissent & scathingly criticizing the Govt.
Where as 42nd Law Commission had rejected the idea of repealing the section altogether, infact it wanted changes in the ambit of the "Disaffection towards the govt. and legislatures of states and justice system.
The vague and overboard definitions often result in mindless prosecution merely based on wording of the act
C. held that though sedition (124-A) fell under "Restrictions of free speech for public order purposes", it also noted that it ought to be invoked only if a particular speech or action had a " pernicious tendency" to create public disorder
Two high Courts had declared Sec 124-A unconstitutional before S.C. upheld it in "Kedarnath Singh VS. State of Bihar", 1962
The Law Commission would do well by taking into consideration the recent events & revisit the act. But a more rational, sane, constitutional option would be to scrap the provision altogether.
2.Privacy is a Fundamental Right
Topic: Governance
Category: Issues of Governance
Key points:
Background:
AAdhaar ( Targeted Delivery of Financial & other subsidies,Benefits & Services) Bill, 2016 introduced into Lok sabha as a money bill
AAdhar will collect Biometric, Demographic info and other info as per regulations Individuals will be informed of manner in which info. Will be used , recipients with whom info will be shared , right of info access
Editorial:
No public consultation on the bill
Introduction by money bill route thus by-passing Rajya Sabha
Right to privacy has seen by the Supreme Court protects Citizen's "Right to Privacy" against Govt.'s intrusion
C. made it clear that right to liberty and freedom of expression cannot survive if right to privacy is compromised
Aadhaar being a database storage , what if there is breach in the storage and who will take responsibility for such disaster
The bill doesn't give any guarantee of compensation in such circumstances just assurances alluring to safety
The noble idea of creating a database for targeted delivery of food, service, social security schemes belies the fact it might be a Trojan Horse where in the govt. can access the data by exceptions like district judge orders for disclosure of info only the Aadhar Authority has right to contest any such order, if it inclined to
Second way being a Joint Secretary authorized by Govt. can direct disclosure of info " in the interests of National Security "
Reasons for inadequacy:
The govt. attempted the same with widespread surveillance  which began with use of telephone, using the same national security argument in PUCL  Union Of India. 1997 case
C. held those arguments invalid since they violate Art.21 & Art.19 until backed by law & under reasonable restrictions resp.
This stop Gap measure is still our sole communication Surveillance safeguard
N. High Commissioner for H.R. Navin Pillay's report says that internal procedural safeguards without external monitoring are inadequate to protect the rights , exactly what has happened in Aadhar Bill's case
Remedies:
To avoid a police state avoid giving access to investigating agencies the aadhaar info since it is meant for delivering govt. benefit schemes & services.
There must be oversight (External Monitoring), Accountability (Criminal Prosecution) for any violations
F. Concepts-in-News: Related Concepts to Revise/Learn:
I. Sedition Act
II. FEMA, PMLA, FCRA
III. Genetically Modified Crops
IV. Syria's War
V. Provisions of Aadhaar Bill
United Nations Role & Mandate
G. Fun with Practice Questions 🙂
Question 1: Where is the region of Kurdistan located among given border sharing countries ?
a) Pakistan-Afghanistan
b) Iran-Syria
c) Iran-Iraq
d) Syria-Turkey
Question 2: Among the following statements regarding G.M.(Genetically Modified) crops which is/are true?

. G.M. crops in India have failed completely.
2. All G.M. crops in India are banned.
3. G.M. crops increase productivity.
a) Both 1 and 3
b) Both 1 and 2
c) Both 2 and 3
d) Only 3
Question 3: Which of the following law(s) regulates funding for NGO's ? 

1.Foreign Exchange Management Act
2. Prevention of Money Laundering Act
3.Securitisation and Reconstruction of Financial Assets and Enforcement of Security Interest Act
4. Foreign Contribution Regulation Act
a) 1 & 2
b) 2 & 3
c) 1 & 4
d) 1 & 2 & 3
Question 4: Regarding Fundamental Rights of the constitution which among them is/are not a fundamental Right as in Part-III of the constitution?
a) Right to Freedom
b) Right to privacy
c) Right to Religion
d) Right to education
Question 5: Which of following Rivers flows through Delhi?

a) Satluj
b) Yamuna
c) Beas
d) Ghagghar
"Proper Current Affairs preparation is the key to success in the UPSC- Civil Services Examination. We have now launched a comprehensive 'Online Current Affairs Crash Course'.
Limited seats available. Click here to Know More."