The UPSC Civil Services Exam is one of the most prestigious exams in India. It is attempted by lakhs of people across the country every year. However, only a tiny fraction of them are able to fulfil their IAS ambitions. The IAS exam is not only challenging in terms of the length of its syllabus, but it is also daunting because of its highly unpredictable nature.
In this article, you can get all the information you need on how to prepare for the UPSC exam, and change your destiny.
The UPSC exam cannot be cracked by just being a bookworm. The last stage in the UPSC exam process is the personality test round, wherein the UPSC board would interview the candidate for assessing his/her personality and its suitability for a career in the services. This requires an all-round development of the individual apart from academic knowledge. And, even in academics, the focus should not merely be on finishing the syllabus, but on constantly acquiring information and insight into the latest happenings/current affairs within the country and beyond.
Explore The Ultimate Guide to IAS Exam Preparation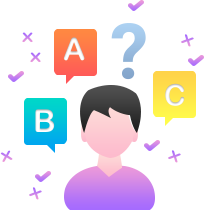 Test Your UPSC Preparation With BYJU'S Daily Current Affairs Quiz
Select the correct answer and click on the "Finish" button Check your score and explanations at the end of the quiz
Follow BYJU'S for all UPSC 2023 information and free study materials
0
out of
0
are Unattempted
Read on for 15 magical UPSC study tips that can help you prepare for the IAS exam and successfully clear it.
How to prepare for IAS exam? – UPSC Preparation Tips
This section lists important UPSC preparation tips for beginners. These tips aim at helping aspirant devise a well-planned preparation strategy for the upcoming UPSC 2023 exam.
There are 15 important tips mentioned below: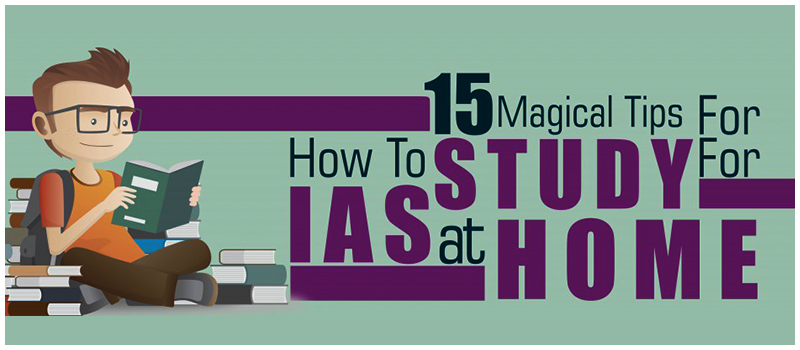 Tip #1: Prepare Yourself
Before trying to understand how to start preparing for UPSC at home, you should prepare yourself for the journey.
Before starting your preparation, prepare mentally and physically for the examination. Set goals and devote time effectively.
Understand the UPSC exam pattern thoroughly, and pace your IAS preparation accordingly.

The UPSC exam has three stages — prelims mains and the interview.
To know more about the UPSC Prelims exam, click here.
To know more about the UPSC Mains exam, click here.

If you are working and have decided not to quit your job, analyse how you would devote time for studies and chart a plan.
Today, with technology like the internet, it is possible to balance both preparation and a job with ease.
Watch our YouTube Channel for all the latest videos on IAS preparation.
Tip #2: Make a Time Table
To become an IAS officer, it is necessary to be like an officer with a well-organized daily routine.
You should set a comfortable timetable before your preparation and stick to it.
Making a timetable will ease your preparation and make it more streamlined. With deadlines, you would work better and complete the syllabus faster.
Analyse the IAS Subjects included in the syllabus and comprehend your strengths and weaknesses
Tip #3: Know the UPSC Syllabus
The syllabus is the soul of any exam. Knowing the syllabus is the foremost thing to do before you go through the books.
The UPSC has provided the syllabus for the Civil Services Preliminary and Main examination in an elaborate manner.
Aspirants should understand and follow the syllabus for UPSC civil service examination. Knowing the syllabus will help you to choose relevant study materials, prioritize the subjects, etc.
Click here for the complete UPSC Syllabus.
You can also download the UPSC Syllabus PDF from the links below:
UPSC Prelims Syllabus:- Download PDF
UPSC Mains Syllabus:- Download PDF
Tip #4: Newspaper Reading/Current Affairs for IAS
The newspapers are the most important aspect of the IAS exam.
If you do not read the daily newspaper or follow the daily news for the IAS exam, you cannot hope to clear this exam.
The questions asked in the civil services exam are directly or indirectly connected with current affairs. Hence, it is very important to follow the relevant news items in your daily newspaper. You can go through the BYJU'S Comprehensive News Analysis that gives the exam-relevant news items in a concise manner.
You can also visit our YouTube Channel for a detailed video analysis of the daily news. Watch the news analysis videos here.
Also, read ⇒ How To Make Notes From Newspaper For UPSC Current Affairs?
Tip #5: Choosing Optional
The optional subject accounts for 500 marks in the UPSC final tally.
Hence, you should choose an optional subject wisely and after a thorough think-through of the pros and cons of the subjects, you have in mind.
Some of the factors to keep in mind before selecting an optional are:

Interest in the subject
Prior knowledge in it/academic background
Overlap with the GS papers
Availability of coaching
Availability of study material
For detailed guidance on how to select an optional subject, click here.
You can also watch a video on the optional selection below: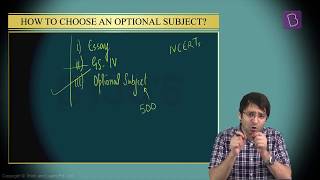 Tip #6: NCERTs
The NCERT textbooks from classes six to twelve play a very significant role in IAS exam preparation.
Aspirants can get basic concepts and theories from NCERT textbooks.
These books provide the information very coherently. Moreover, they are reliable too as the source is the government itself.
In previous years UPSC has asked questions directly from NCERT textbooks.
So, NCERTs are undoubtedly the best books to begin your IAS preparation with. Get a complete list of NCERTs needed for the UPSC exam here.
Apart from the NCERTs, you should also follow a few other advanced textbooks.
For more on which UPSC Books to follow, click here.
You can also get NCERT Notes for UPSC from the table below:
Tip #7: Making Notes
It is helpful to make short notes during UPSC preparation.
Since the UPSC syllabus is very vast, it helps to keep track of the portions covered and also serves as a ready-reckoner for revision.
You can have separate files or notebooks for separate subjects. Files are preferred by many since they help adding notes to a topic easier. This is especially helpful in the case of adding current affairs-related news to a particular topic.
Tip #8: Answer Writing Practice
The IAS main exam papers are descriptive in nature.
It is mainly about testing your analytical, critical, and communicative abilities.
It demands you to think with conceptual clarity and organize your views, perceptions, and thoughts in a flawless manner.
Another thing to be kept in mind is the time and space constraints in the answer booklet.
Therefore, candidates have to answer the questions quickly and effectively and in minimum words.
This is not possible without adequate answer writing practice.
Check sample UPSC answers here.
Tip #9: Solving Previous Years' UPSC Question Papers
Previous question papers are the most reliable sources of UPSC pattern, difficulty level and question type.
You can judge the trends in the UPSC exam paper easily.
It will also help you understand which areas are the most important in a particular subject.
Lastly, it is a good source of self-assessment in your IAS preparation.
Check out the previous year question papers of UPSC here.
Tip #10: Mock Test Series
Self-assessment is an essential part of UPSC preparation.
It can help civil service aspirant in realizing and learning from mistakes, shaping what approach they need to follow in continuing the preparation and identifying strengths and weaknesses.
It is highly recommended to join mock test series, especially if you are preparing from home. This will help you to assess yourself and help you further.
Solve sample IAS Mock Test for the civil services examination at the linked article.
Looking for UPSC preparation tips to ace the upcoming
civil services exam
? Refer to the links below and get the required guidance to excel in the examination:
Tip #11: Important Government Resources
Your ultimate aim when you are taking the IAS exam is to work for the Indian government.
Naturally, there are many government sources you can rely on during your preparation. Government websites like the PIB, PRS, and national television programmes featured on the Rajya Sabha TV are very helpful. We cover important PIB articles every day. Click here for a Gist of PIB.
We also cover important Gist of Rajya Sabha TV programmes for UPSC. You can read the Gist of RSTV articles here.
Tip #12: Revision
Revision is very important when you are facing an exam as tough as the UPSC exam.
Since the UPSC syllabus is vast and diverse, covering multifarious subjects, it is natural to forget things that you had studied earlier.
To avoid this, timely revision is a must.
Tip #13: UPSC Interview
As mentioned before, the final stage in the UPSC exam process is the UPSC interview or Personality Test.
This is an important stage in the process and here, it is something more than academics that will help you.
You will be assessed on qualities such as diplomatic skills, communication skills, presence of mind, reaction to stress, etc.
You will also be asked questions about your interests, hobbies, education and work experience, if any. So, you have to brush up on these aspects.
Tip #14: Relevant Magazines
Magazines like Yojana, Kurukshetra, Economic & Political Weekly, etc. are very important for the IAS exam.
They contain important information on topics like polity, governance, agriculture, economy, etc.
You can get a gist of the Yojana, Kurukshetra and EPW magazines in our website.
Click on the links below and read the gist of the latest issue of the magazines:
Tip #15: Stay Positive
The most important aspect of the entire UPSC journey is to stay positive.
There are times when it can get quite overwhelming and you will feel depressed.
Remove negative thoughts from your head and work on.
Call +91 92435 00460 for tips and guidance on IAS preparation from our IAS mentors!
Frequently Asked Questions on IAS Preparation
Q1
Can I prepare for UPSC at home?
You can, if you take the right steps towards IAS preparation. With online sources and strategy available, you can easily prepare for the IAS exam at home. With focus and dedication, and the right guidance, you can clear the IAS exam.
Q2
How to prepare for IAS at home?
Follow the steps outlined below to kickstart your IAS preparation at home:
Understand the UPSC pattern and procedure first.
Go through the UPSC syllabus thoroughly.
Start reading a few books and watch video lectures online for a few basic subjects like polity, history, geography, etc.
Read the newspaper regularly.
Chart out a preparation time table and follow it strictly.
Enrol for a good test series and get answer writing practice.
Q3
Is 1 year enough for IAS preparation?
1 year is sufficient for IAS preparation if you prepare diligently. Click here for more.
Q4
How can I start my IAS preparation during graduation?
You can start your IAS preparation during graduation itself. All you must do is go through the syllabus and chart out a study plan for IAS. Starting early has many advantages. You will have age on your side since the IAS age limit will be far away. Also, being young and still a student, you would be in touch with academics, giving you an edge over older competitors. Also, being in college, you can make use of your college library for the preparation. And, make sure you take part in college fests and events as this experience will help you develop a well-rounded personality, and also make up for your lack of work experience in case you clear the exam right after your graduation!
Q5
How to prepare for IAS exam after 12th?
If you are starting your preparation after 12th, you have the advantage of choosing a subject for graduation that will suit your IAS preparation. You can opt for graduation in subjects like political science, history or sociology – subjects that will help you cover the UPSC syllabus in a better way. This way, you can easily combine your graduation studies and IAS preparation. Also, you have enough time to hone your soft skills like communication skills and also develop a good hobby – both of which would aid you in the interview stage.
Q6
How to prepare for IAS while doing engineering?
Many candidates have cleared the IAS exam preparing for it while they were engineering students. Even though it can get hectic, it is not impossible. With a full-fledged plan and the correct guidance, it is possible to crack the toughest exam in India even while in engineering college.
Q7
How can I apply for the IAS exam?
Visit our UPSC Notifications page regularly. We update all the relevant UPSC news and information you need to know.
Related Links: