The civil services exam is one of the most prestigious examinations conducted in the country. Apart from being highly competitive, it is the syllabus and comprehensiveness of IAS subjects that make the exam even tougher. Candidates need to be well prepared in advance with all the important topics to crack the IAS Exam in the given attempts. 
In this article, we have discussed the subjects which are included in the UPSC Syllabus for the prelims and mains examination, along with the list of topics under each of these IAS subjects. Aspirants can refer to these and accordingly start off with the preparation. 
The UPSC subjects in the civil services exam are designed to judge you on your understanding of things around you as only an informed person can make decisions as a civil servant. Thus, the subjects are chosen with great diligence.

IAS Subjects for Prelims Exam
The UPSC Prelims exam comprises two papers:
General Studies Paper-I

General Studies Paper-II (

CSAT

)
Given below is the IAS subject list for the two papers which are objective type each. Both are conducted on the same day and the total marks for the two papers are 400 (200 marks each). 
Subjects in IAS Prelims GS-I Paper
Latest Current Affairs

Static GK

History of India and Indian National Movement

Indian and World Geography

Physical Geography

Social Geography

Economic Geography

Indian Polity and Governance

Constitution

Public Policy Rights

Political System

Rights Issues

Panchayati Raj

Economic and Social Development

Sustainable Development

Poverty

Inclusion

Demographics

Social Sector Initiatives

Environment and Ecology

Biodiversity

Climate Change

Science and Technology
Subjects in IAS Prelims CSAT
This paper is set to test an applicant's logical reasoning and analyse their interpersonal and communication skills. Following topics are included in the syllabus for the prelims GS-II paper:
Comprehension

Interpersonal Skills Including Communication Skills

Logical Reasoning and Analytical Ability

Decision Making and Problem Solving

General Mental Ability

Basic Numeracy

Data Interpretation

English Language Comprehension Skills
To get the detailed UPSC Prelims Syllabus for each of these subjects, candidates can visit the linked article. 
Refer to the links below that shall help you with the preparation for the IAS Prelims exam:
IAS Subject List for UPSC Mains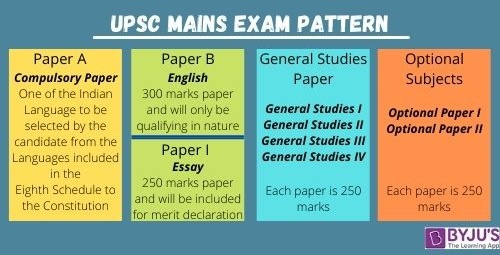 Given below first is the list of Indian Languages for Paper A that can be selected by the candidates along with scripts to be used:
| | |
| --- | --- |
| Language | Script |
| Assamese   | Assamese |
| Bengali  | Bengali |
| Gujarati | Gujarati |
| Hindi | Devanagari |
| Kannada | Kannada |
| Santhali  | Devanagari or Olchiki |
| Maithilli | Devanagari |
| Dogri | Devanagari |
| Bodo | Devanagari |
| Urdu | Persian |
| Telugu | Telugu |
| Tamil | Tamil |
| Sindhi | Devanagari or Arabic |
| Sanskrit | Devanagari  |
| Punjabi | Gurumukhi  |
| Odia | Odia |
| Nepali | Devanagari |
| Marathi | Devanagari |
| Manipuri | Bengali |
| Malayalam | Malayalam |
| Konkani | Devanagari |
| Kashmiri | Persian |
Candidates can visit the linked article and get the Tips To Tackle the Indian Language Paper in the mains examination. Since the paper is only qualifying in nature, candidates need to follow a strategic plan to score the minimum required marks. 
IAS Optional Subject List for UPSC CSE Mains
There are two compulsory papers for optional subjects in the UPSC Mains exam. Given below is the list of optional subjects for the civil services mains examination along with the syllabus for each of the given IAS subjects:
IAS Optional Subject
Syllabus

Agriculture

Agriculture Optional Syllabus

Animal Husbandry and Veterinary Science

Animal Husbandry & Veterinary Science Optional Syllabus

Anthropology

Anthropology Optional Syllabus

Botany

Botany Optional Syllabus

Chemistry

Chemistry Optional Syllabus

Civil Engineering

Civil Engineering Optional Syllabus

Commerce and Accountancy

Commerce and Accountancy Optional Syllabus

Economics

Economics Optional Syllabus

Electrical Engineering

Electrical Engineering Optional Syllabus

Geography

Geography Optional Syllabus

Geology

Geology Optional Syllabus

History

History Optional Syllabus

Law

Law Optional Syllabus

Management

Management Optional Syllabus

Mathematics

Mathematics Optional Syllabus

Mechanical Engineering

Mechanical Engineering Optional Syllabus

Medical Science

Medical Science Optional Syllabus

Philosophy

Philosophy Optional Syllabus

Physics

Physics Optional Syllabus

Political Science and International Relations

Political Science and International Relations Optional Syllabus

Psychology

Psychology Optional Syllabus

Public Administration

Public Administration Optional Syllabus

Sociology

Sociology Optional Syllabus

Statistics

Statistics Optional Syllabus

Zoology

Zoology Optional Syllabus

Literature of any one of the following languages:

Assamese, Bengali, Bodo, Dogri, Gujarati, Hindi, Kannada, Kashmiri, Konkani, Maithili, Malayalam, Manipuri, Marathi, Nepali, Odia, Punjabi, Sanskrit, Santhali, Sindhi, Tamil, Telugu, Urdu and English
Candidates, who need assistance with choosing the optional subject for the mains examination, can refer ⇒ Which Subject Is Best For IAS Mains Optional?
IAS Subject List for UPSC Mains General Studies Papers
The mains examination is subjective in nature and candidates need to have detailed background information of all the important topics which are included in the UPSC Mains Syllabus. This will boost their chances of scoring more in the second and the most important phase of the examination.
IAS Subject List for Prelims & Mains 2022 PDF:-Download PDF Here
Furthermore, candidates can get all the required information about the latest exam updates, study material or preparation tips by visiting BYJU'S.