India's first experimental remote sensing satellite, Bhaskara-I was launched by the Indian Space Research Organisation (ISRO) on 7th June 1979.
Read about the basic facts about the Bhaskara I for the IAS Exam preparation.
Aspirants can cover the topics mentioned in the

UPSC Syllabus

by following the below-mentioned links: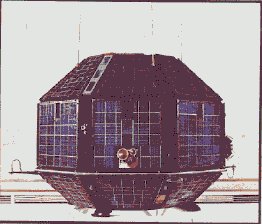 Bhaskara I Satellite
Bhaskara-I was the first experimental remote sensing satellite built by ISRO.
It was named after the 7th-century Indian mathematician Bhaskara-I (not to be confused with the 12th-century mathematician Bhaskara-II). Bhaskara-I is credited to be the first scholar to write numbers in the decimal number system.
The chief purpose of the satellite was to collect data on hydrology, oceanography, forestry and telemetry.
The satellite, which weighed 442 kg at launch, was launched by the Intercosmos launch vehicle, C-1 Intercosmos from Volgograd Launch Station, Russia.
With an inclination of 50.6°, the satellite was placed at an Apogee of 399 km and a Perigee of 394 km.
It had two television cameras that operated in the visible and near infra-red spectrum.
Another payload was SAMIR which stands for Satellite microwave radiometer for the study of water vapour, ocean-state, the liquid water content in the atmosphere and so on. SAMIR operated at 19 and 22 GHz.
The onboard power was 47 Watts. Its orbit was 519 X 541 km.
The nominal mission life was one year. The satellite's orbital life was about ten years. It re-entered in 1989.
The second similar satellite, the Bhaskara-II was launched in November 1981.
Bhaskara-I sent extensive scientific data which was used for various studies including oceanographic studies.
India's first indigenously-built satellite, Aryabhatta was launched on 19th April 1975. It was built by ISRO and launched from a Soviet launch vehicle.
In 2008, India's first lunar mission, Chandrayaan-I was launched by ISRO. It also launched the Mangalyaan or the Mars Orbiter Mission, India's maiden mission to Mars in 2014. ISRO has several projects in the pipeline including a solar mission.
Get the list of Indian Satellites from the linked article.
Related links:
Also on this day




---


1998: India becomes the World Bank's single-largest borrower with loans amounting to 44 billion dollars.
2002: Death of India's fifth Vice President Basappa Danappa Jatti.
See previous 'This Day in History' here.