Table of Contents:
1.Arunachal: Time to debate Governors' powers
2.Female Foeticide: Yet to be Tackled
1.After You! RBI says to the Govt.
2.Mint: Clear road map needed for BS-VI
.
+++++++++++++++++++++++++++++++++++++++++++++++
Useful News Articles
A. GS1 Related:
— Nothing here today, folks! —
.
B. GS2 Related:
— Nothing new here today, folks! —
C. GS3 Related:
Topic: Science & Tech
Category: Tech + Public Health
Location: Hindu, Headline news
Key points:
– Vaccines manufacturer Bharat Biotech on Wednesday announced a breakthrough in developing the world's first Zika vaccine.
– Two vaccine candidates: one inactivated and one recombinant.
– An inactivated vaccine consists of the disease-causing microbe killed with chemicals, heat, or radiation. This is more stable and safer than live vaccines.
– A recombinant vaccine is produced through the recombinant DNA technology. This involves inserting the DNA encoding an antigen (such as a bacterial surface protein) that stimulates an immune response.
..
D. Important Editorials: A Quick Glance
1. Arunachal: Time to debate Governors' powers
Topic: Constitution, Paper II (MUST READ)
Category: Federalism, Governor
Key points:
– By imposing President's rule in Arunachal Pradesh even before a mandatory floor test could establish conclusively that the Congress government of Nabam Tuki had lost its majority, the Central government acted prematurely.
– The Supreme Court accepted that a Governor is not answerable to the courts for the exercise of the powers of his office. But simultaneously it ordered the Centre to release all documents — including personal letters of the Chief Minister and of his ministerial colleagues — to enable Mr. Tuki to prepare a defence against the contents of Governor J.P. Rajkhowa's report that accuses him of instigating fellow Nyishis and funding public protests to seek the latter's exit.
.
2. Female Foeticide: Yet to be Tackled
Topic: Public Health, Governance Paper II + III 
Category: Public Health + Governance
Key points:
– Enforece scrupulous compliance with the spirit of the Pre-Conception and Pre-Natal Diagnostic Techniques (PCPNDT) Act, under which any disclosure of the foetal status is a punishable offence.
Related Article: An Old Law; New Debate
1. After You! RBI says to the Govt.
Topic: Economy, Paper III
Category: Monetary policy, RBI
Key points:
– RBI clarifies: rate cuts will come if government first brings structural reform
– Lays out a scheme of propositions for the upcoming budget!
..
Topic: Economy, Public Health Paper III (MUST READ!)
Category: Hunger, Poverty
Key points:
– ICDS, the primary scheme targeting malnutrition, needs to be broadened with the help of the National Nutrition Mission.
– We loosely use the word malnutrition, but there are three specific indicators — under-weight, stunting and wasted, although they are correlated
– Goals lead to targets and targets lead to indicators that are monitored. We don't yet know what indicators will be used to monitor SDG performance.
.
3. Inequality: Some Numbers: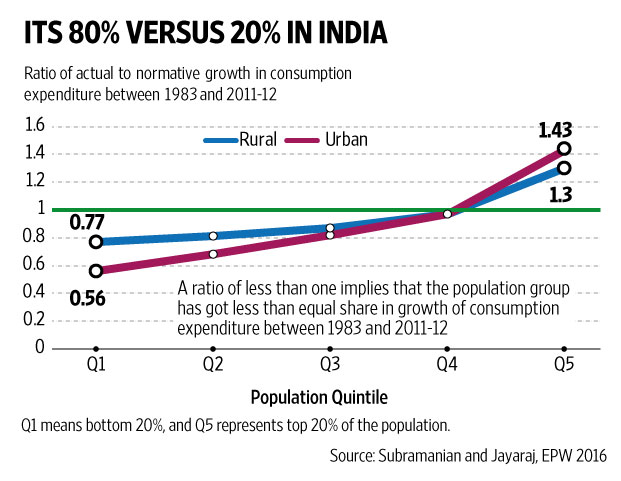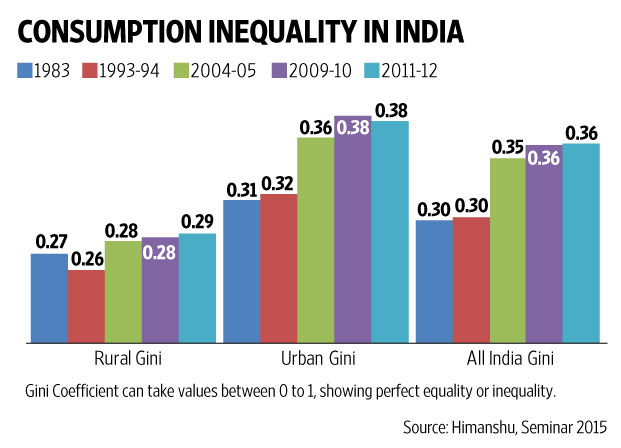 .
Others:
Topic: Economy, Environment, Paper III
Category: Pollution
Key points:
– India intends to move from BS-IV to BS-VI in three years—a step which took about nine years in Europe
– The need to continually improve vehicle emissions and city air quality is not in question and in this there is no conflict in the aims of industry and government. In fact, tailpipe emissions have already been reduced by over 90% for BS-IV vehicles since the introduction of emission norms in the early 1990s.
– Simply put, the automotive industry needs a stable and practical road map for future emissions, if it is to meet the highly stringent norms of BS-VI and beyond with safe and reliable products and continue the pace of improvement desired.
..
E. Concepts-in-News: Related Concepts to Revise/Learn:
i. Emission Norms + Types of Fuels
ii. Inequality Measurement
iii. Malnutrition + ICDS
iv. Female Foeticide
v. Vaccine types
.
F. Fun with Practice Questions 🙂
Question 1: BS-VI emission norms for auto mobiles and auto fuel will be introduced by which year?
a. 2015
b. 2020
c. 2030
d. 2040
Question 2: Which of the following statements about Gini coefficient is/are true:
It is a measure of statistical dispersion that represents the distribution of income of a nation's residents.
A Gini coefficient of one or 100% expresses perfect equality.
a) 1 only
b) 2 only
c) Both 1 & 2
d) None
Question 3: ICDS programme is also intended to combat gender inequality by providing girls the same resources as boys. Is this statement true or false?
Question 4: Which of the following works is/are not related to Raja Ram Mohan Roy –
1) He began a campaign  to protest  female foeticide.
2) He used ancient sacred texts to support his point of view.
3) He published 'Sambad Karmudi' & 'Mirat-ul-Akbar'.
4) He established Brahmo Samaj & protested sati system.
Answer Choices:
a. Only 1
b. 1 & 2
c. 3 and 4
d. None of the above.
Question 5: The first recombinant antigen vacccine approved for human use is _____________.
a) Hepatitis B Vaccine
b) DPT vaccine
c) Var vaccine
d) Hib vaccine
.