Table of Contents:
1. Telangana objects to Raichur's 'sandbag wall' on Krishna river
2. State should control matrimonial websites: Bombay High Court.
3. Sedition law is political; it is misused in India
4. Row over invite: State can't have protocol contrary to the law
1. India-Bangladesh feeder service begins
1. Be Bold at the Nuclear Summit
2. Milestones on Beijing's OBOR Plan.
3. Victims of the numbers game.
1. The NEW Indian Express:- Poor State of the Poverty-stricken
2. Livemint: NDA plans new push for labour reforms
.
+++++++++++++++++++++++++++++++++++++++++++++++
Useful News Articles
A. GS1 Related
NO RELATED NEWS TODAY!!
B. GS2 Related
1. Telangana objects to Raichur's 'sandbag wall' on Krishna river
Topic: River Water sharing
Category: Issues and challenges pertaining to the federal structure
Location: The Hindu, Page 8
Key Points:
Karnataka state is heavily dependent of Raichur Thermal Power Station (RTPS) for its energy needs and RTPS uses water from River Krishna.
Recently five of the eight units of RTPS was suddenly stopped due to water shortage as Krishna river has almost dried up.
To resume Power generation, RTPS authorities put up sandbags to create a temporary wall to hold back the released water.
This led to agitation on the Raichur –Hyderabad National highway by the residents of more than 60 villages from Telangana state and they expressed concern over their drinking water shortage.
Note: Students should understand this developmental dilemma on river water usage- on one side power crisis for Karnataka and on the other side drinking water crisis for Telangana. (Also these areas of Telangana state are facing one of the worst droughts).
Note: Students should locate the Krishna river in the map and they should have familiarity with the adjoining areas/villages & topography
2. State should control matrimonial websites: Bombay High Court.
Topic: Gender issues.
Category: Important aspects of governance,
Location: The Hindu, Page 8
Key Points:
Recently a PIL was filed in Bombay High Court pointing that advertisements are appearing in matrimonial sites seeking dowry, which is a violation of Dowry Prohibition Act 1961.
On news paper advertisements that indicate demand of dowry, the Court directed the State to bring to the notice of newspapers relevant sections of the law which prescribes a minimum imprisonment of six months for printing, publishing or circulating any such advertisement.
However as things stand today, there is no procedure to regulate matrimonial websites which openly seek dowry and hence Court asked the Maharashtra government to regulate the same.
Note: In addition to gender discrimination, this is also an example of challenges to law in the era of social media.
3. Sedition law is political; it is misused in India
Topic: Freedom of speech
Category: Important aspects of governance
Location: The Hindu, page 9
Key Points:
Because of the recent events that unfolded at JNU, New Delhi, the concept of sedition and free speech in a democracy is being discussed again and debated widely across many public and political circles.
Note: As of now, students need not pay much attention to the varied opinions expressed on this topic but students should make a note of Supreme Court stand which clearly says: " Mere speech does not qualify as sedition"
4. Row over invite: State can't have protocol contrary to the law
Topic: Governance issues
Category: laws, institutions for the protection and betterment of vulnerable sections.
Location: The Hindu, Page 9
Key Points:
Recently an application was filed in Karnataka High Court citing violation of fundamental rights and law.
What is the issue?

According to Karnataka Hindu Religious Institutions and Charitable endowments Act, 1997 it is mandatory that only officers professing Hindu religion could be given charge of Hindu Religious institutions.
However for the annual festival in Puttur Mahalingeshwara Swami temple, an invitation was printed that had the name of A.B Ibrahim, who is serving as Deputy Commissioner of Dakshina Kannada District. This evoked controversy!!
State government contended that Mr. Ibrahim's name was printed as per protocol and he was not officiating as Deputy Commissioner (Hindu Charitable Institutions and religious endowments)
Note: Students should analyse the controversy in the above issue in the light of rights guaranteed under Article 25 and Article 26 of the Constitution of India.
C. GS3 Related
1. India-Bangladesh feeder service begins
Topic: India Bangladesh bilateral trade
Category: Infrastructure: Ports
Location: The Hindu, page 16
Key Points:
India and Bangladesh signed a coastal shipping deal during November 2015 to promote coastal shipping, enhance bilateral trade between the two countries and bring down transportation costs for EXIM cargo.
Bangladesh imports onion, rice, lentils, cotton, industrial raw materials and machinery.
Further to the deal, the maiden coastal feeder service between India and Bangladesh commenced on March 23, at Chittagong Port in Bangladesh.

As per the schedule, M.V. Harbour-1, the container vessel would call at the ports of Kolkata, Haldia, Paradip, Visakhapatnam, Kakinada, Krishnapatnam and Chennai, while in Bangladesh it would be at Chittagong, Pangaon ICT, Narayanganj, Ashuganj, Payra, Khulna and Mongla. The vessel's first call would be at Krishnapatnam Port.
Note: Geography optional students please be familiar about the locations of all these ports in the map.
Currently, container goods are moved from and to Bangladesh either through Colombo or Singapore as Chittagong Port does not have required facilities.
On the otherhand, the rapid growth in bilateral trade between India and Bangladesh has led to congestion on the road at Indo-Bangladesh border.
Now with this feeder service, the bilateral trade is expected to go up!.
During the current year, India for the first time used the Indo-Bangladesh river protocol to transport food grains via Ashuganj to Tripura.
However, the quantum of cargo has not picked up because of low draft in the upper reaches of Bangladesh rivers and also because of certain non-trade barriers.
D. GS4 Related
Nothing today
E. Important Editorials : A Quick Glance
1 .Be Bold at the Nuclear Summit
Topic: Nuclear Energy
Category: Global groupings/agreements involving India and/or affecting India's interests.
Key points:
The fourth Nuclear Security Summit (NSS) will be held in Washington DC, USA next week.
India's role in the NSS is important because of at least two concerns

Global terrorism and the growing threat posed by terrorists seeking to acquire Weapons of mass destruction.
India needs nuclear power because a quarter of India's population does not have electricity and energy poverty is a major obstacle to economic growth.
(The Integrated Energy Policy of India visualises the installed capacity rising to 1200 GW by 2035, with nuclear power contributing 60 GW. This will be 5 per cent, but it is critical in terms of reducing fossil fuel dependence and mitigating the carbon footprint).
What active role did India played in the previous NSS process?

India voluntarily contributed a million dollars to the Nuclear Security Fund.
India took initiative for the establishment of " Global Centre of Excellence for Nuclear Energy Partnership".

Nuclear security is not about nuclear disarmament, non-proliferation, or nuclear safety then will it be a ploy to constrain India's nuclear programme?

No, as a responsible nuclear weapon state, it is incumbent on India to ensure that all nuclear materials and facilities (both civilian and military) are subjected to the highest levels of security.
It would cover preventing unauthorised access to nuclear materials, facilities and technologies; timely detection, were a breach to take place; and finally, effective responses to such acts of terror and sabotage

Why Nuclear Security is given additional urgency now globally?
Because of the emergence of global jihadi threats like al-Qaeda and the Islamic State at least three potential nuclear terrorist threats have been identified.
Threat of terrorists making or acquiring a nuclear bomb and exploding it.
Possibility of sabotaging an existing nuclear facility to create an accident (Insider support by a radicalised sympathiser could render a nuclear facility vulnerable to sabotage)
Possibility of use of radioactive material to create a 'dirty bomb' or a radiological dispersal device.
What has been the focus/outcomes of NSS?

It has urged states to tighten national laws, rules and capabilities to use best practices and international cooperation.
Some of the outcomes include establishing global centres of excellence (like the one in India), launching the Nuclear Security Fund, and expanding the activities of the International Atomic Energy Agency's (IAEA's)Nuclear Security Training and Support Centres.
What is the perceived as major drawback of the NSS process?
There is no legally binding outcome even after six years( first NSS held in 2010)
What are the other areas that leaders will discuss at the upcoming NSS?

The big subject for discussion in Washington will be about sustaining the process and political engagement
Organisations lilke UN, IAEA and Interpol are expected to adopt specific action plans.
Also the U.S. and Russia will continue to co-chair the Global Initiative to Combat Nuclear Terrorism (GICNT), which is a voluntary grouping of 86 states with working groups on nuclear detection, forensics and mitigation
In addition, there is a "G-8 Global Partnership to combat the spread of weapons of mass destruction" but its effectiveness depends on the political ups and downs between major powers.
Note: students should make a note of the Integrated Energy policy and terrorism threats mentioned above.
2 .Milestones on Beijing's OBOR Plan.
Topic: Effect of policies and politics of developed and developing countries on India's interests.
Category: International relations
Note: It is a MUST READ article. Student's should read this by keeping special focus on the below mentioned questions. (Also we will cover this in our DNA section soon).
Key points:
What is this OBOR and how can it be the new growth engine for China?
The crisis in the Korean peninsula/south china sea and the geopolitical tug of war between USA's Pivot to Asia policy Vs. China's OBOR.
Connection between Eurasia and the global emergence- how is this policy of china different from the one followed by the traditional powers?
3 .Victims of the numbers game.
Topic: Health sector- policies
Category: Government policies and interventions for development in various sectors
Note: This a very important article. The issue has been in news and also debated widely. There are potential chances of asking a question related to this in this year's UPSC Mains Examination.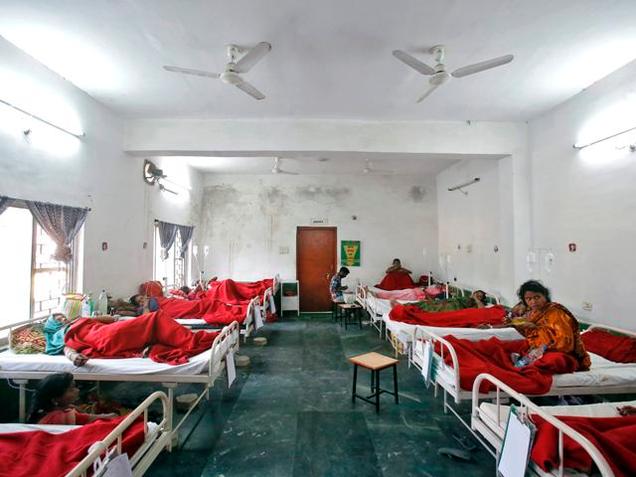 Key points:
On November 8, 2014, Dr. R.K. Gupta, a surgeon at Bilaspur District Hospital, conducted laparoscopic tubectomies on 83 women in the space of 90 minutes in an abandoned building. (A laparoscopic surgery is a minimally invasive surgery where a thin surgical instrument is inserted into the abdomen)
Of the 83, 13 women died in this mass sterilisation camp. This incident is a wake-up call for us to rework our policy intervention.
Evidence indicates that the surgical staff had used the same hand gloves, injections, syringes, sutures on all the 83 women, resulting in life-threatening infections.
A situational assessment report ordered by the State government established that the premises where the tubectomies were conducted had not been disinfected properly.
Besides criminal medical negligence, the sterilisation camp brings to attention the reality of India's family planning programme.
Is there a problem with the policy?
These deaths reveal that on paper, the policy might have evolved but the programme still continues to be driven by targets, threats and coercion.
The stress of targets brought to bear upon government doctors is immense.
For 2013-2014, every district in Chhattisgarh was given a sterilisation target to meet,(This is in violation of Union Health Ministry norms).
Doctors in Bilaspur had an 'ELA' (Expected Level of Achievement) of 3,000 sterilisations and 3,000 Intrauterine Contraceptive Device (IUCD) insertions within a fortnight. For Takhatpur nagar panchayat, the doctors had to sterilise 300 women or risk losing the budget for the next year.
When asked about targets, Dr. Gupta said : "If I am wrong, all my senior officials are also in the wrong. They gave me these targets. They knew exactly what was happening."
Critcism:

Legally, targets are not allowed in India but these programmes have ELAs, basically an estimation of how many women need family planning assistance.
ELA's are the same as other diseases such as tuberculosis or malaria where they stock drugs keeping in mind the number of people needing these services. But in family planning, these numbers are being used as targets."
Students should also note that this issue was also earlier debated on the aspect of government's focus on family planning more centred on women. Why is it failing to bring gender parity in family planning?
1 .The NEW Indian Express:- Poor State of the Poverty-stricken
Topic: Poverty
Category: Issues related to development.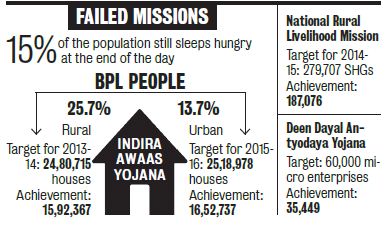 Key points:
In India's 68 years of democratic rule, Raisina Hill may have witnessed government of all hues, but what has remained consistent is the promise of gareebi hatao.
Governments had spent Rs 2,13,000 crore through seven flagship schemes in the last five years to eradicate poverty, according to Niti Aayog's but still 15 per cent of the population sleeps hungry at the end of the day.
The poverty alleviation project National Rural Livelihood Mission barely reached half of its target of social mobilisation of self help groups (SHGs).
The idea of NRLM is to organise the poor into SHGs and make them capable of self-employment but the performance is far from satisfactory says the article quoting supporting data.
Note: students there is nothing much from the article to remember except about the 15pc poverty.
2 .Livemint: NDA plans new push for labour reforms
Topic: Schemes/programmes
Category: Labour Laws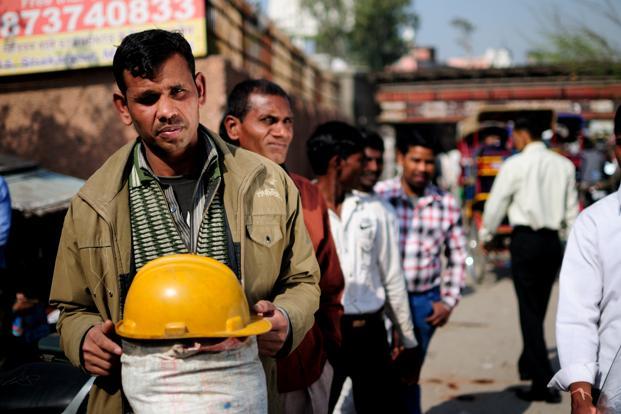 Key points:
The government plans to introduce five new labour bills in the second half of the budget session, resuming an effort to reform labour rules
These bills are the

Industrial Relations Code Bill 2016,
Wage Code Bill 2016,
The Small Factories (Regulation of Employment and Conditions of Services) Bill,
The Shops and Establishments (Amendment) Bill, and
Employees Provident Fund and Miscellaneous Provisions (Amendment) Bill.
The government wants to club around 40 existing labour laws into four or five acts. (For example, all wage-related laws will be made part of the wage code and all industrial relations laws included in the related code)
Note: students should write a practise answer taking in to pro's and con's of these laws on employment and economy.
F. Concepts-in-News: Related Concepts to Revise/Learn:
GICNT
OBOR
AIIB
NRLM
India's family planning programme
Integrated Energy Policy
Nuclear Security Summit
Tags
Tags: River water sharing, RTPS ,
Gender issues, Dowry Prohibition Act 1961 ,
Sedition, Freedom of speech ,
India- Bangladesh relations, India Bangladesh river protocol ,
Nuclear Security Summit, International Atomic Energy Agency, Global Centre of Excellence for Nuclear Energy Partnership, GICNT, Integrated Energy Policy ,
OBOR, Pivot to Asia ,
NRLM, NITI Aayog
G. Fun with Practice Questions 🙂
Question 1: Consider the following statements
Sutlej Yamuna Link (SYL) canal dispute is between Punjab and Haryana
Yamuna-Betwa dispute between U.P. and M.P.
Krishna river water dispute is between karnataka and Telangana.Due to water crisis, there has been river sharing disputes between many states in India,
which of the above statements is/are correct in this regard?
a) 3 only
b) 2 and 3
c) 1, 2 and 3
d) 1 and 3
Question 2:Which of the following statements is/are correct about Deen Dayal Antyodana Yojana- NRLM scheme?
At least one male member from each identified rural poor household, will be brought under the Self Help Group (SHG) network.
Making poor the preferred clients of the banking system and mobilizing bank credit is its Financial inclusion strategy.
a) 1 only
b) 2 only
c) Both 1 and 2
d) Neither 1 nor 2
Question 3: Consider the following statements.
At the global level, minimizing the amount of dangerous nuclear material like highly enriched uranium and plutonium etc.
To prevent illegitimate acquisition of nuclear materials and technologies by terrorist groups and smugglers etc.
Which of the above statements is/are correct with regard to the goals of Nuclear Security Summit, which is in news?
a) 1 only
b) 2 only
c) Both 1 and 2
d) Neither 1 nor 2
Question 4: Narayanganj and Mongla ports , which are news is located in which of the following countries?
a) India
b) Bangladesh
c) SriLanka
d) Myanmar
Question 5:Consider the following statements
Trans-Pacific Partnership is the key component that China is focusing to realise OBOR
Economic land belt and Maritime Silk Road are the important strategies of OBOR
Which of the above statements is/ are correct with regard to One Belt One Road (OBOR) initiative by China?
a) 1only
b) 2only
c) Both 1 and 2
d) Neither 1 nor 2
"Proper Current Affairs preparation is the key to success in the UPSC- Civil Services Examination. We have now launched a comprehensive 'Online Current Affairs Crash Course'.
Limited seats available. Click here to Know More."